Monday, October 9th, 2017

Recipe: grilled matsutake
I read about "forest bathing" or shinrin-yoku a few years ago and my immediate thought was, "What a great way to describe time in the mountain forests." If you aren't familiar with the concept, you might think it is rooted in some ancient Japanese practice of spending time in forests for improved health. It's actually a campaign started in 1982 by the Forest Agency of Japan to promote a healthier lifestyle. But I really like the concept because I find my heart, head, and body feel better with time spent in the forests (and mountains – which are partly covered in forests). It's how I coped with my sister's death, my cancer treatments. It's where I go when I need healing.
Last Monday we received our first substantial snowfall of the year in the mountains. Locally we got close to a foot of new snow and some of my favorite ski mountains in Colorado were reporting nearly two feet. There's a feeling that comes over you when that first snow storm hits for the season. After all of the sunshine and glowing yellow aspen leaves and mild autumn days, the world suddenly turns cold and white and you want to curl up in a warm blanket. I get that feeling for all of two seconds and then I'm running downstairs to get my ski gear out of the basement. Jeremy would probably have been bundled in all of his warm clothes, sipping hot coffee, and working on his laptop for days if I hadn't shoved him out the door with me. Every season he needs reminding that he loves winter – because he really does.

our first backcountry ski of the season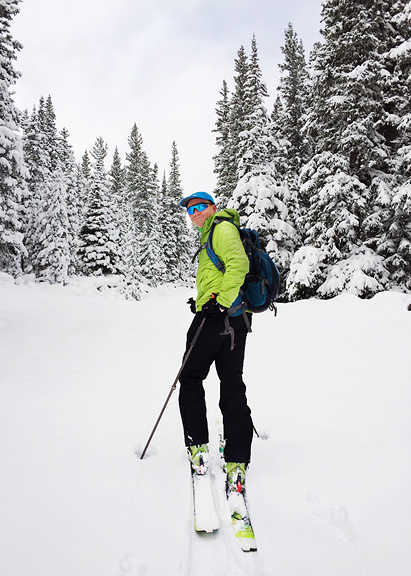 It was a short-lived storm and by mid-week we were back to sunshine and pleasant temperatures. This is the Colorado way. Every season the weather has these "surprise" swings and each time it happens, people on the flats flip out because they have unreasonable expectations and a poor understanding of statistics and physics. You learn to go with the flow in the mountains. One day you're skiing fresh snow and the next you're trail running through an amphitheater of gold.
my favorite local aspen stand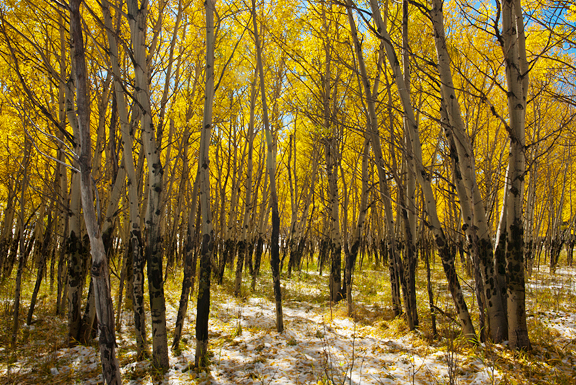 As the weekend approached, Jeremy and I made plans for a short backpacking trip with Neva. She had been doing so well with her training that we thought we should squeeze an overnight in before we would be on skis for six months. We originally planned to take her up to a local lake, but when the overnight wind forecast was for 50 mph gusts, snow, and temperatures below freezing, we postponed by a day. I have a love-hate relationship with the Front Range. Part of the reason I hate the Front Range is the wind. Oh wait, that IS the reason. We pulled out trail maps, looked up trail information, searched Google Maps, and read weather forecasts until we found a trip that could work. We had always wanted to explore the Gore Range, but never got around to it because wrangling Neva made backpacking a miserable experience. Now we were hoping for some improvement.
starting off near a stand of orange aspens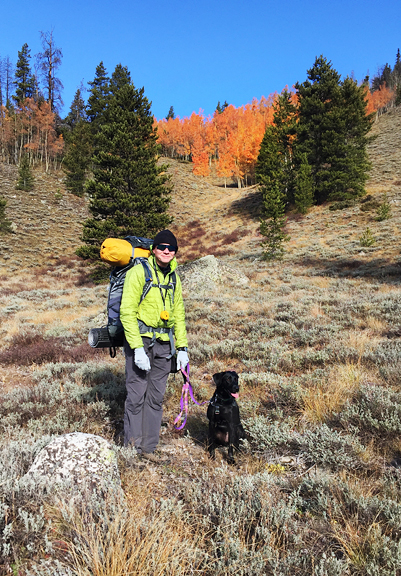 the ten mile range in the distance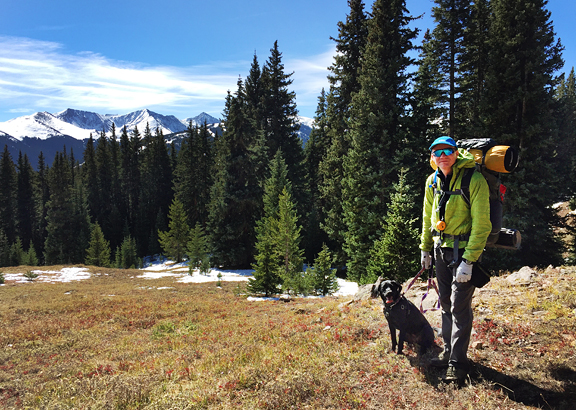 copper mountain across the valley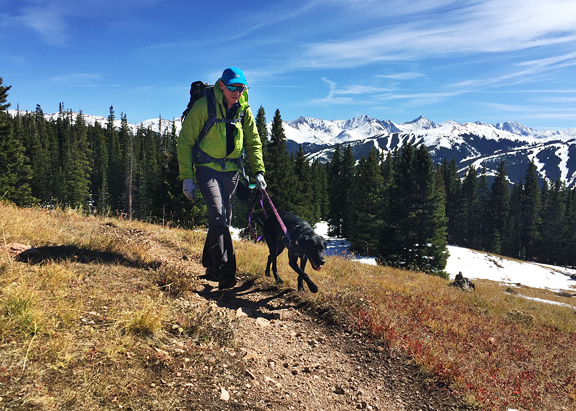 Silly us, we didn't make the connection that double digit snow totals at the ski resort across the valley would mean snow on the trails less than a week later. We should have known, but we're out of practice. Despite snow and ice covering more than half the trail, we enjoyed clear skies, mild winds, beautiful views, and a good dog! Neva had a blast and I think this means we can look forward to more backcountry exploration with her next summer – something we all love to do.
first views of lost lake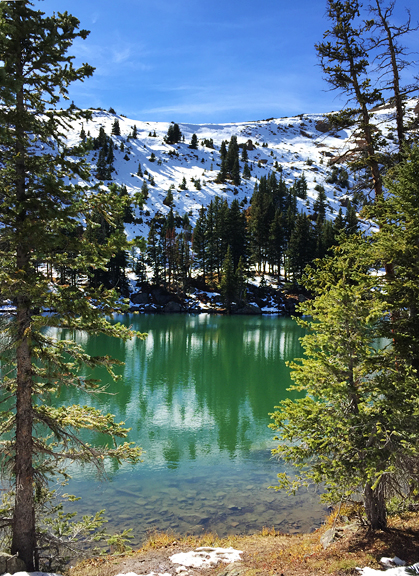 neva went for a dip after this picture was taken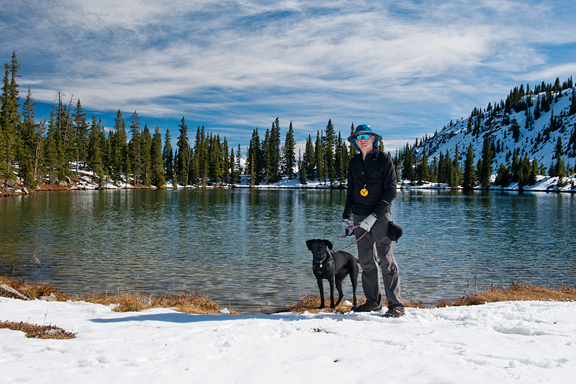 beautiful potholes with snowy mountains in the distance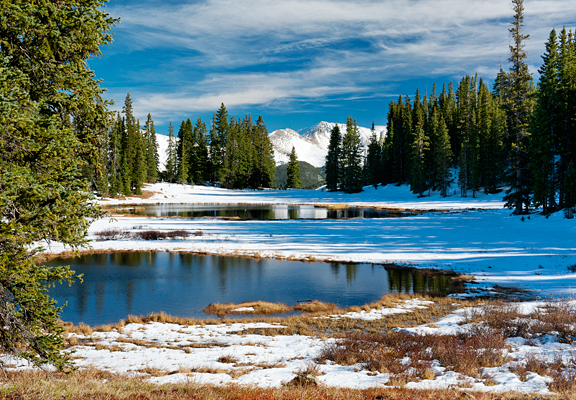 neva supervises as we finish dinner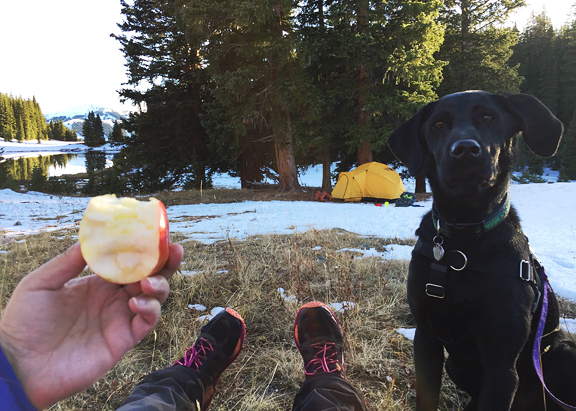 Of course, when you spend a good bit of the last six months walking the woods and looking for mushrooms and berries, it's a hard habit to break. There were zero mushrooms, because it was too cold and late in the season at that elevation, but we DID find a section of huckleberry patches that were still loaded with huge berries. They were tired looking, having been through a freeze and thaw cycle several times already. Some were beginning to shrivel, almost all of them fell off the plant when you so much as looked at them, and they tasted so complex and sweet – like the grapes they use to make ice wine. We ate a handful and I picked some for Neva to taste, at which point she began to eat them off the plants.
On our drive home from the trailhead, Jeremy and I couldn't help but note all of the lodgepole forests that looked like prime candidates for matsutake mushrooms next year. If you will recall, matsutake means "pine mushroom" in Japanese. If you can find them fresh, grilling is a super simple and delicious way to prepare them. If not, you could try a different fleshy fresh mushroom. But the special pine-cinnamon flavor of a grilled matsutake is probably the only way you can taste the embodiment of a camping trip in the pine forest.

fresh matsutake mushrooms, soy sauce, mirin
slice the mushrooms thick
combine the soy sauce and mirin
**Jump for more butter**