Sunday, October 1st, 2017

Recipe: pheasant chanterelle pot pie
Colorado has been sitting under a trough (low pressure) of late that has delivered rain, fog, cold, and even snow in the higher elevations. I've been casually catching fall colors when I can, but mostly I made a point of enjoying them rather than trying to make photos. I mean, you can always take iPhone snaps, which is mostly what I do these days, but you can also dedicate time, energy, and effort in making some exceptional images. A pretty hectic summer left me burned out when the fall colors came around, such that I couldn't see myself doing the fall shoot well and then diving into my first hunting season. So I gave myself some time off from the shoot to catch up on a lot of work, do some much-needed research, and take care of things at home.

flaming and gorgeous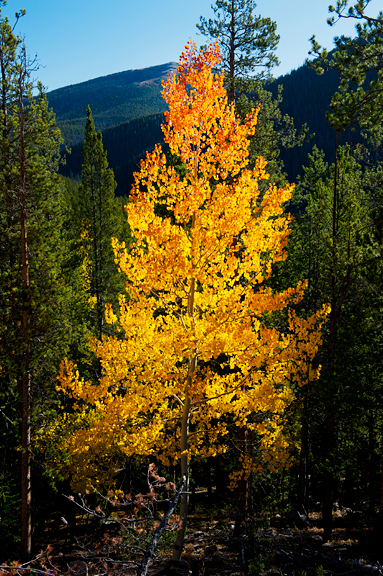 i love to stand in the stands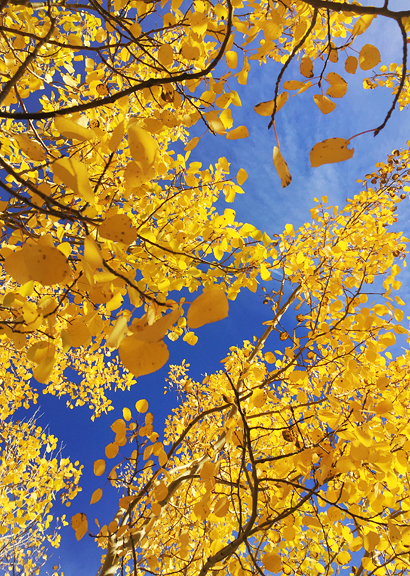 jeremy and neva checking out the local aspens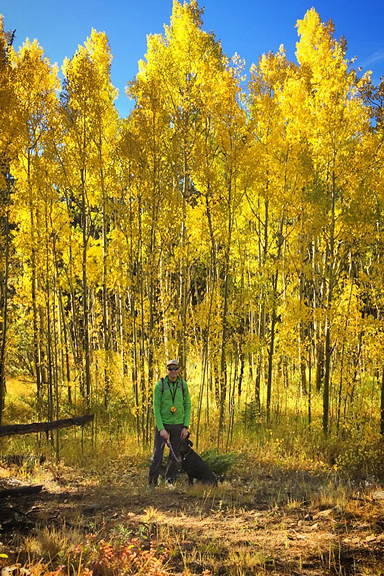 Something Jeremy and I let slide this summer was Neva's training. We spent a good bit of time training her to swim between our paddleboards or run alongside the bike, but we stopped working with the e-collar which our trainer had taught us to use back in March. There had been a bad episode in the spring that pretty much left me in tears (Neva seemed to be fine after 5 seconds). Neva had bolted out of sight on the soccer field and it was so windy we couldn't hear anything as we ran after her. I used the collar, but couldn't see or hear any feedback, so I boosted the stimulation and tapped it again until I was on the next field and saw her leaning up against Jeremy for comforting. Apparently, Jeremy saw her stop after one of the zaps and she turned to run back to him. As she ran to him, I was still coming around the other side of the field and couldn't see her and did a boost and tap which made her cry out and jump. The whole thing made me want to throw the e-collar away forever. I silently wiped away tears the whole walk home because Jeremy said we should act as if everything is normal so as not to alarm her. I later consulted with Claire, got reassurances and advice for the future, and promptly stopped using the e-collar. I hated that I had hurt my baby dog.
But we decided to try it again this weekend with leash work and you know what? Neva was wonderful. We hardly needed to use the collar (and at very very low levels) and she was so responsive and happy on her hikes despite encountering lots of other hikers including children (little people are particularly exciting because they are at eye level), two moose, other dogs (who were not well-behaved at all), and runners. She trotted alongside Jeremy, looking up to him every few seconds, tail wagging, a slack leash, and slowing herself down when he said, "whoa" or "heel" or "no pull". I don't feel Neva ever needs to be off leash in our big wide wildernesses, but if she can be on leash and enjoy her time outside as a good girl, that's all we ever really wanted. So that was huge progress.

another aspen stand with a good neva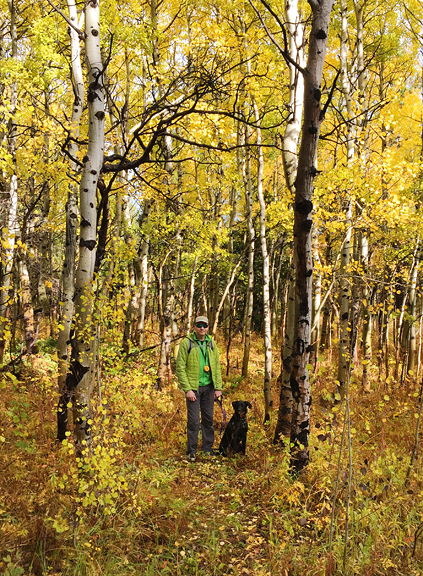 look at that slack leash!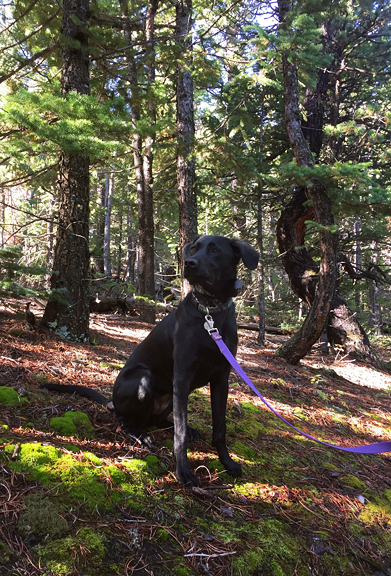 I've been in fall cleaning mode because somehow I am always six months late tackling spring cleaning. The chest freezer was in need of attention because it was packed to the gills with vodka infusions, freezer jams, meats, mushrooms, fruit, nuts, ice creams, butter, homemade broth, green chiles. Things get lost in there and don't emerge until four years later when you are trying to find a place to store your 2017 huckleberries. It was time to start making room by eating stuff. One of my Crested Butte neighbors likes to hunt pheasant. I think he likes hunting them more than eating them, so when he learned that I LOVE pheasant, he pulled one out of their freezer this summer and gave it to me! I knew just the thing to make… a pot pie with some of my foraged wild mushrooms.
chanterelles from august
cleaned and sliced
sauté with some butter
ready to freeze or eat
There wasn't time to make and shoot the recipe until last week when it coincidentally cooled off by a good 20 degrees. That's why I butter sautéed my chanterelles in August and chucked them into the freezer for a month until I could get around to using them. My preference would have been to roast the pheasant and shred the meat for the pot pie filling, but 1) it didn't have any skin and 2) there was buck shot scattered throughout. This is only my second pheasant I've prepared, but I feel more comfortable dicing the meat so I can remove any shot and feathers. I used all of the meat I could and then froze the carcass to make pheasant broth later because it's delicious and because I hate wasting food. The pheasant broth in this pie is from the previous pheasant carcass.
the filling: potatoes, lima beans, salt, bay leaves, butter, pheasant, pepper, chanterelles, onion, flour, more butter, pheasant broth
diced and prepped
simmer the potatoes in the broth with the bay leaves
strain out the potatoes and reduce the broth
**Jump for more butter**