Sunday, February 25th, 2018

Recipe: sourdough waffles
Our floor lamp in the great room is on an automatic timer. I generally try to have it come on a little after sunset, when the skies give up their light at the end of each day. We've been doing this "chasing the sun" schedule for nearly 13 years now, but I still feel a boost of giddiness when I get to start setting the timer for later each day. It's not that I don't love winter, because I do love it very much. I just think with a little over 3 weeks left of official winter, I'm looking forward to spring backcountry skiing, longer days, and hopefully some big ass spring storms to replenish that high country snowpack. In the meantime, we are dutifully logging our ski days as best as we can. And Neva is definitely happier for it.

little neva lives for the dog-friendly nordic trails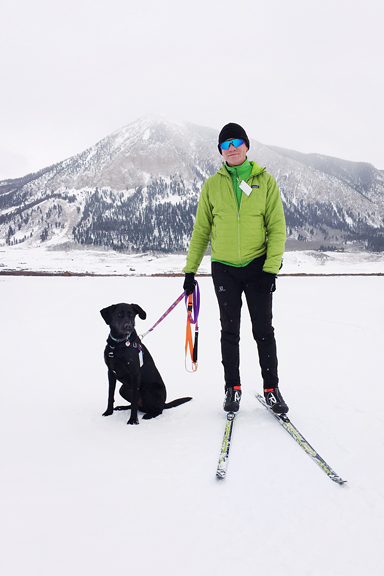 happiest pup on the planet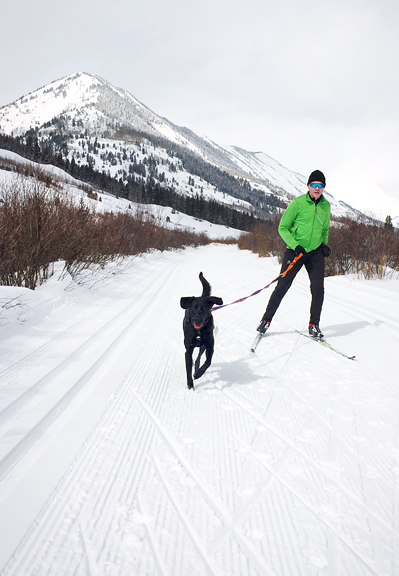 When I first read the care and maintenance instructions for my starter, Wheatley, I thought there was a typo. It said to take a small fraction of the starter, feed it, and discard the rest – either in the trash or the compost, but don't pour it down the sink as it could grow and clog up the pipes. Discard? Food? I soon understood that keeping it all would be an exercise in madness. In an effort to reduce waste, I began to take the very smallest fraction (5 grams) of starter for feedings before bread-making and save the discard in the refrigerator for things like delicious, fluffy waffles.
starter discard
flour, starter discard, eggs, butter, baking soda, salt, sugar, buttermilk
Waffles and pancakes are a great way to use up discard or unfed starter. This recipe uses a cup of discard and easily doubles if you want to freeze waffles or pancakes for quick breakfasts on weekdays. It does require a little planning, which may present difficulty for the non-planners, but the rest of you will be just fine. The night before you make waffles (or pancakes), stir the discard, buttermilk, flour, and sugar together in a large bowl. Cover the bowl with plastic wrap and leave it on the counter overnight at room temperature. That's called the sponge.
combine the discard, flour, sugar, and buttermilk
cover with plastic and let sit out overnight
**Jump for more butter**