Recipe: sous vide hamburgers
Looking at my calendar, I see the first day of Spring is next week and I have two thoughts: 1) Woohoo, SPRING! and 2) Where the hell was winter? Winter visited us for about a week or two in February, but overall I think it dissed us for the season. We didn't even get our skis tuned, and I was happy about that every time I ran over a rock in the backcountry (which I wasn't happy about, but hey – I try to be positive). Now, with the sun rising ever higher in the sky, temperature plays into when you ski. That is… assuming there is snow to ski. I sometimes feel like I just want to give this ski season a big ole boot in the ass and shout "good riddance!" But then when I'm out there on the snow, I remember why I love skiing.

neva was soooooo excited to get out into the backcountry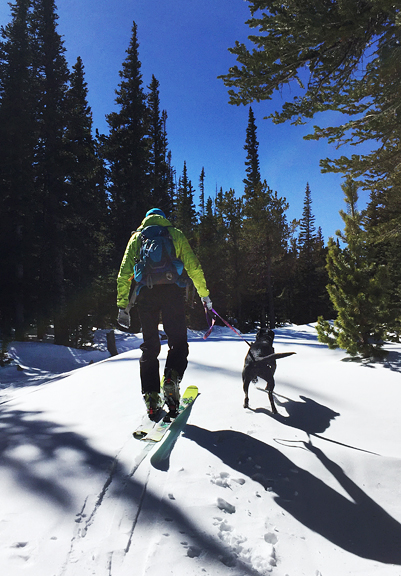 both of them patiently waiting for me to take a photo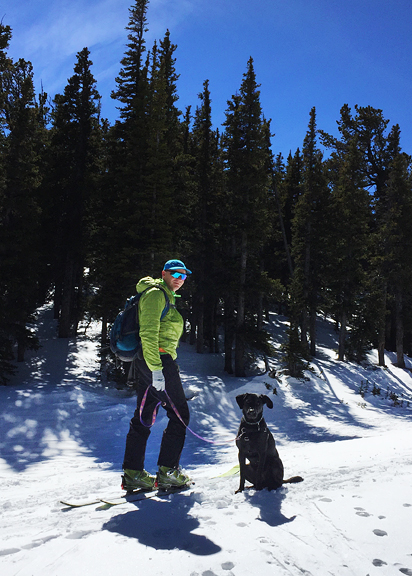 jeremy skins up crappy snow (but at least there is snow)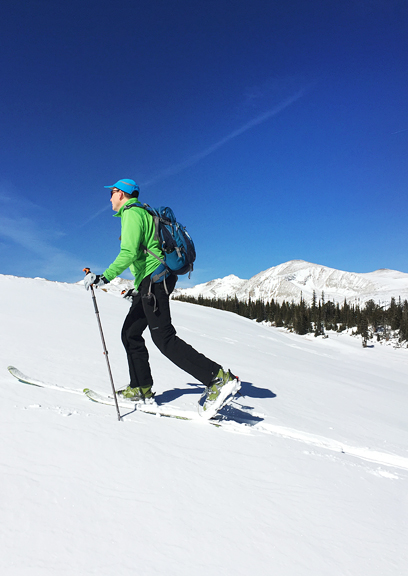 Last week, my dad texted me to ask at what temperature do I sous vide my burgers. Ever since I taught my parents how to text, they text me all the time with photos of their food, pictures of wine bottles, random reports of their activities ("We are shopping at Costco" – of course they are), selfies from their travels, texts that were meant for other people, and Googleable questions that require immediate responses. I thought I had blogged the recipe, but I hadn't. So I checked my recipe notebook and sent Dad the various temperature ranges and times for different levels of doneness. I got a kissing emoji reply which meant that I had unlocked the Good Chinese Daughter achievement.
I hadn't thought to sous vide burgers until my friend, Debra, mentioned that she prepares her burgers this way regularly. The first time we tried it, I couldn't believe how juicy they were. And now we don't prepare our burgers any other way.

salt, pepper, fish sauce, beef
You're probably wondering what's up with the fish sauce. This is a tip I learned from my friends,
Todd and Diane
: add a dash of fish sauce to your burgers for that extra umami blast. It doesn't taste fish saucy, it just tastes damn good. Clearly, I pick up lots of excellent beta from my friends. The key is to have friends who know what they're talking about. If you don't want to use fish sauce, just add another half teaspoon of salt. And if you do want to use fish sauce, but need your burger to be gluten-free, there are some decent gluten-free fish sauce brands like Red Boat which is recommended by my friend,
Shauna a.k.a. Gluten-free Girl
(because I asked her specifically).
yes to the fish sauce
I followed the recipe from
Kenji at Serious Eats
. He doesn't recommend making your patties any smaller than six ounces as they can dry out. I found six ounces to be way too much burger for me and have since made them in the four and a half to five ounce range with good results – probably because we sous vide them rare. If you're a fan of medium to well done burgers, Kenji's warning might be relevant. When forming the patties, don't pack them too tight and form them so they are a little wider than your burger bun when raw (because the patties shrink when cooked). We have sous vide cooked the burgers in Ziploc bags and using our Food Saver vacuum sealer. Stick with the Ziploc bags. The vacuum sealer crushes the patties and gives them funny little fin-like edges. Choose your sous vide bath temperature according to the doneness you prefer for your burgers. Whenever Kenji lists a range for cooking times, I always lean toward the minimum time – in this case, 40 minutes – because it uses less energy and I like to keep the juices in the food.
form your patties
place the patty in a ziploc bag
use the water displacement method to seal the bag
cook
When the burgers are done cooking, remove them from their bags and pat them dry. Allow the patties to rest for about ten minutes. Kenji says this helps to dry the exterior which will give you a better finish on the burger. That ten minutes is a good time to prep your other ingredients. We don't eat burgers very often, so when we do, we like lots of fixings like bacon, cheese (for Jeremy), avocado, caramelized onions, sautéed mushrooms. Season the patties with more salt and pepper before you finish them. I like to finish the burgers on a sauté or frying pan, but we've also finished them on a hot grill – both work beautifully. I give them a minute per side and drop the cheese on the patties after the first flip.
this is a rare patty
pat dry and rest
gather ye fixins
season with salt and pepper
top with cheese after the first flip
Sous vide burgers truly are the juiciest burgers. Expect to make a mess when you eat one, but it will be a glorious and delicious mess. If you have a range of burger doneness requested, I suppose the easiest way to deal with that would be to sous vide to the rarest of the preferences and give the other patties a little more time on the grill or in the pan when finishing. I found cooking the burgers this way gave me that desirable seared exterior and a nearly uniformly rare, juicy, and perfect interior. The results are more than worth the tiny amount of extra effort over traditional burgers. And now I have a link for Dad to reference the next time he asks me what temperature to sous vide his hamburgers (because I know there will be a next time).
burger with fries and a ginger beer
ready to dig in
a juicy cross-section
Sous Vide Hamburgers
[print recipe]
from Serious Eats
24 oz. ground beef
1 tsp fish sauce
1/2 tsp salt (use 1 tsp salt if not using fish sauce) + more
1 tsp black pepper + more
4 slices cheese (cheddar, swiss, etc.)
4 buns, lightly toasted
other dressings like tomatoes, lettuce, pickles, onions, bacon, etc.
1 tbsp vegetable oil or butter for finishing stove top
Water bath settings: Set your sous vide bath according to the desired doneness of your burgers.
Very rare to rare: 115°F – 123°F at 40 minutes to 2 1/2 hours (maximum)
Medium rare: 124°F – 129°F at 40 minutes to 2 1/2 hours (maximum)
Medium: 130°F – 137°F at 40 minutes to 4 hours
Medium well: 138°F – 144°F at 40 minutes to 4 hours
Well done: 145°F – 155°F at 40 minutes to 3 1/2 hours
Make the burgers: Mix beef, salt, pepper, and fish sauce (optional, but good) together in a bowl. Form 4 patties, not too tightly packed, a little wider than your burger buns. Place each patty in its own bag (ziploc is recommended over vacuum sealed). Seal the patties in their individual bags using the water displacement method (submerge the bag in your water bath up to the zipper seal, but not above, pushing the air out and sealing the bag). Cook your burger for the appropriate amount of time. I cooked ours at 120°F for 40 minutes. Remove the bags from the bath and remove the patties to paper towels. Blot the patties dry and let them rest for 10 minutes. Season the patties with salt and pepper on both sides. Heat your vegetable oil or butter in a skillet over high heat and sear the patties for about a minute per side. Alternatively, you can finish the burgers over a hot grill for about a minute per side. If serving with cheese, place the cheese slice on the patty after the first flip. Serve hot. Makes 4 6-ounce burgers.
more goodness from the use real butter archives