Recipe: stir-fried fresh rice noodles with beef
I'm always on the lookout for a good Chinese cookbook, and I tend to make tiny mental notes when my cooking friends rave about the same book. Last month, I got an email asking if I wanted a review copy of Chinese Soul Food by Hsiao-Ching Chou. I usually decline book reviews – it's not worth my time unless it is something I am personally interested in checking out – but recalled a couple of pals had sung its praises.

chinese soul food by hsiao-ching chou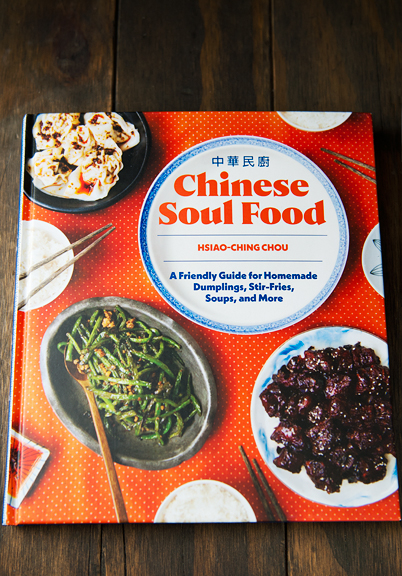 The good news is that the book is full of accessible and delicious home-style Chinese recipes and good information on ingredients, equipment, and techniques that are commonly utilized in Chinese cooking. The bad news (for me) is that I've already made and blogged some version of most of the recipes in the book. Happily, I was able to find a handful of recipes that I haven't blogged before, and settled on a noodle dish. I will choose noodles over rice any day, but this stir-fried noodles with beef uses fresh rice noodles. A delightful compromise.
you can find fresh rice noodles in the refrigerated section of better stocked asian markets
mung bean sprouts, gai lan (chinese broccoli), water, hoisin sauce, kosher salt, cornstarch, flank steak, soy sauce, vegetable oil, fresh rice noodles
In her notes, Chou says if you cannot find
gai lan
, you can substitute other leafy greens including Chinese broccoli.
Gai lan
IS Chinese broccoli, so I think that may have been an editorial oversight. It's true that you can use other leafy greens, but
gai lan
has great flavor and texture that pairs well with the chewy, delicate rice noodles. I increased the amounts of greens and sprouts and omitted the carrots because they do absolutely nothing for me. When the rice noodles are cold (they are usually refrigerated at my market), they are quite brittle. Allow them to come to room temperature or gently warm them in the microwave so they are pliable and easily separated. If you try to cook the noodles unseparated, you will have a giant blob of rice noodles with an uncooked center.
washed and chopped chinese broccoli, separated noodles, sliced beef, washed sprouts
mix the beef with soy sauce and cornstarch
stir-fry the beef
I still haven't seasoned my cast iron wok (someday), so I used a large non-stick sauté pan because I didn't want to wrestle with noodles sticking to my stainless steel sauté pan. [There are those days when I already know my patience is running low from the start.] After cooking the beef, set it in a bowl and wipe out the pan or wok with a paper towel and heat some oil to sauté the vegetables.
stir-frying the sprouts and chinese broccoli
adding hoisin sauce, soy sauce, and water
add the noodles
stir in the beef
That last step of adding the beef back to the noodles wasn't in the recipe (another editorial goof), but it's pretty much a given. The recipe itself was easy, quick, and delicious. I'm fairly certain if I had done the stir-fry in a proper wok, there would be browned bits of noodles and beef to make the dish even more heavenly. I think if you're new to the Chinese cooking game, this is a great introduction to home-style Chinese cooking. It's the stuff I grew up eating at home. If you already have a solid repertoire of Chinese recipes from Grandma or other reliable sources of Chinese cuisine, then this book may not add much to your knowledge base.
noodle time
a satisfying bowl of stir-fried rice noodles with beef
Full disclosure: I received a complimentary review copy of Chinese Soul Food from the publisher with no obligation on my part.
Stir-fried Fresh Rice Noodles with Beef
[print recipe]
from Chinese Soul Food by Hsiao-Ching Chou
1/2 lb. flank steak, sliced thin against the grain
4 tbsps soy sauce, divided
1 tsp cornstarch
2 tbsps vegetable oil, divided
1 lb. fresh rice noodles, pre-sliced and separated
4 cups gai lan (Chinese broccoli), cut into bite-size pieces
1 cup mung bean sprouts
1 cup water
1-2 tbsps hoisin sauce
Place the beef, 2 tablespoons of soy sauce, and the cornstarch in a bowl and mix together. Set aside. Preheat a wok or large sauté pan over high heat. Add a tablespoon of vegetable oil and continue heating until it begins to ripple. Spread the beef out and allow to sear for a minute before stir frying. When the beef is almost done, remove it from the heat and transfer to a bowl. Wipe the wok with a paper towel. Add the last tablespoon of vegetable oil to your wok or pan over high heat. When the oil is hot, add the gai lan and the bean sprouts, sautéing for a minute. Stir the water, 2 tablespoons of soy sauce, and hoisin sauce into the pan. Add the noodles, stir-frying until softened and coated with the sauce (~2-3 minutes). Stir in the beef. Serve immediately. Serves 4.
more goodness from the use real butter archives