Recipe: strawberry vanilla shortbread cookies
I know most of you already have your sights set on the December holidays, so please forgive me for rehashing last week's Thanksgiving festivities. It was my intention to share this with you then, but a family emergency came up. It's a good thing I didn't plan a fancy meal. Well, that's not entirely true. I planned a special plate for Neva, as always, and for Yuki, because it was her first Thanksgiving! And then it snowed and we enjoyed skiing and playing in the powder.

a plate for each pup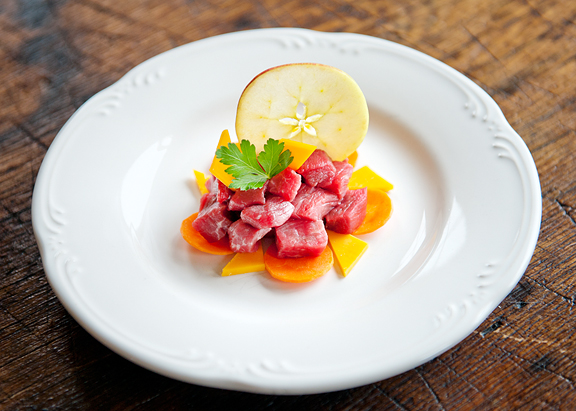 yuki had no idea what was going on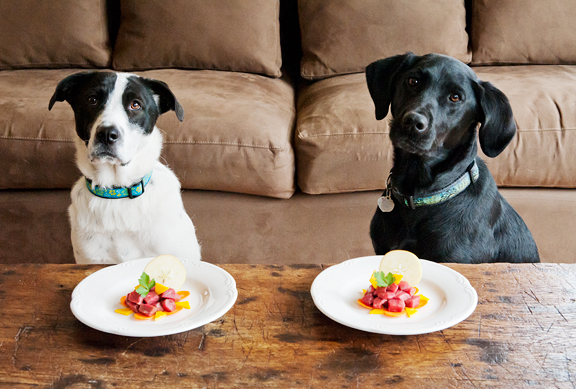 enjoying a proper start to the ski season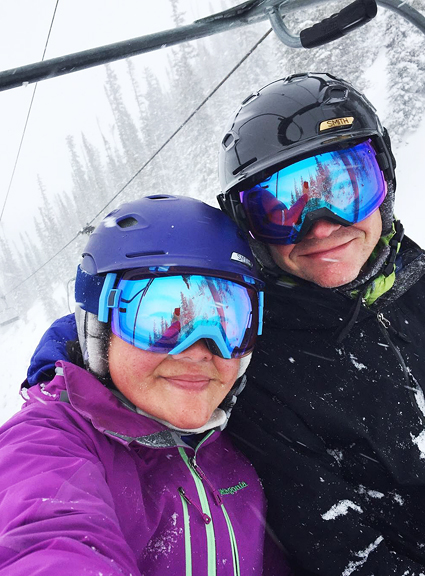 yuki chasing neva in the snow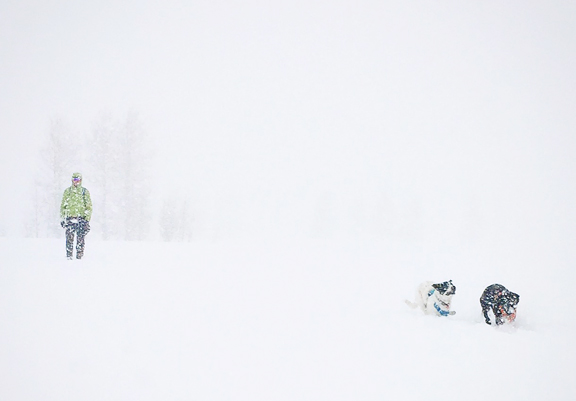 a dazzling sunset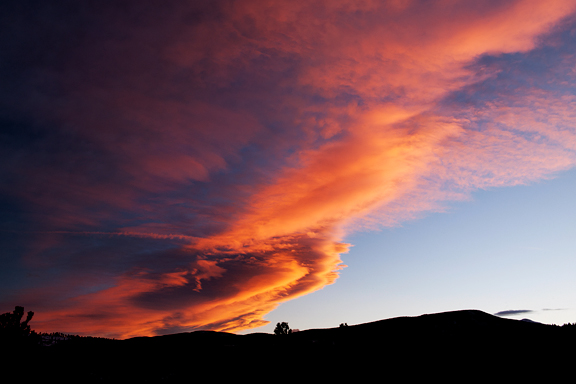 I posted the
video of the pups eating their plates on Instagram
and there is also a
blooper cut
. And thankfully the emergency turned out all right. Huge yay!
If you were hanging out in our house of late, you'd think it was spring because we have been engaging in what can only be classified as a giant Spring Cleaning in Autumn. It's the stuff of nightmares for Jeremy because I say something as innocent as "let's replace the sofas". First we assess if we really do need to replace them. Yes, they're 38 years old and ergonomically terrible for our backs when we sit on them. Then we calculate finances, find a good sale, determine the best model for our needs. Then the avalanche begins. Where are we putting the old sofas? And before you know it, we are moving half the furniture around in the house which makes me reorganize all of our books, gear, and storage and then I'm declaring that we need to donate or recycle a lot of old stuff that we haven't needed nor unearthed in the last decade. Jeremy will be moving a bookcase and pause as I stare at the pantry. "None of that needs to be moved to make space for the couches," he'll mention in passing as Yuki happily shadows his every move.
But spring cleaning isn't the only out of season activity I've been pursuing. Each fall I start getting nervous about the cookies I distribute in December and I feel compelled to add a new recipe to the rotating assortment. I tested a new one this fall. It's definitely more of a spring or summer cookie, but I think people will like it no matter the season and I want to share the loveliness with everyone now.
What makes it a spring/summer cookie is the inclusion of strawberries. I had a lot of trouble finding chewy dried strawberries that weren't loaded with sugar and opted to dehydrate my own. That meant I was the lady in all of the grocery stores examining every box of strawberries for the ripest ones I could find in October. There weren't many, but there were some decent berries. If you are already worried about drying your own strawberries, never fear. I tested these with freeze-dried strawberries (which are pretty much everywhere) and they work. Some of my taste testers even preferred the freeze-dried to the dried strawberries. But I prefer the slight chew of the homemade dried strawberries. So I'll show you how I dried my strawberries in my food dehydrator and then I'll get to the cookies.

water, lemons, strawberries
I started with 4 pounds of ripe-ish strawberries which yielded about 3 cups of dried strawberries. The water and lemon juice mixture helps to prevent browning. If you are drying strawberries for snacks, you can cut the berries into 1/4-inch thick slices, but I wanted them chunky for the cookies, so I halved them. This increases the drying time and results in a little chewiness. How dry you want the slices is up to you. If you do leave them slightly soft, then use or consume them right away or store them longer term in the freezer.
hull the berries
combine the lemon and water
halve the strawberries
soak in the lemon-water for 5 minutes
If you don't have a food dehydrator, you could try drying them in your oven, although I couldn't give you much guidance there other than to use the lowest temperature and crack the door open to allow the moisture to escape. And if all of this is just too much of a pain or it happens to be the exact opposite of strawberry season, then you can always grab a bag of freeze-dried strawberries at Trader Joe's.
pat the strawberries dry
rack them up (i set them to 95°f)
24 hours later
concentrated strawberriness
I dried a total of 20 pounds of fresh strawberries while they were still decent to get me through the holidays. Once that was done, the cookies were very straightforward with a touch of tweaking the sweetness and extracts and amount of vanilla bean to get them right. Here is where you can substitute freeze-dried strawberries in place of the dried strawberries.
dried strawberries, vanilla extract, grand marnier, powdered sugar, salt, vanilla beans, flour, butter
chop the strawberries
split the vanilla beans and scrape the seeds out
You only need the vanilla bean seeds in the cookie dough, but don't throw out the spent pod! It still has magical properties and should either be added to a batch of
homemade vanilla extract
or stuffed into sugar to make
vanilla sugar
. Because freeze-dried strawberries are so fragile (they turn to powder when crushed), take care to fold them in by hand or mix as little as possible until they are combined in the dough or else you will have powdered pink cookies that turn brown in the oven.
adding the vanilla bean seeds, grand marnier, and vanilla extract to the butter and sugar
beat in the flour and salt
mix the strawberries in last
Shape the dough into a log or a block or roll them out in a gallon-size ziploc bag and chill until firm (at least an hour). If you are in production mode, make these ahead of time and once the dough is chilled through, you can freeze them for up to a few weeks. Place them in the refrigerator the day before you are ready to bake. As for shapes, I did try various cookie cutter shapes and discovered they spread just enough to obliterate the definition of the cute flowers and hearts. Circles work best – I used a biscuit cutter. Quadrilaterals are acceptable, too.
the ziploc bag trick is most excellent
cutting 2-inch diameter circles
dock the cookies before baking
baked
It's a big relief when a recipe isn't a fail. It is extra bonus when taste testers absolutely love the final iteration. My intermediate taste testers were given supplemental chocolate gingerbread cookies in case the test cookies were terrible (they were serviceable in my opinion)! The final texture is tender and crumbly with a delightful crunch and chew of strawberries mingled with vanilla bean. I was delighted to see that some of the bright red colors survived the baking process. Freeze-dried strawberries tend to look more brownish after baking. You can store these cookies in an airtight container for up to 4 days at room temperature or longer in the freezer. And despite tasting of spring and summer flavors, they'll put a smile on your face any time of year.
red is festive
another cookie in the quiver
Strawberry Vanilla Shortbread Cookies
[print recipe]
8 oz. unsalted butter, room temperature
1 cup (3.5 oz. or 100g) powdered sugar
2 vanilla beans, split and seeds scraped
1 tbsp vanilla extract
1 tbsp Grand Marnier or orange liqueur
2 cups (9 oz. or 260g) all-purpose flour
1/4 tsp sea salt
1 cup (4 oz. or 115g) chopped dried strawberries (recipe below) or 1 cup freeze-dried strawberries
Beat the butter with a paddle attachment until smooth. Add the powdered sugar to the butter and beat on medium speed until blended. Add the vanilla bean seeds (use the pods for something else), vanilla extract, and Grand Marnier to the butter mixture and beat until incorporated. Mix the flour and salt into the butter mixture until the flour is absorbed and no dry flour remains. Stir the chopped strawberries into the dough. Scrape the dough into a gallon-size ziploc bag and roll flat with a rolling pin until the dough fills the bag in an even layer. Seal the bag and refrigerate for at least an hour.
Preheat oven to 325°F and line your baking sheet(s) with parchment paper. When the dough is chilled, peel off the plastic and slice the dough into desired shapes (quadrilaterals are most efficient) or use a cookie cutter (circles show the least deformation) and re-roll scraps to use again. Arrange your raw cookies 1.5 inches from each other on the baking sheet and dock them (prick them) with a fork three times across each cookie. Bake 16-20 minutes (18 minutes worked well for me) until the bottoms are golden. Remove from oven and let cool on a cooling rack. Makes about 36 2-inch round cookies or 42 1.5-inch square cookies.
chewy dried strawberries
4 lbs. ripe strawberries
1/2 cup lemon juice
1/2 cup water
Hull, wash, and halve the strawberries. Drain in a colander. Pour the lemon juice and water into a large bowl. Place strawberries in the bowl until full, but still covered by the lemon water. Let sit for 5 minutes. Remove the strawberries from the lemon water and set in a strainer over a bowl (to catch the excess lemon water). Pat the strawberry pieces with a paper towel then arrange in a single layer on your dehydrator tray. Repeat for the rest of the strawberries. Dehydrate on lowest setting (95°F on my Excalibur) for 12-24 hours until the strawberries reach desired texture. It takes me about 24 hours to get them chewy and slightly soft in an arid environment. It will require more time if you live in a humid climate or want your strawberries to be crisp. Chewy works for what I want in the cookies. I store them in an airtight bag in the freezer to prevent spoilage. My yield was about 2-3 cups dried strawberries for 4 pounds of fresh fruit.
more goodness from the use real butter archives