Recipe: midnight chocolate shortbread cookies
I gave myself last week off from the blog and the computer. My hope is that you didn't notice because you were offline spending time with loved ones and/or doing the things that you enjoy doing! We aren't much for holiday traditions other than New Year's Chinese dumplings and the soup full of yummy ingredients that represent health, wealth, good fortune, opportunity, and all that good stuff. I guess for us, the "tradition" is to ski. And ski. And ski.

jeremy seeks out a secret stash of powder on the mountain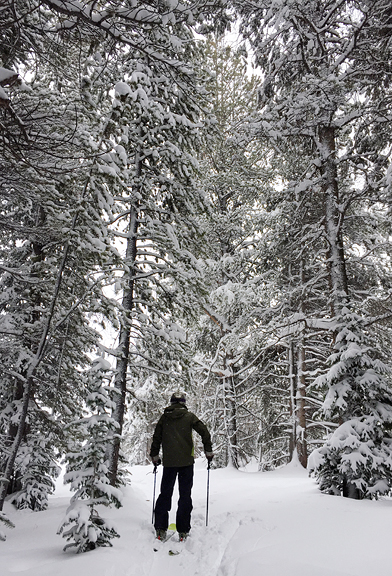 christmas day nordic ski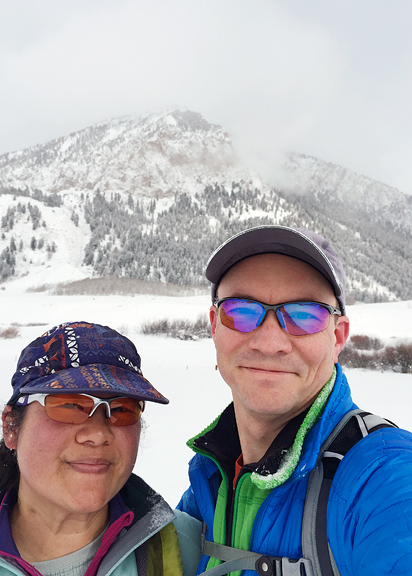 enjoying the powder, bumps, and views from the mountain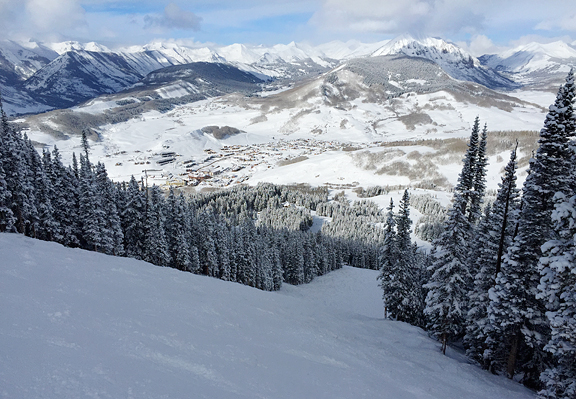 jeremy skate skiing in 2°f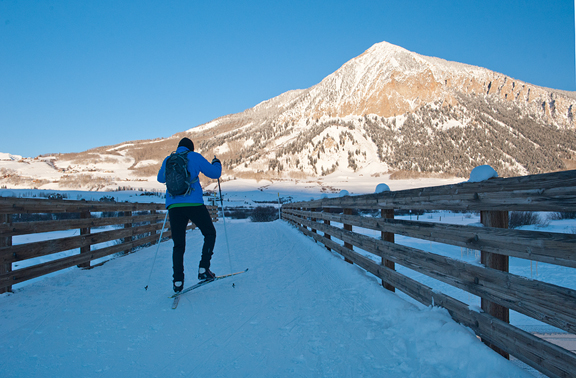 We've made a point of skiing every day since we got to Crested Butte – because why wouldn't you? The snow has been fantastic and this town offers great downhill terrain and incredible nordic trails. It's also a great way to fend off holiday weight creep and to see some of the local wildlife. Several
ermine
sightings have fascinated us on the mountain (you should see these little dudes run in powder), in our backyard, and on the nordic trails. We even witnessed one ermine carrying a little furry brown vole (presumably dead) across a big snowy expanse. Cute as they are (and they are DAMN cute!), don't be fooled – these guys are skilled and ferocious hunters. I've also been getting my puppy fix, greeting all of the sweet mountain dogs in the neighborhood, around town, and on the trails.
curious little ermine checking us out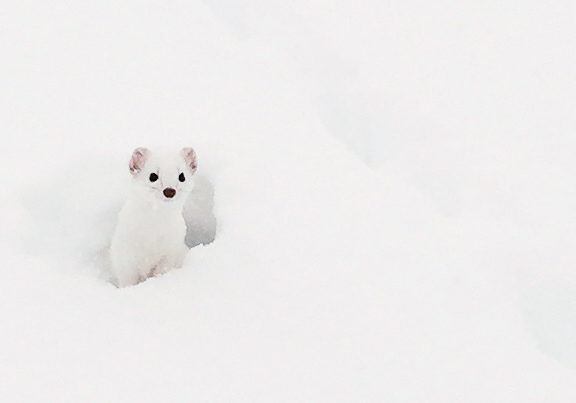 christmas parties are best with gentle, giant mountain dogs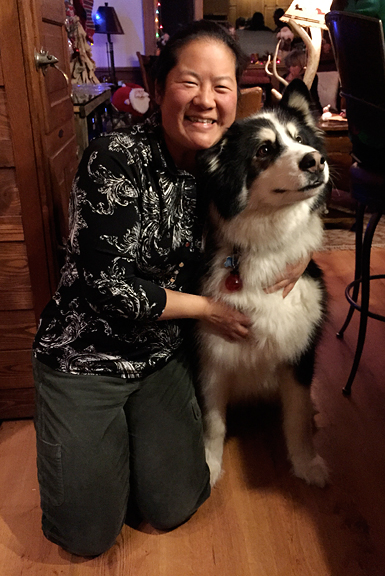 All of the holiday cookies are now gone. Once the deliveries were made, Jeremy was allowed to dig into the leftovers. I added a new recipe to the rotation this year – a shortbread. I know I tend to bake a lot of shortbreads for gifts, but the reason is because they don't get squirrely at high altitude and they keep longer. There have been times (in the early years) Jeremy has left a gift bag of cookies on a staff member's desk only to find out they were out of town for a week or two. So I thought it was time to try a new shortbread cookie – a chocolatey cookie.
chocolate chips, vanilla, butter, salt, onyx cocoa powder, powdered sugar, flour
cream the butter, sugar, and cocoa powder
add a pinch of sea salt
vanilla
There are some combinations that you know cannot go wrong – like chocolate and chocolate. Dark chocolate cookies with bittersweet chocolate chips sounded good, even to me. Cocoa powder is responsible for the chocolate cookie base. I've baked a couple of cookie iterations with different cocoa powders: Dutch-process cocoa and onyx (or black) cocoa (pictured). [
Read about the difference between natural cocoa, Dutch-process cocoa, and onyx (black) cocoa
.] Both Jeremy and I tend to prefer the Dutch-process cocoa over the onyx cocoa for flavor, but the onyx certainly makes for a beautiful dark chocolate cookie (and it's not bad, we just like the other one better). I also tried chocolate chips and chocolate chunks. The chunks make slicing the cookie dough easier because the chips tend to get yanked out of the dough. Most importantly, the quality of your ingredients – particularly the cocoa and chocolate – will impact the resulting flavor of your cookie.
mix the flour until just combined
fold in the chocolate chips (or chunks)
roll the dough into an 8-inch long cylinder
wrap in plastic or wax paper and refrigerate for at least an hour
It takes a few minutes to mix the dough, then you shape it and refrigerate it for an hour or more. The dough is pretty sticky, so shaping it with plastic wrap or wax paper allows you to manipulate the dough without wearing the dough. Once chilled, the dough behaves nicely and slices easily. Cut the cookies into 1/3-inch thick slices to yield 2 dozen cookies. They don't spread too much during baking, but it's still a good idea to leave a little space (about an inch) between each one. The cookies are done when the center is just slightly soft when you press on it. Let the shortbreads rest on the baking sheet for a few minutes after taking them out of the oven, otherwise they will fall apart when you remove them (or even look at them). I tested this myself and determined that the structural integrity of the cookie matrix is far stronger when slightly cooled.
slice the cookie dough
arrange the cookies on a parchment paper-lined baking sheet
cooling on the rack
If you are a fan of super sweet chocolate cookies, you might be disappointed. These cookies are not overly sweet, but they are quite chocolatey. The crumbly texture of the shortbread mingles nicely with the creaminess that comes from the chocolate chips (or chunks) – particularly when eaten warm. I think the onyx cocoa version (pictured) has a less pronounced chocolate flavor compared to the Dutch-process cocoa version because onyx cocoa is even more alkalized than Dutch-process cocoa resulting in a mellower chocolate flavor. They're both great, we just like the Dutch-process cocoa cookie better. Feedback from some of my cookie recipients has been 100% positive and while Jeremy likes these cookies with coffee and with milk, he thinks they pair better with milk.
dark as midnight
great with milk
chocolate on chocolate
Midnight Chocolate Shortbread Cookies
[print recipe]
modified from this recipe
4 oz. unsalted butter, softened
1/3 cup confectioner's sugar
1/4 cup cocoa powder, Dutch-process (or onyx for super dark cookies)
generous pinch of sea salt
1 tsp vanilla extract
3/4 cup all-purpose flour
1/2 cup dark chocolate chips or chocolate chunks (I prefer chunks)
Cream the butter, sugar, and cocoa together until smooth. Beat in the salt and vanilla. Mix in the flour until just incorporated. Fold the chocolate chips or chocolate chunks into the dough. Turn the cookie dough out onto a sheet of plastic wrap or wax paper. Press the dough together and form an 8-inch long cylinder. Wrap the log of dough in the plastic or wax paper and refrigerate for at least an hour. Preheat the oven to 325°F. Cut the log into 1/3-inch thick slices. Arrange the slices on a parchment paper-lined baking sheet with at least an inch between cookies. Bake for 12-15 minutes until the center is slightly soft (take care not to overbake). Remove from the oven and let the cookies cool on the baking sheet for 4-5 minutes (or else they will fall apart if you try to move them too soon). Transfer to a cooling rack. Makes 2 dozen.

more goodness from the use real butter archives