Recipe: sautéed morels and scrambled eggs
The past seven days have been the epitome of March in Colorado. It was sunny and warm on Tuesday, then Wednesday we hosted The Bomb Cyclone which dropped a good foot and a half of snow at our house, and by Friday it was back to sunshine and bluebird skies. Some refer to this as crazy or "drunk" Colorado weather, but for anyone who has experienced more than two springs in this state, it's par for the course.

snowy days are perfect for baking pies for pi(e) day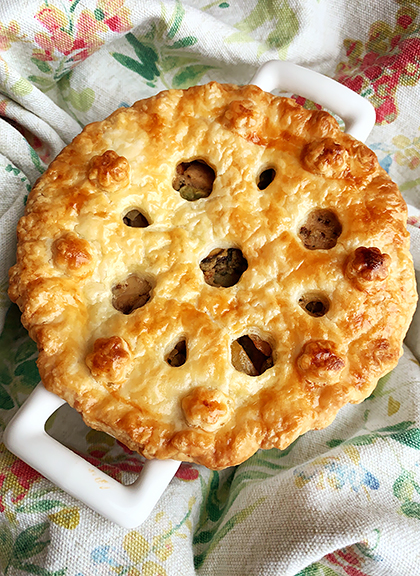 we set the pups up by the front window to watch us shovel snow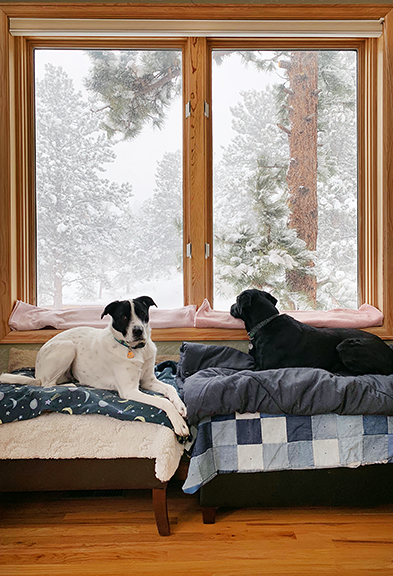 yuki and neva dashing through the deep snow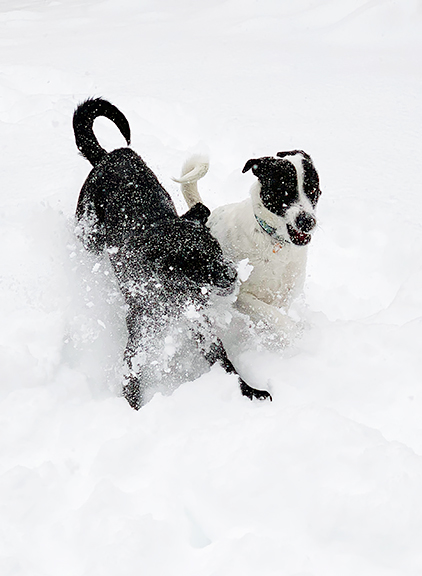 yuki supervises jeremy's snow clearing technique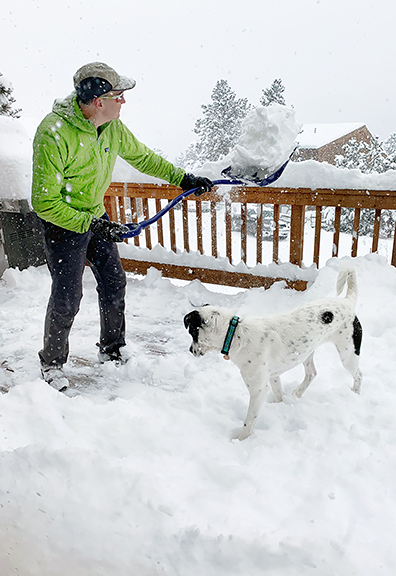 grabbing a backcountry ski with the pups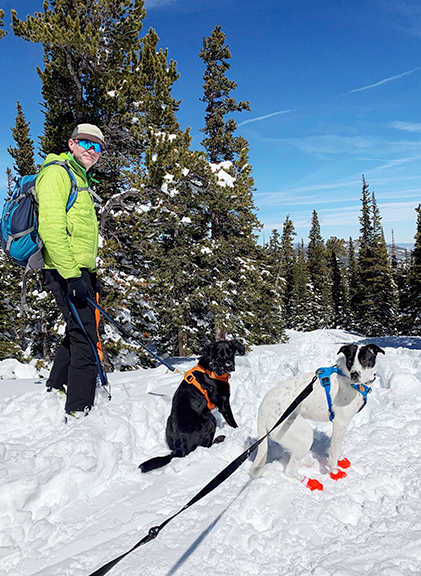 Our Colorado snowpack sits comfortably above average this season and we have fingers crossed that it bodes well for the health of the mountains and their denizens this summer. Water is everything in the American West. If you spend time getting to know the land, this axiom is paramount. Watching the big dump snow days is doubly exciting for us because 1) we love skiing powder days and 2) springtime snow is good for our local morels.
hoping to see many of these beauties this spring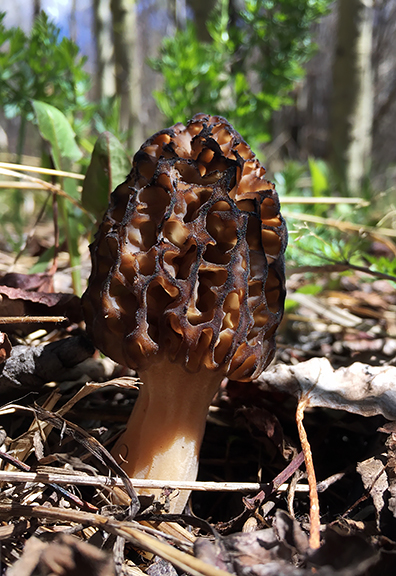 Yes, ever since February, the obsession over morels has been steadily increasing despite several feet of snow on the ground. Sometimes Jeremy and I will be working quietly in the office and I'll say, "I love morels!" or "We should check X location for morels this spring." We are weeks away from morel season in Colorado, but I recently saw fresh morels make an appearance in the mushroom bins at Whole Foods. These babies are now coming online in other parts of the country and that is exciting. If you happen to get your hands on morels, one of the easiest preparations with big return on investment (of time) is morels and scrambled eggs.
morels, eggs, salt, pepper, butter, and shallots
clean and slice the morels
beat the eggs
I generally try to avoid washing most of the mushrooms I forage (or any mushrooms. really). They get soggy and don't brown as nicely in butter. Plenty of people tell me it doesn't make a difference, but I find wet mushrooms (they absorb water very easily) will steam rather than sear in a hot pan. However, I make an exception for morels, because it's quite difficult to get sand and debris out of the pitted surfaces or from the hollow insides without water. I like to submerge the mushrooms in a large bowl of water, then one at a time make a loose cage with my hand around each morel and swish it gently, but quickly, in the water. I shake as much excess water off as I can and then lay it on a towel to dry. You don't have to cut the morels in half, but I do this if they are especially dirty or if bugs took up residence inside the hollows and pooped. Hey, poop is a reality of life – especially in the woods!
I pan-sear my morels with shallots in butter, but if you have a different preferred method for preparing the morels, go for it. Maybe you want them in a bourbon cream sauce over the eggs instead? The main goal is to pair delicious umami-ful morels with creamy dreamy scrambled eggs and put them in your mouth.

let's roll
sauté shallots in butter until soft
add the morels
cook until any released liquid boils off
When the mushrooms are cooked, set them aside while you scramble the eggs. You can keep them warm in a covered dish. If you are particularly gifted, cook both at the same time. Just remember the goal. I never learned to scramble eggs properly until a few years ago. Before that, I simply poured beaten eggs into a hot pan until I had hard scrambled eggs. That worked just fine for Jeremy because he likes the egg equivalent of well-done steak. But I LOVE runny yolks, jammy yolks, creamy scrambled eggs. And it was foraging morels that incentivized me to learn how to soften my well-done scrambled eggs.
For anyone left out there who doesn't know the key to making delicately creamy scrambled eggs, you want to go low and slow (kinda like the mantra for proper barbecue). Cook the eggs over low heat and patiently scrape the eggs together until soft curds form. This method will try the patience of people who are in a rush. Don't rush it. Let it happen. Just before the eggs are cooked through, scrape them onto your serving plate. The residual heat will continue to cook the eggs.

pour beaten eggs into a pan with melted butter
cook over low-medium heat and scrape until you have soft curds
Once the eggs hit the plate, the mushrooms should follow. And then you need to sit down and savor every bite. Have it with toast, bacon, sausage, potatoes, biscuits, gravy, cheese, hot sauce, whatever tickles your fancy. It's going to be fancy and unforgettable. Happy Spring. May the morels be with you.
breakfast fit for a queen
to share or not to share?
perfect pair: eggs and morels
Sautéed Morels and Scrambled Eggs
[print recipe]
2 tbsps unsalted butter
1 tbsp shallots, minced
4 oz. fresh morels, sliced
4 eggs, beaten
salt
pepper
Melt 1 tablespoon of butter in a sauté pan over medium-high heat. When the butter begins to sizzle, add the shallots and sauté until softened. Add the morels and cook until the juices have mostly boiled off. Season with salt and remove from heat. Heat the remaining tablespoon of butter in a nonstick pan over medium-low heat. When the butter is hot, pour the beaten eggs into the pan. Sprinkle salt over the eggs and stir until they just begin to set. Sweep a silicon or rubber spatula across the pan, scraping the base so that the eggs pile up in a wet mess. Continue to scoop the eggs until they are slightly underdone (because they will continue to cook after removed from the pan) and remove to a plate. Spread the mushrooms over the eggs. Season with salt and pepper to taste. Serves 1-2.
more goodness from the use real butter archives