Recipe: lime-raspberry petits fours
Did anyone get up to see the Aurigids this morning? We actually dragged our carcasses outside at 5 am (mountain time) and caught several gorgeous meteors despite the brilliance of the moon overhead. Wonderful.
This afternoon I set about making petits fours glacés. These are what I always think of when I hear petits fours, but in fact, they are merely a subgroup. The ones we made in pastry class were chocolate, dry, and rather large. Today, I made mine lime, moist, and tiny.

start with a big bowl of limes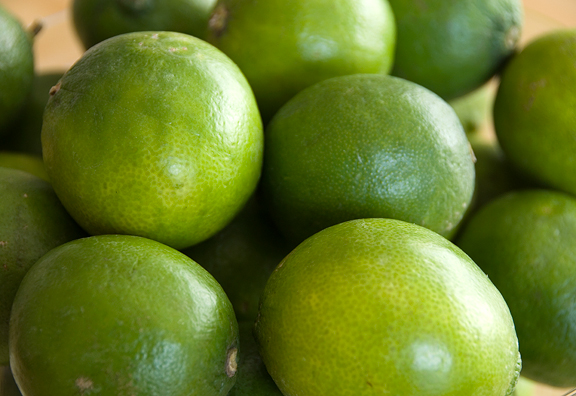 I made vanilla chiffon cakes instead of lime chiffon because I wanted to use that second sheet for something else. I wrapped it up and chucked it into the freezer.
vanilla chiffon cakes in sheets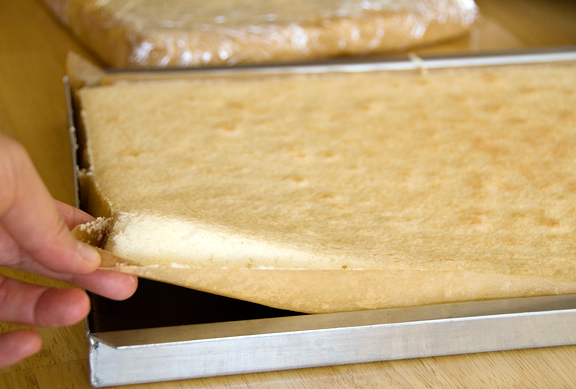 I love pairing raspberry and lime, so I grabbed some tired raspberries from my refrigerator and made a quick jam out of them. The idea was to soak the cake in lime syrup, spread a layer of raspberry jam, then a layer of lime buttercream, then top it with cake and glaze it in poured fondant icing.
cut pieces ready for glazing
I had never used poured fondant before and the first few tries came out too thick. I added a little more liquid and reheated the fondant before I achieved the right consistency. Still, I think I hate that stuff. Pretty isn't worth it if it tastes like crap (which is one reason I really hate traditional wedding cakes). I dyed mine with a drop of red food coloring since the vanilla extract gave it a sort of pukey beige color that doesn't lend well to fruity themes.
topped with raspberries and lime zest
sweet, tart, moist and creamy
Here's my write up for the recipe which was partly done on the fly. My chiffon cake recipe is adjusted for my elevation (8500 ft.) and the original I got from my pastry class was written for Boulder, Colorado (5300 ft.). I don't know how the Boulder recipe fares at sea level, so you might just want to substitute a favorite genoise or chiffon cake recipe of your own.
Lime-Raspberry Petits Fours
[print recipe]
1/2 sheet chiffon cake
1-2 cups lime swiss meringue buttercream
1 cup raspberry jam
1 cup lime syrup
poured fondant icing
garnish of choice
chiffon cake
makes 2 11×17-inch sheets or 2 9×3-inch rounds (you need only 1/2 of one sheet)
this recipe originally intended for baking at 5300 ft.
14.5 oz. cake flour
8.75 oz. confectioner's sugar
6.75 oz. whole milk
6 oz. canola oil
3.25 oz. eggs
0.5 oz. baking powder
13 oz. egg whites
9.5 oz. granulated sugar
1 tsp vanilla extract
Oven 375°F. Prep pan by buttering bottom and sides. Place parchment in pan and butter the parchment. Sift dry ingredients (except granulated sugar) into a large bowl. Mix all ingredients (except the 13 ounces of egg whites and granulated sugar) in the large bowl until combined. Whip whites and granulated sugar to medium peaks. Fold into batter gently. Bake until set, about 20-25 minutes. Remove from oven and remove from pan. Let cool on a rack. Cut one sheet in half. Wrap the other half and the other full sheet for other use. Wrap the half sheet you want to use in plastic and place in the freezer for a few hours. Remove from freezer and with a large serrated knife, cut the cake into two layers.
lime swiss meringue buttercream
makes about 1 quart
8 oz. egg whites
16 oz. sugar
1 lb. butter, room temperature
1 tbsp lime zest
4 tbsps lime juice
Combine egg whites and sugar in a Kitchenaid mixing bowl. Whisk constantly over a bain marie until 140°F is reached. Place on mixer with whisk and whip until stiff. Turn down whip speed to 3rd and whip until cool to the touch (this takes a while – should be cooler than your hand). Change to a paddle and gradually add soft butter by tablespoon pieces. Mix to emulsify. Once desired consistency has been reached, add lime juice and zest.
lime syrup
1 cup sugar
1 cup water
2/3 cup lime juice
Heat water and sugar in a pot until sugar is dissolved. Bring to boil and turn off heat. Let cool. Mix in lime juice.
poured fondant icing
4.5 cups confectioner's sugar
1/2 cup water
1/4 cup light corn syrup
1/2 tsp vanilla
1/4 tsp almond extract
drop of food coloring (optional)
Combine all in double boiler except coloring. Heat until lukewarm. Remove from heat and stir in food coloring. Ladle over petits fours.
assembly
Set first cake layer on a sheet of wax paper on a cutting board. Use a pastry brush to apply the lime syrup to the layer. Spread a thin layer of raspberry jam, then carefully spread a layer of lime buttercream on top of the jam. Set the second layer of cake on top and brush with more lime syrup. Using a ruler and a good sharp serrated knife, cut the cake into 1×1 inch squares. Place the squares on a rack over a pan or wax paper (to catch the drips) with enough space between each square for glazing. Take warm glaze and pour over the squares. Garnish and serve.