Recipe: sugar plums
As a child, I only knew of sugar plums through The Nutcracker and Twas the Night Before Christmas. Several years ago when I had a subscription to Saveur, I jotted down a recipe for sugar plums, mostly because I had never tasted one before. These sugar plums are confections, not the fruits that you can read about on Wikipedia. They are quite easy to make and tend to be a huge hit with people who either don't care for chocolate or just enjoy the autumny spices and dried fruits. It's a heady aroma that wafts through your house when you make a batch: orange peel, nutmeg, cinnamon, toasted almonds, honey.

almonds, dried dates, dried apricots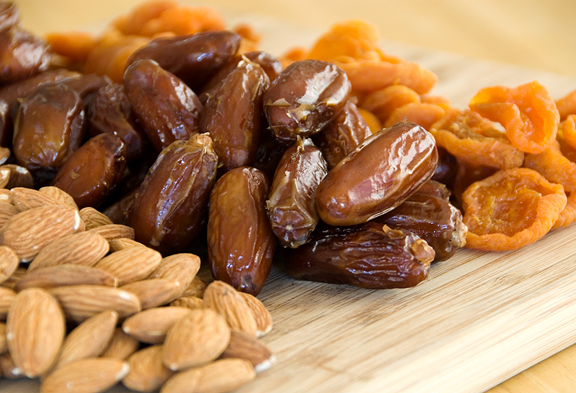 I have used Medjool dates in the past, but while shopping for dates this weekend, I saw Deglet dates and had to get them. They are not as juicy, not as mushy, not as sugary as Medjool, but I love Deglets. It dates (ha ha!) back to my time spent in Death Valley. We used to go there a lot to climb, hike, camp, and to catch spring desert blooms in March. They sell Deglets at Furnace Creek in large bags and I tried them over ten years ago and have been hooked ever since.
The almonds get toasted and chopped. Since I bought Deglets, they weren't pitted, so be sure to pit your dates unless you don't mind killing your food processor. The dates and apricots were also chopped. In a small bowl, I combined the spices with grated orange peel and some honey.

cinnamon, nutmeg, allspice, orange peel, honey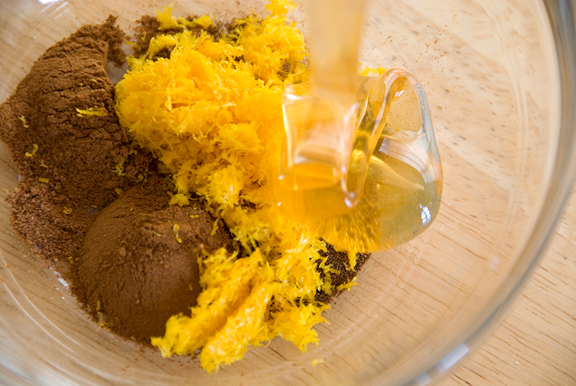 Mix everything together in a large bowl. It's sort of ludicrous to mix by spoon because it's such a sticky mess. I use a clean hand to make sure the spice mix is well distributed.
you need to mix it with your hand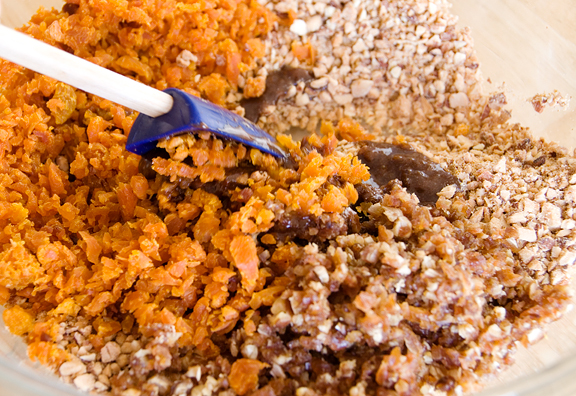 To roll the sugar plums, pinch off about a teaspoon of the mixture and roll it into a ball. Your hands will become coated with gooey goodness after a while and soon all of the ingredients will stick to you rather than each other. Scrape as much off as possible and wash your hands periodically.
a delicious bite-size morsel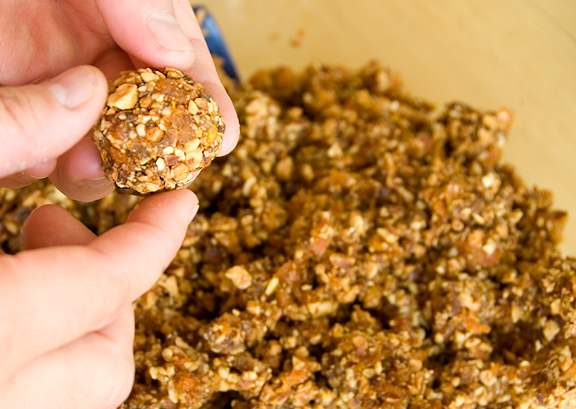 Dust the sugar plums with confectioners sugar before serving. They have a decent lifetime, and are perfect for the holidays. I'm sending some to my pal, Sam, for Thanksgiving.
great to serve or to ship
Sugar Plums
[print recipe]
from Saveur Magazine
2 cups whole almonds
1/4 cup honey
2 tsps grated orange zest
1 1/2 tsps ground cinnamon
1/2 tsp ground allspice
1/2 tsp freshly grated nutmeg
1 cup dried apricots, finely chopped
1 cup pitted dates, finely chopped
1 cup confectioners' sugar
Preheat oven to 400°F. Arrange almonds on a baking sheet in a single layer and toast in oven for ten minutes. Set aside to cool and then finely chop. Meanwhile, combine honey, orange zest, cinnamon, allspice, and nutmeg in a small bowl. Mix almonds, apricots, dates and spice mix in a large bowl. Mix well. Pinch off rounded teaspoon-sized pieces and roll into balls. Dust the sugar plums with powdered sugar and refrigerate in single layers between sheets of wax paper in airtight containers for up to one month. Makes 40 25-gram balls.
more goodness from the use real butter archives