Recipe: chocolate-dipped brandy truffle figs
January was a marked improvement over December for us as we enjoyed better (more) snow and could focus on work and exercise in Crested Butte without the distraction and stress of the holidays. The Nordic trails and mountain resorts had mostly emptied of traveling guests, which is how we like it – but especially with an ongoing pandemic. The quiet trails presented an opportunity to work with the pups off-leash. They both made great progress and had heaps of fun.

snow, mountains, skis, and a good pup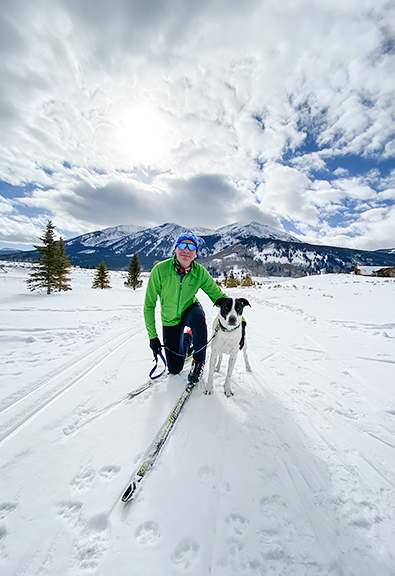 skiing any powder we could get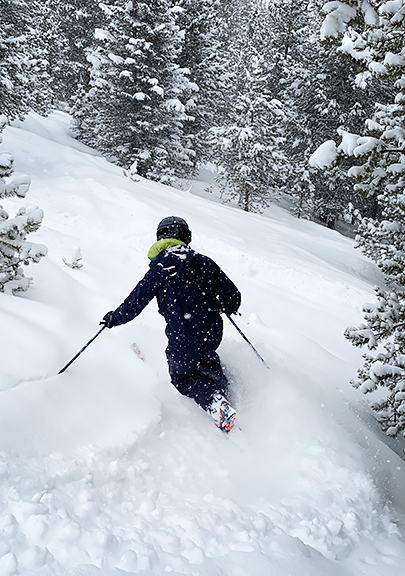 neva being calm and happy on a skijoring session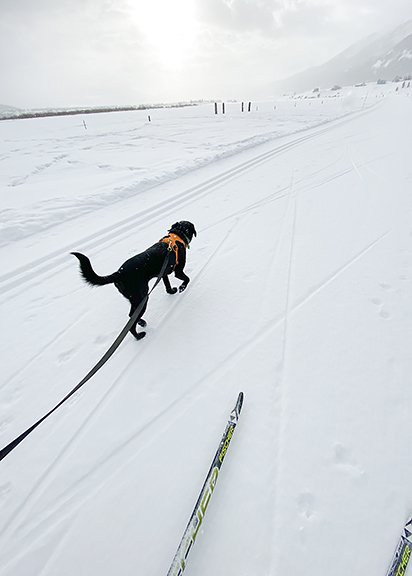 beautiful front range sunsets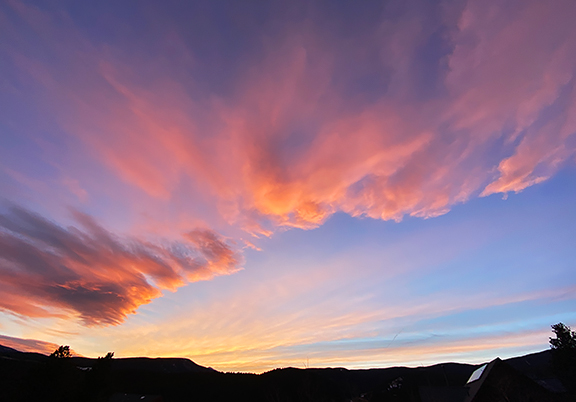 more sun than snow in nederland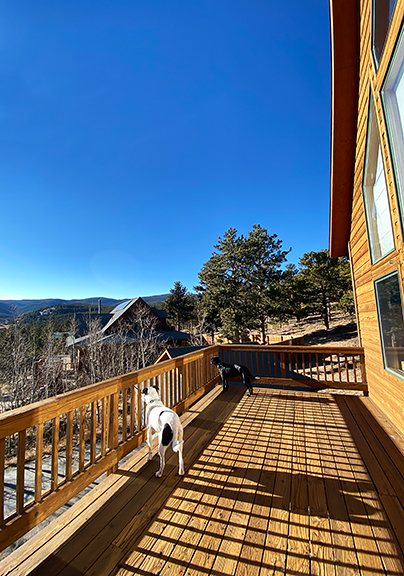 Yuki turned three years old on Monday. She hasn't been a baby for a while now, but she's still a baby. One of our many nicknames for Yuki is Baby because her spec sheet at
RezDawg Rescue
listed "Baby" in her age field. We love that little nugget so much. You can see birthday videos on my Instagram
here
.
birthday yuki!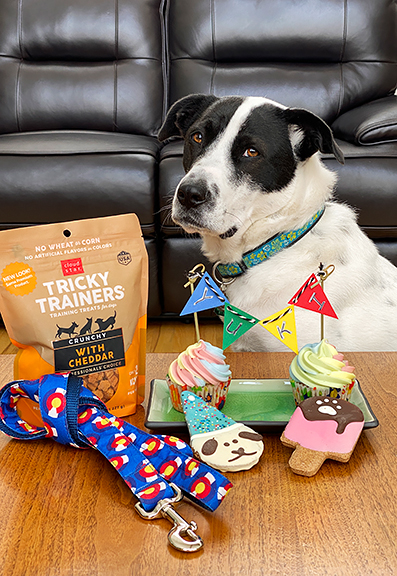 Back in early December, Jeremy and I gathered a bunch of goodies for care packages to send to our parents. We don't celebrate Christmas nor do we send holiday gifts, but we thought our sets of parents needed some cheering up. They had all been so good about not socializing and keeping safe, and we knew they missed seeing friends, going out, seeing family, and most of all – their grandchildren. I packed as much as I could in the boxes and shipped them out before the huge postal service holiday clog. Sadly, a box of chocolate figs I found at Trader Joe's didn't fit in the boxes. Eventually, we tried some. They were AMAZING and of course the next time we were at Trader Joe's they were gone – one of those ephemeral seasonal items.
The figs were so delightful that they stuck in my mind for a month, at which point I decided to recreate them myself. A brandy truffle stuffed into a dried fig and dipped in chocolate. A note on dried figs: I liked the size and texture of the dried golden figs from Trader Joe's (this isn't an ad, I just shop there). They were moist and sweet without being too fragile and sticky to handle. I didn't like the dried figs from Costco which were dry, tough, and flavorless. When I returned the bag, they informed me that many other people had similar complaints/returns. And I did not bother finding them at Whole Foods because they've turned the entire bulk foods area into a staging ground for deliveries.

dried figs, chocolate, brandy, heavy cream
Making the ganache for the brandy truffle is straightforward. I originally used an ounce of brandy for a half pound of semisweet chocolate. It works, but I definitely prefer a punchier booze presence than a subtle flavoring. Next time I'll up that to 2 ounces, but go by your taste.
pour hot cream over chopped chocolate
stir in the brandy
let cool completely
While the ganache cools, prepare the figs by slicing a slit in the side of each one. This is also a good opportunity to inspect the figs for smut from multiple species of Aspergillus (fungi) which results in black powdery spores on the inside of the fig. If you find one, chuck it, don't eat it. I usually find 1 in 50. After cutting the fig open, I push the seeds and guts to the sides to form a pouch. This makes it easier to stuff the fig with ganache. I pack the figs full and sometimes they don't seal completely around the truffle. That's okay. Just smooth the seam and after dipping in chocolate, no one will know the difference.
stuffing the figs with brandy truffle
filled
The last step is dipping the figs in chocolate. This not only covers up any blemishes, but adds a lovely snap-like texture to contrast with the creamy center, chewy fruit, and crunchy seeds. You can do a simple melt-and-dip by gently heating the chocolate over a water bath or in the microwave (on low or half power, stirring every 30 seconds until melted). This is quick, but the resulting chocolate shell won't have that professional look to it. You can also temper the chocolate, which is more involved and certainly more fussy. The end product will be a chocolate shell that is shiny, snaps, and is more shelf-stable. I go for tempering about 95% of the time. Allow the chocolate to set before serving or storing. Another nice thing about tempered chocolate is that it sets faster than melted chocolate.
dip in tempered or melted chocolate
let the chocolate set on wax paper, parchment paper, or silpat
When the figs are ready, you can store them in an airtight container in the refrigerator for up to 6 months or in a cool, dark area for a week or two. My brandy truffle figs were slightly smaller than the store-bought ones and I actually like them smaller. I think 1- or 2-bite figs are the best size and offer the best ratio of truffle to fig to chocolate shell. They are addictive little treats and make great gifts (ask my neighbors!).
i never "fig"ured i would love these so much
Chocolate-Dipped Brandy Truffle Figs
[print recipe]
inspired by Trader Joe's
1/2 lb. (8 oz. or 225g) bittersweet or semisweet dark chocolate, chopped
1/2 cup (4 oz. or 120 ml) heavy cream
2 tbsps brandy (or more to taste – I like 3-4 tbsps)
dried figs (I prefer smaller, moist ones)
1 lb. dark chocolate (either to melt or to temper)
Place the chopped chocolate in a medium heatproof bowl. Heat the cream in a small saucepan and bring to a boil. Remove from heat and pour over the chopped chocolate. Let stand for a couple of minutes. Stir the chocolate and cream until smooth, then stir in the brandy. Let the truffle mixture cool. Using a paring knife, make a slit on the side of each fig from top to bottom. Stuff each fig with enough truffle mixture to fill out the fig's shape without bursting. It's okay if the fig doesn't close completely around the truffle mixture. Smooth the seam of the fig. Gently melt or temper the remaining pound of dark chocolate.
To melt chocolate: Place the chocolate in a heatproof bowl and microwave on half power for 30 seconds at a time, stirring between each heating, until the chocolate has melted. Or you can set the bowl of chocolate over a hot water bath until melted (but don't let any water get into the chocolate or it will seize). This chocolate is melted, but not tempered.
To temper the chocolate (seed method): Place all but 10 chocolate chips or chocolate pieces in the top of a double boiler or in a large heatproof bowl over a pan of simmering water (about 2 inches deep). Make sure the bowl is wider than the pan because you don't want water getting into the chocolate or all of it will seize. Stir until the chocolate has melted completely, monitoring the temperature of the chocolate. When it reaches 112°F, remove the bowl from the water bath (it will continue to rise – that's fine because we are targeting a final temperature of 118-120°F) and set it on an ice pack or a larger bowl of ice to start cooling it. Stir the chocolate constantly to promote proper cocoa butter crystal formation for tempering. Continue to monitor the temperature. When the chocolate reaches 95°F, remove the bowl from the ice pack or ice bath and toss in the chocolate chips. This is called seeding and should encourage the formation of good crystals for tempering. Keep stirring until the chocolate reaches 91°F. Your dark chocolate is now in temper and will remain so until about 87°F (it varies by a degree or so depending on the brand of dark chocolate). To maintain the temperature range, you can place your chocolate vessel in a sous vide bath set at your desired temperature (I set mine at 91°F) or set the vessel over a small saucepan of warmed water – although this requires constant monitoring and can get very squirrelly.
Dip each fig into the melted or tempered chocolate. Allow the excess chocolate to drip off, then set the fig on parchment, wax paper, or silpat. When the chocolate has set, store the truffles in a sealed container in the refrigerator for up to 6 months or in a cool, dark location for 1-2 weeks. I made about 50 1-inch diameter figs.
more goodness from the use real butter archives