Recipe: peanut brittle
Here now, I don't have a recipe for you in the typical step-by-step today. I have been cooking, just not documenting as lovingly as usual because it's been hectic lately and a fraction of my daylight hours have been devoted to snow worship… Not to mention the ramp up of the ARP (ass reduction plan) leaves me pretty hungry and somewhat spent, so not a lot of patience for shooting intermediate steps. But my body is adjusting quickly and I'll be back on it soon enough. My endorphins are flowing, my muscles are rock hard, and that waistline is shrinking. I shit you not, kids. Hyperactivity has its benefits.
After my run and bike the other day, I prepared a lunch of kale and fettuccine in homemade tomato and garlic sauce and it truly rocked my world. I don't quite understand people who go on those ridiculous fad diets – eat carbs, don't eat carbs, eat fat, don't eat fat, eat meat, don't eat meat. Moderation in all things, eh? And if you'd get ye lard butt of ye couch, perhaps it wouldn't really matter if you had that Slice of Yum.

carbo loading?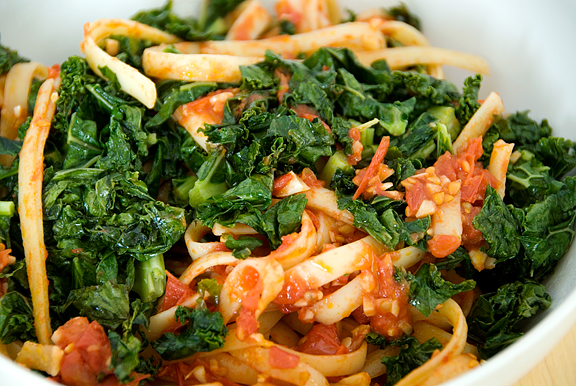 Hmmm, what else… after I made the mac nut brittle, I gave it all away. I like to make sweets, sample them, and then get rid of them. Sort of a relative ass reduction plan (rARP) because you make all of the people around you fat so that you appear relatively slimmer. It's a joke.
A joke!
I wanted to make peanut brittle – the buttery kind, not the glassy kind.
HolyBasil
mentioned that her mom used to make it. So on a lark I looked up a recipe last night and within the hour had a batch of this:
chunky brittle and stretchy brittle
The recipe said I could pull the brittle as it cooled, so I pulled some of it, but when you break that up it sends little delicate shards of buttery brittle all over the place. Makes a mess. My dog has been licking the floor around the table more than usual today. I like it because it's closer to toffee than the
other brittle
and I'm just a sucker for that stuff. Oh, but skinning Spanish peanuts is not a fun activity for a Friday night.
Peanut Brittle
[print recipe]
from the Nut Factory
2 cups sugar
1 cup light corn syrup
1 cup water
2 cups raw Spanish peanuts
1/2 tsp salt
2 tbsps butter
2 tsps baking soda
Heat and stir sugar, corn syrup and water in a heavy saucepan until sugar dissolves. Add salt. Cook over medium heat to and add peanuts at 250°F. Continue cooking to 290°F, stirring often. Remove from heat. Stir in butter and baking soda. Beat to a froth for a few seconds and pour onto well-buttered pan(s) or silpat, spreading with spatula. If desired, cool slightly and pull with forks (or fingers) to stretch thin. Break up when cold. Makes 1-1/2 pounds of peanut brittle.
********
Of course, that brittle was a most welcome sight this evening after skiing a whole day at Vail. Vail is delicious. If ski resorts were desserts, Vail would be my crème brûlée.
So who got some of that mac nut brittle? One of them is Liz, my bud. She and I are tracking one another's ARP – Liz in Oregon and me in Colorado. She is also a tele skier and you know what that means… she's a Rock Star. In addition to a few other confections, I sent her a scarf I knit from truly gorgeous Manos del Uruguay. Like a superhero, I have many hidden powers. I just don't have telekinesis – yet.

the colorway is called flame, for someone who burns up the slopes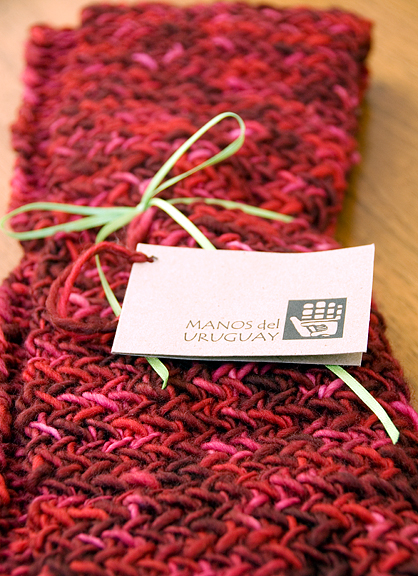 A real post soon, I swear it. Unless we go to Breckenridge tomorrow :)