dang!
It looks like Manisha and Kitt have beaten me to it. That is what happens when food bloggers get together and eat food. They shoot the food, shoot each other shooting the food, then post about: the food and shooting the food and shooting each other shooting the food. I've learned to become quite comfortable taking pictures of my meals in restaurants, but I must admit it was rather entertaining when all three of us did so after the plates arrived. My peripheral vision is quite good – we got plenty of stares from other patrons. I wanted to quip, "We're not mentally unstable, we're just food bloggers."

manisha in action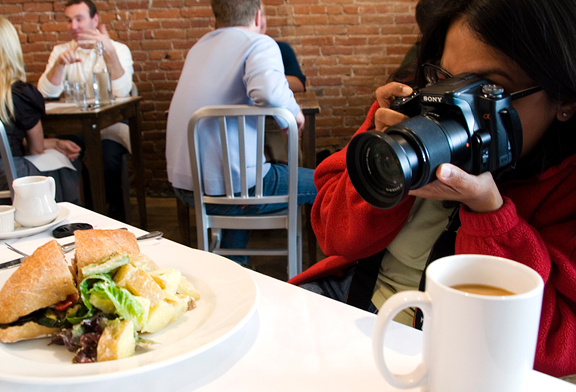 kitt frames up dessert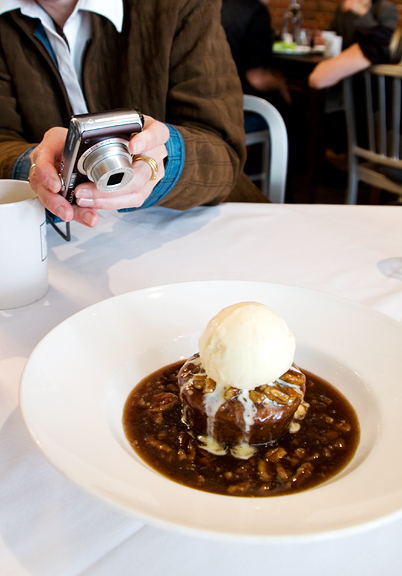 I met up with these two fine ladies for a
NaBloWriMo canvas
handoff-turned-lunch in Boulder at Teh Kitchen (note to my mom: that isn't a typo) today. We confirmed about one another what all bloggers know: that there is so much more to the person behind the blog. Readers may feel they know a blogger very well – it is after all a predominantly one-sided relationship. The truth is that most of my blogging buds are somewhat guarded. While there are wonderful readers and fellow bloggers, there are also wackjobs, trolls, stalkers, and plain old wankers.
on my way to lunch: the driver of this volvo is a complete asshole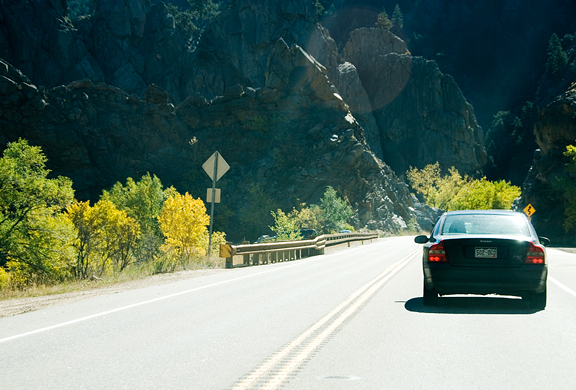 Some things you can only learn about an individual through personal interaction. The dynamics and spontaneity of a one-hour conversation cannot be had by email or blog comments. The cadence of speech, the way one smiles while talking, the laughter – it solidifies the image of that person in my mind.
kitt gave each of us a present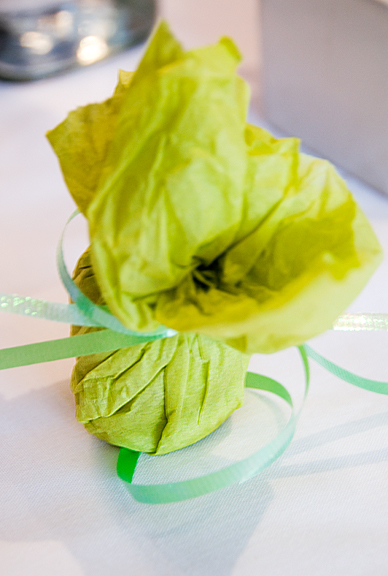 Lunch itself was almost as delightful as the company. We had a wonderful time discussing blogs, food, gardening, crazy people, bloggers we love… Nice to finally match the faces to the blogs. It's a shame that our lunch was just over an hour, but I had medical appointments and an ass ton of errands to run.
my favorite meal of the day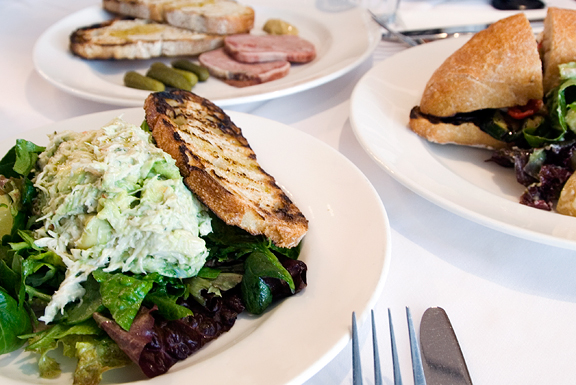 one small spoonful of the sticky toffee pudding and i was on a sugar high all afternoon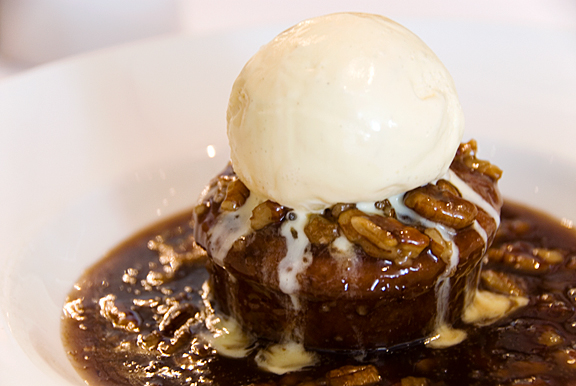 My favorite nugget from the conversation was Manisha telling us that Indian food prepared properly does not photograph well. She didn't say it quite like that… She cracks me up. Well, my brain isn't functioning anymore. Actually, it stopped functioning two hours ago, but look at what I managed to squeeze out of it! I'll leave you with a colorful sunset from yesterday. Nice and balmy weather we're having. Damn it. Where the hell is my snow?
to the west