Recipe: pistachio macarons
I seem to be taking a bit of a risk blogging tonight. We have crazy wind storms raging around us, shaking our house and flickering our lights. Actually, our power went out last night right after my post, so I was lucky to hit the Submit button when I did. We've had several power dips throughout the day already. That and my right shoulder is jacked up for whatever reason, so hanging out on the computer isn't such a good idea (at least not for long).
The power dips didn't matter too much today because I was making Chinese dumplings. It's something we eat every New Year (both western and Chinese new years). I made both the pork and shrimp fillings and cooked them into potstickers and steamed dumplings.

filling the steamer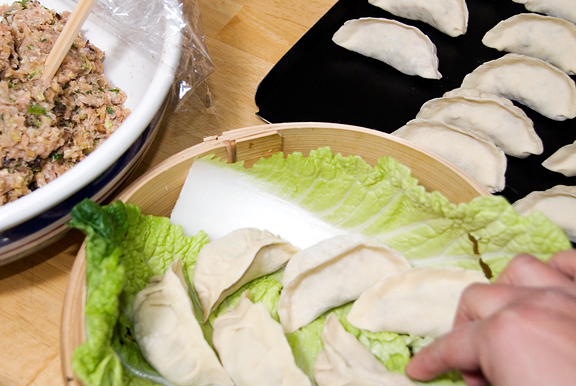 felt great to sit down to eat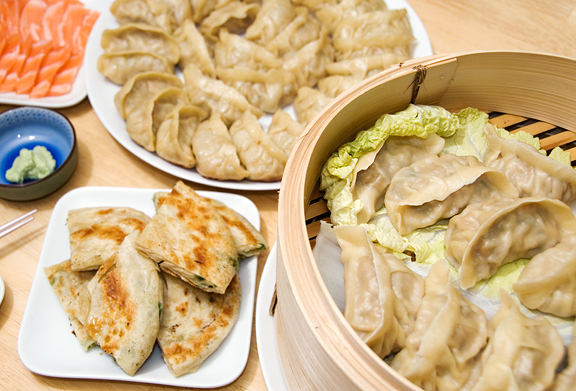 I keep a list of recipes I want to try my hand at eventually. Then I have a list of foods I *really* want to try making, and it's much shorter because it contains items that I either don't have a recipe for or are really challenging to make. All last year, I had it in my head to make macarons – French macarons. They are finicky enough as it is, but toss in my elevation at 8500 feet and it's enough to make any baker wonder if it's worth tackling all at once. Well, it is. I made these just before the year was out!
powdered sugar, blanched almonds, pistachios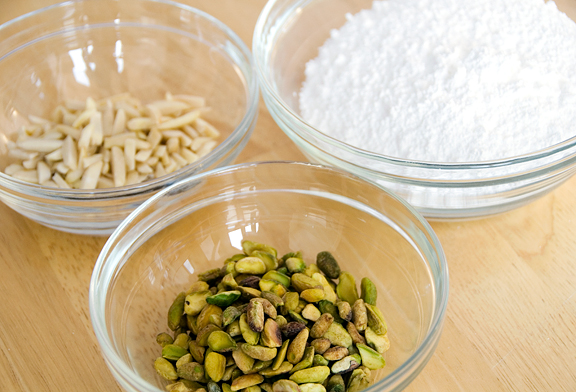 grinding it up in the cuisinart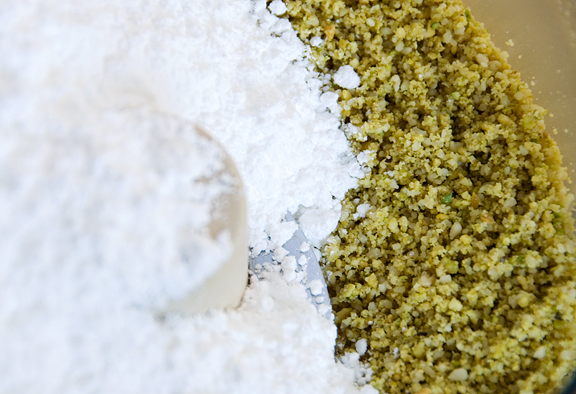 I'm not going to cover all of the ins and outs of making macarons because 1) I don't know all of them and 2) there are far better resources than myself. I read up on
Tartelette's tutorial for making macarons
(it's the best one) as well as several of her gorgeous macaron posts on her blog. The flavor I wanted to make more than any other was pistachio, because I love green and I love pistachios – plain and simple. Lucky me that Tartelette had a recipe at the ready for me
here
.
ground nuts and powdered sugar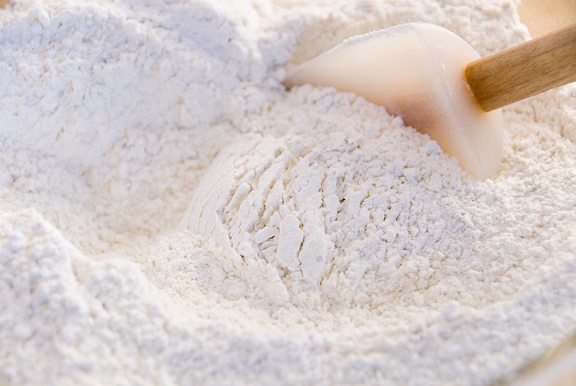 colored granulated sugar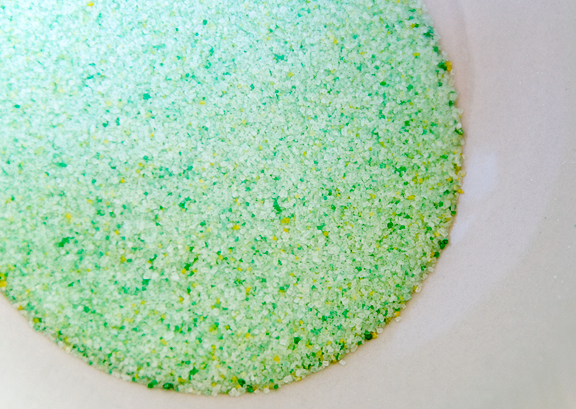 So Helen's instructions call for powdered food coloring, which I don't have anywhere in my house. She warned against adding liquid food coloring because it might disrupt the structure of the macaron batter. I wanted slightly tinted macarons (for some reason, I think it tastes more pistachio-ey if it's green than if it's off white – that's just me… a child of the 70s), but was mortified that I might botch the whole job before even getting the batter to the piping bag. I tried a little trick I learned to color sugar for sugar cookies and added one drop of green food coloring and a drop of yellow food coloring to the granulated sugar and whisked it together until the sugar was the color I wanted. I let it sit for a few minutes and the sugar was dry, but green! When I whipped the egg whites and added the colored sugar, it became a nice pale green color.
folding the almond meal mixture into the egg whites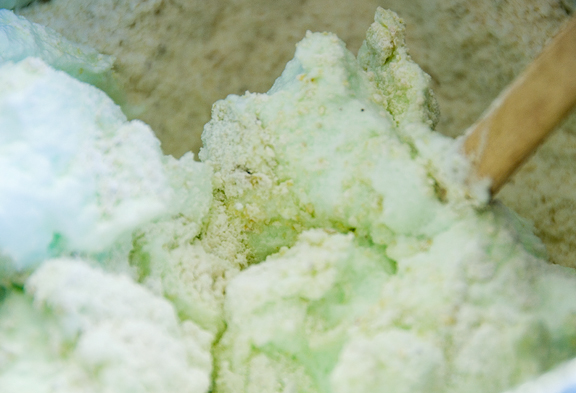 pipe out little rounds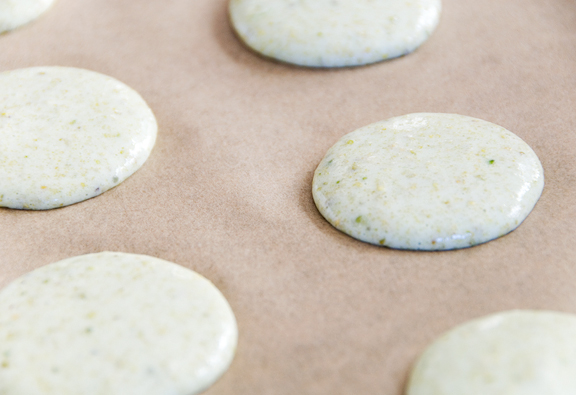 I did read other instructions on making macarons, just because I like to gather as much information as possible before embarking on something totally unknown. I had to laugh when several people declared the macaron batter should have a consistency of magma. Do any of these people know what the viscosity of magma is? I didn't think so. Because magma is *subsurface* molten rock. Maybe they meant lava, but after making the macaron batter and having seen active lava flows, I don't think they are similar.
My first batch was probably a little on the runny side because my macarons were a little flatter and wider than I was shooting for. But letting them sit for 20 minutes before popping them into the oven gave them a nice firm shell which encouraged the development of "the foot". I was so excited when I saw feet on my macarons through the oven door.

not a bad first attempt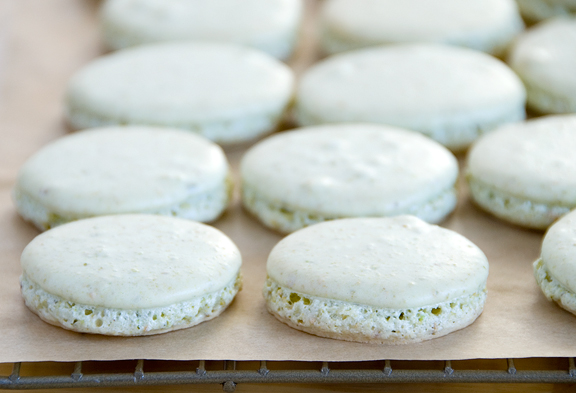 pairing up similar sizes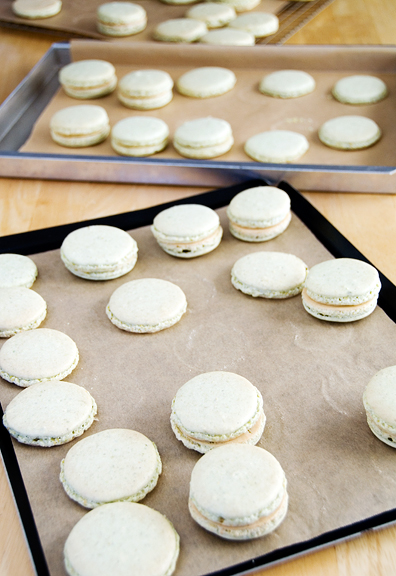 The first batch was pretty, and hollow on the inside. Well, sort of hollow and sort of chewy. I tried again the next morning because after consulting with Helen, we figured my altitude was definitely playing a role in the macaron development. The second time, I increased my oven temperature and reduced the baking time. Seemed to help give it a chewier inside texture. I'm still working on it. It's like chem lab…
chocolate almond ganache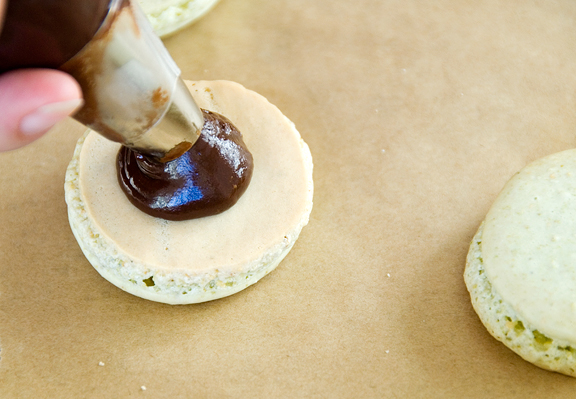 waiting for the ganache to firm up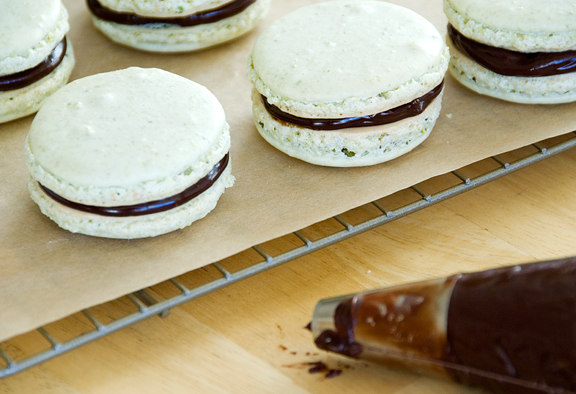 I altered the chocolate ganache by omitting the ginger and adding almond extract because *I* think pistachios, almonds, and chocolate are like the Flavor Triumvirate of pastries! Subtle, but delicious – and in the form of a macaron, it is pure joy. The ganache was a little runny because I was in a rush to pack them up to distribute, but when cooled, they are perfectly firm, yet yield nicely when bitten into. I do think part of the ease with which I could deal with the macarons was that the humidity where I live is typically very low (I'll refer you to my cracked and dried hands in winter – sometimes we get humidity down to 10%). While I am happy to have tackled macarons before year's end, I am even happier to attempt many more variations in the coming months. A great way to kick off 2009! (Thank you, Helen. You are the best!)
perfect little presents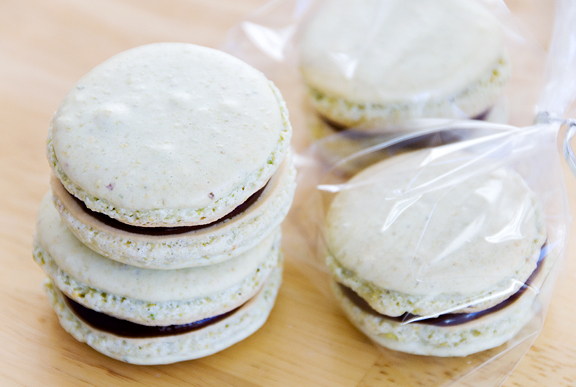 who wouldn't smile upon opening a box of these?
Pistachio Macarons
[print recipe]
modified from Tartelette, adapted from Stephane Glacier
pistachio macaron:
225g powdered sugar
60g almonds
65g pistachios
3 egg whites (about 100g)
green food coloring (optional) (powdered is better)
25g granulated sugar
In a food processor, run the nuts and powdered sugar until the nuts are finely ground. Run through a sieve if needed. If using liquid food coloring, add a drop at a time to the granulated sugar and whisk together until evenly colored (your sugar will be darker than the final macaron). Set aside and let dry (a few minutes). Whip egg whites until foamy, slowly add the granulated sugar, until they are glossy. Add the powdered green food coloring if using. Slowly fold the nut/sugar mixture into the whites with a wide spatula. The mixture should remain shiny and flow easily (hold a ribbon for ten seconds, I would say). Fill a pastry bag with the batter and pipe small rounds onto parchment lined baking sheets. Let the macarons rest for 20 minutes. Preheat the oven to 315°F (325°F at 8500 feet) and when they are ready, bake them for 12-15 minutes (10 minutes, then reduce heat to 315°F for the last 3-5 minutes). Let cool, remove from the paper and fill with the ganache. Makes 35.
chocolate ganache filling:
8 oz. (227g) semisweet or bittersweet chocolate
3/4 cup (180 ml) heavy whipping cream
2 tbsps (28g) unsalted butter
1 tsp almond extract
Place the chocolate in a medium sized bowl. Set aside. Heat the cream in a medium sized saucepan over medium heat. Bring just to a boil. Immediately pour the boiling cream over the chocolate and allow to stand for 5 minutes. Add the butter and stir with a whisk until smooth. Stir in almond extract. Let cool to room temperature and use as desired.