Recipe: beef sushi roll
There is just over a day left to enter the drawing for the Kyocera ceramic knife. I'm impressed with the turnout – so many people who love to flirt with danger! Nice.
Yesterday was my last day of tele class. I'm happy to get my time back, but also a little sad because it was so much more than just improving my tele skills. The good thing is that we have plans beyond class. Alpha chicks rule.

our group minus two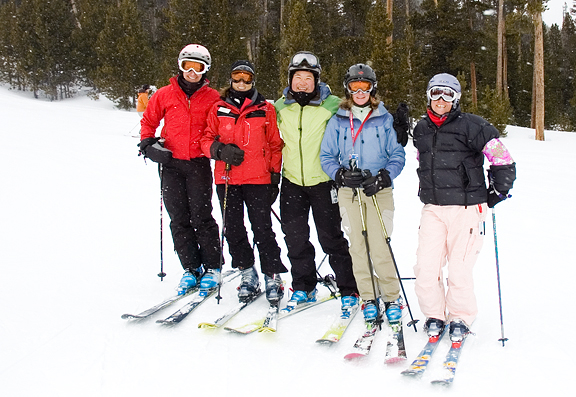 By the time we were done on the mountain, the snow was coming down fast in large fluffy flakes. It was a great day, but it wasn't over. We all met up afterward for drinks and appetizers and to see Bode, our instructor's 8 month old border collie. Bode (named for Bode Miller) is already a superstar and he is going to take the agility competitions by storm. It's quite amazing to be around such an intelligent dog (and then later I went home to Kaweah, Dog of Simple Brain).
let's play tug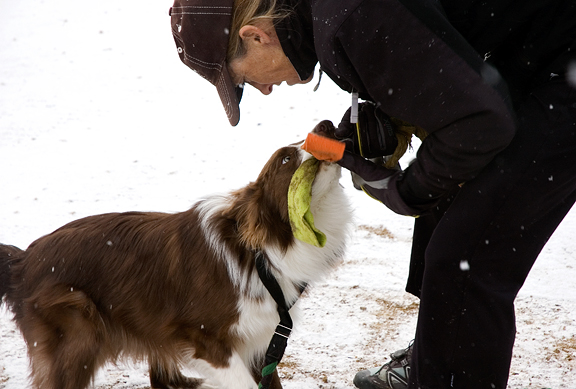 après ski: drinks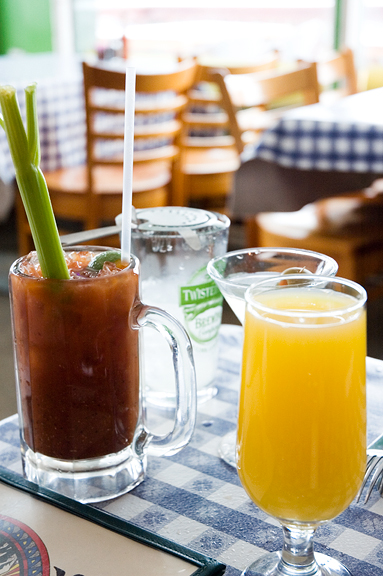 Now that we are safely beyond that 2-week period of Chinese New Year celebrations, I can put the house back in order. Even though cleaning the house isn't my favorite activity, I do love a clean home free of dog hair tumbleweeds. In addition to cleaning our house, I'm doing a little housekeeping here. A couple of months ago I made
beef tenderloin wraps
and said you could take the tenderloin scraps and eat them, feed them to puppy, or save them for a recipe I would be posting shortly. Shortly got away from me, but here we are at last!
leftover filet mignon strips and avocado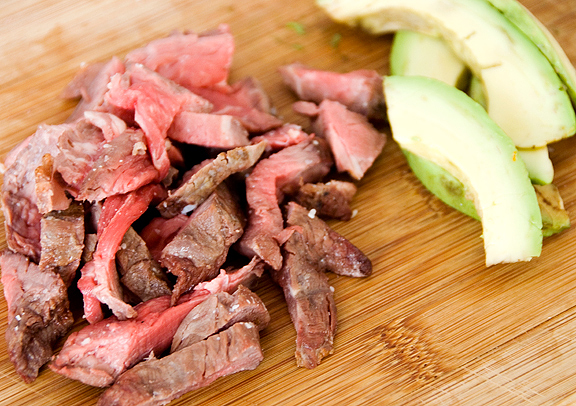 Every time I have had a sushi roll made with beef, it has been fantastic. I think part of that reason is because the chefs brushed eel sauce on the roll. Eel sauce is not a sauce made of eels, but the sweet, dark, syrupy sauce they brush on bbq eel or other deliciousnesses at the sushi bar. It was not until
recently
when I learned to make that beloved sauce myself. Once that hurdle was overcome, I knew it was time for a beef roll.
simmering the mushroom slices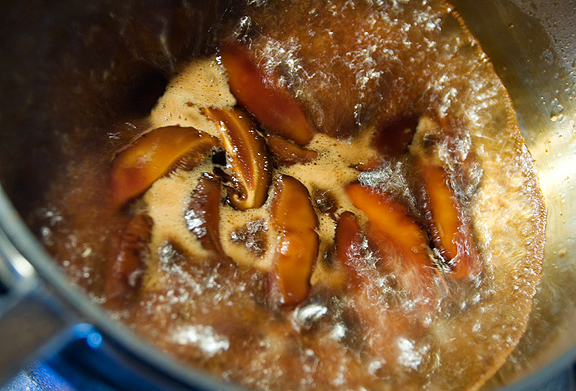 I sliced up a few Chinese black mushrooms and simmered them in some soy sauce and sugar. I think what I would have preferred was some pickled gourd shavings, but I have yet to track those down around these parts. Mushrooms go well with beef and EVERYTHING goes well with avocado.
sweet and savory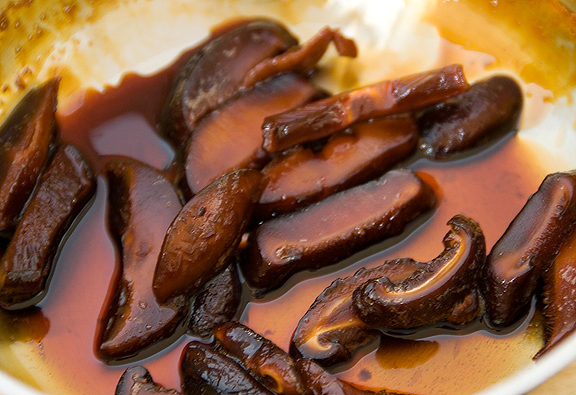 I let the mushrooms simmer down until the liquid was syrupy. I would typically roll this with the rice inside, but Jeremy likes to roll maki with the rice on the outside and since I was behind the camera, he got to call the shots.
you know the routine – load up the roll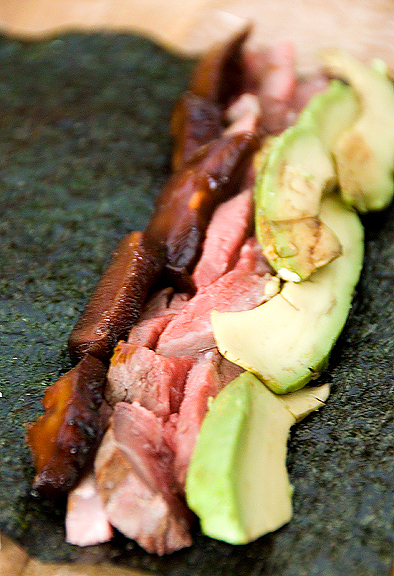 Despite the completely terrestrial nature of this role (except for the nori), I completely love it. We seldom make it because we don't eat beef that often and it's usually easier to toss scraps of beef to the pup (one for me, one for youuuuuuu) than to plan sushi around the scraps. However, if you are squeamish about the fish aspect of sushi (which in my mind, is the whole point of sushi – hello?), you can attempt a gentle introduction with some beef. In fact, this was how I managed to get my sister turned on to sushi years ago – and that brings back a lot of good memories.
we are not beef-ist in this house
Beef Roll Sushi
[print recipe]
4 cups cooked, seasoned sushi rice
2 cups beef, cooked rare to medium rare cut in strips
1 avocado, sliced
seasoned black mushrooms
1 package of sheet nori
eel sauce
toasted sesame seeds
wasabi
soy sauce
gari (pickled ginger)
seasoned black mushrooms
4 dried Chinese black mushrooms
1 cup soak water from mushrooms
2 tbsps sugar
1 1/2 tbsp soy sauce
Soak dried mushrooms in boiling hot water until soft (about 15 minutes or more). Reserve a cup of the soaking water taking care not to let in any sand of particles. Rinse the mushrooms and slice. Place mushrooms, soak water, sugar, and soy sauce in a small saucepan and simmer until almost completely reduced. Allow to cool.
Assembly: On a sheet of plastic wrap, set down one sheet of nori. With wet hands, grab a handful of sushi rice and evenly spread across the top 3/5 of the nori sheet, pressing the rice down to ensure it sticks to the seaweed. Flip the nori over so that the rice faces down onto the plastic wrap. At the non-rice end of the nori, lay out beef, avocado, and mushrooms, leaving a little room on either end. Take care not to overfill the roll. Roll the fillings up from the non-rice end of the nori (like a carpet) and continue to roll tightly, but not too tightly until the rice encompasses the entire outer part of the roll. Use the plastic wrap to help maintain shape without letting the roll stick to you. Use the bamboo mat to firm up the shape and compact the roll. Remove the bamboo mat. Slice through the plastic wrap with a very sharp knife dipped in water, to get 8 even pieces. Brush eel sauce on top of the pieces and garnish with sesame seeds. Serve with wasabi, gari (pickled ginger), and soy sauce. This should yield about 4 cut rolls.