Recipe: chocolate raspberry macarons
Even though I tell you guys that I blog for you, I have to be honest… I blog for me! I'm not just talking about the mental health aspect, but I find that my own recipe page comes in really handy when I'm contemplating what to make for dinner each week and particularly for planning party menus. As I had mentioned before, I had to take into consideration the soy-free, dairy-free, gluten-free, egg-free, chicken-free issues of some guests. And while I did have something to offer for everyone, I also tried my best not to deprive those guests who can, do, and love to eat dairy, gluten, and all of that other good stuff.

dessert prep the day before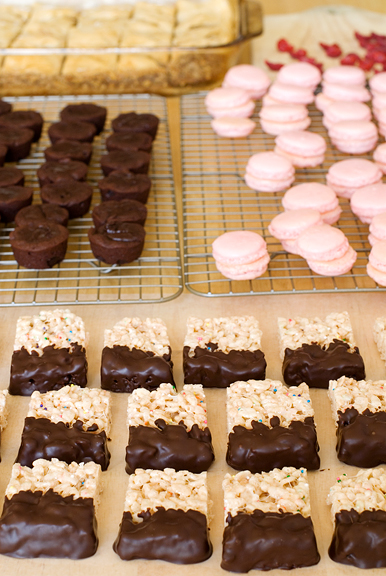 it began to snow before the guests arrived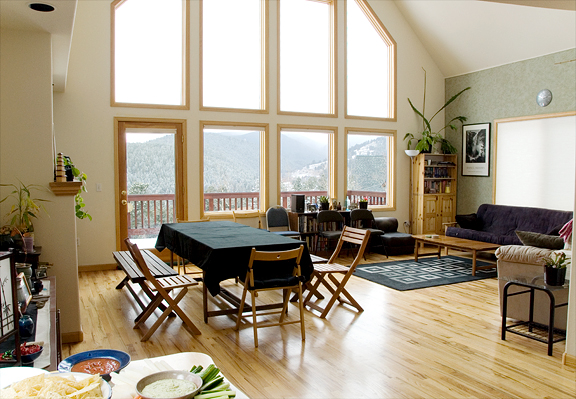 That's our patio furniture where my indoor bike trainer usually sits. A second table was brought up to provide more seating. I quite love that our furniture and house are so flexible for large parties. It is even better in summer because we use the deck. In total there were 14 adults, 6 kids, and one Kaweah. Young children make things much livelier and so Jeremy and I took turns between hosting to police Kaweah, who did her best to suck up all of the fallen food.
Our town is holding it's Frozen Dead Guy Days this weekend, which meant several of our friends were held up in traffic trying to get to our house. We started with drinks and appetizers as it was early (early b/c of little kids and early b/c Jeremy has to travel at the ass crack of dawn tomorrow) and folks were trickling in for a couple of hours. For those of you who inquired about the menu:

drinks:
gin and tonics, margaritas, bridgeport pale ale, izzes
appetizers:
crudités and white bean dip
white corn tortilla chips with salsa and guacamole
argentine empanadas
dinner:
shredded beef tacos with corn tortillas
carne adovada with flour tortillas
gazpacho
green salad with chipotle caesar dressing
dessert:
chocolate dipped rice crispy treats
mini flourless chocolate cupcakes (some with whipped cream and raspberries)
baklava
chocolate raspberry macarons
While I love the intimacy of smaller dinner parties, these larger shindigs are fun because of the mixing and mingling. Unfortunately, playing hostess meant I didn't get much of a chance to take pictures (I totally missed shooting dinner). However, I *did* get to play with lots of beautiful lenses that Brad brought (he's a Nikon too). I'll shut up for a moment and just show the pictures of people having a good time…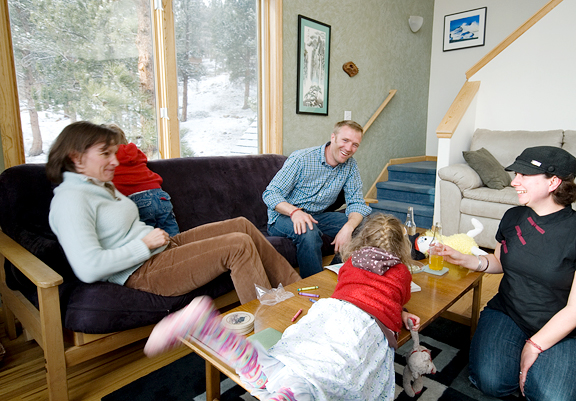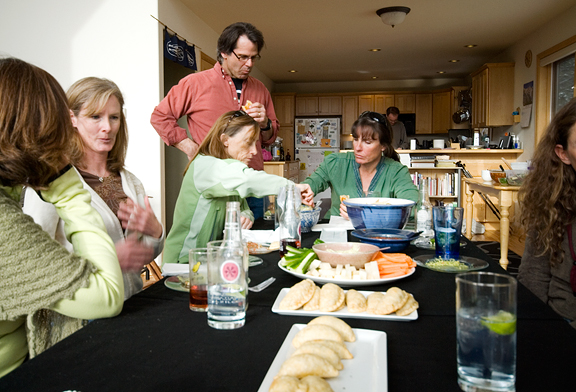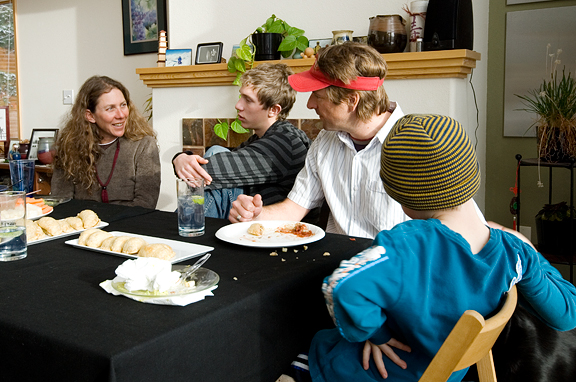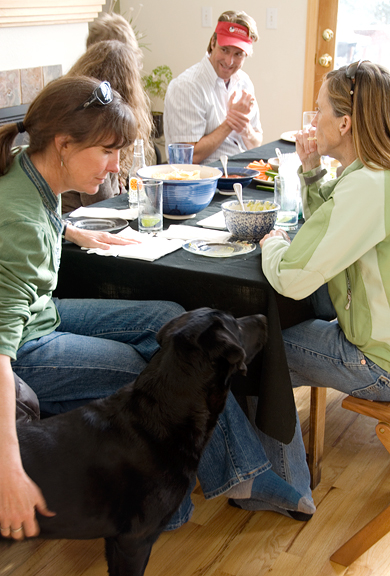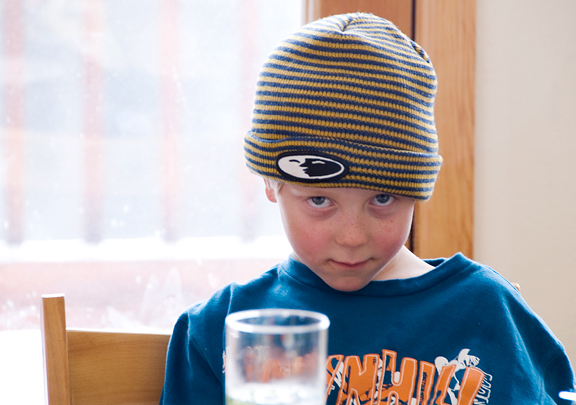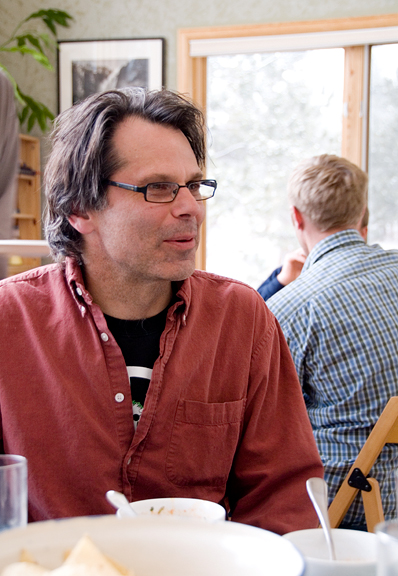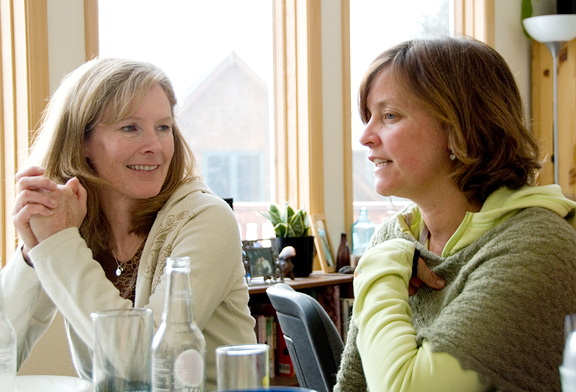 More telemark skiers than you could shake a stick at – and if they don't tele, they alpine. Even the two-year old skis! It snowed most of the day and that was a welcome sight for all of us. It also made for a lovely view. Once we cleared plates and dinner away, I set the desserts out… and just in time!
anxious little three-year old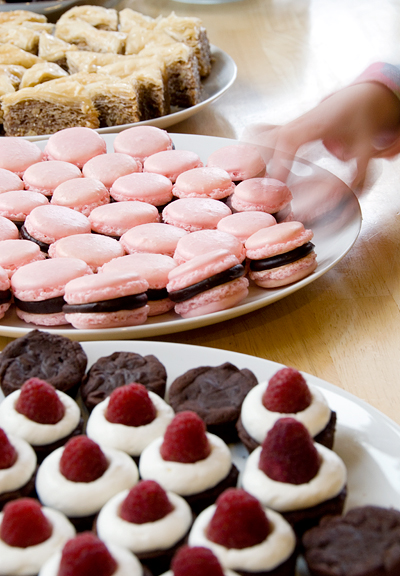 miss sofie shows me her dessert plate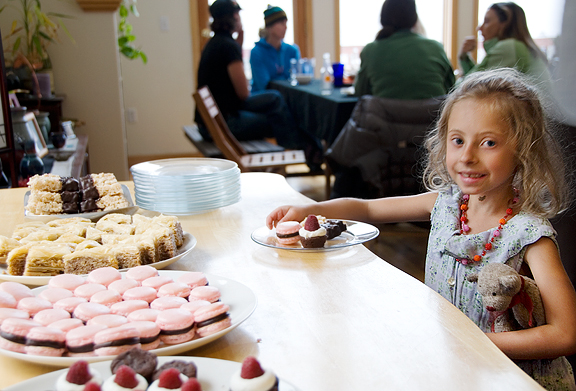 It's a good thing we started early because the kids were losing it (or becoming totally wound up – take your pick) by evening. Kaweah was incredibly sweet with all of the kids, pretty much just looking for a handout from wherever it might come. I sent several people home with dessert bags because 1) I always fear running out of food so I make too much and 2) Jeremy is going on travel so no one is going to eat the sweets in this house for a few days. The most popular dessert was probably the macaron. I made everything small so that people could sample multiple desserts without feeling guilty, but that didn't stop folks from coming back for more macs.
i always jump for joy when i realize how simple the ingredients are
the first batch was light pink, i made the second batch a little darker
My first attempt at these chocolate raspberry French macarons was for a photo shoot and then I asked Jeremy to take them to his students. I wanted to experiment with the colors since I don't have any powdered coloring. This batch came out on the light pink side, a little lighter than I wanted. My second attempt (for the party) turned out pink and perfectly bite-sized. Each time I make macarons, I test the consistency of the batter and try to incorporate advice that
Helen
has given me. I love that woman – she is a pastry goddess. I'm getting to know the macaron a little bit better each time, and it's a great feeling.
letting the batter set
sizing up buddies
I'm also playing with oven temperatures and baking times because at my elevation, I am pretty sure the altitude is responsible for some of the hollow shell effect. It's less hollow than my earlier attempts, but it's not the full crispy/chewy cookie it ought to be. We'll get there… At first I tried to place a whole raspberry in the middle of the ganache and that was apparently too much for the macaron, which broke when I applied gentle pressure to the sandwich. Slicing the raspberries in half and squashing them beforehand seemed to help tremendously.
a raspberry nestled in ganache
The only thing that is raspberry in this macaron is the raspberry. I imagine that one day I will break down and get my grubby little hands on some flavoring compounds and try flavoring the cookie itself. In the meantime, this one is quite a big hit for such a small bite.
i never tire of looking at macarons
a surprise in the middle
Chocolate Raspberry Macarons
[print recipe]
based on the pistachio macarons recipe
macaron:
225g powdered sugar
125g almonds, blanched
25g sugar
red food coloring (about 5 drops)
100g egg whites (about 3)
In a food processor, run the almonds and powdered sugar until finely ground. Add a drop of food coloring at a time to the granulated sugar and whisk together until evenly colored (your sugar will be darker than the final macaron). Set aside and let dry (a few minutes). Whip egg whites until foamy, slowly add the granulated sugar, until they are glossy. Slowly fold the almond and sugar mixture into the whites with a wide spatula. The mixture should remain shiny and flow easily (hold a ribbon for ten seconds, I would say). Fill a pastry bag with the batter and pipe small rounds onto parchment lined baking sheets. Let the macarons rest for 20 minutes. Preheat the oven to 315°F (325°F at 8500 feet) and when they are ready, bake them for 12-15 minutes (12 minutes). Let cool, remove from the paper and fill with the ganache. Makes 35. If making small macarons (1-inch), bake for about 10 minutes.
chocolate ganache filling:
8 oz. (227g) semisweet or bittersweet chocolate
3/4 cup (180 ml) heavy whipping cream
2 tbsps (28g) unsalted butter
1 tsp almond extract
1/2 cup raspberries, halved and smooshed flat
Place the chocolate in a medium sized bowl. Set aside. Heat the cream in a medium sized saucepan over medium heat. Bring just to a boil. Immediately pour the boiling cream over the chocolate and allow to stand for 5 minutes. Add the butter and stir with a whisk until smooth. Stir in almond extract. Let cool to room temperature. Fill a piping bag with the ganache.
Assembly: Pipe a dollop of ganache onto one macaron shell. Gently press a raspberry half into the center. Place the second macaron shell on top, making sure the ganache sticks to it. Repeat for the rest of the macarons.