I'm thrilled to see many of you taking interest in the kitchen tour. Thank you for your kind comments and for being so enthusiastic and gracious to my guests. Opening your kitchen up to scrutiny can be a little nerve-wracking. It takes not only guts, but time and effort to present these kitchens – so an extra big thank you to all of the tour participants for doing such a terrific job. Today we continue our tour of food blogger kitchens with a visit to one of my old stomping grounds.
blog: Eggs on Sunday
blogger: Amy
location: Ithaca, NY
house: rented apartment, about 10 years old
kitchen footprint: 116 square feet
photos: all photos of the Eggs on Sunday kitchen are courtesy of Amy
Amy is the cook who makes me feel guilty – she is so good about using local, organic, seasonal foods. I always marveled at the tempting recipes she blogged using the produce that arrived in her weekly CSA (Community Supported Agriculture) box. I love those wholesome and healthy dishes almost as much as I love her sweet and cheery disposition. Amy is another food blogging friend of mine who has had cancer. I know you guys are starting to wonder if this is a cancer patient kitchen tour. It is not. It just so happens that some of my favorite food bloggers have been touched (or as I've said in the past, punched in the gut) by cancer. That's not why they are my friends. I am drawn to their positive attitudes, great humor, and genuinely caring personalities. And they kick ass. Amy does her ass kicking in Ithaca, New York where I spent six years in graduate school. I know the very road she lives on!

eggs on sunday headquarters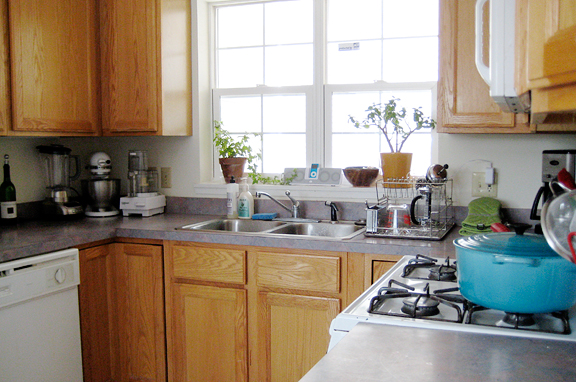 I noticed that Amy has an iPod docking station on the window sill! We have a Bose Sounddock on our bar because we spend so much time in the kitchen, so it's good to know we're not the only ones. She told me that music is a must when she cooks. Hey Amy, how much time do you spend in your kitchen anyway?
During the week, since I work at something other than food blogging, I'm mainly in the kitchen just in the mornings and at night, but on the weekends, that's where I spend most of my time. A good weekend day for me is spent on my feet, stirring and chopping along to music, working through a list of ideas I've jotted down during the week.

the cook range : all of amy's aprons!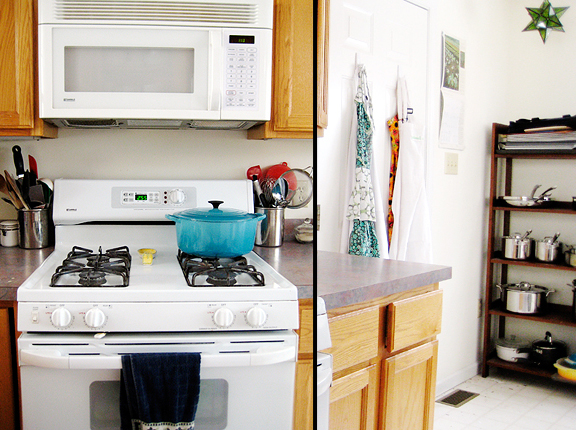 When I first asked Amy if she would be willing to participate in the kitchen tours, she warned me that she has horrid purple countertops in their rented apartment kitchen.
My husband and I have a running joke that the purple must have been on sale at Home Depot the day the landlords picked out countertops, because why else would you choose this color??

I was imagining a Willy Wonka type of purple, but they aren't terrible because everyone knows that Amy didn't pick those out herself :) I really have to give credit to renter cooks because they make the best of whatever they've got and usually have to be careful of making any modifications for fear of losing their security deposit. Amy hung that green glass star near the shelf to add a little of her own style to the place since they can't alter the walls. It's a nice touch.
So what motivates you to cook/bake?
First, I just love food and love to eat – how could you like to cook and not like to eat? Most cooks/bakers would probably say one of the reasons they cook is because they like to nourish people, make people happy, bring people together etc. and that's definitely one of my reasons, too. I love the look on someone's face when they taste something I've made and enjoy it, and I love that food, in general, can make people feel welcome, relaxed and happy. But cooking is also a huge creative outlet for me. Almost all of my hobbies involve some kind of art and/or working with my hands (drawing, gardening, making mosaics, pottery) but cooking is one that lets me create things with my hands, admire the shapes and colors and beauty in the ingredients, and eat what I create…that's a great combination. I also love the fact that I'm always learning something new when I cook, whether it be figuring out how to cook with a new ingredient, learning a new way to cook a familiar ingredient, a new technique, or the science behind why something happens in the kitchen the way it does (I'm a big fan of McGee's On Food and Cooking.)
That's one of my favorite books too – McGee is an alum from my alma mater (Caltech). Geeks rule.

shiny pots and pans : oooh – so many ramekins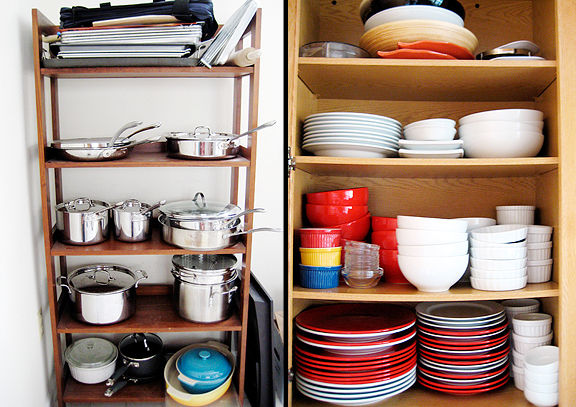 Alright Amy, those are simply gorgeous All-Clad pots and pans. Were those a wedding gift?
No, actually, my sweet parents have been giving me one All-Clad pan/pot on each special occasion (birthday, Christmas, etc.) for the past few years! Best gifts ever. :)
Do you have any favorite gadgets or appliances?
My turquoise Le Creuset dutch oven – I must use that almost every day. My All-Clad pots – I can't believe how unbelievably GREAT they perform in the kitchen. Totally live up to their reputation. My blender, if only because I recently acquired it and can't believe that I got along without it for so long; it leaves the food processor in its dust when it purees. My immersion blender, for when I don't want to dirty up my blender. And, though not a gadget or appliance, my little white ramekins — I use them ALL the time, just as often as prep bowls as for desserts.

corner storage spaces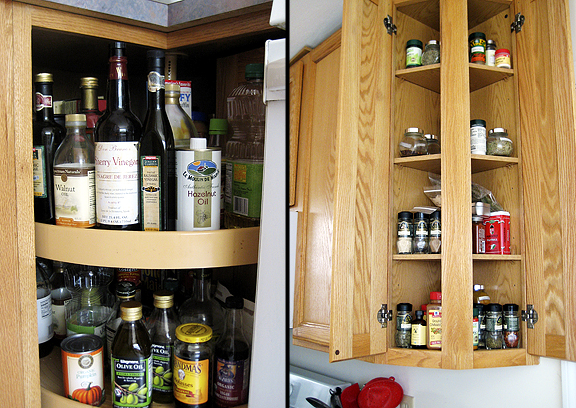 Amy told me that there is a lot of storage in her kitchen. It's obvious from the photos that she puts that space to good use. She keeps a ton of dry goods in glass jars and takes advantage of the nice pull-out drawers and lazy susans.
awesome roll-out shelves : a terrific jelly cabinet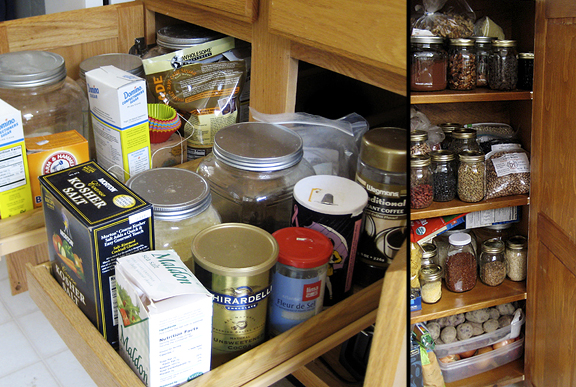 So what is a downside to this kitchen?
…its [the kitchen's] size and location in the house. Whenever we have people over, no one can congregate in the kitchen since it's only really big enough for one person to be working busily in there at a time. Get two people in there at the same time and it's like bumpercars. Also, it's behind a wall, around the corner from our living room — the "behind the wall" part is a problem. When we do have people over, I feel like I have to disappear into the kitchen to do anything cooking-related, and that's the exact opposite of how I'd like to be able to use my kitchen. I want to have a kitchen where people can congregate, that I can talk to people as I work, and unfortunately this kitchen is not it.
You seem to have no cookbooks, Amy; are you hiding them somewhere?
Why yes, in fact. ;) Another thing I wish was slightly different, but it's not terrible — there's a little desk area right outside the kitchen with overhead cabinets. I've filled those overhead cabinets with my cookbooks, though my collection is now a little more than 100 and doesn't all fit in the cabinets, so we have some overflow in the living room. I love having so many cookbooks, I just love thumbing through them and love getting inspiration, but I don't cook from them as often as you'd think I would with so many.

a ha, there are the cookbooks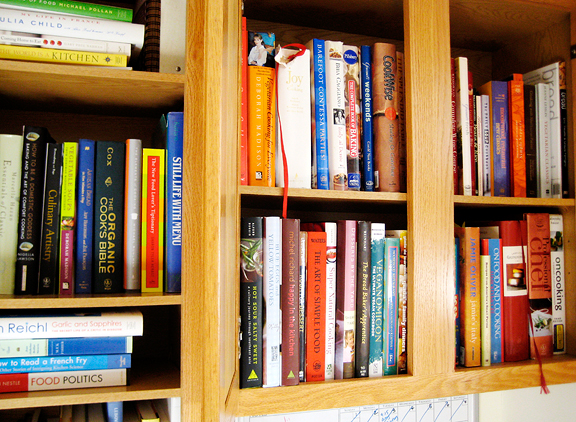 One of the things that Amy does like about this kitchen is the amount of natural light it receives. This is particularly handy for blogging. She does a lot of food prep on the kitchen table which sits under west-facing windows.
amy working her magic : the photo staging area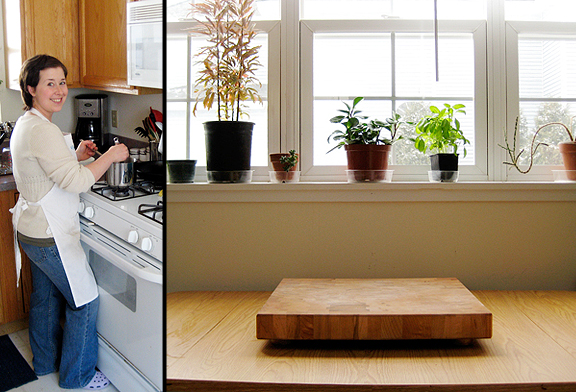 Amy and her husband are in the process of designing a new house and she's having a great time planning the kitchen. I'm so excited for them and I can't wait to see how it turns out… and the house too! I am sure it will be terrific. Thank you, Amy, for letting me (us) poke around your kitchen with you!

**********

Now let's hop back to California where two awesome people maintain two terrific sites. Chuck is the mastermind behind
Food Gawker
, one of my favorite food porn galleries. I think he does a phenomenal job of running that gig – and he is so good about feedback (both getting and giving). However, I first "met" Chuck and Hungry Bear through their gorgeous food blog.
blog: Sunday Nite Dinner
blogger(s): Chuck and Hungry Bear
location: San Francisco, CA
house: Bottom flat of a two story Edwardian, built before the 1906 earthquake
kitchen footprint: 195 square feet (15′ x 13′)
photos: all photos of the Sunday Nite Dinner kitchen are courtesy of Chuck
I should explain that Hungry Bear is Chuck's partner in crime. Among her numerous contributions to the blog, she provides delicious authentic Chinese recipes, helping to demystify so many of the traditional dishes I love but never made. I literally yelped with joy when Chuck agreed to the kitchen tour. He told me Hungry Bear said, "Alright, only because it's Jen Yu." Here is Chuck, giving the grand tour:
Our kitchen was completely gutted and remodeled last year, so it's definitely our dream kitchen given the space limitations. When Hungry Bear and I are in the house, we spend the vast majority of our time here. During Sunday nite dinners, everybody hangs out in the kitchen. Our friends help us prep and cook, but if it's really crowded and we need the space, we'll banish anyone not assisting to the living room to keep our sanity.
That is a beautiful workspace. How many guests can you host in your place?
We can comfortably seat 6 around the dining table. But we have had as many 10 people over for dinner. Most of the SNDsters are Asian, so we're used to being crammed into tight quarters. ;-)

entering the kitchen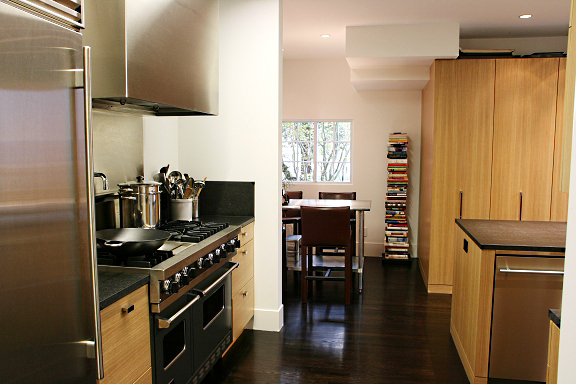 As you enter the kitchen, the refrigerator and range are on the left. The dining area is in the rear with the 5′ 6″ tower of cookbooks. We call it "the leaning tower of cookbooks" because the top is 4″ farther away from the wall than the bottom. We're afraid it's going to tip over someday.
Wow. I hope you don't need to reference the book at the bottom. Oooh! Nice floors. What is the material?
They are hardwood floors, stained a dark mocha.

kitchen island and pantry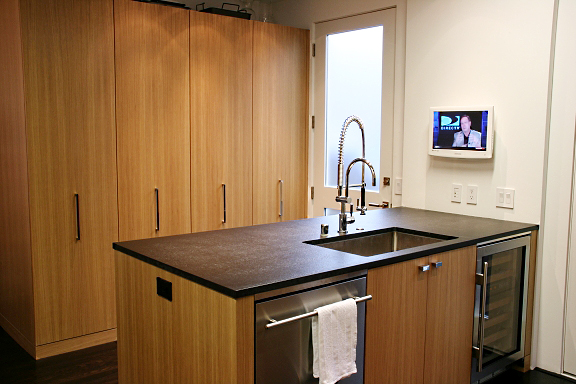 If you turn to the right, you'll see the island with a dishwasher, a large sink and a wine cooler. In the back, there are four 8 feet high cabinets that are used for the pantry, storing appliances, baking tools, pots and pans. There are two large 8 feet south facing doors (the other one is not in view and is off to the right) that provide most of the natural lighting in the room.
I have cabinet envy. What are the countertops made of? They look great.
The countertops are granite. We forget the exact term but they are not completely honed and still have a textured feel to them.

pantry view : the kitchen sink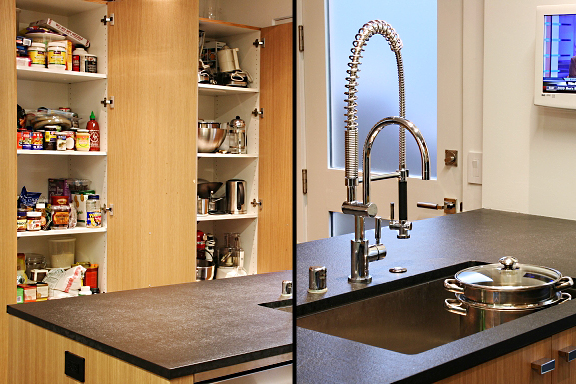 This is about as close as you'll get to our pantry because we've been a bit unorganized lately. As you can see there is a lot of storage space for food, pots and appliances. We just need to do a little spring cleaning before I can show you a close-up. Let's instead focus on the kitchen sink. I threw in a large pasta pot with a colander insert to show you the depth and size of the sink. We often cook in mass quantities because we love having leftovers and we're usually cooking for a big group of people. So our pots and pans are on the large size and having a sink that you can easily wash big pans is a huge plus. Then there are the cool industrial looking faucet and spray hose that make cleanup faster.
behind the island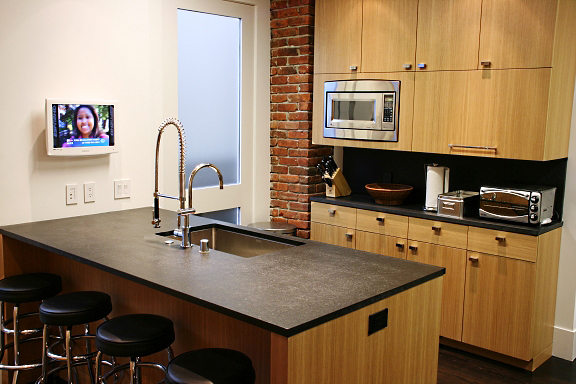 On the other side of the island, you'll see cabinets from floor to ceiling where we keep our dishes, glasses, utensils and serving plates. I just want to point out the island is usually not this uncluttered, because I'm typically slumped in front of a laptop at the end seat. The TV has been a great addition because Hungry Bear and I are huge sports fans. Instead of sitting on the couch watching football or basketball all day, we can cook or bake without missing the games.
Alright! Multi-tasking. I love you guys even more now.

the range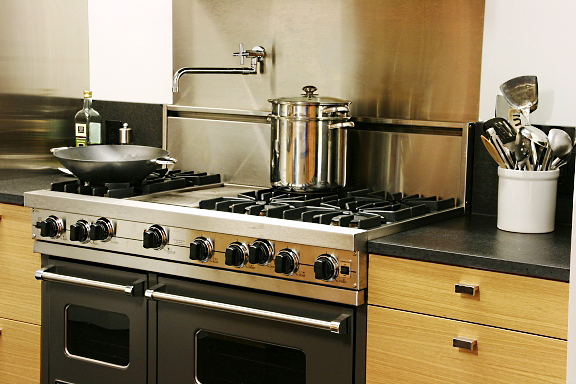 The center piece of the kitchen is the range. We refer to the little oven as the "sweet oven" where we bake our desserts and the larger one as the "savory oven." Since we do a lot of stir-frying, we have a wok grate, which holds our wok perfectly stable.
Pardon the drool. I see six burners, two ovens, but nine knobs. What does that ninth knob do?
I see you discovered the infamous ninth knob. It's a very special knob that's not used very often… it's for the griddle.

oil and sauce drawer : blogging dishes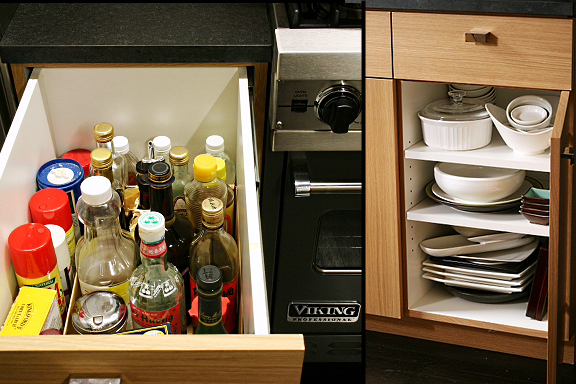 Next to the range we have a big drawer where we keep most of our oils, fish sauce, cooking wine, etc. It's super handy to have quick access to these oils and sauces. Like many food bloggers, we have a cabinet full of dishes and plates solely for photo purposes. They are one off items that we found at a local, cheap houseware and restaurant supply store. Hungry Bear is in charge of plating and food styling. I'd be lost without her!
Hungry Bear has great taste. I love her sense of style.

photo setup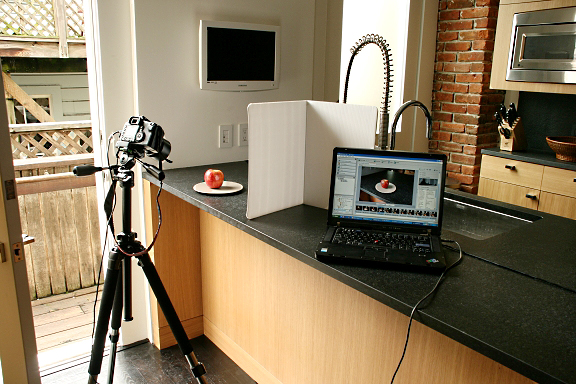 There's only one location by the back door that gets enough natural lighting for taking photos. Depending on the cloud or fog conditions, we'll open or close the door to control the amount of light coming in. As you can see, we shoot tethered to a laptop and do not post-process our photos. We'd rather make exposure corrections in real-time rather than spend the time adjusting the image after the fact. I don't know if this is faster or not, but it works for us.
Does your photo setup require special hardware/software?
The photo setup is pretty basic. All you need is an extra long USB cable and the Canon EOS utility software that comes with the camera.

chuck, making fried rice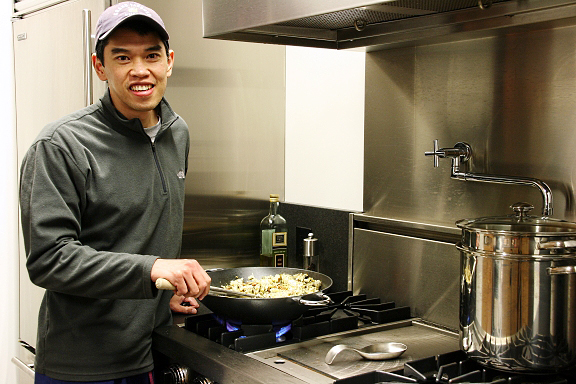 We have never put pictures of ourselves up on Sunday Nite Dinner. There's no way you'll get a photo of Hungry Bear, but since it's Jen's blog, here's a shot of me making "dump" fried rice. I hope you enjoyed the tour of our kitchen.
I certainly did and I'm sure use real butter readers loved touring both kitchens. Thank you for doing this, Chuck and Hungry Bear!
We still have six more kitchens on tap for the next three Thursdays, so be sure to check in on the fun. Woooooo!
previous kitchens
week 1: use real butter & supplemental
week 2: winos and foodies & figs, lavender, and cheese