Recipe: taco seasoning
It's Kaweah's eleventh birthday today! In celebration, we here at use real butter are having a giveaway this week in honor of Kaweah. Hmmm… what should we give away?

a puppy?!?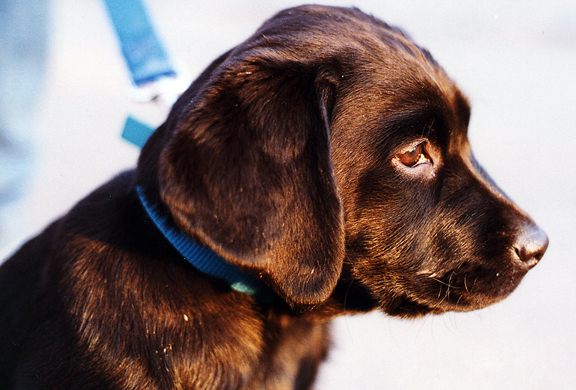 I can't give
that
puppy away – that was Kaweah almost 11 years ago (it was sunset, so she looks brown). We tossed around a ton of ideas, but finally settled on
this
puppy:
how about a $100 gift card to chefs?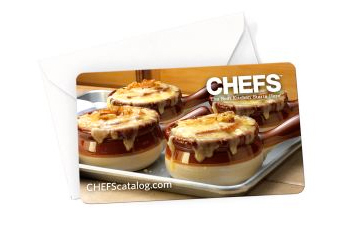 I'm giving away a $100
CHEFS
gift card this week. What better way to launch the giveaway than on our little random number generator's birthday? To enter, follow these rules:
Leave ONE comment on this post telling me what you want to do with the $100 gift card (e.g. What are you going to get? Is it for you? Are you going to give the card to someone else?) Multiple comments will be deleted. Entries will be accepted until midnight, Friday December 18, 2009 (12:01 am will be Saturday the 19th). The winner will be selected at Crazy Random courtesy of Kaweah and the Astrophysicist and announced on Monday, December 21, 2009. I'm pleased to tell you that CHEFS ships internationally, so this giveaway is open to ANYONE. Woohoo!
For Kaweah's birthday, we did an early celebration because we have too much going on today. I'm sure the majority of you will think us insane, but I thought a little bit of steak might be nice for Kaweah's birthday dinner. Just a little. That's not the insane part. The insane part was finding ourselves in front of the Whole Foods meat counter. Hmmm, why was the dry-aged rib-eye $19.99 a pound? I asked what the difference was between dry-aged and regular. Curiosity got the best of us, so I pointed to one steak and said, "How about that one?" I thought it was 1.5 inches thick… when the nice gentleman lifted the steak out of the tray, it was 2.5-inches thick and the bloody thing cost me $30!

more wondrous snow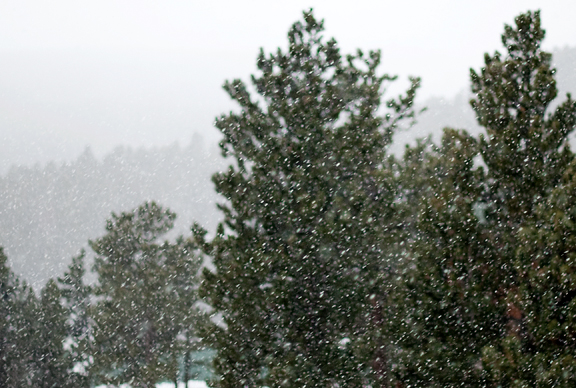 she even got dressed up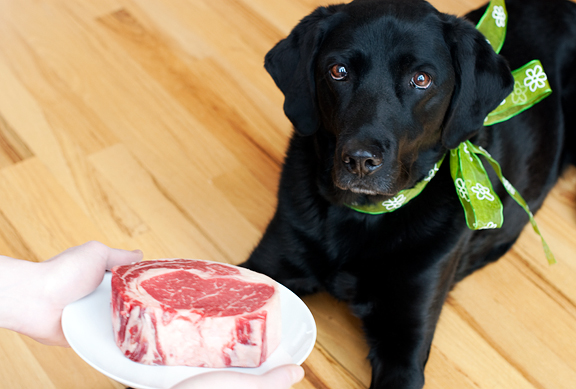 We grilled the steak and set aside a few thin slices for the birthday pup. The problem with giving Kaweah any kind of beef is that she scarfs it down without chewing. And just in case you thought it was because the piece of meat was too small – she does the same thing with large pieces of meat too (I have experimented with this in the past).
the birthday plate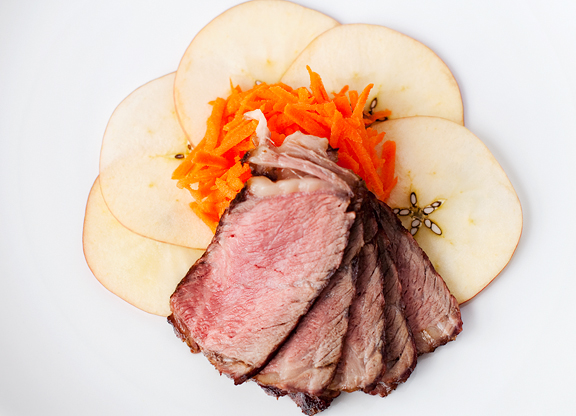 it was gone in seconds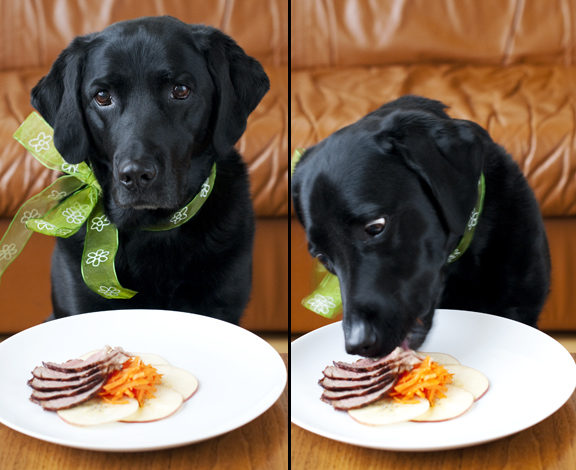 Jeremy and I sat down to share the remainder of the steak. It was like butter! So tender and melt-in-your-mouth. Can you dry-age beef at home if you have a cellar or some such thing? I'm tempted to look into it just for kicks (and well – to save having to pay out the nose). I don't know that I will regard steak the same way again.
When Kaweah cleared her plate like a good girl, we gathered her favorite toys together for birthday cupcake. But that beef was fatty enough as it was, she didn't need frosting too. Jeremy graciously volunteered to polish off the cupcake while Kaweah enjoyed a healthy carrot. She's a simple girl, you know.

when kaweah really wants something, she won't look at it until she hears her release word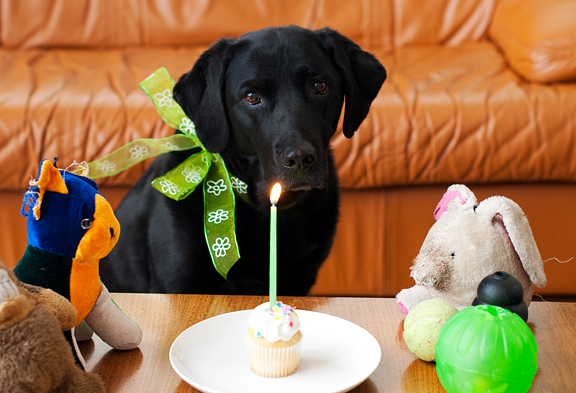 what's that mr. bunny? oh no, i'm 11 years old, not 11 months!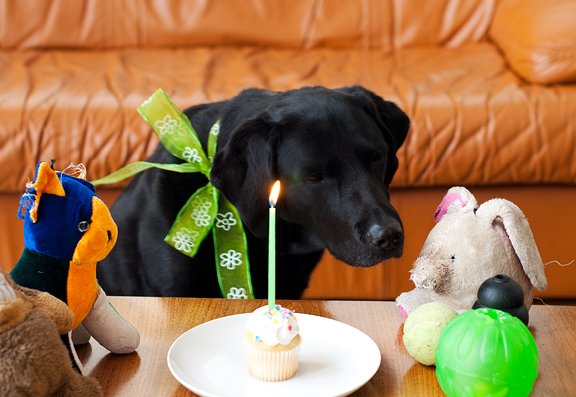 Because Kaweah is a simple girl, I thought a simple recipe was in order for today. A few days ago,
Tami
professed her love of crispy shell tacos on Twitter. It got me thinking about how much I prefer crispy tacos over soft tacos. Then I started thinking about all of the different styles of tacos I love – fish tacos, shredded beef tacos, carne adovada tacos, ghetto tacos… Ghetto tacos are the standard ground beef tacos you make at home with store-bought crispy taco shells. I suppose that's a misnomer since all of the tacos I had in the ghetto in Los Angeles were mind-blowingly good, authentic tacos. Not to mention the added excitement of being in a drive-by shooting zone.
mixing up your own taco seasoning
In any case, when I would make ghetto tacos back in college, I used those little seasoning packets that read TACO SEASONING across the front. I'm happy to say that over the years, I have attempted making many things from scratch. If they were just as easy, easier, or cheaper to make myself, then I could ween myself off of this false dependency. Taco seasoning was never something I thought of as a convenience – I just never
thought
about what taco seasoning was. Then one day, I didn't have any taco seasoning on me, our local grocer was closed (we were eating a really late dinner), and I was making ghetto tacos. One quick search on the interwebs (access to information – I am a fan) and I had a very simple recipe for my own taco seasoning using basic ingredients that I always have on hand.
screw single packets, i have a jar of the stuff
This blend of spices tastes just like the packets from the store, but it is inexpensive to make and about as simple as it gets. Seven teaspoons is the equivalent of one envelope. And yeah, my ghetto tacos are the crispy versions.
more cowbell!
Taco Seasoning
[print recipe]
from this site
12 tsps chili powder
10 tsps paprika
9 tsps cumin
5 tsps onion powder
1 tsp garlic powder
1/4 tsp cayenne
Mix together. 7 teaspoons equals 1 package of taco seasoning. [To use: when ground beef is browned, drain off fat, add 1 cup of water and 7 teaspoons of taco seasoning to the meat. Bring to boil then reduce to simmer. Simmer until the liquid is gone.] Store in a sealed container in a cool, dry place for up to six months.