Recipe: espresso chocolate sorbet
kaweah's big giveaway
I am loving all of the responses to the Kaweah Birthday Giveaway! It looks like the majority of entrants are thinking: Dutch oven, knife, KitchenAid stand mixer, food processor, or baking equipment. Thank you for all of the sweet birthday wishes! You have no idea how many wags and butt wiggles Kaweah would be sending you if she could comprehend anything outside of the Here and Now :)
menu for hope 6
Please take a look at the Menu for Hope 6 post! I definitely encourage you to check out the master list of bid items, but if you are a local in the Denver-Boulder area or plan on a trip out to our beautiful part of the country then please consider placing a few raffle tickets toward two of the terrific items I'm hosting from two amazing local businesses: 1) a $100 gift certificate to The Culinary School of the Rockies (UW24) and 2) a $100 gift certificate to SALT the Bistro (UW25). Thank you for supporting this great campaign!
where are i now?
I find it incredibly cute and entertaining when Californians are bundled up in scarves and hats and it's 50°F out. Our car rental lady said, "Keep warm!" when she handed us our paperwork. Jeremy and I laughed. We are in the bay area taking care of some matters for my grandma while having a pleasant visit with her. California is so different from where we live. They still have leaves on their trees – some green, some brilliant reds and yellows! We've been relishing the array of ethnicities walking about town, the sound of so many languages. We practically cry tears of joy at the countless Mexican, Thai, Viet, Chinese, Korean, Japanese, and Indian restaurants. When we lived in Southern California we used to take year-round flowers for granted. This morning I squealed with delight at the sight of some weeds blooming on the side of the road. To think just a couple of days ago we were telling one another how warm it was on the slopes.

21°f is positively balmy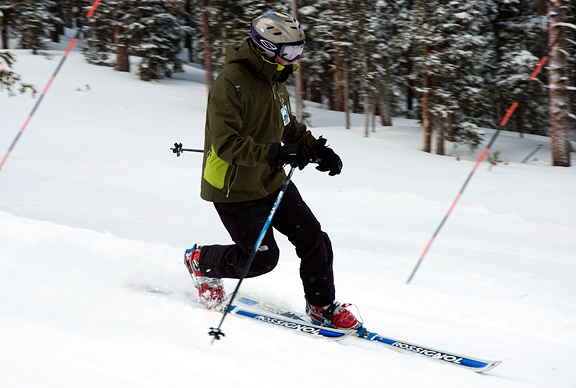 Don't get me started about more Trader Joes than you can shake a stick at. And booze – it's EVERYWHERE. Not that I'm a big time boozer (you could hardly call me a small time boozer), but it makes me realize how much I truly loathe Colorado's antiquated liquor laws. Anyhow, let me shut up already and get on with the recipe because I have to get up early…
coffee and chocolate – an alluring combination with dusky charms
Sorbet is a dessert apropos of summer, yet
certain flavors
appeal to my idea of a holiday season treat. I have always loved chocolate sorbet because it's a non-dairy frozen sweet that tastes uber indulgent without all of the transgressions of ice cream.
pouring brewed espresso into the saucepan
I had the recipe bookmarked for a while, but when I finally set out to make the sorbet a few days ago, I noticed a recipe for a mocha sherbet on the same page. The sherbet called for dairy, but I wasn't having any of that. I decided to add a caffeinated twist to the sorbet by replacing the water with espresso. Use Dutch-process cocoa as it is smoother with a more pleasant finish on the tongue.
add chopped chocolate
Once the chocolate melts, stir in the rest of the liquid and toss the mix into a blender. Give it a spin for a creamy texture absent of lumpy chocolate. If you taste it before freezing, the coffee flavor isn't terribly pronounced. After the sorbet sets up in the freezer, you'll find yourself with a velvety and intensely chocolate delight.
smoooooooth
Espresso Chocolate Sorbet
[print recipe]
slightly modified from The Perfect Scoop by David Lebovitz
2 1/4 cups (555 ml) espresso or strong coffee
1 cup (200 g) sugar
3/4 cup (75 g) unsweetened Dutch-process cocoa powder
pinch of salt
6 oz. (170 g) bittersweet or semisweet chocolate, finely chopped
1/2 tsp vanilla extract
Combine 1 1/2 cups (375 ml) of the espresso, the sugar, cocoa powder, and salt in a large saucepan (large because it bubbles up during boiling). Bring to boil, whisking frequently. Let it boil for about 45 seconds then remove from heat. Stir in the chocolate until melted. Then add the vanilla extract and remaining 3/4 cup of espresso. Pour the mixture into a blender and blend for 15 seconds. Let the liquid cool completely, then freeze it in your ice cream maker according to the manufacturer's instructions.