It took longer than I had anticipated to get this recap posted what with all of my activities in and around Seattle for the past 8 days. Best to get on with it before the next conference, right? I'm super sleepy and I'm trying not to be snarky here, but it's REALLY hard. Bear with me, please.
After that gorgeous-turned-rainy-muddy backpack in the Cascades, I went from eating instant rice and sleeping in the dirt (and rain, did I mention the rain?) to bougie food and a luxurious bed at the (gloriously waterproof) Hotel Monaco where IFBC kicked off with registration, swag baggery, evening reception, and a great speech by Morgan Spurlock. Also, I met tons of food blog pals like my girl Peabody.

some of the fancy pants food: geoduck ceviche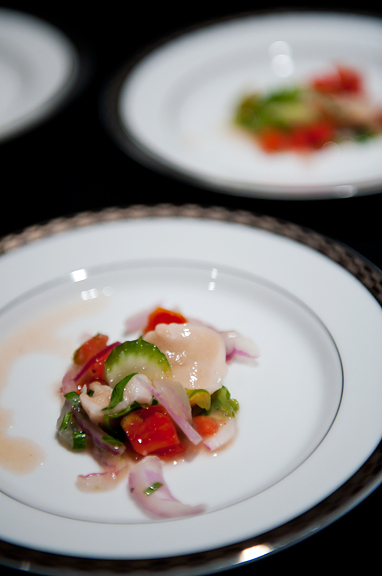 pistachio crusted rack of lamb (lambipops)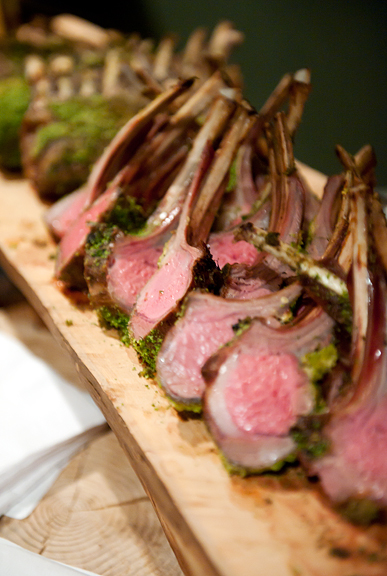 full room while morgan spurlock spoke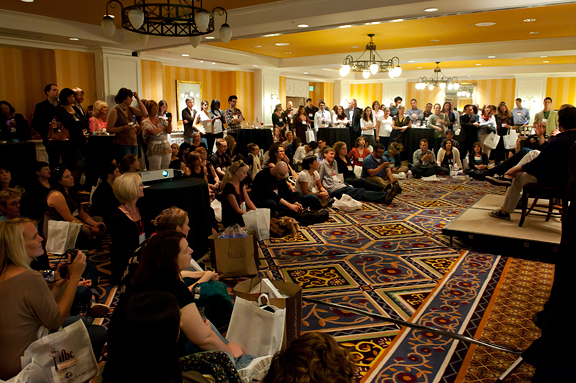 I skipped the after-reception party in favor of a fantastic sushi dinner with my buds Allison of
Sushi Day
, Susan of
Sticky, Gooey, Creamy, Chewy
, and Andrea of
Andrea's Recipes
at
Nijo Sushi
just down the hill.
finally looking at the menu after spending 30 minutes gabbing and gossiping!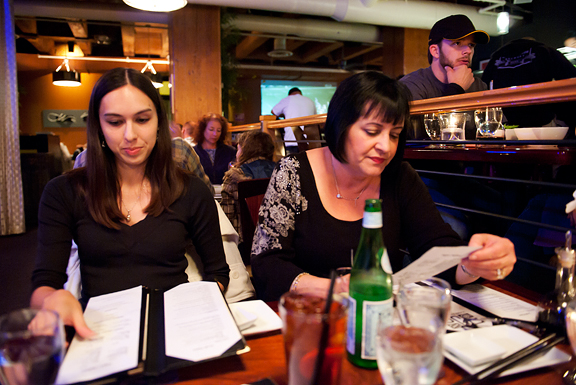 Being the fuddy duddy that I am, I retired to my room and proceeded to process backpacking photos until 2 am. I got your party girl right here, folks. That wasn't such a good idea because the IFBC organizers had planned something ridiculous like a 13-hour day at Theo Chocolate which is a 20-minute bus ride from the hotel.
Note to conference organizers:
please don't do that anymore.
Just my luck, I was so used to waking up at 6 am, that I got up at… 6 am. I caught one of the buses to Theo Chocolate (the main venue) and felt like my head was about to explode. Or maybe that was Amy Sherman chattering away next to me on the bus?
Breakfast – an assortment of pastries and berries – was really lovely, but a platter of bacon would have brought tears of joy to my eyes. You know what is better than a platter of bacon (I know, few things, but this really is)?

seeing shauna and danny's beautiful new book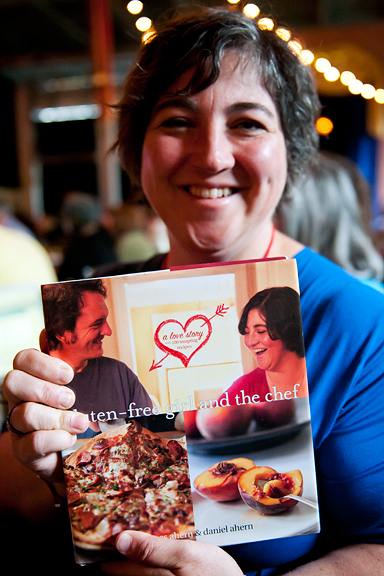 I'll be up front with you. I attend these conferences with low expectations. My goal is to get face-to-face time with my friends, meet new people, and observe how organizers put on an event. Most sessions and panels strike me as average to useless and that's mainly because I'm not interested in making my blog my profession. I'm also not interested in following a prescribed path to success because more and more my definition of success deviates from the general (food blogging) definition of success.
morning session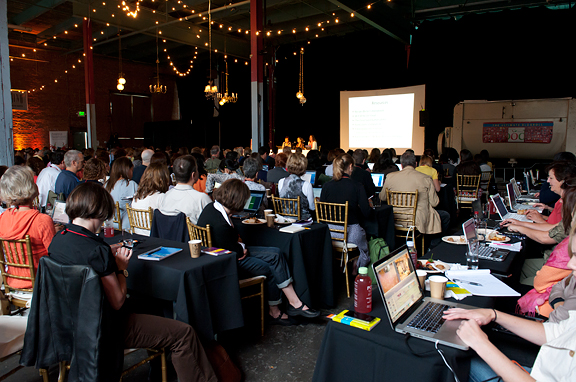 Just that there wasn't a later bus I could take to the venue to skip the earlier sessions… but I'm glad I didn't miss the first session because I find tremendous value in what
Dianne Jacob
has to say. I may not agree with everything, but I have a great deal of respect for the thorough way in which she thinks and makes her arguments.
The next session on traffic and SEO put me in a somewhat foul and snarky mood. Perhaps I'm that idealistic fool who doesn't believe in blogging for traffic or money, but for love. Tell you what – I don't particularly like the bloggers who blog for traffic or money or fame. They aren't my kind of people.
Writing with All Five Senses was the last session before lunch. There's teaching and then there's not teaching… What became apparent was the subtext in the audience: a (hilarious) running commentary on Twitter that had attendees throughout the venue giggling at seemingly random moments if you weren't following the feed. At the end, the speaker spun around from writing with all five senses to delivering a dire warning "You could die tomorrow, so live your life now." Bad (and weird) segue.

alas, lunch! (salmon carpaccio)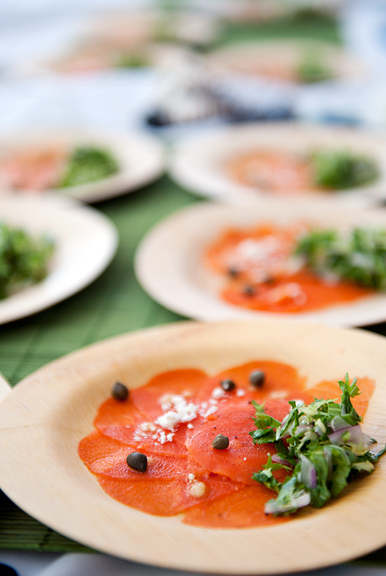 beef tartare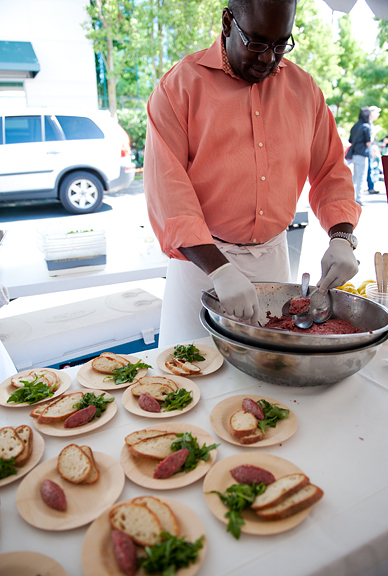 kevin of closet cooking, andrea, allison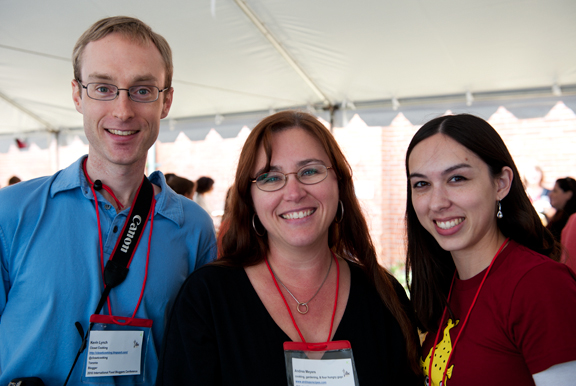 From the majority of bloggers I surveyed, lunch wasn't quite lunch enough and several people set off for more food during the long break. I am a firm believer in the Nap Session that should follow lunch and so instituted my own by catching a cab with others back to the hotel. Unfortunately, I think I missed one of the best sessions of the day, the one on Law and Ethics of Food Blogging.
Note to conference organizers:
planning a 13-hour day away from the hotel… what were you thinking?! Also, it would be nice if you could post menus online… food bloggers want to know.
a little shut eye at the hotel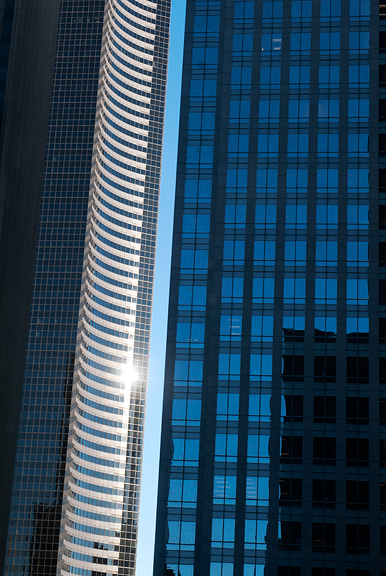 We were back in time for the keynote address by James Oseland, editor-in-chief of
Saveur
. Heartfelt. Wonderful. He didn't speak to the Food-Blogger-As-Marketing-Machine, but rather the food blogger as an individual with a love and passion for food – and food bloggers as a collective body of potential influence.
everyone listens attentively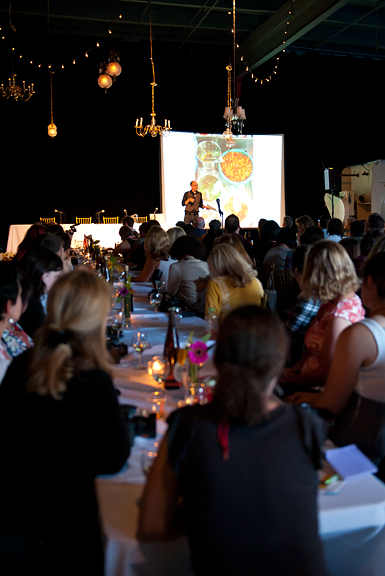 then it was time for dinner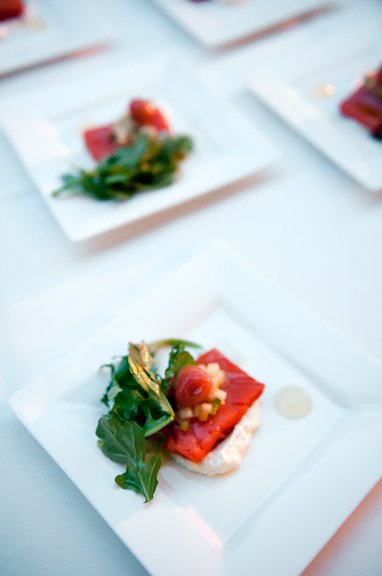 While dinner offered more delectable small plates than lunch, there was still a bit of silliness to the whole business. People shuttled their three, four, or even five plates between the food lines and the tables. My favorite dish: tender beef cheeks with lightly fried stuffed squash blossoms. I can't tell you more than that because I forgot to steal one of the five menus at the serving stations after dinner ended.
Back at the hotel, Andrea, myself, and my pal John of Food Wishes went for a nightcap. I didn't know what a nightcap was other than it nominally took place at night. John explained that this is a last drink before you go to sleep. I requested a Shirley Temple to which John replied, "Wow, you're a cheap date!" At the last minute, I jazzed it up to grapefruit juice with grenadine. Don't say I wasn't living on the edge, okay?

actually, the sugar made me hyper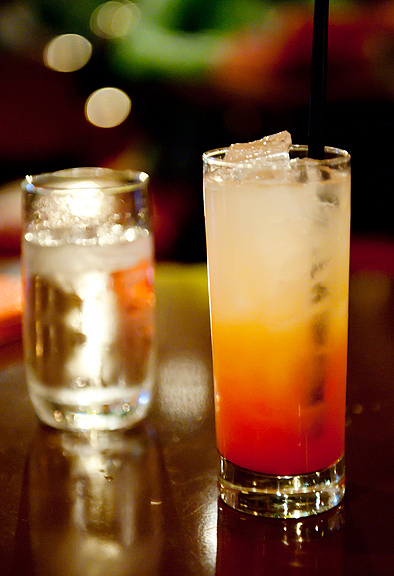 The next day was the best day, by far because there were donuts. DONUTS. I noshed on my donuts (it's plural because I sampled several varieties, but I swear I only took a quarter of each – except for that cake donut that John refused to cut in half for me and thus I had to eat the whole scrumptious morsel in its entirety) and started my morning listening to my dear friend Shauna (that's
Gluten-free Girl
to you!) and the lovely Alex Jamieson discuss specialized diets. I know it sounds boring, but it wasn't at all. The two had an engaging chemistry and rapport that was sincere and heartfelt. I know people like to tag Shauna as
gluten-free
, but she is so much more than that – she's about living life to the fullest.
Dr. Nathan Myhrvold delivered what I thought would be a loooong infomercial shilling his upcoming volumes: Modernist Cuisine: The Art and Science of Cooking. It was fascinating. I love the science already, but these guys put the sex appeal into food science with their high-speed filming. Not to mention, they worked with Harold McGee, my favorite fellow Caltech alum (aside from Jeremy) and highly-regarded food science writer (I love him).
And the absolute best talk of the whole conference was Penny De Los Santos' session on photography. I'm biased because it was photography and I'm biased because I met Penny earlier in the conference and thought she was a pretty cool cat. Biases aside, it was the best session because she spoke with honesty, passion, and conviction for her art. She got a standing ovation. Word. And with that, it was time for the lunch truck brigade!

shiny and sexay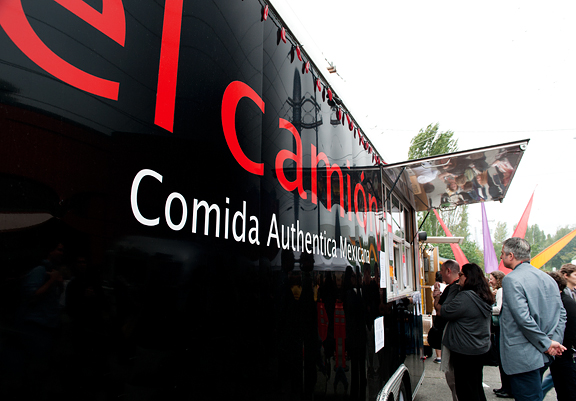 taco trio (the chicken mole was the bomb!!!)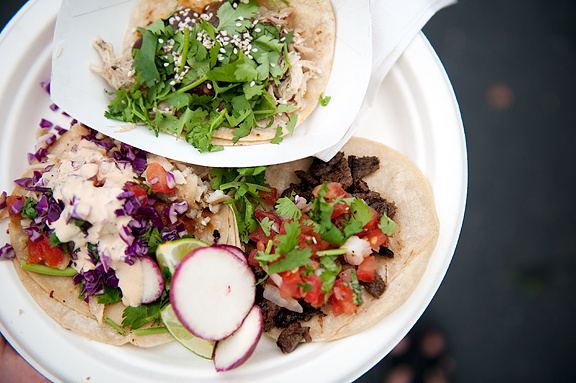 andrea is handed a wagyu beef slider (noms)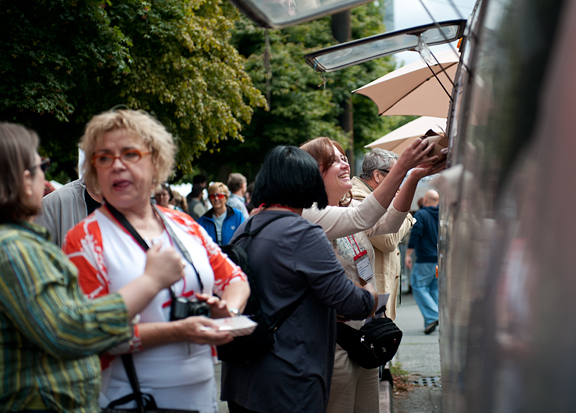 While standing in line for a Wagyu beef slider, I met Molly of
Orangette
. She is such a lovely woman. I didn't manage to hit up all of the trucks as I still had that whole donut (happily) sitting in my stomach. What I didn't sample, I was at least able to photograph
Seattle Food Geek
stuffing into his pie hole.
with gusto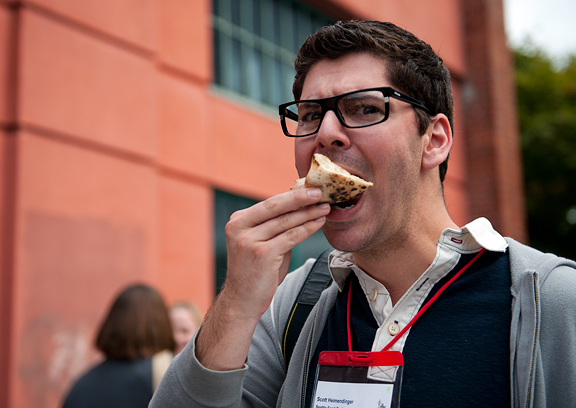 the stoplight (ketchup, mustard, and eventually pickle relish)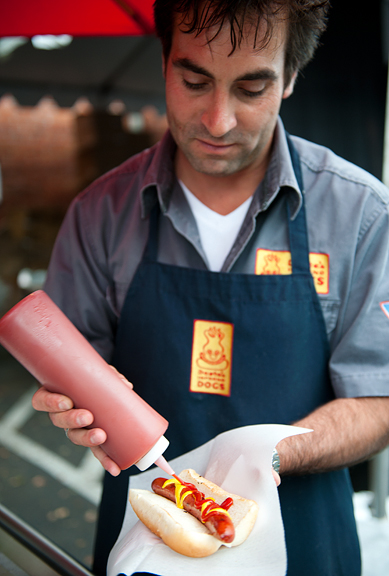 The final session: Pitch to Publish was (in my opinion) woefully overrun by people interested in obtaining access to publishers. I suppose that was the point of the panel, but I'm not especially fond of those aggro-self-promoting blogger types. I've generally found this to be true: if you're an asshole, your blog is an asshole too. The end of the session was essentially the official end of the conference.
Tea
picked me up for a playdate. We were supposed to go kayaking, but she had an injury, so we went to Delancey instead. Tea is tight with the Delancey crew.
this has been on my list since the day it opened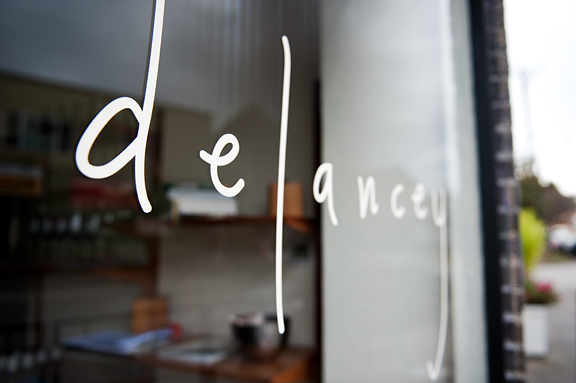 we were a little early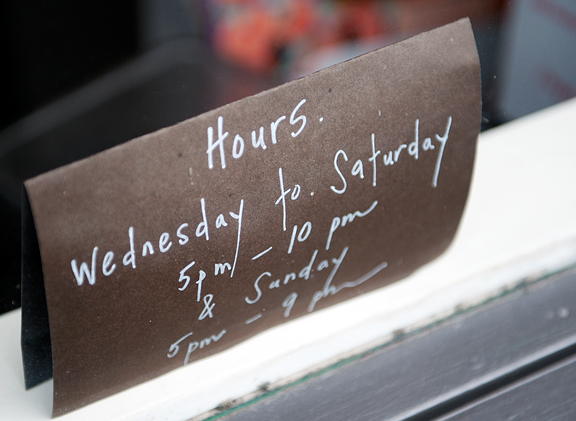 Delancey is known for a long wait and Molly had warned me that Sunday evening can get quite busy. She suggested we arrive either early or late. Tea had been cuing off the clock on my laptop during the conference, but my laptop is on Mountain Time and so we had 30 minutes to kill when we arrived. Brandon and
Brandi
were outside prepping fresh ingredients and we chatted with them. Brandon was abuzz with energy and enthusiasm, even while peeling fennel. All of the people I have met in Seattle are happy people. I get a terrific vibe from this town.
summer gem tomatoes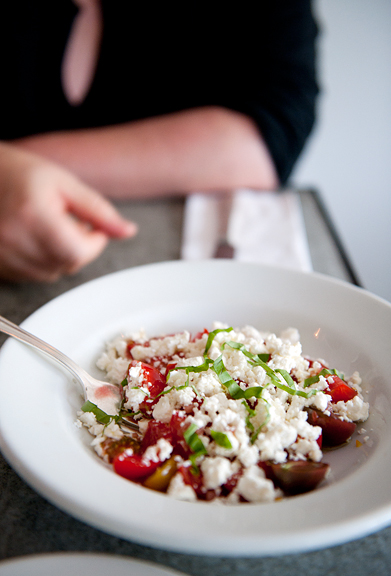 padrón (it's the brooklyn with padrón chiles)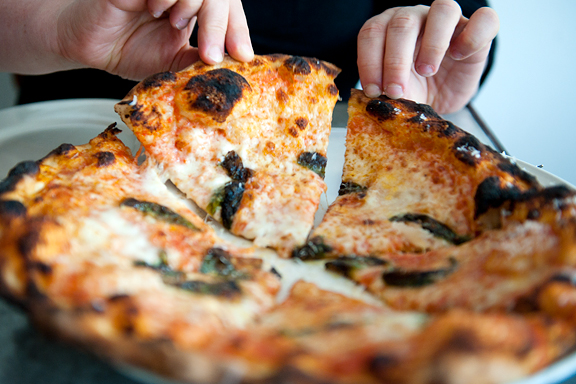 white pie with fennel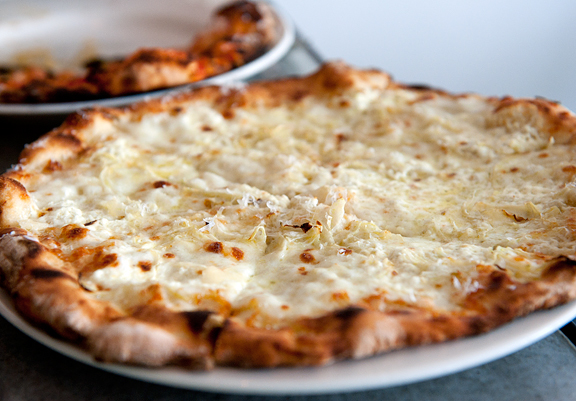 As we were heading out, we ran into Molly and chatted briefly. We were on our way to visit with
Ashley
but not before Brandon and Molly graciously agreed to let me photograph them (thanks, guys).
they make a great team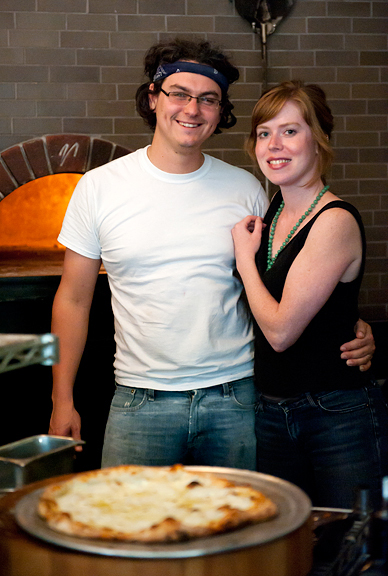 and there is plenty of laughter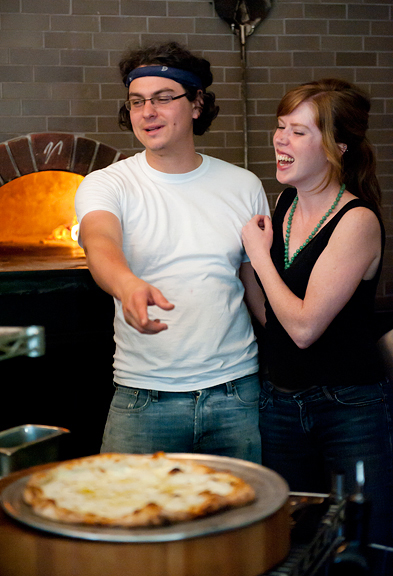 That evening Tea skillfully navigated the streets of Seattle to deliver me to the ferry in the nick of time. We hugged good-bye and I walked on after all of the cars had boarded. The ferry set off into the fading evening sky and Danny met me on the other side. I spent the next two days with my
dear friends
on beautiful Vashon Island. It isn't often I get to follow a 2-year old around with a camera all day long, but that's what I did. Monday evening,
Penny
joined us for dinner at Danny's restaurant (boy, that Danny is one hell of a chef!) and wacky hijinx ensued. Danny and Shauna fed me amazing food during my stay and we shared our stories with each other. There are a lot of parallels between island life and mountain life – which might explain why we seem to cherish a lot of the same things.
tranquility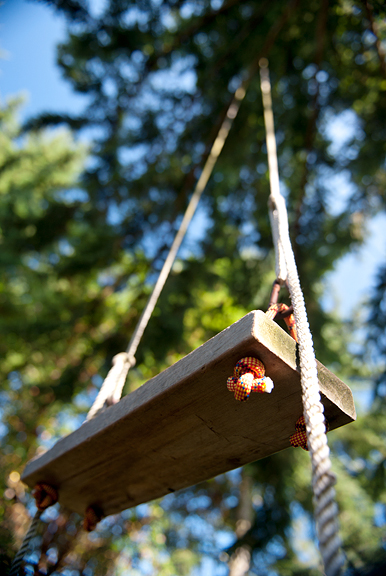 i love that little face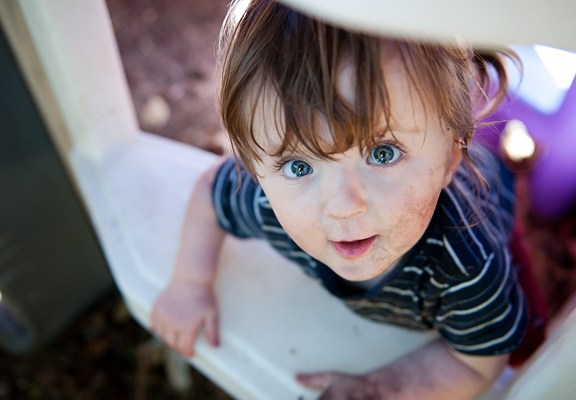 All in all, it was a great trip for me – visiting with many loved ones and meeting more wonderful individuals. Despite all of my snarking, I have to say that IFBC 2010 was excellent. Sure, I bitch and moan about this detail and that detail, but on the whole the conference organizers did a tremendous job and I was truly impressed with many of the speakers and the local chefs. That, and the fancy porta-potties were surprisingly not stinky! Well done. Very well done, IFBC.
photos from IFBC 2010
photos from Delancey
photos from Vashon Island