Recipe: sour cream lemon pound cake
[Portal 2 was released Tuesday. If you know what I'm talking about, you'll understand the cake reference.]
We had a little accident earlier this week. Well, Kaweah had an accident when no one was around. I came home from an appointment to find her limping about, crying in pain, and hanging her head low and to the left. We're pretty sure she fell down the stairs. I carried her to the car and drove to her vet. Nothing broken, probably a bad sprain. They informed me that Kaweah has terrific range of motion and health for her age. She got a treat and a bottle of pain medication. She's on the mend, but we're watching her and… we've installed baby gates at both sets of stairs.

it's for your own good, kaweah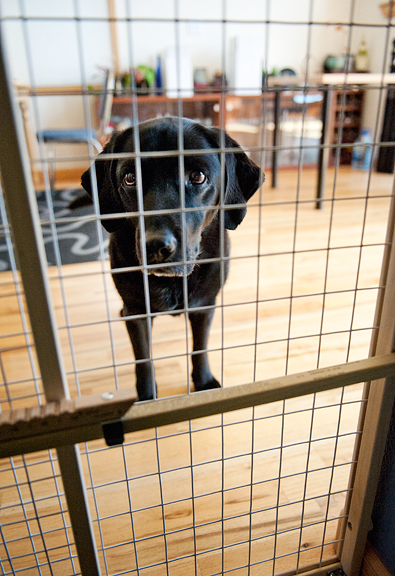 Kaweah was improved enough Tuesday evening that we were okay to leave her at home and meet up with my cousin and her husband for a lovely dinner at
Frasca
in Boulder.
waiting for my cousin to arrive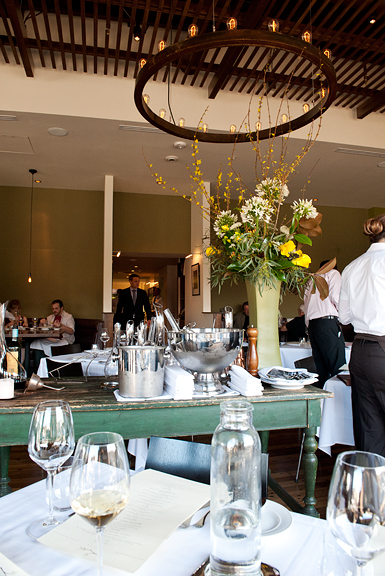 my duck egg appetizer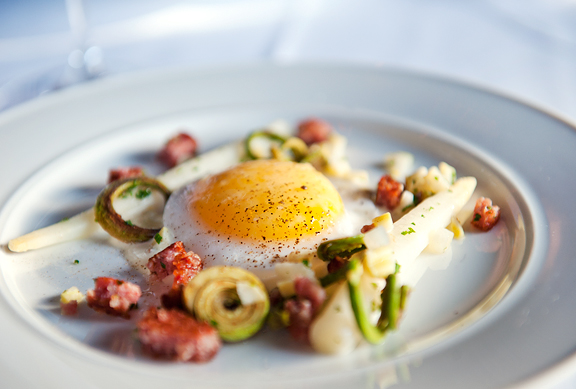 jeremy's yellowfin tuna appetizer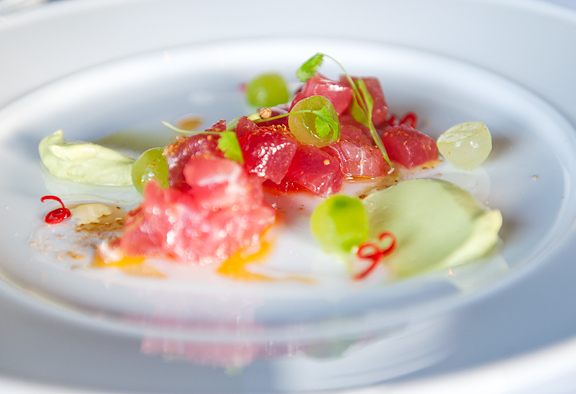 colorado lamb roasted to perfection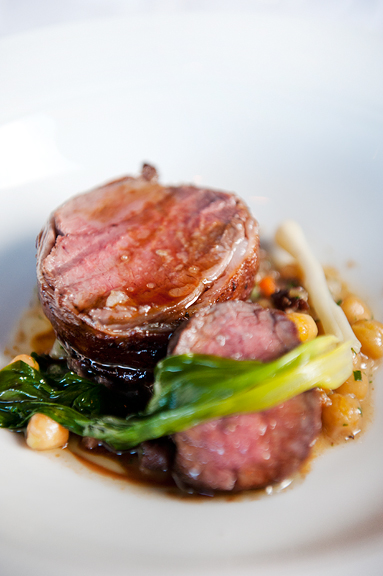 pan-seared sea bream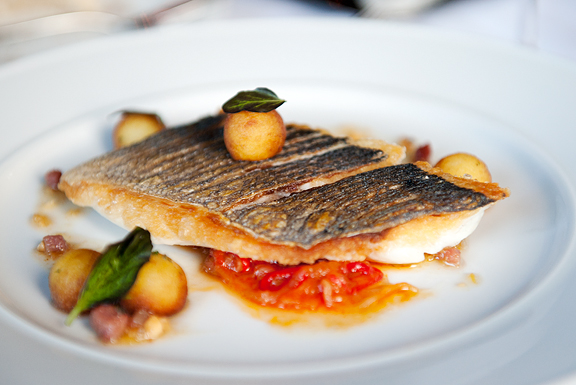 I hadn't been to Frasca since last summer (but I've been to
Pizzeria Locale
quite a bit this year) and the interior has changed up due to a remodel. Our server said we could get a tour of the kitchen after our meal. Bobby Stuckey (owner and wine director) graciously took us around the new spaces – new dining area (which used to be the old kitchen), the gorgeous glass polishing room, the kitchen, the offices, and then out the back way into
Pizzeria Locale
(part of Frasca) and then next door to the
Caffe
.
i'd love to have a glass polishing room – and i'll need a glass polisher too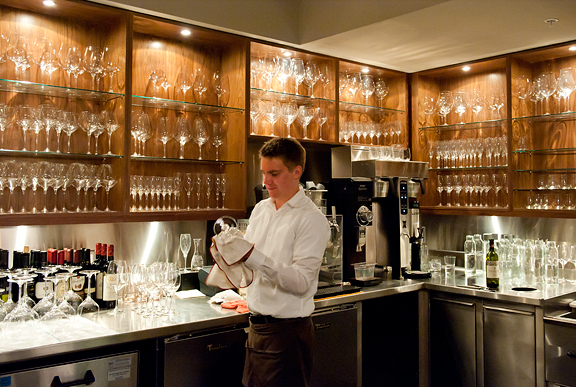 We are spoiled rotten in Boulder with so many fantastic restaurants (especially considering the size of the city). Frasca is most certainly one of our favorites. It's that special place you go when something big has happened. I already promised my girlfriend that I'm taking her there for dinner to celebrate the completion of her Ph.D. this summer. I'm looking forward to it. And summer is fast on spring's heels.
boulder is starting to bloom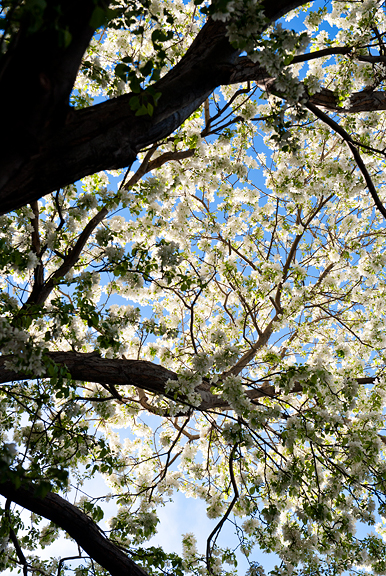 Spring in Boulder means sunshine, warmer weather, that yellow-green haze of leaves just starting to bud on naked trees, and undergraduates who are a little too excited to don their Daisy Dukes even though it's only 55°F out. Spring in my mountain town means snow, rain, rainbows, sunshine, more snow… I like that it's still cool enough around here for me to bake without wilting in the heat.
time for cake: flour, sugar, butter, eggs, lemons, sour cream, salt, baking soda
grease and flour your cake pan
I used to have a great lemon pound cake recipe that I made often when I lived at sea-level. Then I made it a few months after moving to the mountains and it cratered like nobody's business. I was really sad. The texture of the pound cake wasn't even close. I tried adjusting ingredients, but it either tanked or was off or both. So I stayed away from making lemon pound cake for a few years.
add eggs one at a time to creamed butter and sugar
grating lemon peel
Despite the utter failure of my lemon pound cake, my sour cream coffee cake turned out consistently and well. I began to notice that baked goods with sour cream baked up more stable at my elevation. It dawned on me last week that perhaps the addition of sour cream could solve my lemon pound cake problem.
pro tip: zest first, then juice
adding lemon juice and zest
This recipe makes A LOT of cake. It calls for a 16-cup tube pan. I don't own a 16-cup cake pan, so I went with the 12-cup bundt pan. Here's me telling you that you probably shouldn't cram a 16-cup tube pan recipe into a 12-cup bundt pan.
manually stir in the flour
finally mix the sour cream into the batter
I had made a little mental note to myself that went something like this, "Hey, you should only pour 3/4 of the batter into the bundt and then pour the rest of the batter into little mini loaf pans because you know… it might overflow and collapse/spill onto the oven floor and make a mess." Lately, my mental notes keep getting tossed into the mental recycling pile.
pour the batter into the pan (don't overfill like I did)
Believe it or not, my cake DIDN'T overflow. It was close, but it didn't. It did however, crater a wee bit. Just a bit. On one side. My oven and I may be breaking up this summer. Despite the minor cratering, the pound cake was lovely. Good lemony flavor, nice tender (but dense) crumb, maybe a little on the sweet side for me (that's easy to remedy), a crunchy golden crust, and… it released from the pan beautifully!
and there will be cake
it's even better shared with someone(s) special
Sour Cream Lemon Pound Cake
[print recipe]
from Epicurious
3 cups (450g) flour (the original recipe uses cake flour – I use all-purpose at my elevation)
1/2 tsp baking soda
1/2 tsp salt
1 cup (8 oz.) unsalted butter, room temperature
3 cups (675g) sugar
6 eggs, room temperature
1 tbsp lemon zest, grated (from about 2 lemons – zest first THEN juice)
1/4 cup fresh lemon juice (from about 2 lemons)
1 cup sour cream
Oven: 325°F. Grease a 16-cup tube or bundt pan. I used a 12-cup bundt and while the cake didn't overflow and disembowel on my oven floor, it did crater a tad which was likely due to overfilling the pan. So yes, use a 16-cup capacity something or other to bake this. Dust the pan with cake flour (or all-purpose flour like I used) and tap out the excess. Combine the flour, baking soda, and salt in a medium bowl. Beat the butter at medium speed until it is light and fluffy. Gradually add the sugar to the butter while continuing to beat. Beat for 5 minutes. Add the eggs one at a time, mixing until the egg is just incorporated. I scrape down the sides of the bowl too. When all of the eggs have been added, beat in the lemon peel and juice. Manually mix in the dry ingredients (unless you enjoy dusting your entire being and kitchen with flour, in which case – use the electric or stand mixer!) until the flour is just blended. Mix in the sour cream (this you can do with the mixer). Pour the batter into the pan. Bake until a toothpick comes out just clean – about 90 minutes (but for me it was more like 75 minutes). Allow the cake to cool in its pan on a cooling rack until cool enough for you to touch it. Use a thin knife to carefully loosen the edges. I usually shake it gently (yet forcefully) from side to side and then give it a short jolt up to see if the cake is separating from the pan. Invert the cake onto a cooling rack and let it cool completely. The recipe says it serves 12, but it's more like 16 (at least).