Recipe: chinese honey walnut shrimp recipe
Some time last week (Nov 7th) marked seven years since I began blogging. I hadn't even realized this until today as I've been bogged down with so much. It seems fitting though, because I've been talking with some blog friends lately about blogging "back in the day" compared to now, today. It's quite different. But I won't bore you with those musings. I remember how excited I was in the early days to find a handful of blogs that posted Chinese recipes I wanted to make. The two I loved most were Jaden's Steamy Kitchen and Bee's Rasa Malaysia. They still crank out reliable recipes and I often reference their blogs for all manner of Chinese (or other Asian) cooking help.
Bee recently released her first cookbook, Easy Chinese Recipes, a lovely collection of favorite Chinese recipes and beautiful glossy photos to entice the reader to make every single dish. Bee's style in her book is no different from her exacting instructions and helpful background information on her blog. The recipes are easy to follow even if you've never cooked Chinese food before. But I've cooked Chinese food before. LOTS. OF. IT. Yet, I still found plenty of recipes that I've been wanting to make and never found a good recipe for until I flipped through Bee's book.

easy chinese recipes: family favorites from dim sum to kung pao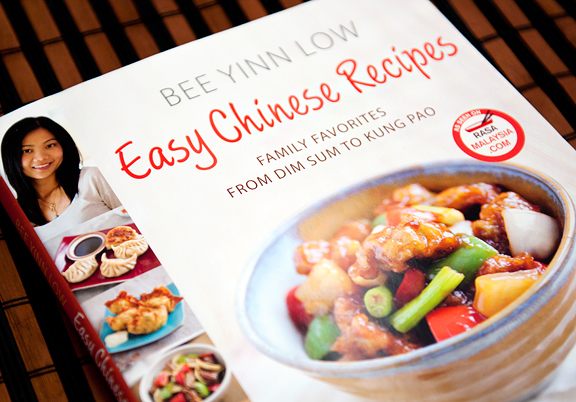 As any cook is bound to do, I compared some of my family recipes with Bee's versions and they totally jived. There was never any doubt. I dog-eared several pages – recipes to revisit when I had more time. I finally settled on a restaurant favorite that I never had the guts to try at home, until now…
shrimp, honey, walnuts
marinate the shrimp in salt and egg white
The shrimp are raw despite their pink color (these are wild-caught Key West pink shrimp from Whole Foods), so be sure to use RAW shrimp and not cooked shrimp. It's a straightforward process considering there is frying involved. Peel and de-vein your shrimp, then butterfly them if you like. (I like to butterfly them because they take on a pretty curled and flared shape when cooked.) Marinate in salt and egg white.
candied walnuts
mixing up the sauce
While the shrimp is doing its thing, there is plenty of time to candy the walnuts and mix the honey sauce. When you pour the walnuts out of the pan to cool, avoid letting them cool in a puddle of caramelized sugar because then you'll have something more akin to walnut brittle. Chopsticks are great for scooching the walnuts about.
dust the shrimp in cornstarch
fry to golden loveliness
Toss the shrimp in cornstarch and if you're like me (OCD), make sure to dust the crevices. Plop the shrimp into hot oil and fry until golden (a minute or two). I really really really like my splatter screen because it 1) reduces the number of times I get splattered with oil and 2) limits the mess that frying makes on my range top. You can drain the fried shrimp on paper towels, but I prefer to drain fried foods on a cooling rack because it keeps the fried things crisp (which is the whole point!).
pour the sauce over the shrimp
toss to coat
Coat the shrimp in the honey sauce and adorn with candied walnuts. Serve this dish hot because it is amazeballs when it's hot – less so when it's room temperature. I've had this dish plenty in the South Bay (California) and I swear this version is just as good. I cannot wait to try more recipes. Nice job, Bee!
honey walnut shrimp – booyah!
part of a complete meal
Full disclosure: I received a free review copy of Easy Chinese Recipes from Tuttle Publishing. All opinions expressed are my own… (duh).
Chinese Honey Walnut Shrimp
[print recipe]
from Easy Chinese Recipes by Bee Yinn Low of Rasa Malaysia
8 oz (250 g) medium raw shrimp, shelled and deveined (butterfly if you like)
1 tbsp egg white
1/4 tsp salt
1/2 cup (70 g) cornstarch
non-flavored oil for frying (vegetable, canola)
dressing
1/2 tbsp condensed milk
1/2 tbsp honey
1 tsp fresh lemon juice
3 tbsps mayonnaise
glazed walnuts
1/2 cup (50 g) walnut halves
1/4 cup (65 ml) water
1/4 cup (50 g) sugar
Pat the shrimp dry and mix with salt and egg white to evenly coat. Let marinate for 30 minutes. Rinse the walnut halves with cold water, drain, and set aside. In a small saucepan, bring the water to a oil and add the sugar. Stir until the glaze thickens. Lower the heat to medium and add the walnut halves. Stir until the mixture becomes golden brown or caramel in color. Pour the walnuts out onto parchment or wax paper to cool (use chopsticks or a fork to separate them so they aren't touching or sitting in a pool of caramelized sugar). In a small bowl, mix the condensed milk, honey, lemon juice, and mayonnaise together. When the shrimp is ready, remove the shrimp to a new bowl (leave the excess egg white and liquid behind) and dust with the cornstarch making sure to get an even coating on each shrimp. Shake off any excess cornstarch. Heat 2-3 inches of oil in a wok or medium to large pot (depending on how comfortable you are dealing with splatter) to a temperature of about 350°F. Carefully drop the shrimp into the oil. Work in small batches and fry until the shrimp is a light brown. Scoop the shrimp out with a strainer or slotted spoon and let drain on paper towels or (my preference) a cooling rack to preserve the crispness. Combine the shrimp and half the dressing in a bowl and toss to coat the shrimp. Add more dressing as needed. Serve with the candied walnuts over the shrimp. Serves 4 as part of a multi-course meal.