Recipe: basic cranberry sauce
announcements
I'm a contributor on Punchfork, which is a great food porn site that publishes in real time. I love it!
You can also find some of my Thanksgivingesque recipes along with tons of other great contributions from favorite food bloggers over at Pasplore.
Gojee launched their drinks section about a week ago and I'm a contributor there as well as on their regular food recipes section. It's a beautiful site to peruse although the navigation might make you a little batshit.
end announcements
Soooo, it's Thanksgiving this week in the United States. I'm struck more by the fact that it's now November than the crush of holiday recipes on the blogosphere. I'll be frank (because I don't really know how else to be). I don't dig on Thanksgiving dinner these days. That doesn't mean that I don't like Thanksgiving, as in giving thanks. I give thanks daily. All year. I have so much to be thankful for! I think the concept of giving thanks is a very very good one. Be thankful for what you have and while you're at it, you can also help one(s) who is (are) less fortunate. That part, I love.
The part I've come to fall out of love with is the dinner. I'm just not that into it. I don't like stuffing myself silly (perhaps that comes with getting older? I dunno) and the idea of going to so much trouble for a meal that no longer elicits mouth-watering anticipation but more of a meh from me. We are particularly fond of getting outside when others are traditionally inside (presumably hung over, opening gifts, cooking, and whatnot): Thanksgiving day, Christmas morning, New Year's morning, and Superbowl Sunday. That leaves little time to prepare a big turkey feast and I'm fine with that. We usually opt for something that is quick and satisfying after a day spent out in the snow. It just feels better.
I find myself shying away from the holidays lately, seeking quality time with Jeremy and Kaweah over shopping and planning a giant celebration with excessive amounts of food. I need to concentrate on life maintenance, health, work, and a recalibration of priorities right now. These things always get screwed up and lost in the frenzy of travel, work, blogging, socializing… As the holiday season shifts into high gear, I am trying to slow the pace down and reassess.

kaweah is slowing down too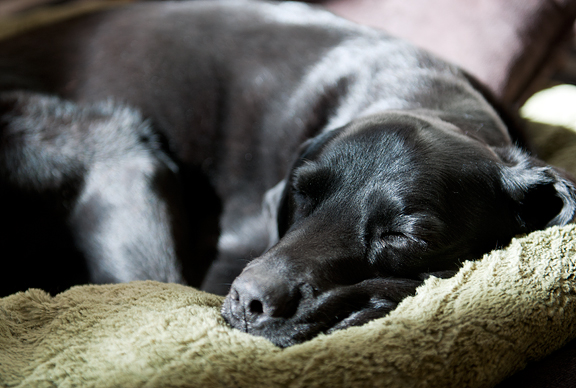 opening day at the local hill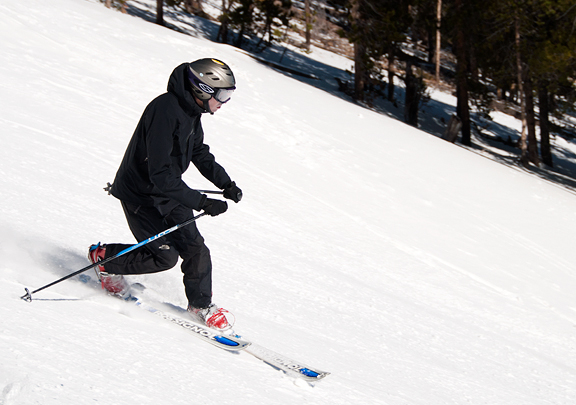 but we also like the solitude of the backcountry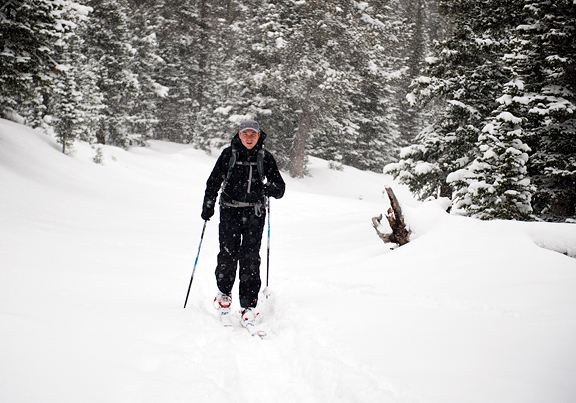 skiers only, bitches :)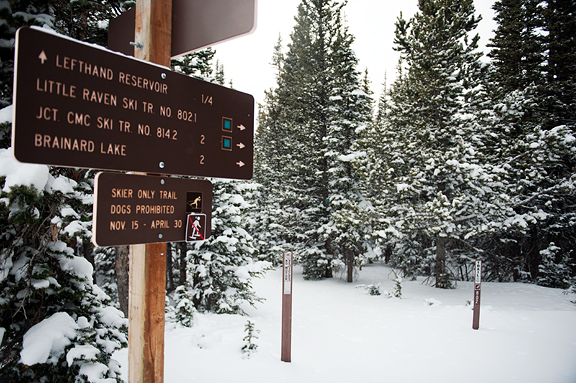 jeremy breaks trail in fresh powder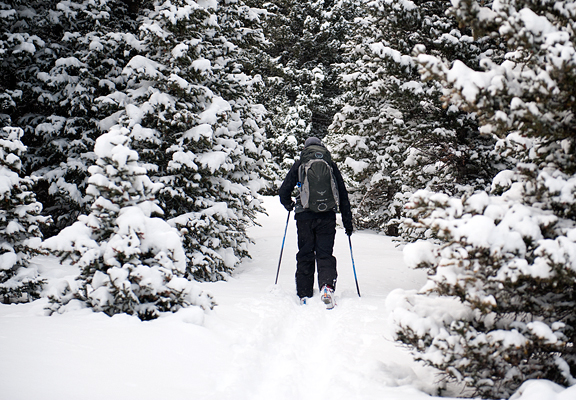 Of all the Thanksgiving dishes to adorn a traditional table, there is one that I love – cranberry sauce. It is a bright, tart, vibrant dish that livens up the plate. When I learned to make it from scratch, I was astounded at how easy it was. It made me wonder why anyone would buy canned cranberry sauce if you could 1) make it yourself for not much additional effort and 2) know EXACTLY what you're putting into it. Call me a control freak. I'm a control freak.
organic cranberries, organic sugar, and organic water (ha ha! i'm kidding about the water)
combine sugar and water
Cranberries are naturally high in pectin (like
quince
) such that they gel nicely when you cook them down and will firm up as the sauce cools. I stick with organic cranberries because, as you know, I'm a control freak. If I want
pesticides in any dosage
, I'd prefer to measure them out myself.
add cranberries to boiling sugar water
watch the cranberries break down and thicken
It takes all of ten, fifteen minutes to make and the sound of the cranberries bursting their skins is highly gratifying (to me at least). I made the clean version which is just cranberries, but you can jazz it up with spices, orange peel, booze – you name it! Even though we aren't doing the turkey with all the fixings, I like making cranberry sauce to slather on a sandwich. I'm all about the sandwich…
naturally brilliant red
it's good for you
Basic Cranberry Sauce
[print recipe]
4 cups (12 oz.) cranberries, fresh or frozen – washed and picked over
1 cup sugar
1 cup water
Combine the water and sugar in a medium saucepan over high heat. Stir until sugar is dissolved. When liquid comes to a boil, add the cranberries and return to boil. Reduce to a simmer and cook for about 10 minutes. The cranberries should pop and break down as well as thicken up. I like to leave a few whole ones. Makes about 2 cups of cranberry sauce.