Now we come to it.
Snarf's is my favorite sandwich shop in Boulder. In fact, the entire reason I started this sandwich series was because I felt I was making too much of a habit of Snarf's and thought it in my best interest to branch out. But I still return to Snarf's time and time again, because I have a sandwich problem – nay, a sandwich addiction.
There are two locations in Boulder to get your Snarf's fix: downtown Boulder on East Pearl Street and East Boulder on Arapahoe and Conestoga (next door to Ozo Coffee). The shops assault you with brightly painted interiors, eclectic selections of music, and a bunch of hipsters behind the counters building your toasted sandwiches slower than you'd think humanly possible (but they are super nice hipsters). The typical scene at lunch is a line out the door – and that is just to place an order. Popular? Oh yes. It has to be if THAT many people are willing to wait THAT long for a sando.

snarf's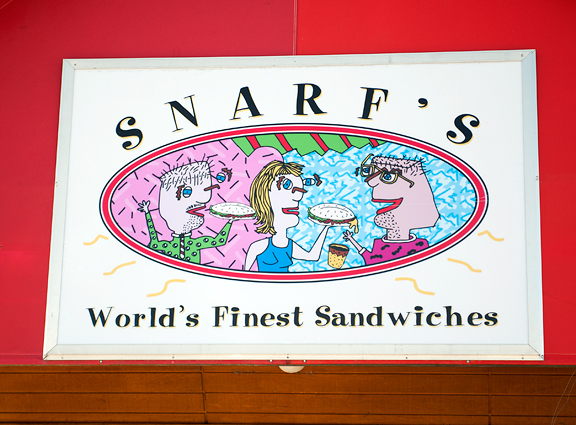 the colorful menu on the wall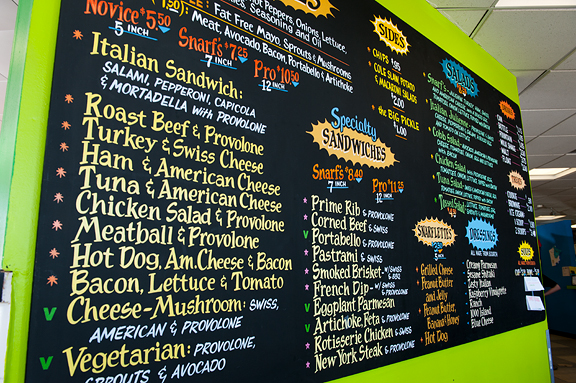 My buddy, Jason, digs on the feta and artichoke sandwich. I highly recommend it. I haven't tried all of their sandwiches, because I keep coming back to my favorite: the hot pastrami and Swiss. I'm convinced that practically any of their toasted sandwich options will be spectacular because Snarf's uses amazing bread. In addition to this perfectly crusty-outside-soft-inside bread, every sandwich comes with mayonnaise, mustard, hot peppers (these hot pickled peppers, I love love love), onions (I hold the onions), lettuce, tomato, pickles, seasoning, and oil. Choose Novice (5-inch for $5.50), Snarf's (7-inch for $7.25), or Pro (12-inch for $10.50) on the regular toasted sandwiches. They only offer Snarf's or Pro sizes for the specialty sandwiches. You can request fat-free mayonnaise, mushrooms, and sprouts. For $1.50 add your choice of meat, bacon, avocado, portabello, or artichoke. There are sides and salads on the menu too.
snarf's hot pastrami and swiss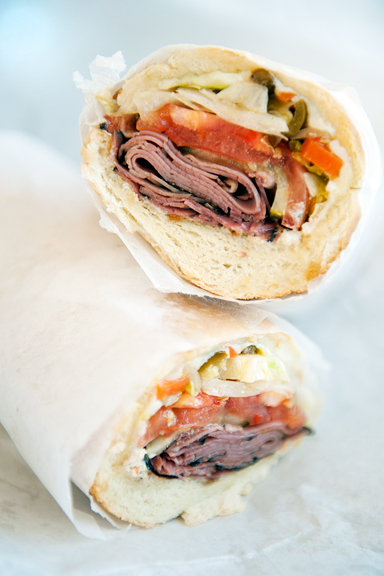 To the sandwich:
If I'm alone, I'll get a Snarf's size hot pastrami and Swiss. If I'm with Jeremy, we split a Pro. It comes tightly wrapped in paper to hold all of the sandwich goodness together for you to shove into your mouth. Grab several napkins because it's a juicy experience. It's the kind of sandwich you can eat with people you don't even like because no one is talking – they're all too busy eating their sandwiches. Snarf's doesn't skimp on ingredients. There is always a decent helping of pastrami along with the melted cheese, fresh vegetables, pickles, and seasonings. My favorite part of the sandwich has got to be the pickled hot peppers. They sell them in jars at the shop counters and I've been tempted to purchase a jar just to deconstruct it and make my own. So so so good. I crave Snarf's sandwiches. [And for you Thundercats fans, I say "Snarf's" the way Snarf pronounces his name. Can't help it.]
I'm realizing from Facebook comments and other discussions that everyone seems to have their own Snarf's favorite sandwich. I would love to hear what yours is!
Pro tip: After waiting 30+ minutes for a sandwich the first few times, I've got both locations' phone numbers in my smartphone. Call ahead and walk straight to the pick up window, bypassing the 2 dozen patrons waiting in line at lunchtime. Non-lunch times seem to take only 10 minutes.
Where: Snarf's is at two locations in Boulder: 5340 Arapahoe Avenue (Boulder, Colorado 80303) and 2128 Pearl Street (Boulder, Colorado 80302). There are plenty of locations outside of Boulder too, so check to see if you are lucky enough to have a local Snarf's of your own!
When: Order any of the fantastic sandwiches from both Snarf's in Boulder: Monday through Saturday from 11:00 am to 10:00 pm and Sunday from 11:00 am to 9:00 pm.
Contact: Call Snarf's on Arapahoe at 303.444.3404 or Snarf's on Pearl at 303.444.7766. Visit their Facebook page or follow Snarf's (Pearl) on Twitter @SnarfsOnPearl.
Full Disclosure: The opinions expressed here are my own. No comps for the chomps.
Previous sandwich research:
1) The Pinyon's fried chicken sandwich (sadly, now closed)
2) Cafe Blue's blackened tuna sandwich
3) Frasca Caffè's Italiano panini caldi