For the second stop on my sandwich chronicles, we hoof it across town to Gunbarrel. I used to work in Gunbarrel when we first moved to Colorado, so I got to know the area a bit. A popular lunch stop with my co-workers was Cafe Blue. It's a nondescript restaurant in a nondescript strip mall in a nondescript part of Boulder. The service is consistently friendly despite how wildly the quality of service varies. I poked around on the menu for the first few visits, trying out sandwich options. Nothing really spoke to me until I honed in on the big kahuna. There is one sandwich that pretty much has a lock on my order: the blackened tuna sandwich.

cafe blue in gunbarrel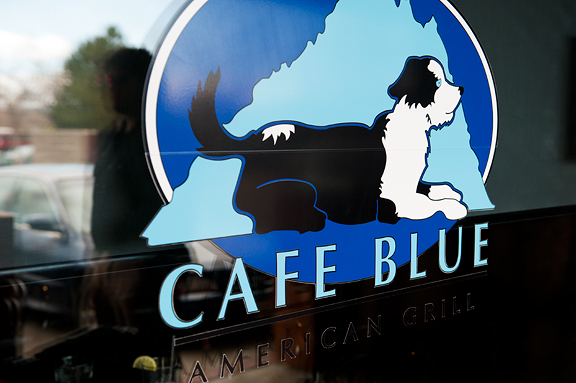 cafe blue's blackened tuna sandwich with a side of mac and cheese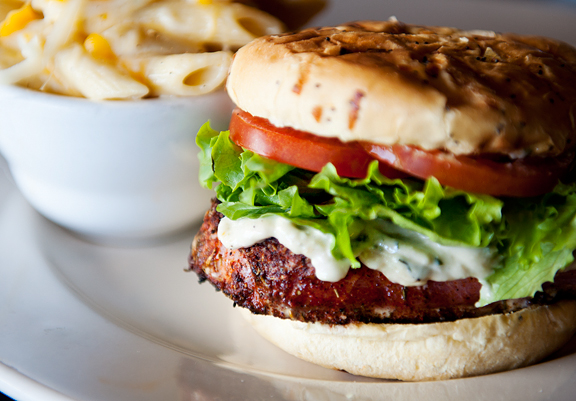 What you get for $11.25 is a nice ahi tuna filet, crusted in seasonings, blackened to your requested doneness, served on a toasted onion roll with basil aioli. On the side you get lettuce, tomato, and onion. Want cheese with that? Your choice of: provolone, American, Swiss, blue cheese, feta, cheddar, or pepper jack. Pick one of their side dish offerings: mac and cheese, shoestring french fries, mashed potatoes, house salad, cup of soup, or cottage cheese. There are extras on offer as well for $.75 each: mushrooms, onions, bacon, jalapeños, artichokes, peppers.
from a different visit: sandwich cross-section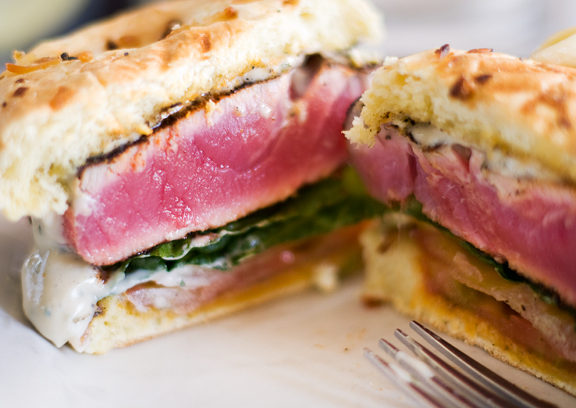 To the sandwich:
Rare. I order this sandwich rare. I've never had it any other way, so if you order it well-done and complain to me that it isn't juicy, I'm going to ask you to please refrain from ruining good food. It's a lovely combination of a lightly toasted onion roll that cradles a hunk of beautiful blackened ahi tuna with basil aioli dripping down the side. The tuna drips juices when you take a bite. The tender interior of the ahi tuna contrasts with the delicately crisp blackened exterior without being overpowered by the herbs and spices (although I do love to get my spice on). You can skip the vegetables, but I like to stack my sandwich with the lettuce and tomato on offer. It rounds out the textures and temperatures nicely.
Where: Cafe Blue at 5280 Spine Road in Gunbarrel – Boulder, Colorado.
When: You can order the blackened tuna sandwich at lunch and dinner Monday through Saturday from 11:00 am to 9:00 pm.
Contact: Call Cafe Blue at 303.530.4345. Visit their Facebook page.
Full Disclosure: The opinions expressed here are my own (duh). No comps for the chomps.
Previous sandwich research: