Recipe: butterscotch and milk chocolate puddings
Were any of you able to catch the full moon this past weekend? Since the moon was at perigee (closest approach to Earth) for 2012, it appeared 14% larger and 30% brighter than typical full moons. Everyone was saying it would be a "supermoon". For us, it certainly was if only for the fact that clouds were building all day, sitting like a giant cap on top of our region. Sheer luck and strategic planning gave us a tiny window from the horizon of the Great Plains to the base of the cloud deck. For all of ten minutes we were able to witness and capture something beautiful.

supermoonrise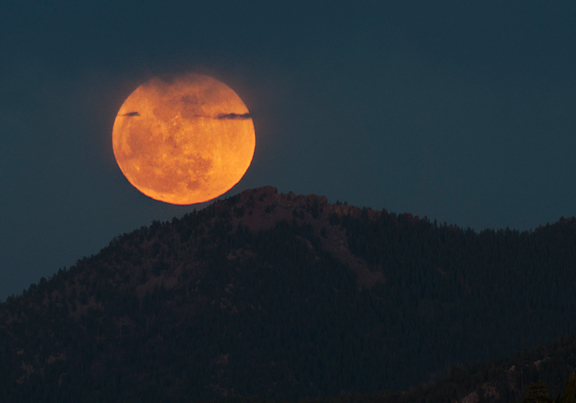 As the moon disappeared into the clouds, I looked up from the camera and shouted, "I love it here!" We have good skies, clean air, quiet mountain roads, and a topography of mountains, foothills, and canyons that dramatically abuts a flat, expansive plain. The storm eventually committed itself on Sunday and brought a shower of wet, heavy snow upon us. Moisture is welcome now, in any form.
kaweah wanted to check out the snow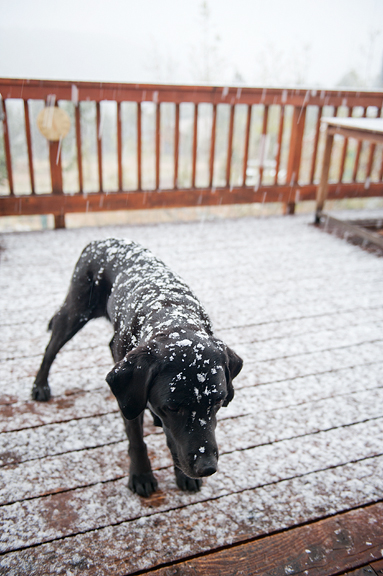 It was most definitely a super weekend – super moon, super snow, and I recreated a lovely treat I've enjoyed from
Pizzeria Locale
in Boulder (part of the grand
Frasca
dominion).
call it super pudding
Last month, I was on assignment to shoot a fun annual event in downtown Boulder –
Taste of Pearl
. Local restaurants, Colorado wineries, and shops on Pearl Street triple up to create 15 tasting stations for attendees to sample and peruse and mingle. It's festive and lively. People get friendlier and friendlier as the afternoon progresses, I'm guessing because of the wine! As I was working, I didn't eat or drink until the end. The fellas at Pizzeria Locale were handing out cute little cups of their butterscotch pudding. If you said "butterscotch pudding" to me in the past, I would have politely declined. After having sampled this butterscotch pudding twice (first time at the restaurant, second time at this shoot), I was SOLD. But you know me… something this good needs to be tested at Butter Headquarters.
vanilla, bourbon, milk, eggs, brown sugar, butter, salt, cornstarch
mix melted butter with the brown sugar and salt
I don't develop recipes. I just don't. That kind of activity makes me crazy and cranky. I seek out good recipes from trusted sources and proceed to test them out. After searching my library and looking online, I settled on
David Lebovitz' butterscotch pudding
, because he puts BOOZE in his pudding. Whiskey, to be specific. I went to my wine and booze adviser (Jason at Boulder Wine and Spirits – he is the best) and grilled him about whiskeys. What is whiskey? Can I use bourbon instead of whiskey? What the heck is scotch? Jason deserves a batch of cookies just for putting up with me. In the end, I decided to save myself $30 and use the bourbon I already had.
whisk milk and cornstarch
whisk in eggs
stir milk into the brown sugar mixture
Truth? I've never made pudding from scratch before unless you are talking about
sticky toffee pudding
, which is another beast entirely. I probably stopped making the occasional instant pudding back in college. Pudding isn't really my thing, see. But this… this is the stuff of addiction, obsession.
whisk cornstarch mixture into the pudding
don't forget the booze!
divvy up among random cups and glasses
Making pudding is crazy easy as long as you have a whisk and keep an eye on not letting things burn or curdle. The process is similar to custards, but more forgiving, in my opinion. Because I wanted to make the pudding similar to the way they serve it at Pizzeria Locale, I had to have a thin layer of milk chocolate pudding on top of the butterscotch pudding. You might think that omitting this would save you a step, and it would, but you would have an inferior pudding. Make the milk chocolate pudding, and for crying out loud, get GOOD milk chocolate or just go home.
vanilla, sugar, milk, cream, cornstarch, cocoa powder, salt, good milk chocolate
whisk the sugar, cornstarch, cocoa powder, and salt together
I am not a fan of milk chocolate, but there are some things that are elevated to the status of "heavenly" when paired with milk chocolate. Take passionfruit caramel for instance, or this butterscotch pudding. You don't need a lot, but a little will accent the dessert nicely. I used Chocolove's milk chocolate with its hints of malt and caramel, that melts smooth and clean on the tongue. You only need half of the milk chocolate pudding recipe given below, but I doubt anyone would object to a couple of extra milk chocolate puddings hanging about their refrigerator.
whisk in the milk
adding chopped milk chocolate
stir in the vanilla
Give the butterscotch puddings time to set before you layer the milk chocolate pudding so you don't get any infiltration of one into the other (although I doubt anyone would be upset about it). That means making the chocolate pudding right as the butterscotch layers have more or less stabilized. Pouring the warm pudding over the first layer makes it easier to have an even second layer. Chill the puddings until the chocolate layers have set. Right before serving, whip the cream to soft peaks and pipe or plop it on the puddings.
you just need a few spoonfuls, then refrigerate the puddings
piping whipped cream
Shave some of that good milk chocolate on top and you have yourself a pretty delightful little treat. This is a rich dessert, so I prefer the smaller serving vessels because they look cute and won't make people go blind when they finish it.
a small indulgence
super butterscotch pudding!
Butterscotch and Milk Chocolate Puddings
[print recipe]
butterscotch pudding from David Lebovitz and milk chocolate pudding from Bon Appétit
butterscotch pudding (see below)
1/2 milk chocolate pudding recipe (see below)
whipped cream (see below)
shaved milk chocolate for garnish
butterscotch pudding
4 tbsps (60g) butter, salted or unsalted (I use unsalted)
1 cup (180g) packed dark brown
3/4 tsp coarse sea salt
3 tbsps cornstarch
2 1/2 (625ml) cups whole milk
2 large eggs
2 tsps whiskey (I used Bourbon)
1 tsp vanilla extract
Place butter in a medium saucepan over medium-high heat. When the butter is melted, stir in the dark brown sugar and salt until the sugar is evenly moistened. Remove the pan from the heat. In a medium bowl, whisk the cornstarch and 1/4 cup (60ml) of the whole milk together until there are no more clumps of cornstarch. Whisk in the eggs. Pour the remaining 2 1/4 cups of milk into the pan with the brown sugar, whisking constantly to mix it well. Whisk the cornstarch mixture in and set the saucepan over high heat. Whisk the pudding mixture frequently until it begins to boil, then reduce the heat to a low simmer, whisking continuously for a minute. The pudding should have the consistency of hot fudge sauce. Remove the pan from the heat and stir in the whiskey (or bourbon as I used) and vanilla extract. David notes that if the pudding has curdled a bit, you can blender it to smooth it out – just take precautions if putting it in a blender because hot liquids more than half full in the vessel can be disastrous and potentially dangerous (explosive comes to mind). He suggests doing it in two smaller batches and draping a towel over the lid of the blender if necessary. Pour the pudding into serving glasses (4-6 standard cups or several small shot glasses) and chill for at least four hours before serving.
milk chocolate pudding
6 tbsps sugar
2 tbsps cornstarch
2 tbsps unsweetened cocoa powder
pinch salt
1 1/2 cups whole milk
1/2 cup whipping cream
4 oz. milk chocolate, chopped
1 tsp vanilla
Whisk the sugar, cornstarch, cocoa powder and salt together in a medium to large saucepan. Slowly whisk the milk into the saucepan and then whisk the cream in. Set the pan over medium heat and whisk until the contents befing to boil. Continue to boil for 30 seconds, whisking constantly, until the pudding becomes thick. Stir in the milk chocolate and let it return to a boil. Whisk the pudding often for 1-2 minutes more until it is thick. Remove the pan from the heat and stir in the vanilla. Let the pudding cool for a few minutes before spooning into vessels. Chill at least 2 hours. Makes 4-6 servings.
whipped cream
1 cup whipping cream
1 tbsp sugar
1/2 tsp vanilla extract
Place the whipping cream, sugar, and vanilla extract in a clean bowl and whip on high until soft peaks form.
Assemble the puddings: Make the butterscotch pudding FIRST (see above). When the pudding is still warm, pour it into serving glasses or shot glasses about two-thirds full. If you are worried about keeping the sides of the glasses clean, pour it through a funnel. Chill the butterscotch puddings for 2-3 hours or until they are relatively well-set. Make the milk chocolate pudding (see above) when the butterscotch puddings are nearly set. When the milk chocolate pudding has cooled for a few minutes after stirring in the vanilla extract, spoon a little layer on top of each butterscotch pudding (or spoon a lot if that's what you like). Chill the puddings (uncovered) in the refrigerator for at least a couple of hours before serving. Right before serving, whip the whipped cream to soft peaks (i.e. don't overbeat the cream). Spoon or pipe (using a pastry bag) the whipped cream on top of each pudding. Shave or grate milk chocolate on top and serve. Makes 4-6 standard servings or 12-24 smaller (shot glass) servings.