There is a special love I have for the state of Colorado – the place I call home. You can probably sense that from the way I photograph and write about Colorado in this space. It is not unlike the adoration that Mainers have for Maine. Before last week, Maine was never much on my radar except when good friends of mine waxed nostalgic for it (my pal in graduate school always referred to her as, "Maine, the great state"). But my western-centric attentions were pointed East when my friend, Sharon (who I met at IFBC Seattle in 2009 on a chance shared cab ride), invited me out on behalf of The Maine Office of Tourism and The Schooner J. & E. Riggin for a trip to explore some of their fine state. So yeah, I was in Maine last week and it was… AWESOME.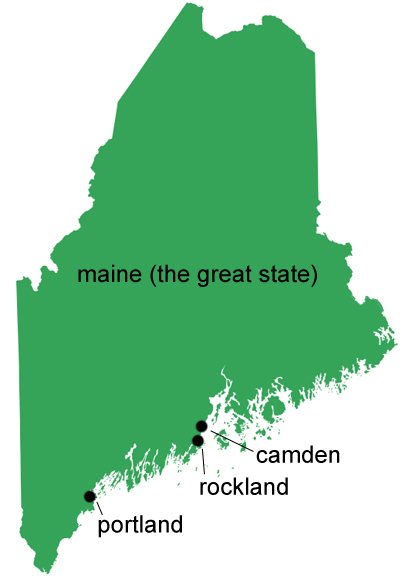 Full disclosure:
The Maine Office of Tourism
and
The Schooner J. & E. Riggin
sponsored my transportation, lodging, and meals with no obligation on my part. All photographs, words, experiences, and especially opinions, are my own.
Day 1: Portland: El Rayo Taqueria, Cantina El Rayo
Day 2: Portland: Gulf of Maine Research Institute, The Well, Jordan's Farm, Broadturn Farm, Maine Mead Works, Regency Garden Café, Fore Street
Day 3: Portland to Rockland: Standard Baking Company, Rock Paper Scissors, The Slipway, Salt Water Farm, Rock City Roasters, J&E Riggin, In Good Company
Days 4-7: Rockland, Stonington, Camden: The Schooner J. & E. Riggin, Rheal Day Spa
Day 1: I left my house in the Colorado Rockies at 3:45 am and arrived at the Portland Regency Hotel and Spa in Portland, Maine, with enough time to drop off my bags and change my clothes for dinner. Joining my travel companions Joy and Rebecca, we walked with our host, Sharon, to the brightly colored and lively El Rayo Taqueria. The smell of savory Mexican food drifted on the fresh sea air as we approached. There we met with several local Portland food scene folks for refreshing margaritas and appetizers on the patio where every table was occupied with happy patrons.

a round of margaritas de la casa – perfection on a summer evening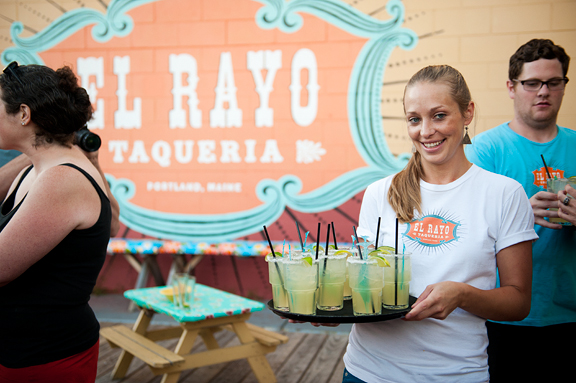 flash fried shishito peppers with oaxacan sea salt, chips, salsa, and guacamole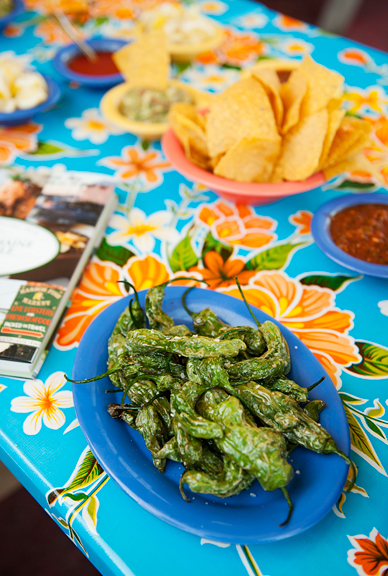 abigail describes the different oysters she brought from her farm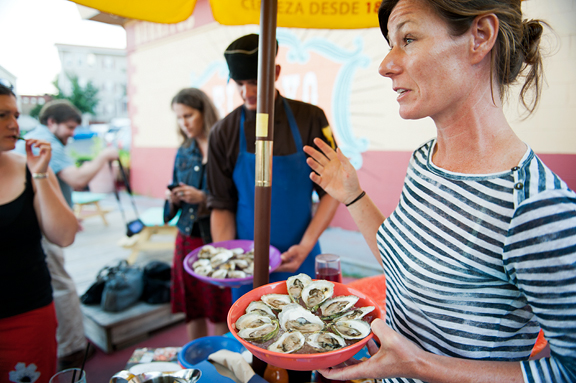 and there were fabulous goat meat tacos… did i mention this was merely appetizers?!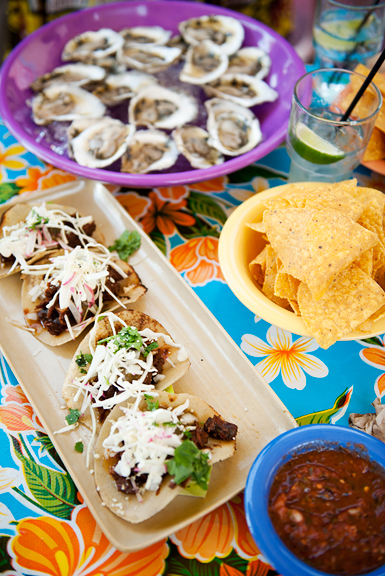 El Rayo is run by the dynamic duo: executive chef Cheryl Lewis and general manager Norine Kotts. Their kitchen manager, Elena McMahan, gave us a tour of her urban garden which supplies the restaurant with fresh herbs and edible flowers in summer. The incredible oysters we sampled came from Abigail Carroll's oyster farm:
Nonesuch Oysters
. I got to step inside the restaurant (which was also hopping) and get a quick tour from Cheryl.
pickled peppers at the counter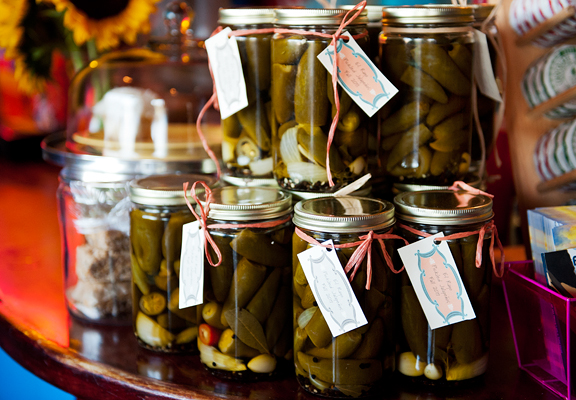 festive and packed with locals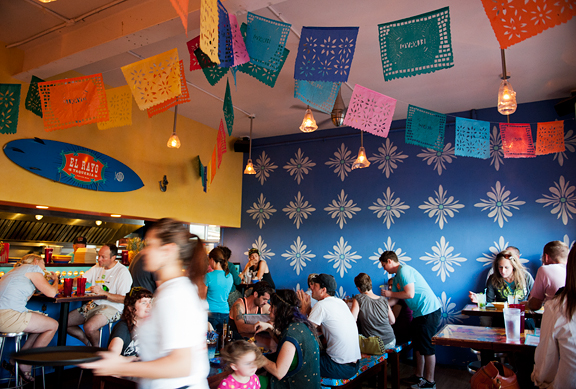 the busy line keeps up with demand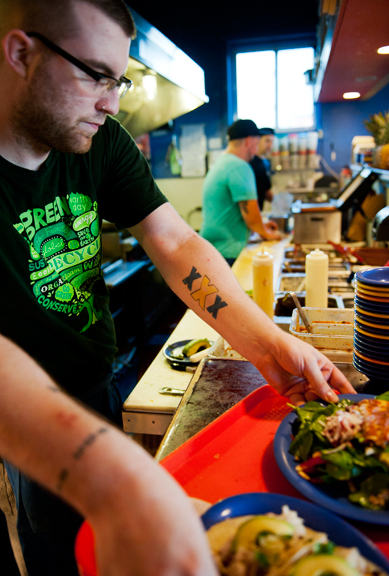 We then walked next door to the swankier
Cantina El Rayo
which features cocktails and more refined fare compared to its sister, El Rayo Taqueria. I sat next to Margaret Hathaway and Karl Schatz of
Ten Apple Farm
, Elena, and Anestes Fotiades who writes
Portland Food Map
. Not only was everyone genuinely warm, but they are all fascinating people. Margaret and Karl supplied the goats for our dinner (from their farm). I think I kinda fell in love with those two. Here are just some of the noms we enjoyed for our meal, although I was in a food coma by the time the churros rolled around. Everything was fantastic. And then Cheryl gave us each a luscious, frosted coconut cupcake as a take-home treat.
the cantina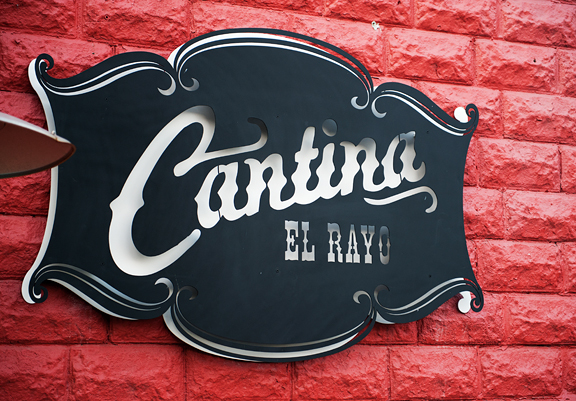 blueberry shrub refresco (yes to this!!)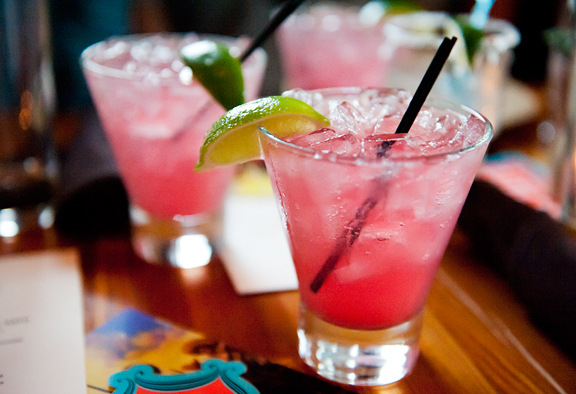 delectable hibiscus pickled deviled eggs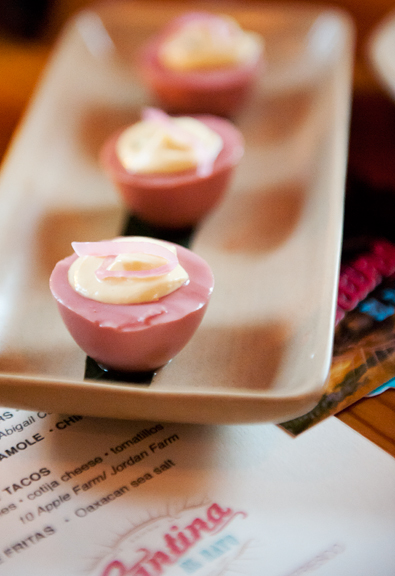 heavenly chili pesto oysters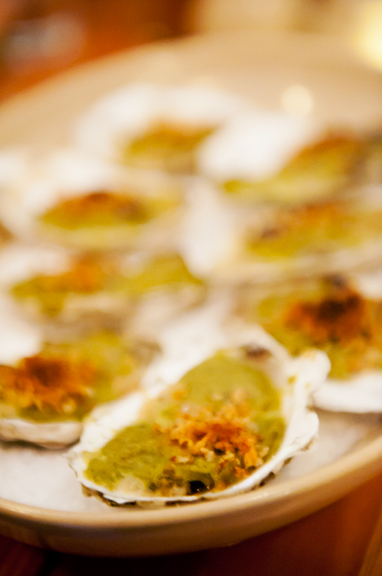 mexico city style street corn with cotija cheese and chipotle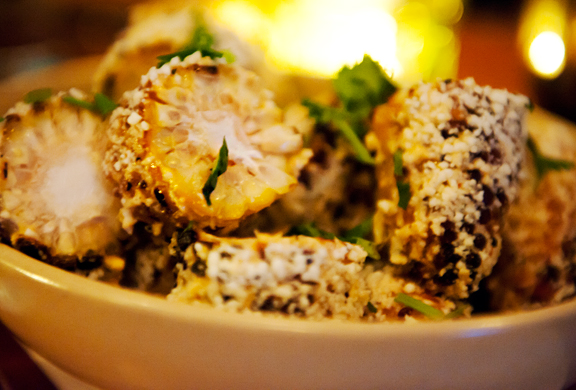 goat meatballs with mole sauce and pickled onions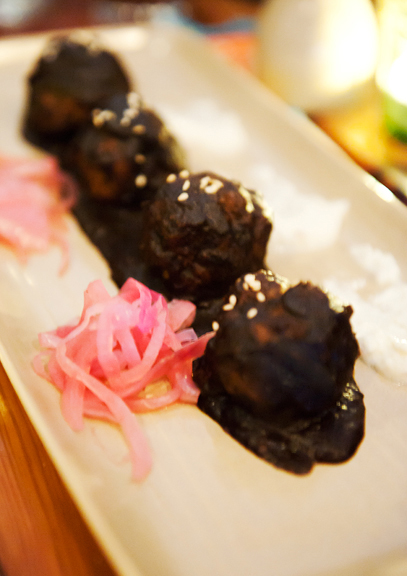 griddled hoja santa leaves with three cheese and tomatillo sauce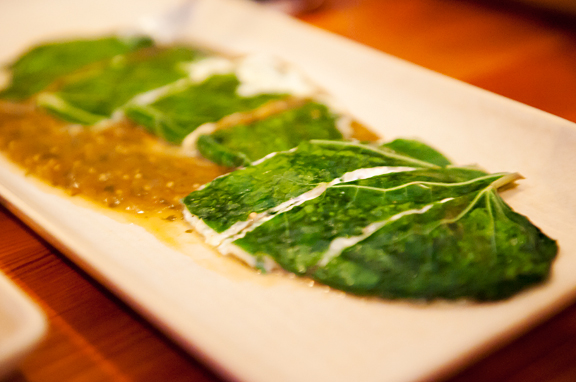 Things I really liked from Day 1
Virgin margarita and goat meat tacos
at El Rayo Taqueria.
Oysters
from Nonesuch Oysters.
Blueberry shrub refresco, chili pesto oysters, and Mexico City style street corn
at Cantina El Rayo.
My elastic waistband pants
.
A comfy bed
at the Portland Regency Hotel and Spa.
Day 2: To counter the effects of the first night's feast (hey, elastic only gets you so far), I got myself to the Regency's fitness center for a run before our tour of the Gulf of Maine Research Institute (GMRI). Blaine Grimes explained how the institute provides a supportive connection between the science of the Gulf of Maine (and its watershed) and the communities that depend on it. GMRI builds working solutions to balance the needs of the environment with the needs of the fishing industry. Additionally, they have developed an impressive outreach program to educate Maine's 5th to 8th graders on the Gulf of Maine through interactive exercises that teach the scientific method (this was the coolest thing ever).

gmri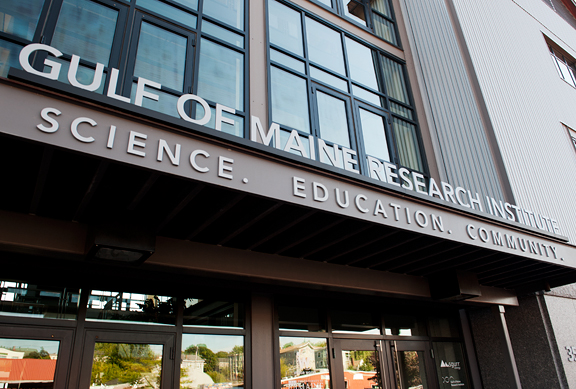 blaine starts with an overview of the physical geography of the region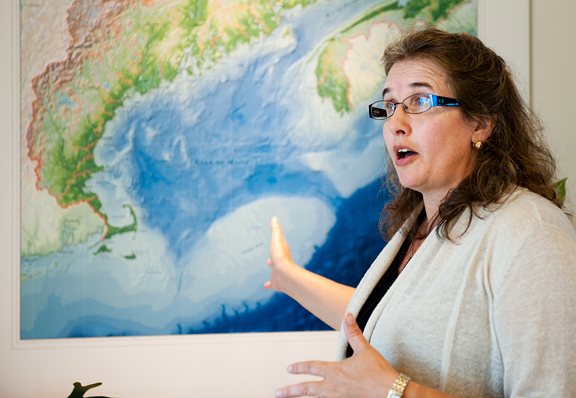 educating children by not giving the answers, but letting them discover for themselves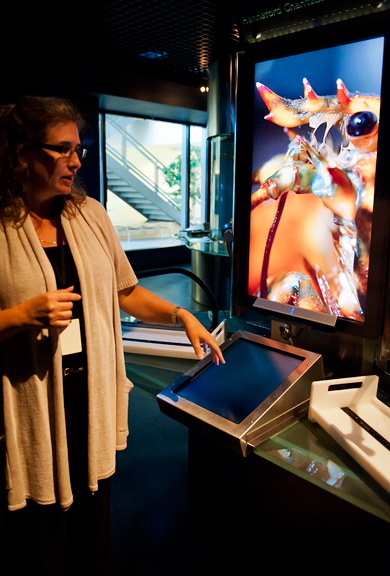 After the tour, we moseyed on over to
Jordan's Farm
where Penny Jordan welcomed us. She then ushered us down to
The Well
, a tiny unassuming restaurant on the farm that is only open for dinner service. Chef/owner Jason Williams graciously hosted us for a special lunch demo of his preset menu. Much of the food is locally sourced, if not harvested right off the farm – fresh and beautifully prepared to highlight the ingredients. Jason's kitchen is a converted trailer and there are outdoor tables and a couple of screened gazebos where patrons can enjoy an exquisite meal.
penny greets us in front of her farm stand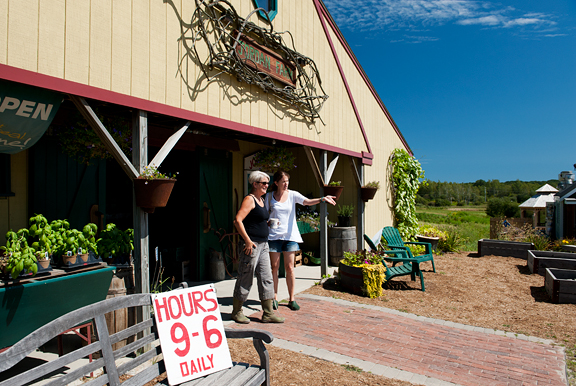 heading down to the well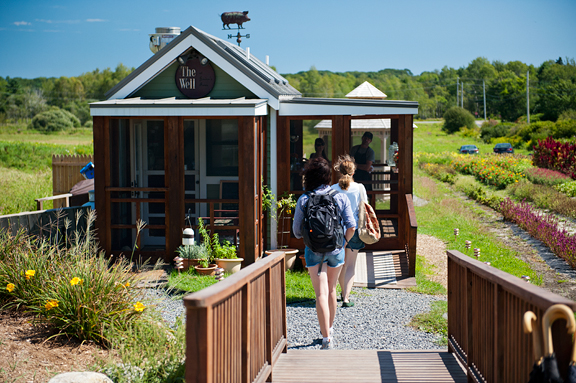 nice fresh summery touches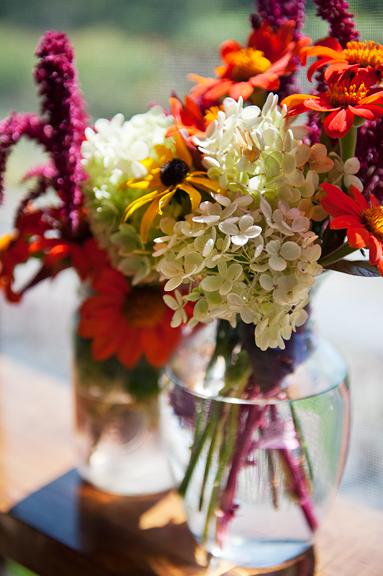 jason works his magic here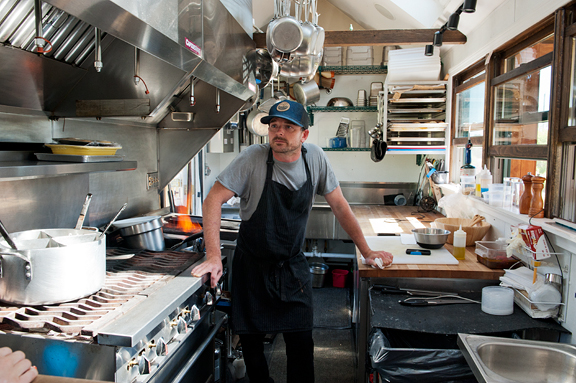 in the gazebo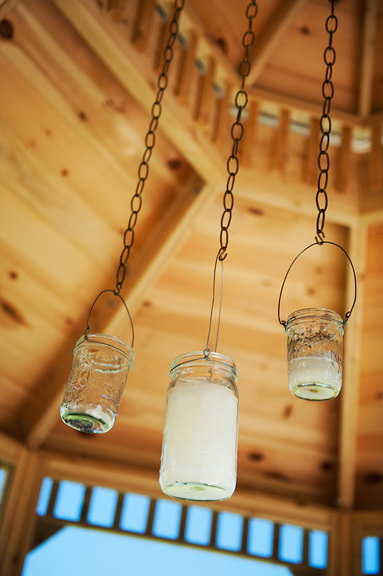 gorgeous salad with summer tomatoes and house-cured bacon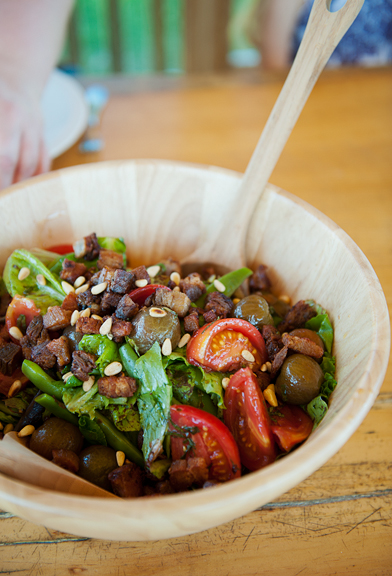 shishito peppers and a peekytoe crab sandwich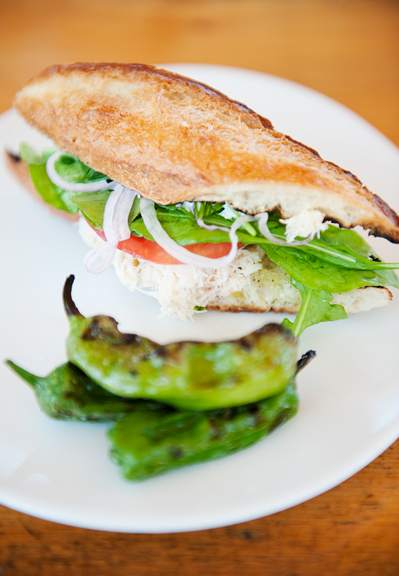 penny, jason, and his family joined us for lunch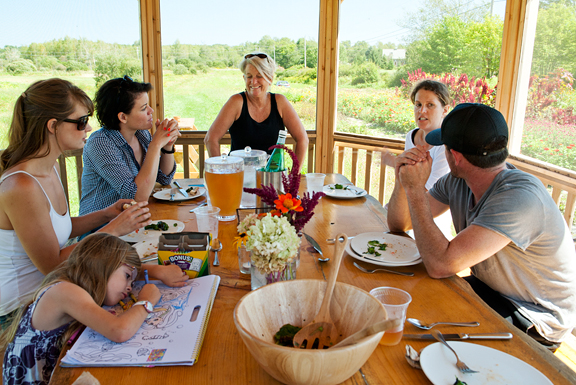 vanilla bean maine blueberries with shortbread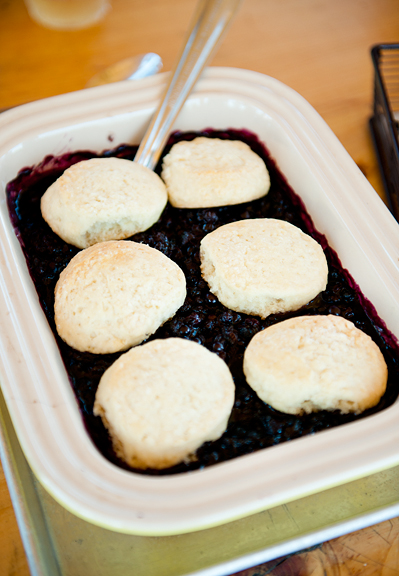 It was an especially glorious day of sunshine, breezes, and blue skies. So we walked off our lunch with a tour of Penny's farm stand and farm. You can find produce, flowers, honey, herbs, eggs, cheeses, meats, and other great items at the stand. In the various fields were blueberries, flowers, eggplants, cucumbers, tomatoes. And the coolest thing ever was Penny's school bus which was converted to a lovely mobile farm stand that she drives around to area restaurants. The chefs love it because they can step in and pick the produce they want.
beans!!!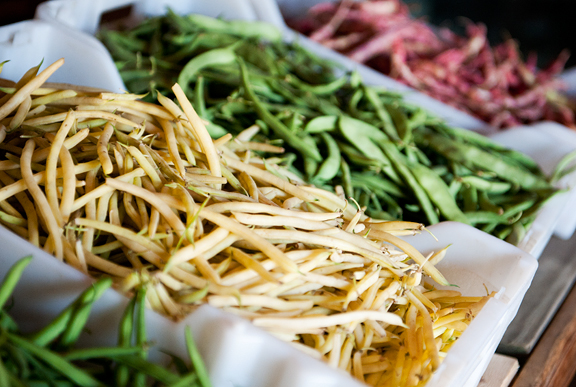 a bouquet of dried flowers by the door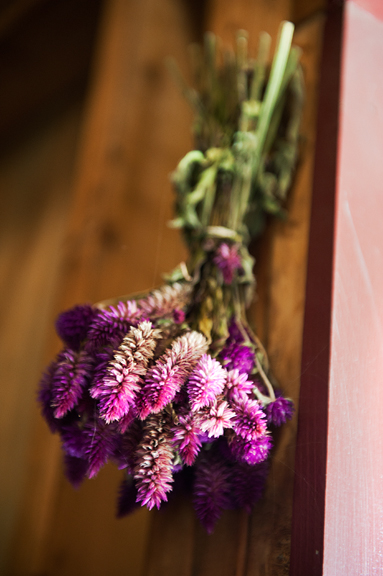 penny favors young slicing cucumbers – they are sooo sweet!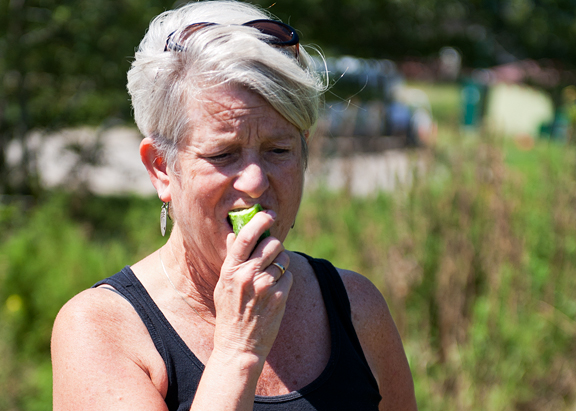 rows of healthy green goodness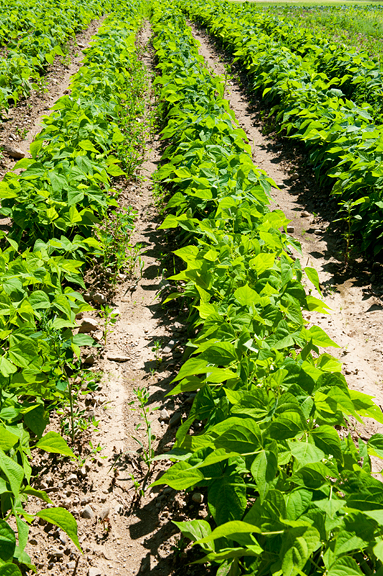 penny's mobile farm stand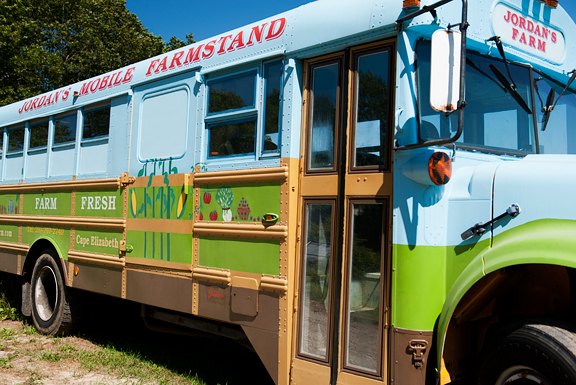 From one farm to the next, we bid Penny a fond farewell and made our way to
Broadturn Farm
a few miles outside of Portland. Stacy Brenner and John Bliss run this bucolic organic farm, producing stunning flowers (she does amazing floral designs and barn weddings), greens, vegetables, herbs, melons… Stacy kindly took time out of her hectic schedule to give us a tour and talk about organic farming, running a small business, and being a creative. A lot of people tend to romanticize what small farmers do (heck, they romanticize what photographers do too), but the reality is far less glamorous and a lot more effort than what most imagine. It makes me even more appreciative of the fruits of their labor.
there are flowers everywhere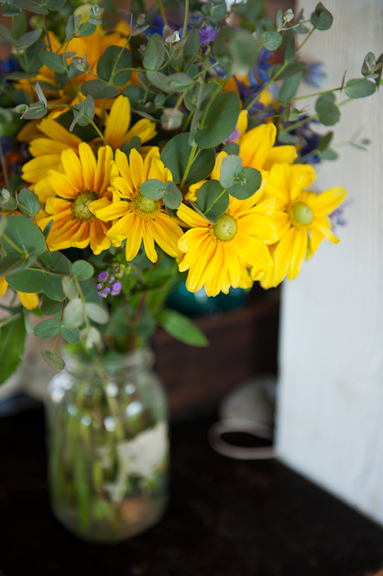 in the studio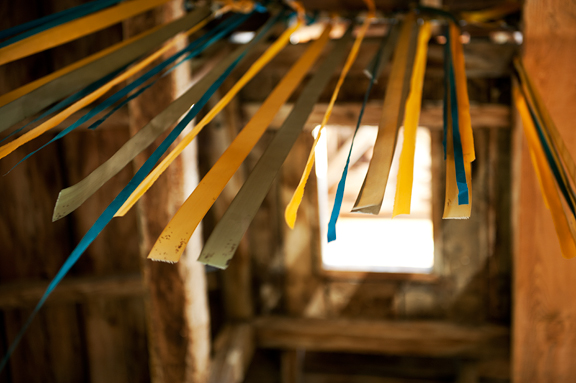 looking out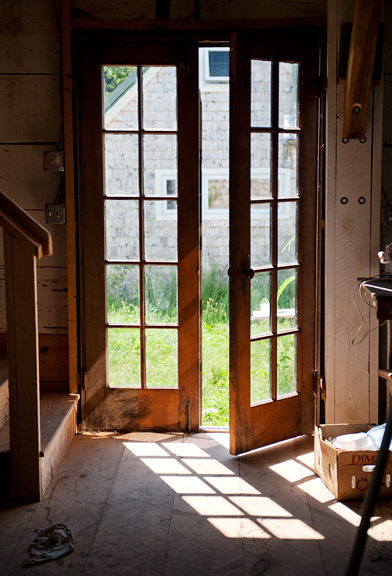 walking through the garden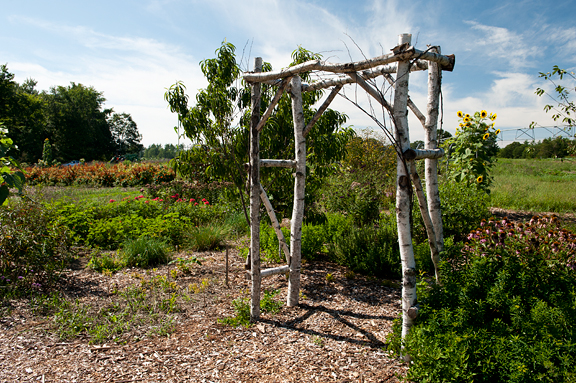 this little guy followed us everywhere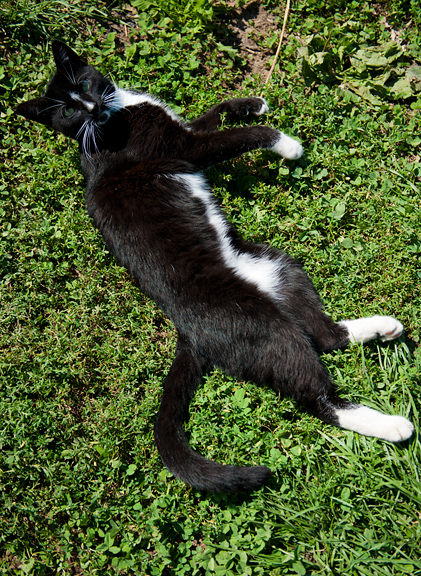 brilliant colors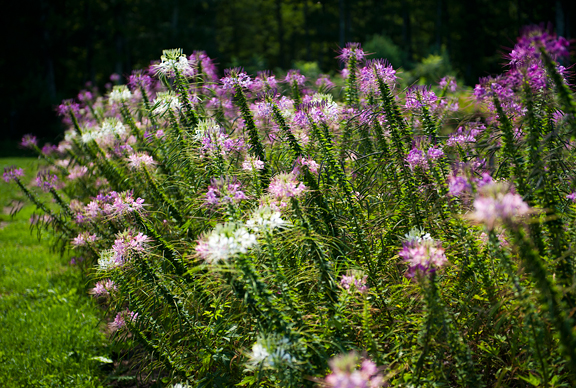 We returned to Portland for a tour and mead (honey wine) tasting at
Maine Mead Works
. Ben Alexander, the owner, said their meads had won several medals at the Mazer Cup Mead Competition in Boulder, Colorado earlier this year. Right on! We sampled the dry, semi-sweet, and reserve meads, but we also tasted their blueberry (of course!), strawberry, dry hopped, and lavender varieties which were as lovely to look at as they were to drink. As afternoon morphed into evening, we gathered at the Regency's outdoor Garden Café for happy hour. David Davis (director of sales) joined us and shared a little of the hotel's history. The building was originally The State of Maine Armory, built in 1895, and was converted to the Regency Hotel in 1987. However, the hotel preserved the exterior of the building and is a member of the Historic Hotels of America.
ben explains the fermentation process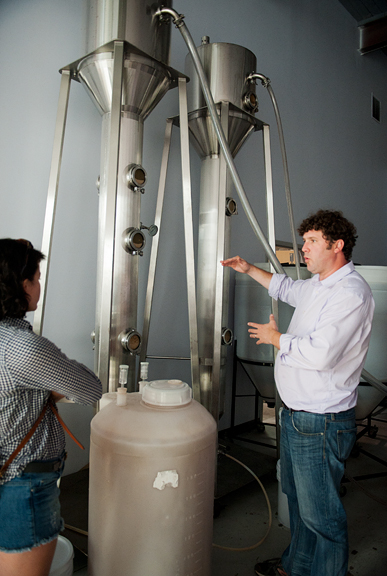 the offerings from maine mead works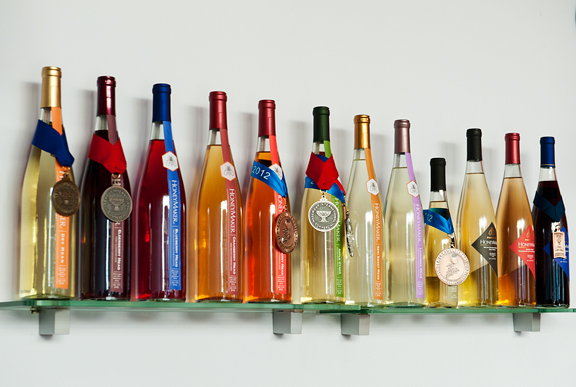 pouring the strawberry mead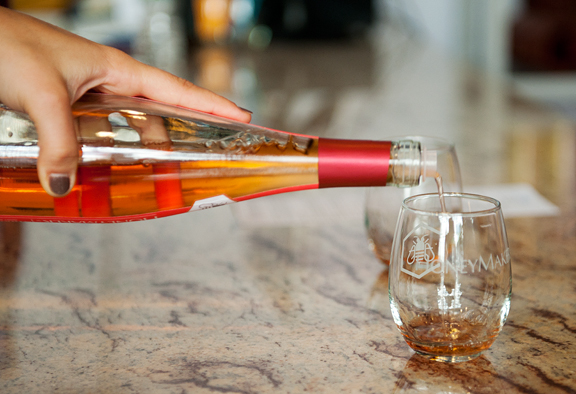 the regency's garden café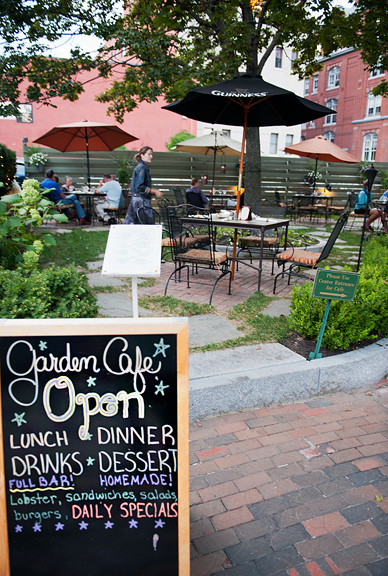 Our final stop for the night was dinner at
Fore Street
, a short stroll from the Regency. It was packed. The restaurant, the bar, the lounge, the entrance – PACKED. From what Mainers have told me, this is the place to be. Now that I've experienced it for myself, I would have to agree. While we waited for our table (the corner on the second level – the primo table), I watched the traffic of the wait staff maneuver between smiling guests, admired the open kitchen and the vegetable room, and don't think my head wasn't craning to get a better gander at each plate that paraded past me! The food and service were stellar. The sea critters were fresh as fresh can be, and yes, I ordered the hell out of the seafood – I WAS IN MAINE. Chef-partner Sam Hayward came by to say hi and make sure everything was awesome. 'Twas awesome indeed.
that's right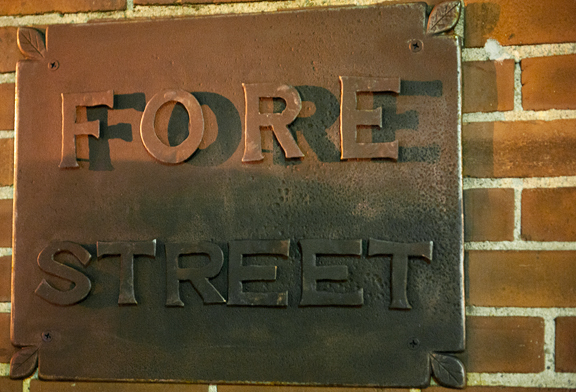 prepping in an open kitchen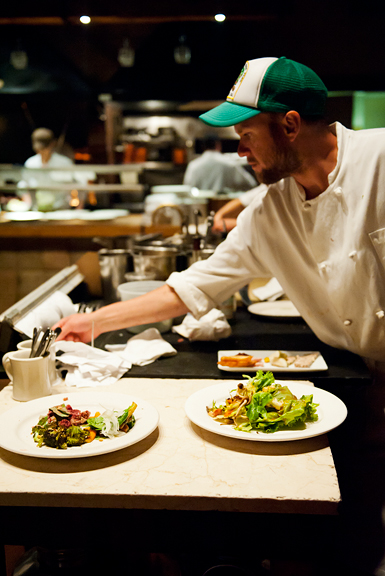 THIS: molasses cured king salmon, scallop ceviche with mezcal, yellowfin tuna and pickled hon shimeji, chilled maine lobster with roasted tomato mayonnaise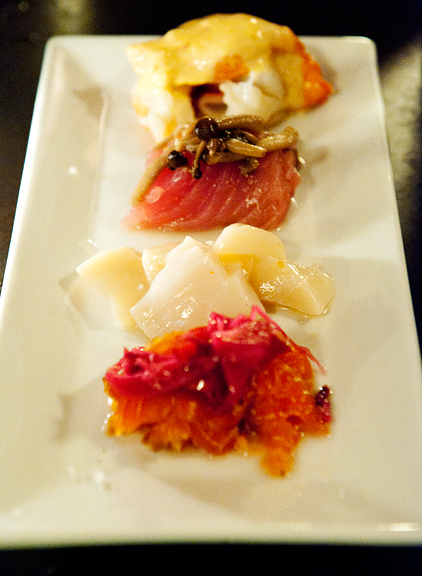 roasted exotic mushroom salad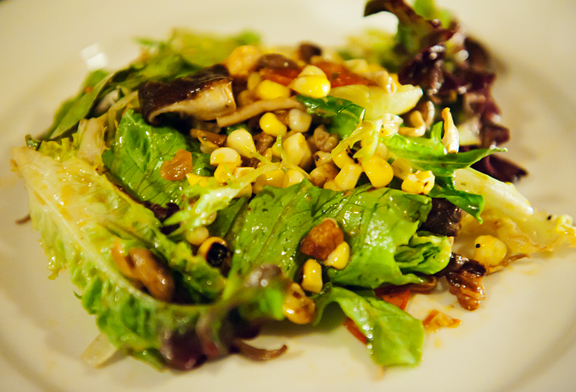 atlantic hake filet with chive butter sauce, corn, heirloom bean and wild chanterelles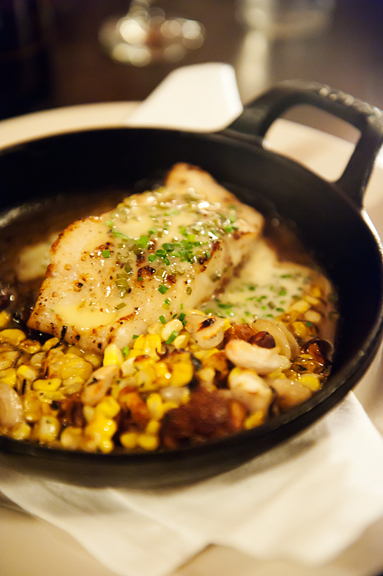 warm nectarine tarte tatin with sea salted caramel sauce, buttermilk sherbet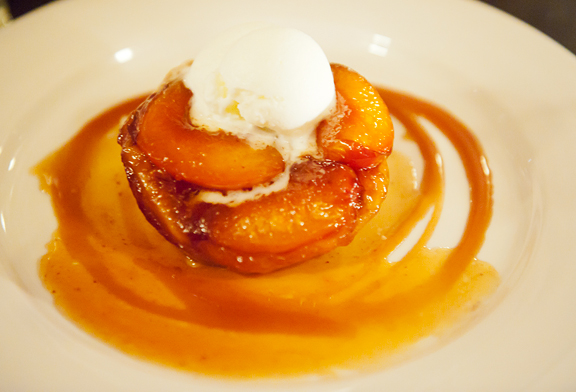 Things I really liked from Day 2
Summer tomato and house-cured bacon salad
at The Well.
Jordan's mobile farm stand
.
Incredible flowers
at Broadturn Farm.
Dinner
at Fore Street (you must do this).
Day 3: We were warned not to eat breakfast. No problem there, I had enough calories to last me three weeks. Oh, but the reason we weren't to eat breakfast was because we were going on a tour of The Standard Baking Company (part of the Fore Street empire). It was raining in the morning, which I felt was appropriate for a proper sampling of Maine. The rain didn't stop the steady stream of customers stepping in for their caffeine and pastry fixes. The general manager, Sara Deane, took us around the inner workings of the bakery and discussed the volume of the bakery's production, their exacting standards and procedures, and the maintenance and overhead involved in making this well-oiled machine work as a business. And at the end, we enjoyed nibbles of pain au chocolat, their ridiculously good chocolate cork (soaked in coffee syrup, hello? yes), morning buns, breads, ham and cheese croissant (made with something incredible like prosciutto and gruyère, if I recall correctly).

at the bakery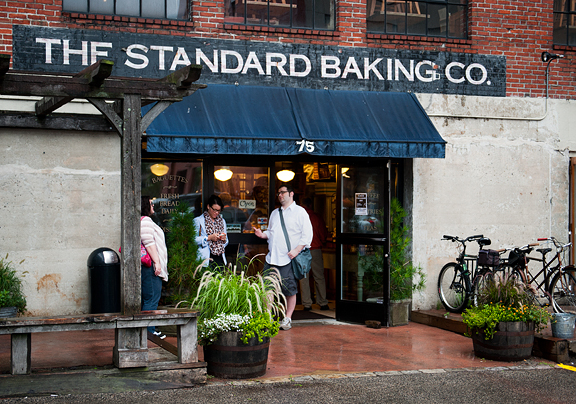 the breads were moving quickly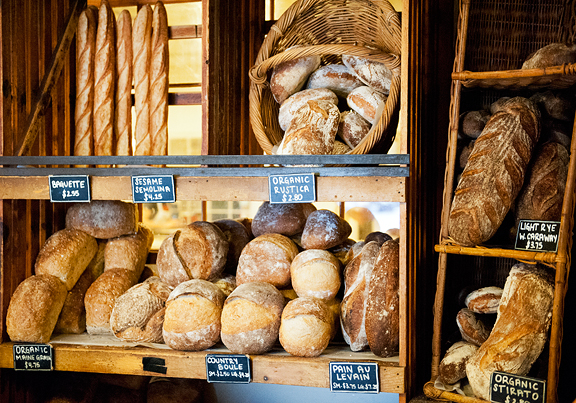 rolling out dough for morning buns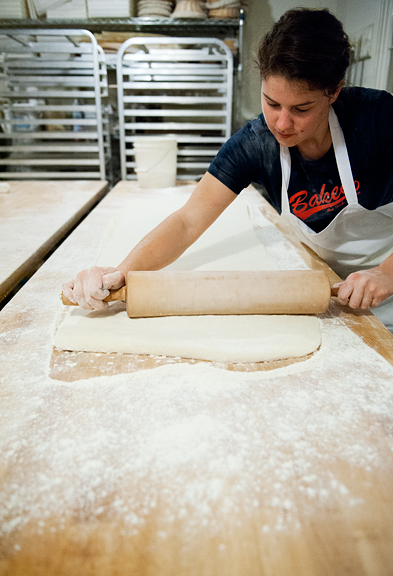 rolling up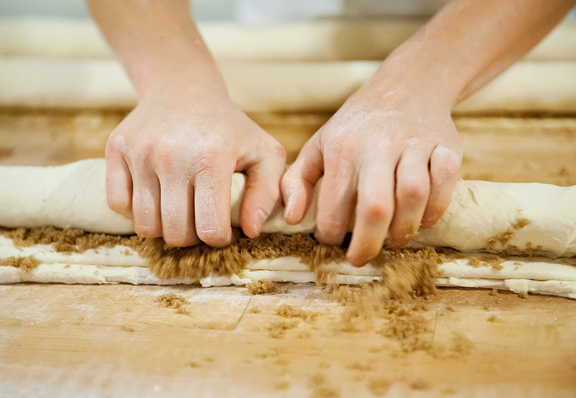 i had bakers envy, i did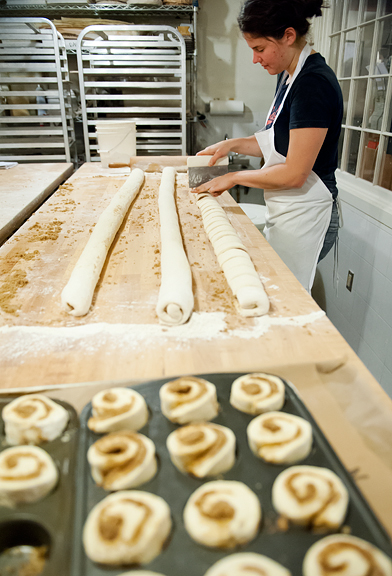 flipping seeded loaves for the oven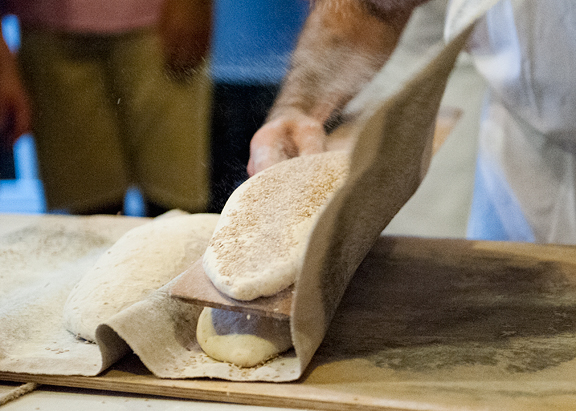 scoring the loaves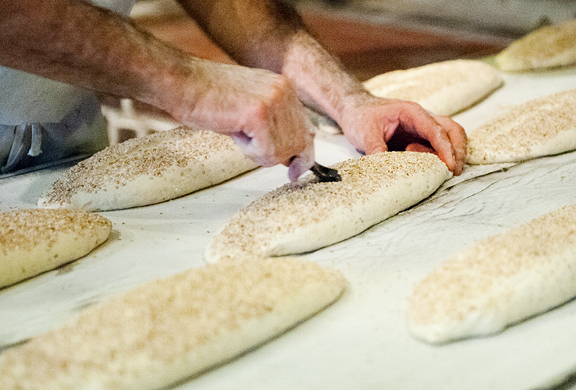 Next on the agenda was to head out of Portland toward Rockland. The weather cleared as we arrived in the quaint town of Wiscasset, stopping to stroll along Main Street and visit
Treats
(I couldn't eat another thing, but they had lovely baked goods, gourmet treats, and caffeinated beverages) and a gorgeous little shop called Rock Paper Scissors. I totally fell in love with Rock Paper Scissors because they not only have an eclectic and fabulously colorful collection of beautiful office supplies, crafts, knickknacks, and toys, but they have TWO DOGS.
i love everything about this shop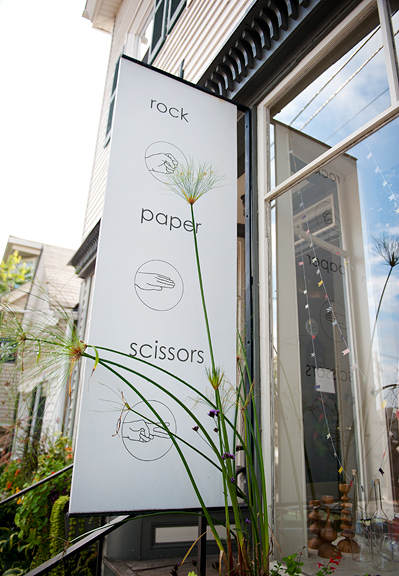 vases, dishware, glassware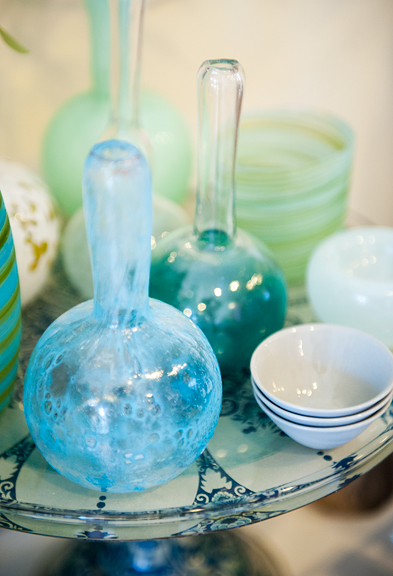 cute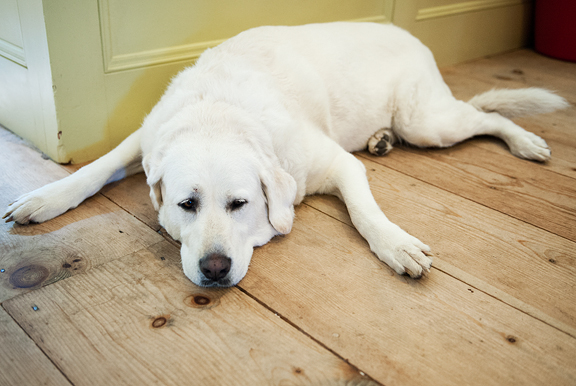 ribbons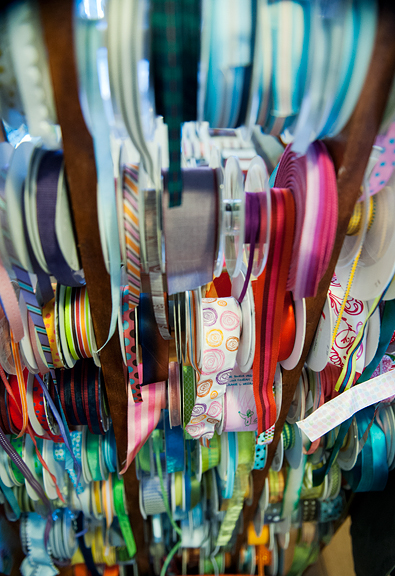 more ribbons!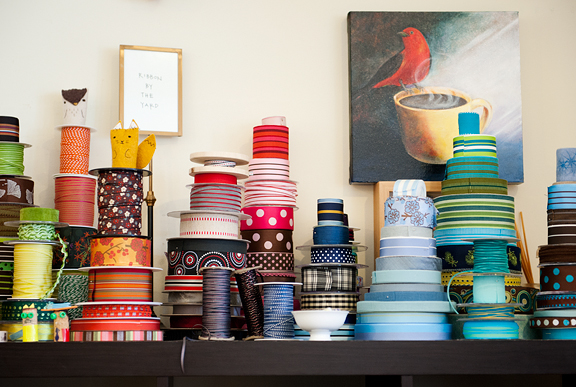 the other pup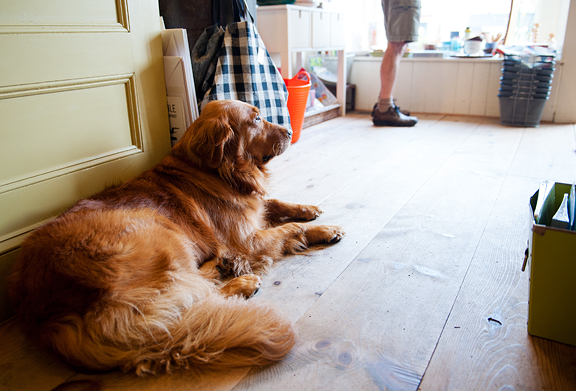 just another great day in paradise
As we neared Rockland, we paused in Thomaston for a relaxing lunch with a view on the docks at
The Slipway
. Chef Scott Yakovenko prepared a delightful appetizer sampler before letting us loose on the menu. Seafood! Oh glorious seafood! Our shuttle driver later told us that he has lived in Maine a long time and he had never enjoyed sweeter, juicier, plumper clams than the ones he had at The Slipway. We got several items to share around like the monkfish nuggets and a fried seafood basket of scallops, shrimp, and haddock. I had the chilled lobster meat salad because greens are important when on travel. So… lobster is great, but my heart still belongs to my Chesapeake Bay blue crabs. Regardless, the seafood was sweet, tender, fresh, and pretty much fantastic.
the slipway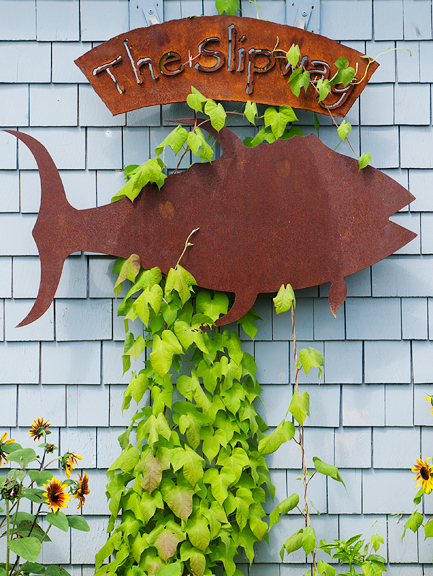 yes, i do love you, maine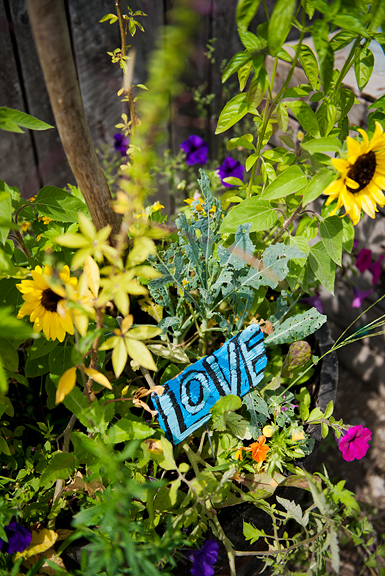 picturesque dockside dining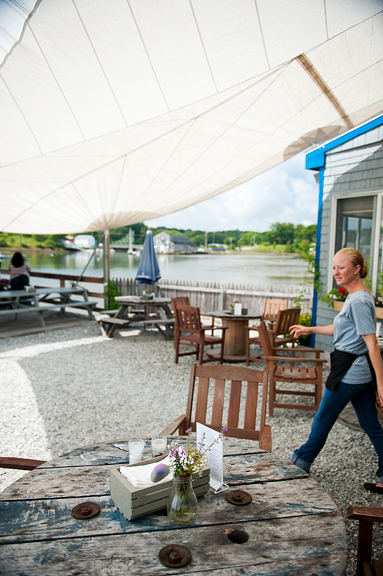 fried oyster, shrimp ceviche, and a baked clam something (which was delectable)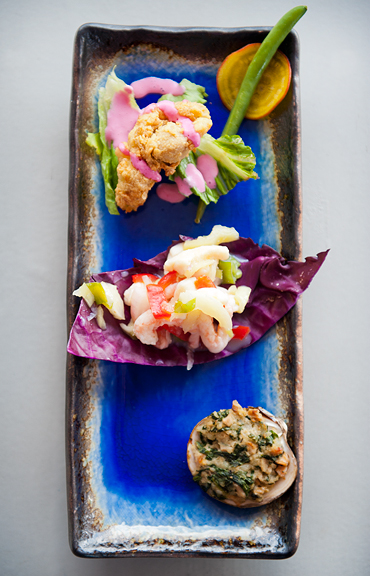 someone ordered this beaut of a lobster
Oh wait, I lied about going to Rockland. I mean, we did drive through Rockland, but then continued on to Lincolnville, Maine for a tour of
Salt Water Farm
. Annemarie Ahearn (owner and chef) took us around her stunning waterfront farm and into the summer kitchen (the barn) where they teach cooking classes and hold culinary workshops. It is a most beautiful place.
annemarie describes what they do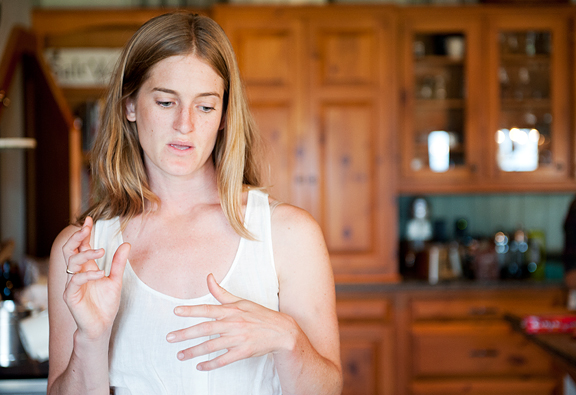 the side of the wood-burning brick oven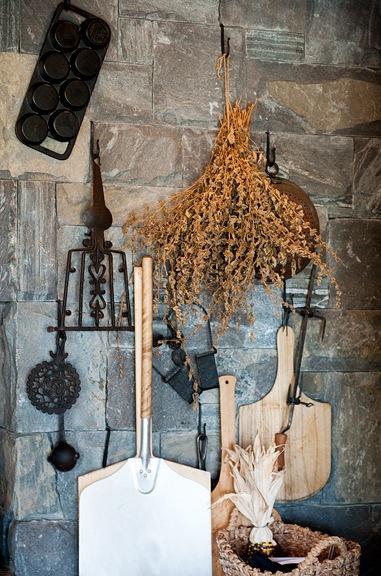 in the kitchen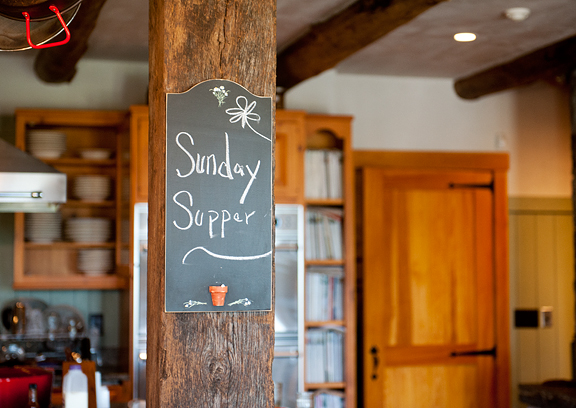 berries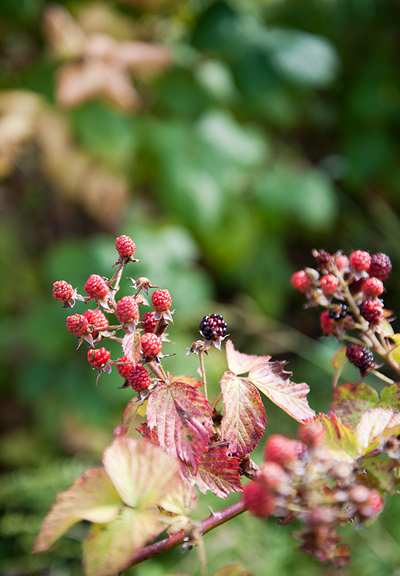 chickens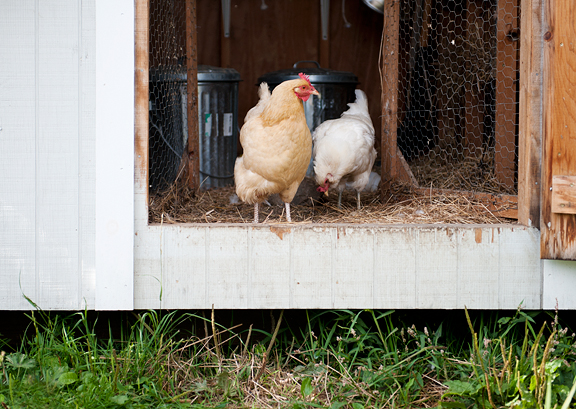 cosmos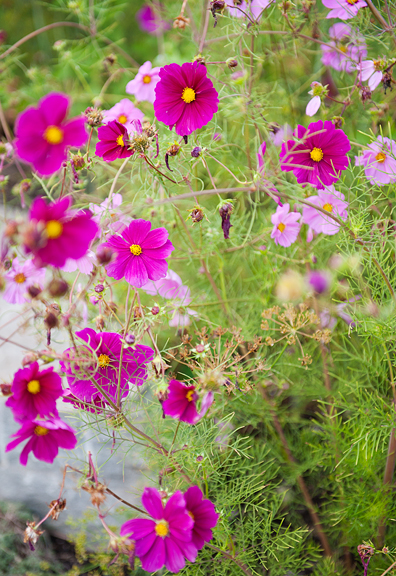 We returned to Rockland to visit
Rock City Coffee Roasters
where we were given two bags of their coffee beans, and took a short break at Rock City Café. Joy stepped into the back of the café to sign copies of
her book
at
Hello Hello Books
. How cool is that?! Then we skidaddled down to the docks for Captain's Call aboard
The Schooner J. & E. Riggin
before hopping over to the happening wine bar,
In Good Company
, for a relaxing dinner. We spent the night on the Riggin in dock!
rock city coffee roasters: several varieties of green coffee beans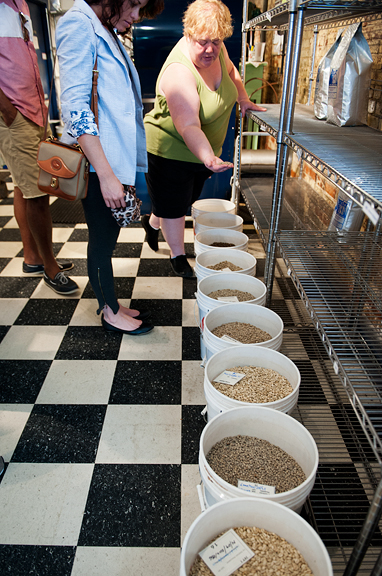 joy signs a stack of her cookbooks!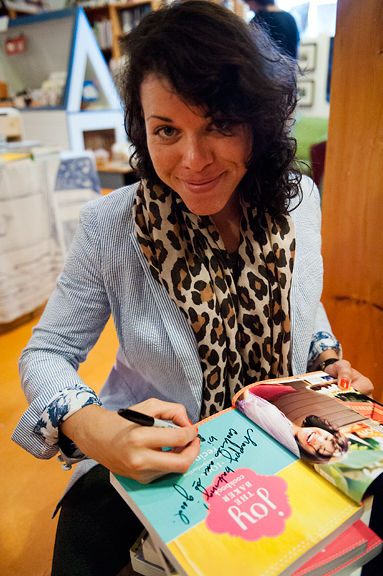 the j. & e. riggin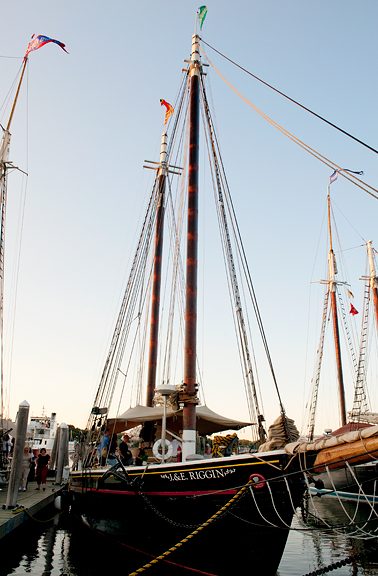 nice touches on board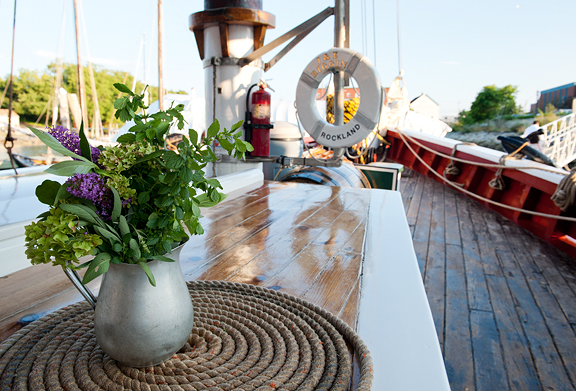 in good company: pasta with wild mushrooms and lobster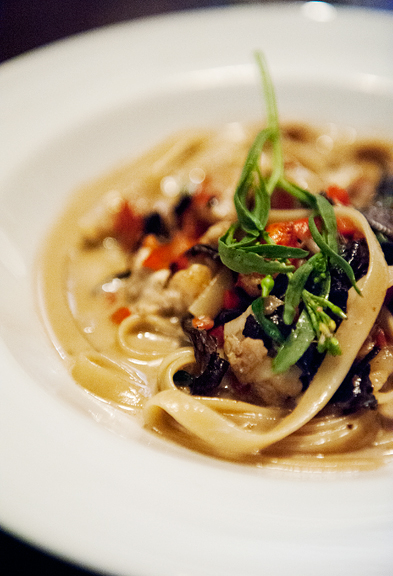 Things I really liked from Day 3
The chocolate cork
at Standard Baking Company.
Rock Paper Scissors
in Wiscasset, Maine.
Phenomenal seafood
and dockside dining at The Slipway.
Salt Water Farm
.
Sleeping on a 120-foot
national historical landmark
, the J. & E. Riggin.
Days 4-7: The next three days were spent sailing aboard the J. & E. Riggin. It was such a rich and wonderful experience that I have to dedicate a post to the cruise itself (read about it here). We sailed, we ate (very well, I might add), and explored a little more of coastal Maine. Oh, and before I forget, Sharon had assembled welcome bags for us at the start of the trip which included Maine blueberry jam, maple syrup, a tiny fir-tip pillow, books by local Maine authors, sunscreen from Rheal Day Spa, and a box of luscious chocolates and salt caramels from Black Dinah Chocolatiers. Yes, Maine, I love you.

the ketch-rigged angelique in the distance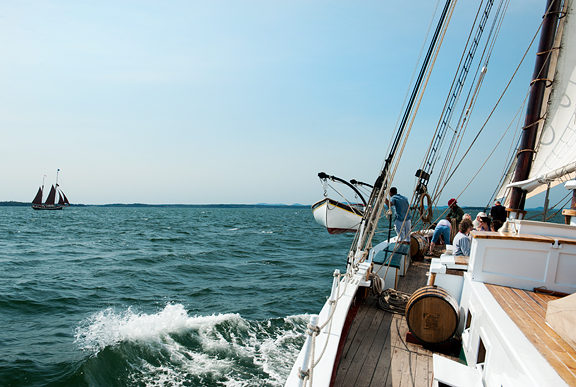 a fellow passenger loads up on the fresh options at lunch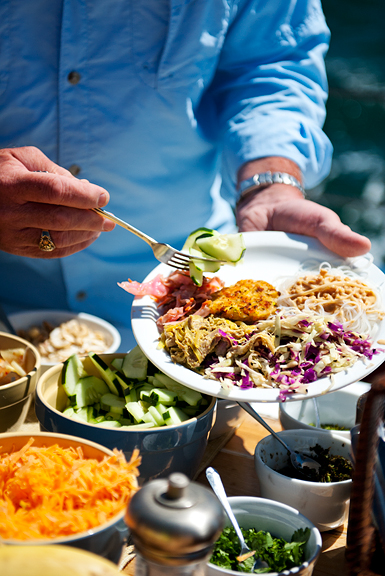 i savored my box of black dinah chocolates on the boat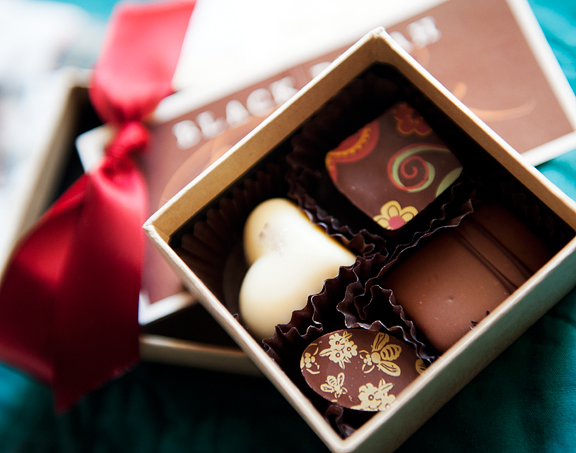 On day 7, we sailed into Rockland mid-morning with an hour to catch our shuttle to the airport. We had been at sea for three days and while the Riggin had a shower, we opted to rough it. At first I was resigned to torturing my seatmates on my flights home, but Sharon suggested we swing by Rheal Day Spa in Rockland for a shower ($15). The owner, Rhonda Nordstrom, greeted us at the door and made sure our needs were looked after despite the fact that they were completely booked for the day. The space is soothing and aesthetically pleasing with a lounge in back that has a view onto the water. We all agreed that this was the perfect end to our trip to Maine.
rheal day spa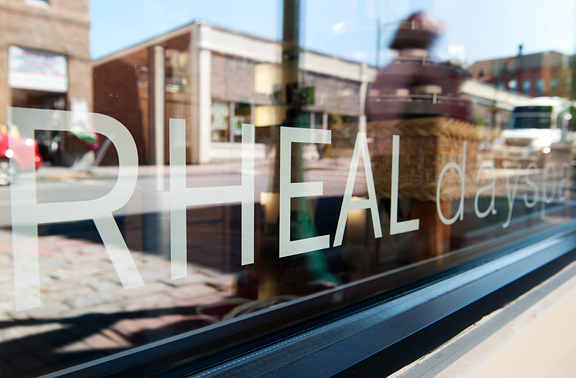 the lounge area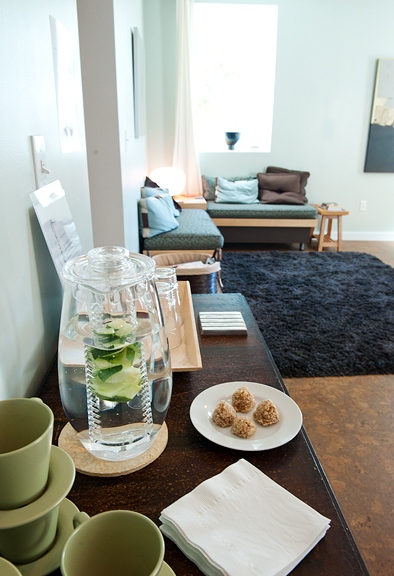 rhonda at work at the front desk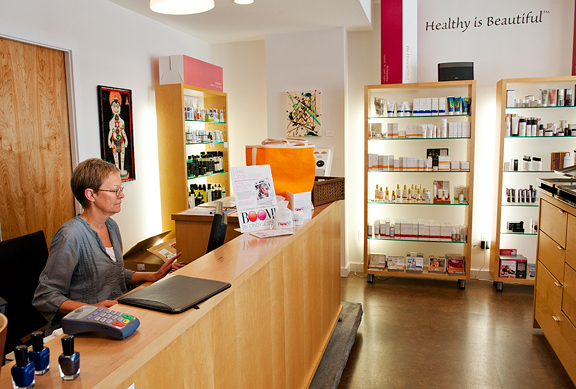 a bride in cowboy boots gets her makeup done before a 1:00 wedding!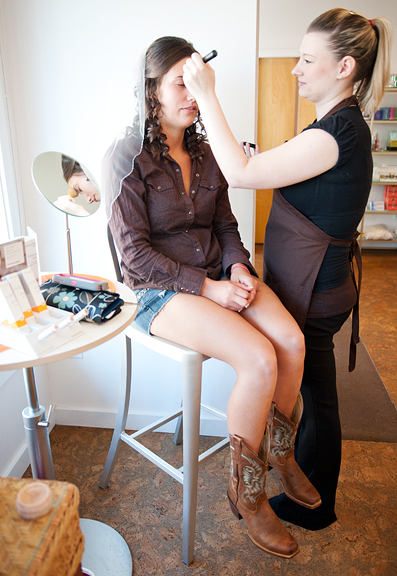 Things I really liked from Day 7
All of the
hugs good-bye
from my friends on the J. & E. Riggin.
A
shower
at Rheal Day Spa.
Going home to
my guy and my pup
.
Special thanks to Sharon for organizing and coordinating this incredible trip, to the Maine Office of Tourism and the J. & E. Riggin for sponsoring the trip, and to all of the wonderful Mainers who met with us and shared your love for your beautiful state.