Recipe: chocolate bourbon cake
Ask any of the people who know me well or even a little bit and they'll tell you that I am rarely silent. It's just that I had a marathon session of photo processing to finish before the snow storm arrived. YES. There is a snow storm dumping snow in my yard as I type and I intend to ski the bajeezus out of it come daybreak. As some of you know, after Jason and I visited Yosemite, we photographed a wedding in Northern California. I don't typically shoot weddings… I'm not a wedding photographer. But this nice young woman – a long-time use real butter reader – asked so sweetly and her wedding sounded so cool that it was hard to say no. I later learned it's not just me! No one is really capable of saying no to Selina.

mother of the bride looks on while the bride's maids adjust the wedding gown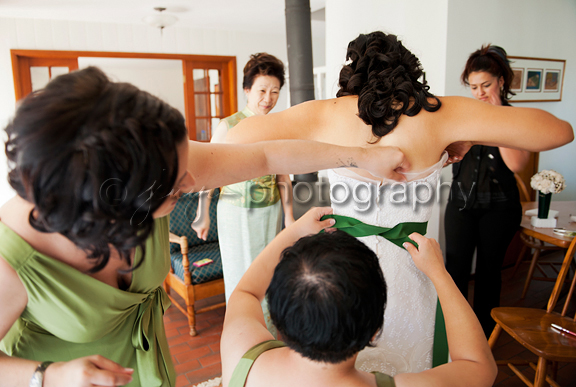 bridal party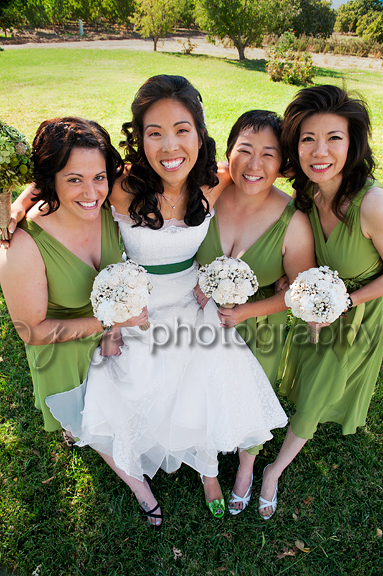 The wedding took place at
Capay Organic Farm
west of Sacramento and was catered by gourmet food trucks:
RoliRoti
and
Volks Waffle
. How fun is that?! Selina and Dean are incredibly nice people. More than that, they are super chill in that awesome geeky way. No bridezillas. No Drama. Their families and friends were delightful. Everyone was so supportive of these two that it made the job a true pleasure.
selina got many honks from passing cars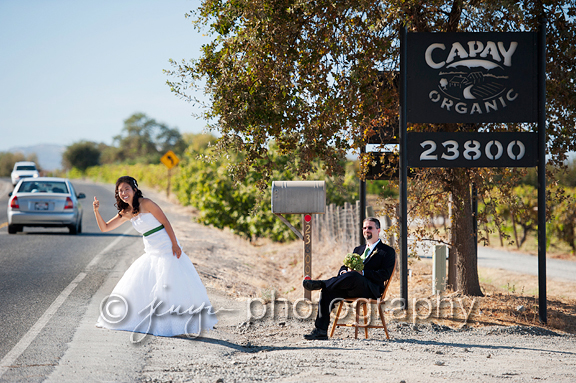 a token "peace out, suckers!" shot because selina had read my blog post that morning!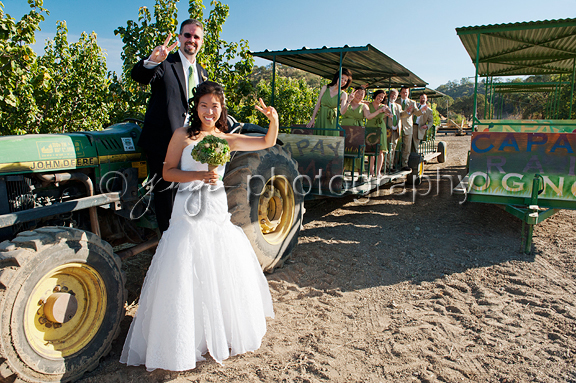 the lovely couple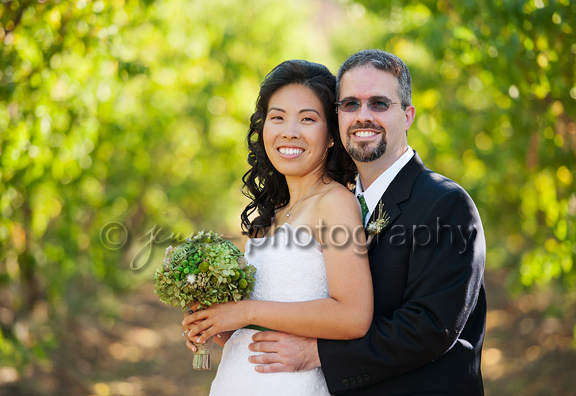 I am actually the last person anyone should consider to shoot their wedding because I don't even know the basic logistics of these events. Jason schooled me on how weddings typically go down. "What about the speeches?" he asked me, to which I replied, "Speeches?" Yeah, it was like that. I could not have done this without Jason's help (thanks, man!). And a huge thanks to my friends at
Pro Photo Rental
for outfitting us with additional lenses and bodies so we could both work the double-slinging action.
flower girls waiting for their cue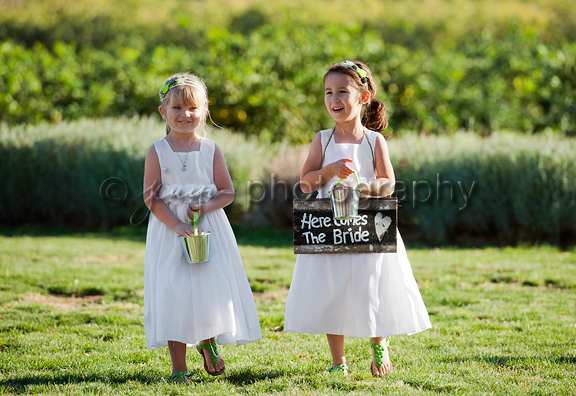 selina smiles at her dad as he escorts her to the aisle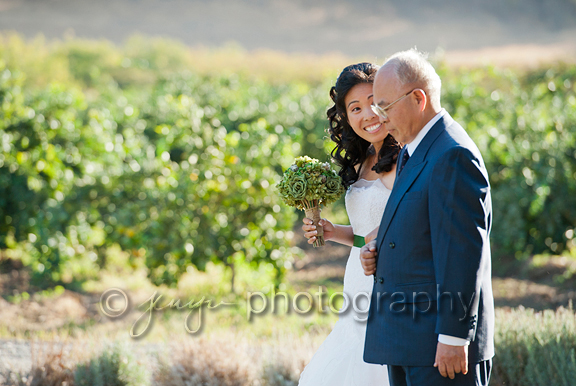 an intimate and gorgeous venue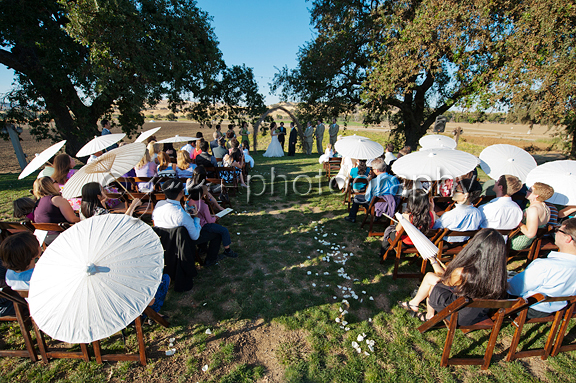 checking out the ceremony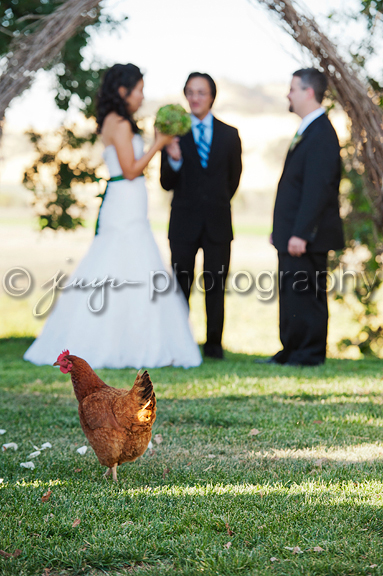 And yes, there were speeches. Both fathers spoke heartfelt words that brought tears to many eyes. As the sun dropped behind the mountains, the maid of honor lit Selina's father's speech with her smart phone so he could read it in the waning light of that special day. First he spoke in English, then he spoke in Chinese. Even though my Chinese sucks, I understood what he was saying. It was getting tough to focus the camera on the bride, because my vision was blurred with tears.
dean's father jokingly unfurls his "speech"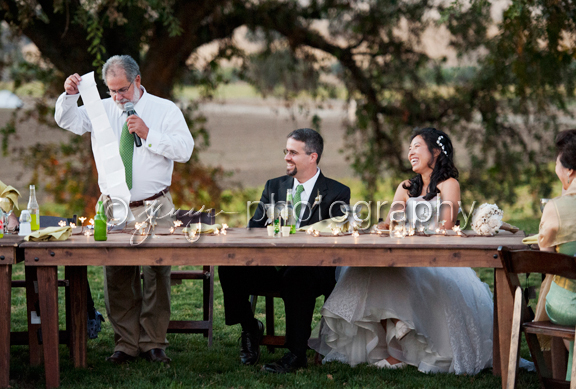 selina dabs at her tears as her father speaks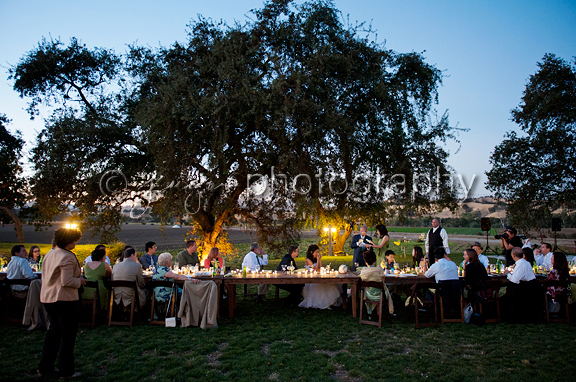 toasting the happy couple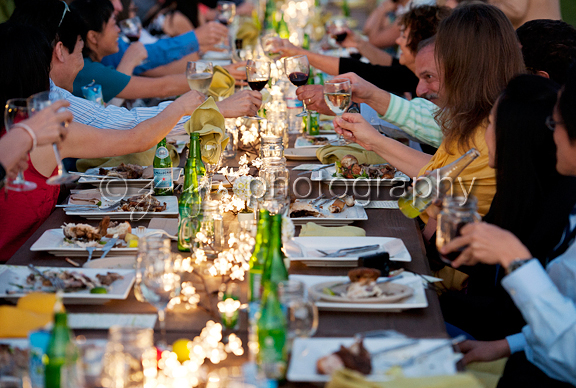 Congratulations, Selina and Dean. Thank you for allowing us to document your special day. Thank you for sharing yourselves with us and letting us into your circle. Also? I especially loved how you exited the altar to the Star Wars theme. Rock on.
may your road lead to every happiness together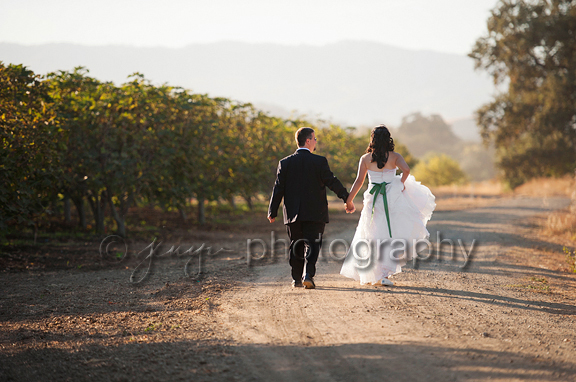 Are you ready for some cake now? I hope so. And booze. This is a boozy cake! Please don't ask me what liquid you should use to substitute for the bourbon, because then it won't be a chocolate bourbon cake anymore. If you don't like bourbon, don't make this cake. Make some other cake. I wouldn't make this for children either. It's got a lot of bourbon in the cake AND the icing. Booyah.
flour, butter, unsweetened chocolate, cocoa powder, espresso powder, baking soda, salt, eggs, sugar, bourbon, vanilla
melt the chocolate
I've had this bottle of bourbon in my cupboards for a year, using a tablespoon here or there, but never putting a proper dent in the bourbon. I thought a cake soaked in bourbon might be a nice dessert for the cooler months of fall and began looking around for recipes. That's when I came across
Elise's recipe for chocolate bourbon cake
. She even made it twice, the first time using only 1/2 cup of bourbon. She remedied that in the second round with a full cup of bourbon and I have to agree with her that a full cup gives this cake the zing you expect when the word
bourbon
is in the name of the dessert.
add boiling water to the espresso powder and cocoa powder
top it off with a cup of bourbon (yes, do this)
This cake is easy peasy. It's a mix-it-up and pour-it-in-a-bundt-pan dealio. No layers, no assembly required. I just love that, don't you? It smells heady when you add the bourbon mixture to the batter. If your mixer likes to spit liquid or dry ingredients out like mine does when first mixing additions, just take a spoon or spatula and incorporate the liquid or flour manually with a few stirs then give it back to the mixer.
beat eggs in one at a time
add the chocolate
alternate bourbon mixture with flour
Thinking of skipping the grease and flour your bundt pan step? Don't. I have a heck of a time getting cakes out of pans. Lining cake pans with parchment paper really helps, but that's a bit of a pickle with a bundt pan. That would be some amazing feat of origami too. I brush melted butter on my pan and dust it with flour. Even so, the ridges of the bundt pan have a tendency to want to grab hold of cakes. That's what happened with mine – a few chunks remained in the pan, so I carefully peeled them off and set them on the cake like puzzle pieces.
pour the batter
inverted with a few filled holes
Originally, I planned to dust the cake with powdered sugar. The chunks of torn cake were pretty obvious though, and would likely show through the powdered sugar. So I made an icing, a boozy bourbon icing. It's just confectioner's sugar with some vanilla and a lot of bourbon. Make it to taste, but I'm pretty sure if you're making this cake, you already like how bourbon tastes.
adding vanilla extract
pour icing over the cake
You don't have to decorate the cake at all, but I wanted to hide the booboos. Then I found these cute chocolate-covered crisped cereal pearls at the Boulder Whole Foods and thought they'd be a great visual and textural addition to the cake (I was right!). The cake itself is moist and boozy without being crumbly. It holds together well (something that Elise noted too). I'm not a sweets fan, but I like how the icing adds a spike of sweet as well as bourbon (remember, it's loaded with more bourbon) to the cake. There are two kinds of adult cakes and this is not the naughty kind. It's the boozy kind. It's boozalicious.
i can give you a slice, but i'll have to card you first
a little extra bourbon icing never hurt anyone
Chocolate Bourbon Cake
[print recipe]
from Simply Recipes
5 oz. high quality unsweetened chocolate
1/4 cup instant espresso powder (can use instant coffee as a substitute)
2 tbsps unsweetened cocoa powder
1 cup bourbon
1/2 tsp kosher salt
1 cup (8 oz.) unsalted butter, room temperature
2 cups sugar
3 eggs
1 tbsp vanilla extract
1 tsp baking soda
2 cups flour
boozy bourbon icing
1 1/2 cups confectioner's (powdered) sugar
2 tsps vanilla extract
6 tbsps bourbon (or to taste)
Make the cake: Preheat the oven to 325°F. Melt the chocolate over a water bath or in the microwave (typically best to do this 30 seconds at a time on half power, checking that you don't burn the chocolate). Set the chocolate aside and let it cool. Place the espresso powder (or instant coffee) and the unsweetened cocoa powder in a liquid measuring cup. Add boiling water to the cup until the total volume is 1 cup. Stir to dissolve the granules in the hot water. Add 1 cup of bourbon and the salt to the espresso mixture. Set aside and let cool. Place the butter in a mixing bowl and beat until fluffy. Beat the sugar into the butter. Add the eggs, one at a time, beating until well-mixed after each addition. Beat in the vanilla extract, the baking soda, and the melted chocolate. Mix until uniform in color. Beat in a third of the espresso-bourbon liquid (mine splashed all over the place, so do this carefully – stir it by hand a little at first if you must) until incorporated. Add half of the flour and mix. Repeat until you finish with a third of the liquid. Blend well then pour the batter into a greased and floured 10-cup bundt pan (or two 8- or 9-inch loaf pans). Bake for 1 hour and 10 minutes, but start toothpick testing around 55 minutes. Mine was done in an hour before the inserted toothpick came out clean. Remove from heat and let cool for 15 minutes before unmolding the cake.
Make the icing: Combine the confectioner's sugar and vanilla extract in a medium bowl. Add bourbon a tablespoon at a time. Whisk the liquid into the sugar to make the icing. Taste for the desired strength of the icing. Add more bourbon as necessary. If the icing is too thick, but it is boozy enough for you, add water to thin it. If it is too thin, add more confectioner's sugar. Drizzle over the cake. Serves 10-12.