Recipe: chocolate bread pudding
I've tried to be patient all week, waiting to get a glimpse of this comet… comet Pan-STARRS. It was finally visible for the Northern Hemisphere starting at the beginning of the week, but our horizon was obliterated by a bank of clouds and screaming winds. My consolation prize was snow on Tuesday morning, but I would have gladly given up any snow for a shot at the comet. I was prepared thanks to my friends at Pro Photo Rental.

1-foot ruler for scale: nikkor 200-400mm f4 & 500mm f4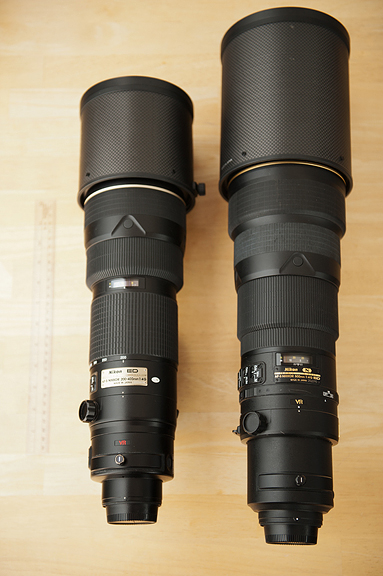 Well, I got a lucky break Wednesday night. It was cloudy then not cloudy then the clouds returned. The winds were active too. I could see the crescent moon and knew the comet would be below and to the west of it, but where? Streaky clouds made it impossible to know if I was seeing things or seeing IT.
crescent moon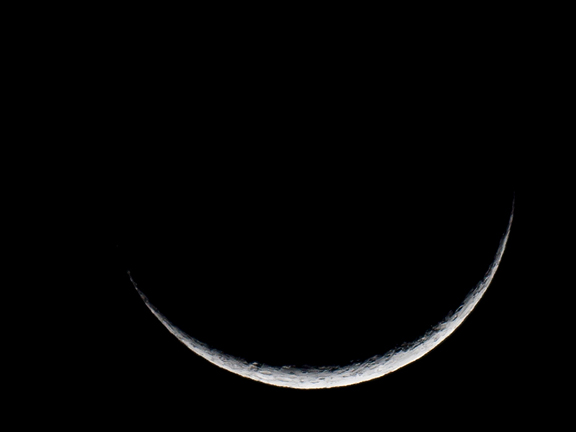 With each passing minute, I knew the comet was getting closer to setting. I began to scan the sky with the 500mm lens, one frame at a time down from the moon. The skies were still light enough that stars weren't showing up on the horizon. And then I spotted it and I yelled to Jeremy to come out and see. We enjoyed it for a few minutes and then it was gone. But I'm happy we got a chance to see it. It should be in the sky for the next month, but it's kinda special with the crescent moon. I love seeing these phenomena. It totally makes my day!
just a tiny dot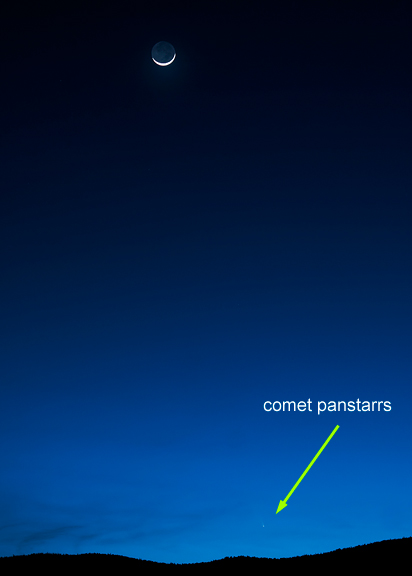 comet panstarrs and tail setting on the continental divide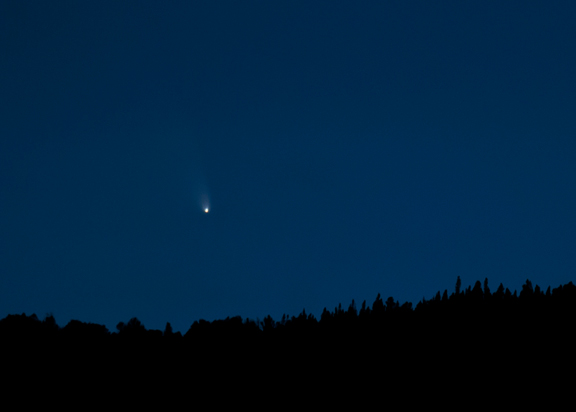 Spring can be so volatile around here as we pendulum from "cold and snowy" to "warm and sunny" and back and forth. The other day, I caught myself saying aloud, "Oh, I can't wait for summer." My eyes got big and wide and I turned to Jeremy. He looked as if I had confessed that I was an alien from another planet. What I
meant
was that I was excited to be able to entertain in summer again, because I was collecting so many great dishes to share with friends. I mean, spring skiing is a whole season ahead of us! I recently found a winner of a dessert that even *I* like… chocolate bread pudding with Frangelico crème anglaise.
for the crème anglaise: eggs, cream, milk, sugar, vanilla, almond extract, frangelico
pour the cream and milk into a pan
whisk sugar and egg yolks together
Make the custard before you make the bread pudding. In fact, Dorie Greenspan suggests letting it sit for 24 hours to develop the flavors. Even if you don't wait the 24 hours, you still want to make it first because it needs time to chill completely. And I chose Frangelico because I really like hazelnut, but you can flavor the crème anglaise however you like.
whisk the hot milk and cream into the egg yolks
heat and stir until it reaches 170-180°F (it will thicken slightly)
stir in the flavorings
Once the custard is chilling in the refrigerator, you can begin assembling the bread pudding. Part of the process is going to seem familiar because – SURPRISE! – there is a custard in the bread pudding too. This is why I love bread puddings of any kind… custardy goodness.
challah, milk, cream, sugar, bittersweet chocolate, eggs
chop the chocolate
place the cubed bread in a baking dish
heat the milk and cream in a pan
The bread should be stale, but if it isn't you can spread it on a baking sheet and bake the cubes for ten minutes (at 350°F). I omitted the optional dried fruit because I didn't have any on hand. I'm sure it's amazing either way. I wound up using almost twice as much bread because I made half of mine in individual ramekins and the other half in a small baking dish. But there was enough custard for all of them.
sugar, eggs, egg yolks
tempering the eggs with hot cream and milk
stirring chocolate into the custard
ladling custard over the bread
It helps to press the bread cubes down to facilitate absorption. The bread puddings rest on the counter for 30 minutes, getting pressed down occasionally, before baking in a water bath. Make sure you have a roasting pan that your baking pan can nest inside of. Paper towels or a small kitchen towel layered at the bottom of the roasting pan helps to keep the baking pan(s) from sloshing about when you pour the hot water into the roasting pan. When the bread pudding is ready, it should be dry on top and give a clean knife when you test it for doneness.
pressing the bread down into the custard
ready for a hot water bath and oven time
cooling on the rack
I think this is an indulgent and fancy enough dessert to wow friends while still being relatively easy to prepare ahead of time as well as a deeply satisfying dish. It is *fantastic* with the Frangelico crème anglaise (really truly!!) and some fresh fruit. The advantage of the individual ramekins is that each person gets their own little dessert with more crisp edges. However, the large dish is more rustic and communal. I like both. I like them all.
pour the crème anglaise
family style
individual ramekins
Chocolate Bread Pudding
[print recipe]
from Baking: From My Home to Yours by Dorie Greenspan
12 oz. challah or brioche bread, stale and cute into 1-inch cubes
3 cups whole milk
1 cup heavy cream
3 large eggs
4 large egg yolks
1/2 cup sugar
6 oz. bittersweet chocolate, finely chopped
frangelico crème anglaise
1 cup milk
1 cup cream
6 large egg yolks
1/2 cup sugar
1 tsp vanilla extract
1/4 tsp almond extract
4 tsps Frangelico (hazelnut liqueur)
Make the crème anglaise first: Bring the milk and cream to a boil in a small saucepan and then immediately remove from heat. Whisk the egg yolks and sugar together until slightly thickened. Temper the yolks with the hot milk and cream by pouring a little into the yolks at a time while whisking constantly. Continue until you have incorporated half of the milk and cream mixture into the yolks. Pour the yolk mixture back into the pan with the rest of the milk and cream. Set the pan over medium heat and whisk or stir constantly until the custard reaches 170-180°F. It should thicken some (but not too much!). Remove from heat. Stir in the vanilla and almond extracts and 1 teaspoon of Frangelico. Keep adding more Frangelico to taste. Refrigerate. Dorie recommends refrigerating for 24 hours before serving to improve flavors. Can store in airtight container in the refrigerator for up to 3 days. Makes 2 1/2 cups.
Make the bread pudding: Dorie recommends a 9×13-inch baking pan plus a large enough roasting pan to nest the baking pan (you're going to do a water bath). I used a 9-inch oval and six 1-cup ramekins which all fit in a large roasting pan. Place a double layer of paper towels or a kitchen towel flat on the bottom of the roasting pan. Fill the baking pan with bread cubes and dried fruit (if using). Cut more bread if necessary. If the bread is not stale, you can lay it out in a single layer on a baking sheet and bake it at 350°F for ten minutes. Bring the milk and cream to a boil and remove from heat. Whisk the egg yolks and sugar together in a medium to large bowl. While continuing to whisk the yolks, slowly pour in a quarter of the hot milk to temper the eggs (i.e. to avoid curdling the eggs). Pour in the remaining hot milk while still whisking. Stir in the chocolate until the custard is smooth. Pour the custard over the bread until it reaches about 1/4-inch below the rim of the pan. With the back of a spoon or spatula, press the bread down gently to help it absorb more custard. Do this periodically for 30 minutes while the pudding rests on the counter. Set a full kettle of water on to boil. Turn off the heat when it whistles.
Place a rack in the center of the oven and heat it to 350°F. Place your baking dish in your roasting pan (on top of the towels) and slide the setup into the oven. Carefully pour hot water into the roasting pan until the level is halfway up the baking pan (take care not to pour any water into your baking pan). Bake 35 to 45 minutes or until the pudding is puffed and the top looks dry. A knife inserted into the center should come out clean. Place the baking dish on a rack to cool to room temperature. Serve with crème anglaise and raspberries. Serves 12.
more goodness from the use real butter archives