Recipe: apple cider pancakes
It's just me here now. Well, me and Kaweah. Jeremy is back home for work-related obligations, my photog pals have split in different directions because in truth, the fall foliage is sucking this year. I'm still hanging around waiting for Glory, but if Glory is not to be found in the leaves, there is beauty enough in day-to-day life. That's why I have an office in Crested Butte – if Nature isn't cooperating, I can get plenty of work done and still have time to get out for some solitude on a trail run or social time on a walk with my neighbor.

the interior of that shelter at the edge of town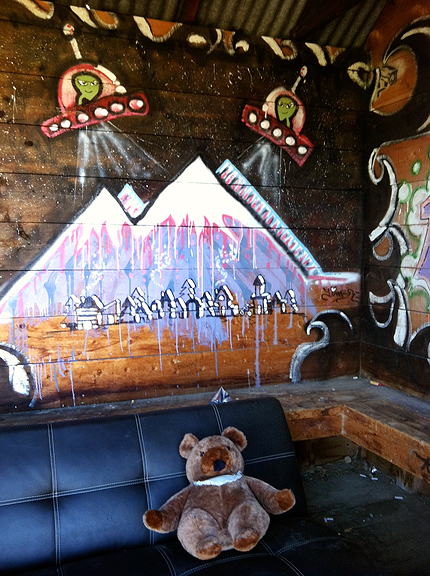 There are only two more weeks of the Crested Butte Farmers Market, so I've made it a point to go and pick up greens and other goodies that I can't generally find in the grocery stores around here (this ain't no Boulder). Despite being a fraction of the size of Boulder's Farmers Market (which I also love), CB has an incredibly friendly and charming vibe. It's nearing the end for the heirloom tomatoes, so I plopped down a hefty chunk of change for several which I've been enjoying straight up this week. Our summers are short in the Colorado mountains, which makes me appreciate them far more than when I lived in The Land of Eternal Summer (Southern California).
colorful bouquets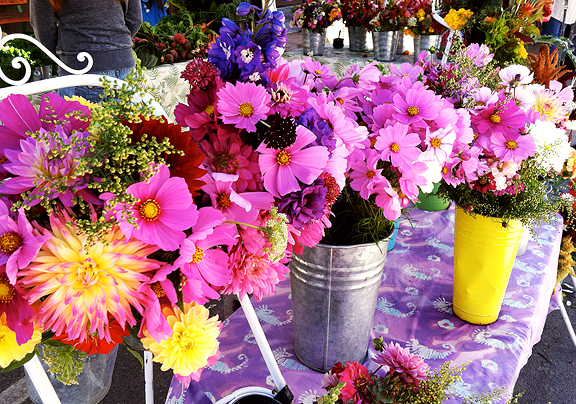 a bowl of crab apples that todd and diane picked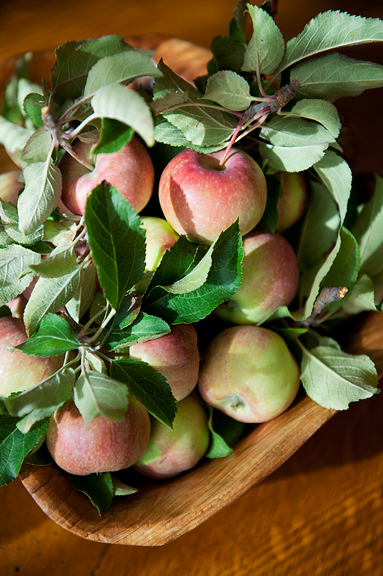 Corn and peaches are growing scarce, but apples… apples and all things apple-y are on their way in. While at the market, I purchased my second jug of organic apple cider. I've been obsessed with these apple cider pancakes that my friend,
Rachael
, had mentioned a couple of weeks ago. First I fiddled with the recipe, then I served them to Todd and Diane on their visit last week, then I sent Jeremy home with a bunch to heat up for his breakfasts this week. So now I think someone else needs to make a batch before I turn into a pancake. Your turn! I should also point out that I liked them so much, I even shot the recipe here in CB (lots of kinks to work out still)!
milk, buttermilk, apple cider, all-purpose flour, whole wheat flour, butter, sugar, cinnamon, eggs, baking powder, baking soda, salt
When someone sells me anything with "apple cider" in the name, it had damn well better taste like apple cider or I get a little stabby. By default, almost anything calling for apple cider in a recipe is changed to "reduced apple cider" in my kitchen. This is how I roll. I personally prefer regular apple cider, but if you can't get that, spiced apple cider is fine (or maybe you like that better). Apple juice is acceptable if you can't find apple cider, although clearly inferior. I call it like I see it.
boil the cider to a quarter of its original volume
a quart should yield a cup
Because the cider takes the most time to reduce, start on that first. When it's done, let it cool or else it might cook the batter when you stir it in. Better yet, you can reduce the cider ahead of time and store it in the refrigerator until you're ready to make pancakes for your unsuspecting family, roommates, guests, or pets.
mix the dry ingredients
whisk the eggs, milk, and buttermilk together
combine the wet and dry ingredients
I haven't ventured much into the realm of whole wheat, but what few recipes I've tried with whole wheat flour, I've really enjoyed. It's not just better for you (unless you're celiac and then it's way way way worse for you), but it adds this wonderful nutty flavor and toothy texture. It works very well with the sweet and tang of the apple cider. Anyway, I want to point out to any pancake newbies that lumps in your batter are fine. In fact, they are desirable. Don't work out the lumps or your pancakes will be overworked, dense, flat, and sad.
pour in the apple cider
stir in the butter
it's ready to flip when you see air pockets
Rachael serves her apple cider pancakes with butter and a simple cinnamon-sugar mixture. I happened to have leftover reduced apple cider on hand and served that with the pancakes too. When Todd and Diane were here, I also set some organic maple syrup on the table to give them a choice. Todd chose all three and he said it was great. So there you have it. Anything goes.
mix the cinnamon and sugar together
sprinkle the cinnamon sugar on the pancakes, top with butter
pour a little reduced apple cider (optional, but completely awesome)
Normally, I can handle one pancake and I'm done. The first few bites are always the best for me and then I lose interest quickly. These fluffy apple cider pancakes are a different story. I can easily eat two and apparently, so can everyone else (or more). They are the perfect autumn breakfast fare on a chilly golden morning. Time to get your apple on.
jumpstart your morning
this is your brain on pancakes
Apple Cider Pancakes
[print recipe]
adapted from Tokyo Terrace
1 cup whole wheat flour
1 cup all-purpose flour
1 tsp baking powder
1/2 tsp baking soda
1 tsp salt
2 large eggs
1/2 cup buttermilk
1/2 cup milk
2/3 cup reduced apple cider (start with 4 cups of apple cider)
4 tbsps butter, melted
vegetable oil or butter for frying
3 tbsps sugar
1 1/2 tbsps ground cinnamon
extra reduced apple cider to serve with the pancakes
Reduce the apple cider: Place the apple cider (spiced or not spiced, but cider is better than apple juice) in a medium saucepan over high heat. Bring to a boil and let it boil until reduced to a quarter of the original volume. This will take at least 15 minutes or more depending on your stove and other factors affecting evaporative processes in your kitchen. Remove from heat and let cool. Measure out 2/3 cup of reduced cider for the batter. Reserve the rest for serving.
Make the pancakes: Whisk the whole wheat flour, all-purpose flour, baking powder, baking soda, and salt together in a large bowl. In a separate medium bowl, whisk the eggs to break them up. Stir in the buttermilk and milk. Pour the wet egg-milk mixture into the dry ingredients and stir until just combined. Add the cooled reduced apple cider to the batter and stir it in taking care not to overmix (overmixing makes the batter flat, dense, and tough). Stir in the melted butter. Heat 2 teaspoons of oil or butter in a skillet or frying pan over medium heat. When the oil is hot, pour 1/4 cup of batter into the pan. Watch for bubbles to appear on the surface of the pancake. When the bubbles begin to pop, flip the pancake over and cook until golden. Remove from heat and repeat until all of your pancakes are done.
Serve the pancakes: Mix the sugar and ground cinnamon together in a small bowl. Sprinkle the cinnamon-sugar mixture over the pancakes. Add a pat of butter if desired. Serve with reduced apple cider on the side. Makes approximately 13 pancakes.
more goodness from the use real butter archives