Recipe: bourbon caramel popcorn
So Thanksgiving was last week, but it feels like it was more than a month ago. Jeremy and I spent the days leading up to Thanksgiving installing some temperature sensors around our place in Crested Butte and getting passes squared away for the mountain as well as the nordic center.

exploring the nordic trails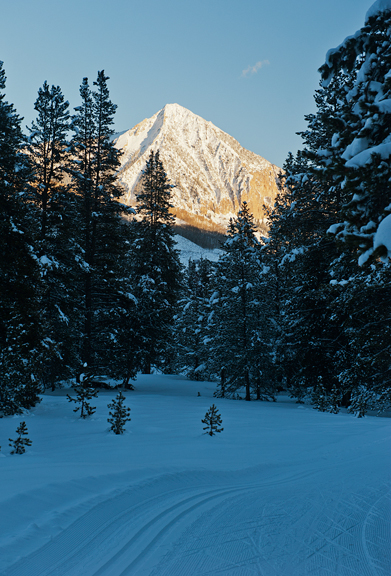 last light at the end of the day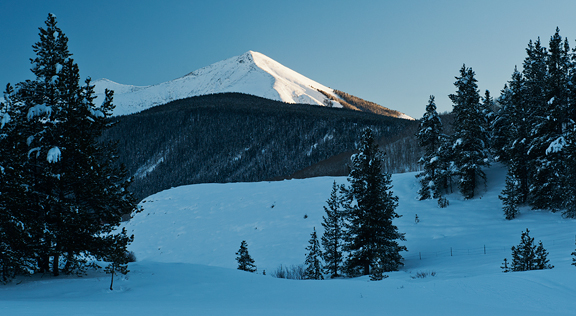 The mountain opened the Wednesday before Thanksgiving and we went up to see what was what. It was our first time skiing at Crested Butte. All the while when we were looking for a place, our realtor (who also telemark skis) would ask if we were going to hang out and "play" (read: tele). And I always shook my head. We would ski AFTER we found a place, I told Jeremy. Promise kept.
glorious sun on opening day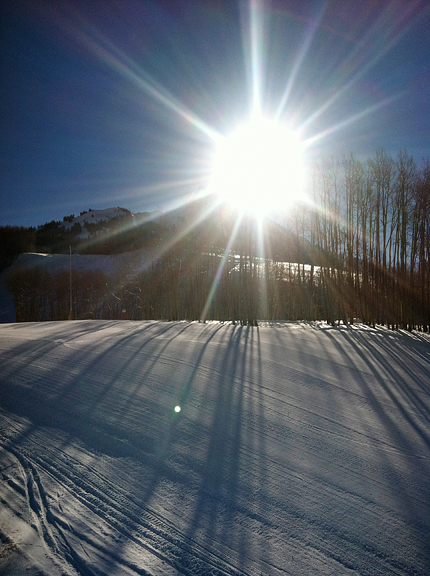 thanksgiving corduroy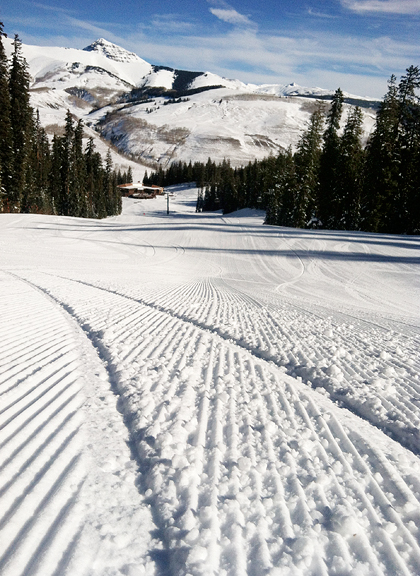 It was amazeballs. Good snow, great mountain, not crowded, and just up the road. We got a couple hours in on Thanksgiving morning before cleaning our place and heading home to Nederland. Once home, I realized that I had cleaned out the refrigerator before we left. I also realized that everything in our town was closed for the holiday at 7pm (rightfully so). Usually I can cobble anything together, but I had very little to work with. So I prepared instant kimchi ramen for dinner. And I ate applesauce straight from the jar (I was hungry). Then I made a big batch of popcorn. So that was our Thanksgiving dinner. The next evening, my parents had us over to their place for Chinese Thanksgiving dinner.
lots of seafood: lobster, shrimp, squid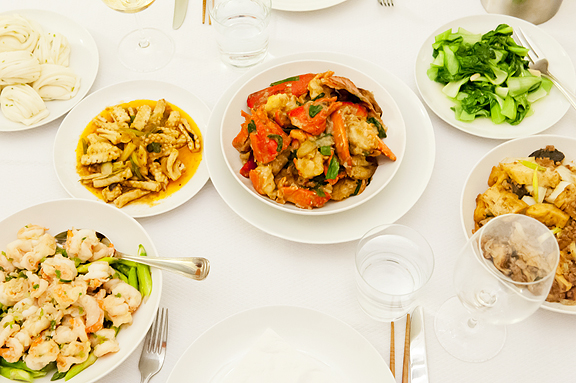 my happy plate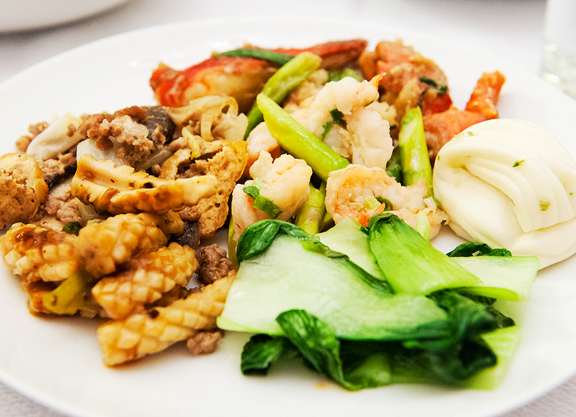 The following night, it was our turn to host my parents (and my friend, Erin) for dinner. When they arrived, I had appetizers set out on the table for guests to enjoy while I finished dinner prep. I also set a bowl of leftover popcorn out from our impromptu Thanksgiving dinner. It wasn't any old popcorn, but an addictive bourbon caramel popcorn. My mom sidled up to the bar to chat and watch me work. The bowl of popcorn was right under her nose, so she tried some. And she tried some more. And more. She really liked the popcorn. I set it out again at dessert. She adamantly refused a slice of cake, claiming to be too full, but as the conversation wore on, she kept picking bits of the popcorn off and popping them into her mouth. I love when I make something that my mom likes.
you'll need: popcorn, vanilla extract, bourbon, sugar, butter, salt, baking soda
fluffy popped popcorn
The first time I made this recipe, the caramel to popcorn ratio was just too high for my liking. So I upped the amount of popcorn to 1/2 cup of unpopped kernels and it was still a little too much sugar. I have 3/4 cup of unpopped kernels in the recipe below, but if you really enjoy a sugarfest, feel free to reduce the amount of popcorn used. As for popping, you can use whatever technique you like best. Air popping is a healthy alternative, although I really do enjoy the taste of oil-popped popcorn. I follow
Elise's technique for popping corn on the stovetop
and get perfect results every time.
pouring the bourbon into the sugar, salt, and butter
adding vanilla extract
I sat and stirred the sugar mixture for a long time before the sugar began to dissolve. Be patient. It WILL dissolve, but it takes several minutes. Things start happening when you see a dark liquid begin to pool in the middle of the sugar. After that, the whole thing begins to turn a dark caramel color rather quickly. Don't let it go too long because even after you take it off the heat, it will continue to cook and darken. In fact, the moment the whole thing starts to change color, move it off the burner (or if you like a slightly burnt caramel, leave it on a few more seconds).
stir in the baking soda
keep stirring until it's completely incorporated
When you add the baking soda to the hot caramel, it will balloon up. This can be a little intimidating. Keep stirring it to let the gases escape and please don't let the caramel get on your hands or face or anywhere that you don't want to be burned, because it is hot and it will burn like a mofo. Be quick about stirring it all in because the caramel is still cooking while it is in the pan. Now you add it to the popcorn. I divvied my popcorn up into two of my largest bowls so I could mix the popcorn and caramel together easily.
pour caramel over the popcorn
immediately stir or toss the popcorn with the caramel
spread it out on a silpat to cool
Let the caramel popcorn cool for about 15 minutes before breaking it into smaller pieces. You will have some caramel loss because it will harden like cement onto the pan and the sides of the bowls. But it's easy to clean up if you just give everything a good soak in water for several minutes. Bourbon caramel popcorn is a great snack for noshing and it also makes a lovely homemade gift to let someone know that they're worth the danger of working with molten sugar.
sugar love
don't forget to sample some for quality control
Bourbon Caramel Popcorn
[print recipe]
slightly modified from this recipe
3/4 cup popcorn kernels
3 cups sugar
3 tbsps butter, unsalted
1 tbsp vanilla extract
1 1/2 tsps kosher salt
1/4 cup bourbon
1 1/2 tsp baking soda
Pop the popcorn: You can air pop the popcorn if you like, but my favorite way to do it comes from Simply Recipes. Pour 3 tablespoons of canola or other high smoke point oil into a large saucepan with a lid (large, because I'm popping 3/4 cup). Drop four kernels of corn into the pan. Cover and set over high heat. After all of the kernels pop (you'll hear them – be sure to count that they all pop lest you get one in the eye – ouch!) turn off the heat. Pour in all of the kernels and cover with lid. Wait 30 seconds. Turn the heat back on to high. The popcorn should be done when you no longer hear popping. Just to be safe, when you empty the popcorn into your bowl(s), pour it away from you in case an unpopped kernel decides to pop. I put my popcorn in two large bowls.
Make the caramel: Have a baking sheet lined with a silpat or foil at the ready. [Take care not to touch the caramel as it get very hot and can burn you pretty badly.] Place the sugar, butter, vanilla, kosher salt, and bourbon in a medium saucepan over medium heat. Stir until the sugar melts. After a few minutes (took me several minutes) the caramel will begin to turn a caramel color. It turns dark in a matter of seconds, so I suggest removing the pan from the heat immediately as it will continue to darken. Quickly stir the baking soda into the caramel. It will balloon up, but just keep stirring so it doesn't bubble over.
Make the caramel popcorn: Once the caramel is well mixed, immediately pour it over the popcorn. If you have two bowls, pour half over one bowl and the other half over the other bowl. Stir the popcorn with the caramel quickly to ensure coating as much of the popcorn as possible, then spread it out onto the baking sheet to let it cool. When the popcorn is completely cooled, break the pieces up. Makes about 24 cups of bourbon caramel popcorn.
more goodness from the use real butter archives