Recipe: homemade marshmallows
Yes, I'm talking about snow… sort of. Actually, I'm also talking about marshmallows which, as you know, invariably brings us to eating s'mores après ski at the Park Hyatt Beaver Creek Resort and Spa at Beaver Creek Ski Resort in Avon, Colorado. The Park Hyatt BC invited me over to experience their brand of hospitality on the mountain, literally. Ski-in ski-out access to one of Colorado's premier ski resorts? S'mores after the lifts close? Fine dining at 8100 feet? I needed to verify this before the snowpack up and walked (melted) away.

jeremy offered to assist me
s'mores daily from 4-5pm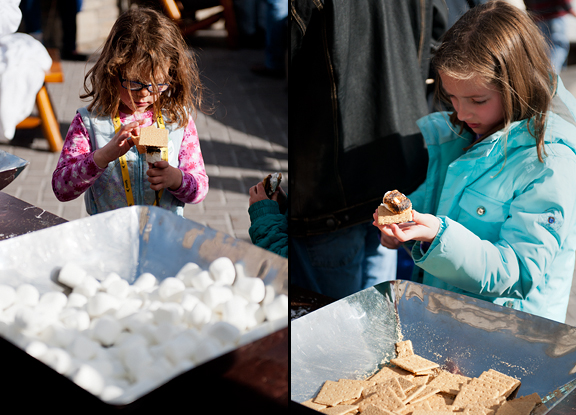 roasting marshmallows over the fire pit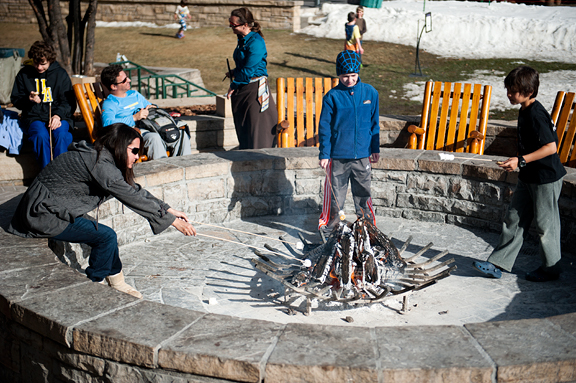 dinner at 8100: farmed greens with duck, seared scallops on smoked trout chowder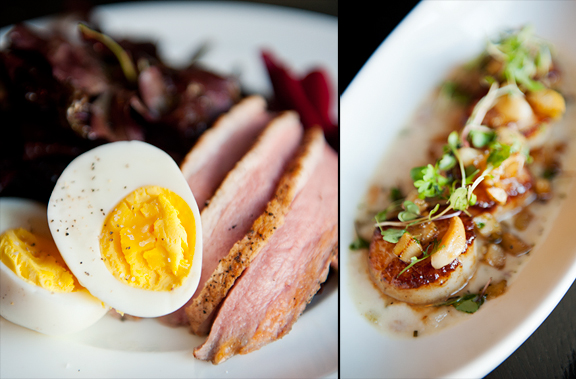 antler chandeliers abound (hey, it's colorado)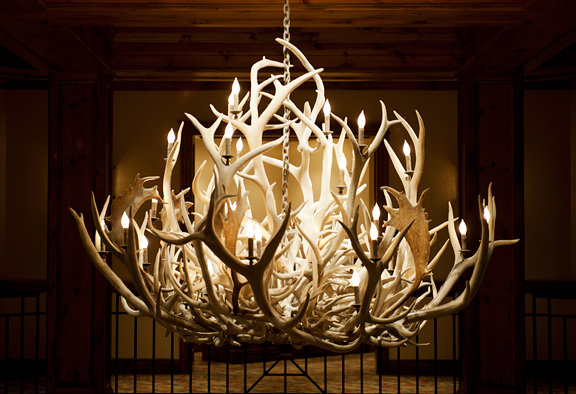 looking toward the park hyatt's lounge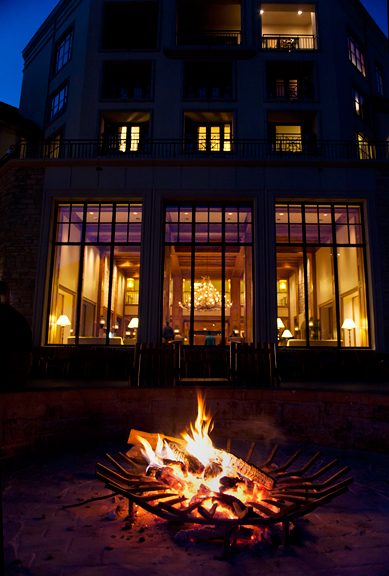 outdoor heated pool and outdoor jacuzzi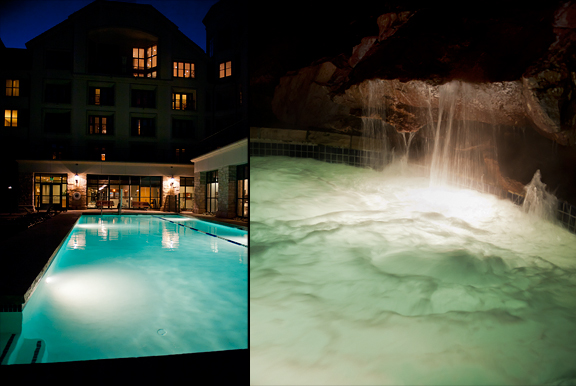 Last week, a box of goodies arrived in the post, courtesy of the Park Hyatt Beaver Creek. There was an adorable ceramic s'mores cooker, marshmallow skewers, s'mores trays, graham crackers, chocolate, and four flavors of housemade marshmallows developed by their chef: orange creamsicle, coffee, crème de menthe, and vanilla. Normally, it would be too cold (and windy, don't forget windy) to enjoy these on our deck – except this season has been anything but normal.
graham crackers, chocolate, four flavors of marshmallows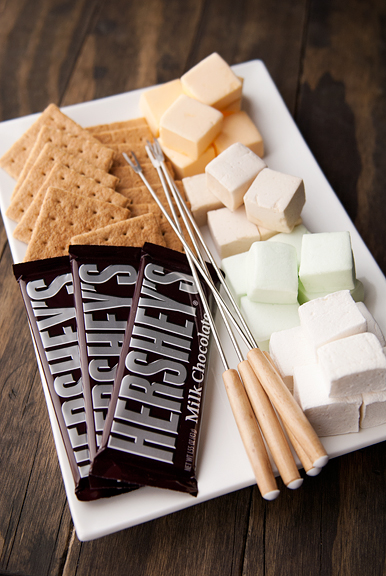 i subbed in my favorite local chocolate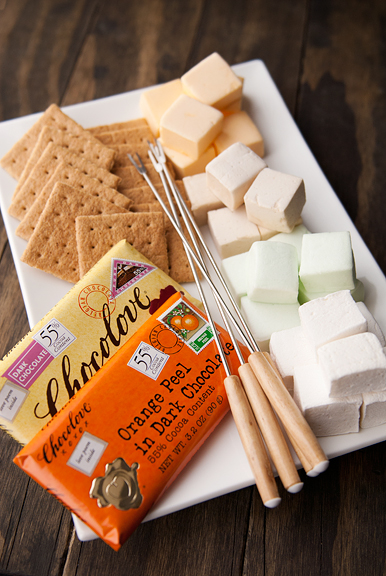 What a sticky, gooey, messy, fabulous treat to share with people who won't laugh at you for having chocolate and marshmallow smeared all over your mouth! It was the Park Hyatt's way of sharing their s'mores tradition with me, someone who loves skiing, loves Colorado, and especially loves skiing Colorado. But it's not just ME they wanted to bring this to… they want to bring it to YOU!
there is an art to toasting marshmallows, no fireballs!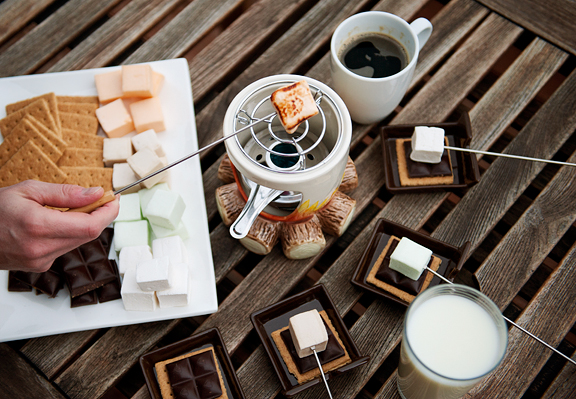 s'mores in the mountains or anywhere – feeling like summer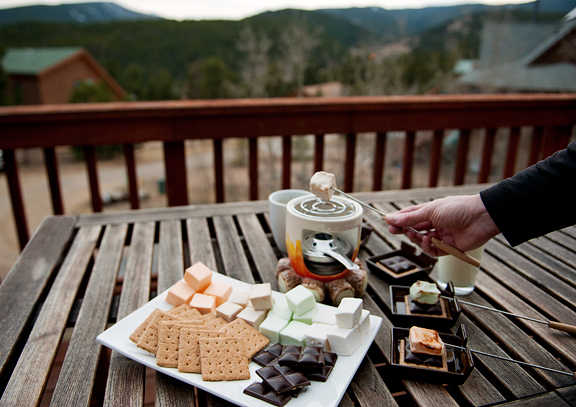 I've got
five
packages to give away to my good readers (that's you!). A package includes graham crackers, chocolate, gourmet marshmallows, and
a $99/night room rate
(with waived resort fees and complimentary valet parking) at the Park Hyatt Beaver Creek in Avon, Colorado. Go ahead, look at their rates and tell me that isn't a freaking amazing deal! Did I mention that the Park Hyatt is an incredibly family-friendly resort? They have so many activities and services for children and families. We don't even have kids (okay, we have the four-legged furry variety) and we were totally impressed.
To enter the giveaway, please answer this question in the comments: What is your favorite summer food memory?
Oh yeah, there are a few rules, which you should read:

1) Prizes can only be shipped in the United States (US entrants only, please). Should you win, your mailing address will be required.
2) One entry per person. Multiple entries will be deleted and disqualified.
3) Entries must appear in the comments before 11:59 pm, Thursday, March 29, 2012.
4) Five winners shall be selected at random and announced (late) Friday, March 30, 2012.

And the Park Hyatt Beaver Creek is having a little competition on Facebook for the best new marshmallow flavor. They want suggestions from people and the winning flavor will be added to their menu. Now, I KNOW that MY readers have the creativity and palate to wipe the competition off the page. Leave your flavor suggestion on the competition page and tell them use real butter sent you.
Full disclosure: The views expressed here are entirely (and always) my own. I received a s'mores package and a comped one-night stay at the Park Hyatt Beaver Creek. The ski days, transportation, and meals were at my own expense.
The reason I love s'mores is because I am a complete sucker for marshmallows, and nothing compares to homemade marshmallows. This whole s'mores lovefest got me thinking that it's high time I attempted to make my own marshmallows.

sugar, gelatin, light corn syrup, salt, vanilla, almond extract, egg whites
softening the gelatin in water
mix the sugar syrup before boiling: water, sugar, light corn syrup
It's easy to do. That's what I've always been told. That's what I've always feared. Because it is a slippery slope when you learn to make something as wonderful as delicious air – deceptively light and yet loaded with sugar that makes your pants shrink.
frothy egg whites
slowly pouring the sugar syrup and then the gelatin while whipping the egg whites
add flavoring (vanilla)
In essence, you whip egg whites, slowly pour in hot sugar syrup that has been heated to soft-ball stage, then slowly pour in heated gelatin, add your flavoring, and now you have marshmallow fluff! If for some reason you live well above sea-level, a general guideline is to reduce the temperature of the sugar syrup by 2° for every 1,000 feet you are above sea-level. For instance, I live at 8,500 feet above sea-level and boil my sugar syrup to:
245°F – [(2°/1,000 ft.) x 8,500 ft.] = 228°F
Once the fluff is ready, you can make it into marshmallows or use it for other things like sundaes, pie toppings, or diving into a bowl of it face-first.
marshmallow powder: half powdered sugar, half corn or potato starch
pour marshmallow into a greased and (marshmallow) dusted pan, spread evenly
You have to be patient and let the marshmallow dry and solidify. I imagine in humid climates it can take as much as a day, but in my arid mountain air, it took a couple of hours. Peel the marshmallow layer out of the pan and cut it up into pieces. Coat the pieces in marshmallow powder, because they are really sticky, and shake off as much of the powder as you can.
cut the marshmallows
coat the marshmallows in marshmallow powder
And you're done! But not really… Of course I had to make my own version of s'mores. Despite not loving chocolate, if I'm going to eat chocolate, I'm going to eat GOOD chocolate. No sense in wasting my time and calories on junk chocolate. My girlfriend, Erin, gifted me some special
Nunu
70% dark chocolate buttons. Combine that exquisite chocolate with my homemade almond marshmallows and some pizzelles, and you've got yourself a kick ass version of s'mores right here, right now. That's right.
a stack of fluffy homemade marshmallows
nunu dark chocolate buttons, pizzelles, and homemade almond marshmallows
this is how i s'more
Homemade Marshmallows
[print recipe]
from David Lebovitz
1/2 cup (125 ml) water
2 envelopes or 17 g powdered gelatin or 8-10 sheets of sheet gelatin
1/3 cup (80 ml) cold water
1 cup (200 g) sugar
1/3 cup (100 g) light corn syrup
4 large (1/2 cup or 110 g) egg whites, room temperature
pinch salt
2 tsps vanilla extract or 1 tsp vanilla paste
1 tsp almond extract (my addition – so good!!)
1 cup (140 g) confectioner's sugar
1 cup (140 g) corn or potato starch
Place 1/2 cup of water in a small bowl, sprinkle the gelatin (if powdered) over the water, and let sit. If using sheet gelatin, David says to soak the sheets in 2 cups of cold water. Mix the 1/3 cup of cold water, sugar, and light corn syrup in a small saucepan over medium-high flame. Slap a candy thermometer on there so you can monitor the temperature. Beat the egg whites on low speed in the bowl of a stand mixer fitted with the balloon whisk until they become frothy. Add your pinch of salt to the foamy egg whites. As the syrup reaches 210°F/99°C (in my case, 193°F – reduce by 2° for every 1000 feet above sea level), turn the mixer to high and beat the whites until thick and fluffy.
When the syrup gets to 245°F/118°C (for me, 228°F), pour the hot sugar syrup in a slow, steady stream into the side of the mixing bowl while the whisk is still running. Do your best to avoid pouring the sugar onto the whisk lest you want 1) hot sugar sticking to the sides of the bowl or 2) hot sugar sticking to you. Keep beating! Empty the gelatin into the saucepan which should still be pretty warm/hot. If using sheets, place the sheets and 2 tablespoons of water into the pan. Give it a stir – if the pan is still warm, the gelatin should dissolve in a minute. Pour the liquid gelatin into the mixer as you did the sugar syrup with the whisk screaming around the bowl on high speed. Add the vanilla extract and, if using, the almond extract. Continue whipping the marshmallow fluff for about 5 minutes or until the bowl is cool to the touch.
While the fluff is whipping, mix 1 cup of confectioner's sugar and 1 cup of corn (or potato) starch together to make the marshmallow mixture. Grease a square or rectangular baking pan with vegetable oil. If you want tall marshmallows, use something like an 8- x 8-inch or 9- x 9-inch pan. If you want thinner (shorter) marshmallows, go with a 9- x 13-inch pan. Dust the greased pan with some marshmallow mixture and pour the marshmallow into the pan. Spread it evenly and smooth the surface. Let dry for 4 hours or overnight, uncovered.
Dust the top of the marshmallow layer with more marshmallow mixture. Place a cup of the marshmallow mixture in a large bowl. Loosen the sides of the marshmallow layer from the pan with a knife. Turn the marshmallow sheet out (you may have to tug on it – it's okay). David uses scissors to cut the marshmallow into pieces. I used a knife. Use what you want (pizza cutter too). Toss the marshmallow pieces into the bowl with the mixture and coat the marshmallows. Shake out the excess powder using a wire strainer. [David also shows a neat technique of dusting a baking sheet with marshmallow mixture and plopping spoonfuls of fluff onto them – pretty cool.] Store for up to a week in an airtight container. Makes about 25 1.5-inch squares.