Recipe: eggnog ice cream
The past week was supposed to go something like this: big cold front with lots of snow, frigid subzero temperatures for several days, then a warm front ushered in by the obligatory wind storms. All of that happened with the exception of "lots of snow". We got some snow, but nothing close to a Big Dump Snow Day. Kaweah certainly enjoyed it, until it was a bit much for even this cold-loving dog. Taking her out for a walk ended up with me carrying her back to the house because her paws would freeze in the -3°F temperatures. Kaweah would lift one paw in pain and then lift the other, totally confused until I picked her up in my arms and began walking home. She likes getting the view from up high and wags her tail while I tell her it's just too cold of a day for a puppy like her.

before the frigid temperatures and crazy winds arrived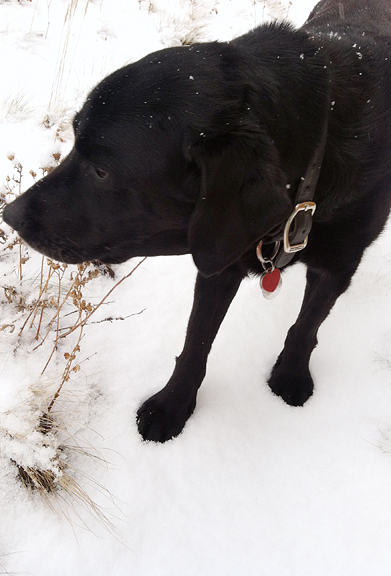 But Jeremy and I are good to 0°F or lower as long as it isn't windy. Problem with Nederland is that it is ALWAYS windy. That's why this cold spell was so peculiar – it sat over Colorado for several days and the air was completely still. Snow remained on trees for a week (unheard of!) and the trails were snow covered instead of wind blasted down to the rocks. Cold is cold, but windless is priceless. You have to take advantage when you can.
backcountry touring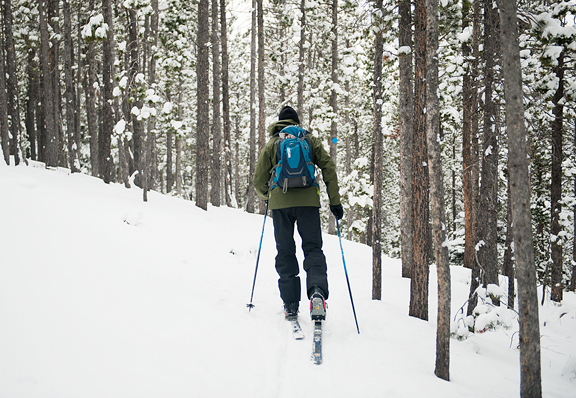 testing my new microspikes (excellent!) and my midweight running tights (also excellent!)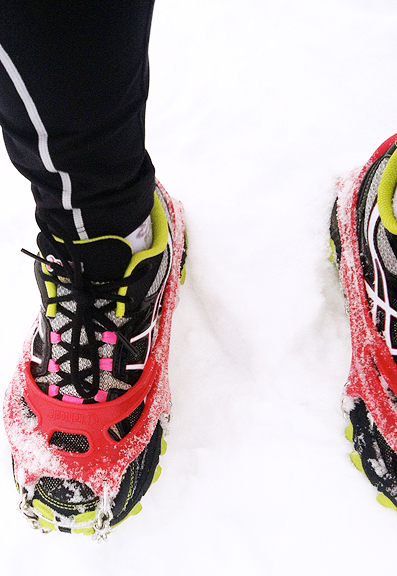 nice teeth for traction (not great in deep powder)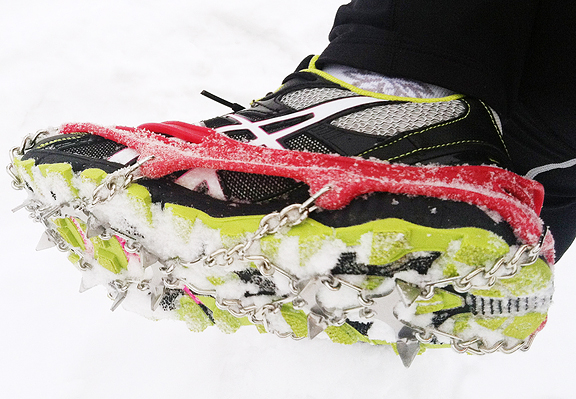 Everything else has been a mad scramble for holiday-related deadlines. As some of you know, we don't do the holidays. However, I *do* bake a metric boat load of cookies to gift. This involves stocking up on a lot of butter (natch), sugar, flour, eggs, chocolate, powdered sugar, nuts, and other cookie-ish ingredients. Running errands in town coincides with the holiday crush on the roads, in the stores… It's a bit much for me and it's stressful. So I decided to relax with some eggnog. Except I forgot to buy some at the store because I had to wait a long time for the staff person to come back and tell me they were cleaned out of pistachios and then my brain had to recalculate my baking schedule and ingredients list. Once home, I went poking around on the interwebs and discovered I had everything I needed to make my own eggnog. And then came the brilliant idea of
eggnog ice cream
.
egg yolks, vanilla bean, milk, cream, salt, sugar, cinnamon, nutmeg, rum, vanilla extract
scrape the seeds from the pod
combine the vanilla bean, vanilla seeds, cinnamon, nutmeg, salt, milk, and half of the cream
My friend,
Kathya
, was asking folks on Facebook how they felt about eggnog. I mentioned that I had just made this ice cream. She asked when I would post it, so I'm posting it now – for Kathya and the rest of you eggnog ice cream lovers. And if you dislike eggnog for the consistency, let me just state that eggnog in frozen creamy form is pretty spanking awesome. It's also easy peasy to make.
stir in the sugar
temper the yolks with some hot milk-cream mixture
pour the tempered egg mixture back into the pan
The original eggnog ice cream recipe came from one of my favorite and most trusted sites,
Simply Recipes
. I altered it ever so slightly by adding a vanilla bean, because it really lends to the sweet and warm floral flavors that play so nicely with the spices. Also? I like creamy things with booze. They just go so well together. So this recipe is all winner! winner! ice cream for dinner!
strain the custard into a bowl with the remaining cream
pour the booze of your choosing into the custard
and the vanilla extract (i use both the vanilla bean and extract)
When you taste the custard before it is churned, it's very much like eggnog – just thicker and creamier. I must say that turning it into ice cream transforms it completely. Even for an eggnog lover such as myself, the eggnog ice cream is ten times better than the eggnog beverage. It's like a spiced and boozy high quality vanilla bean ice cream.
pour the chilled custard into the ice cream maker
soft serve
Jeremy is no fan of eggnog. He won't touch the stuff… makes a face if you even bring it near him. I offered a spoonful of eggnog ice cream for him to try and now he's hooked. So if someone tells you they hate eggnog and it's because of the consistency of the drink, consider serving them some eggnog ice cream. It's festive and holiday-appropriate, but most of all it is fan-freaking-tastic.
the solid phase of eggnog is the best phase
Eggnog Ice Cream
[print recipe]
from Simply Recipes
2 cups heavy cream
1 cup milk
1 vanilla bean, split and seeds scraped
4 whole cloves
1 tsp grated nutmeg (freshly grated is best)
1/4 tsp ground cinnamon
pinch salt
2/3 cup sugar
6 egg yolks
1 tsp vanilla extract
2 tbsps rum, bourbon, or brandy
Place 1 cup of the cream, the milk, the vanilla bean pod and seeds, nutmeg, cinnamon, and salt into a medium saucepan. Heat the milk and cream until steaming, but not yet boiling. Remove from heat. Stir in the sugar until dissolved. Cover with a tight-fitting lid and let steep for 30 minutes. Remove the vanilla bean pod and the cloves. Pour the remaining cup of cream into a large bowl with a sieve set over it. In a medium bowl, whisk the egg yolks to break them up. Ladle 1/2 cup of the hot milk-cream into the yolks until blended. Repeat with another 1/2 cup of the milk-cream. Scrape the egg yolk mixture into the saucepan with the hot milk-cream, stirring to incorporate. Set the pan over medium heat, stirring constantly and scraping the bottom until the custard thickens to a nappe consistency (coats the back of spoon and leaves a strip when you run your finger across the spoon). Strain the custard into the cream in the large bowl. Stir in the vanilla extract and the rum (or bourbon or brandy). Chill the custard completely. Churn chilled custard in your ice cream machine according to the manufacturer's instructions. Makes a quart.
more goodness from the use real butter archives