Recipe: key lime pie ice cream
It's snowing outside the house right now! In fact, there are a few storm tracks marching through to see the month of February out. I've been busting ass to get work done these past several non-snowy days so I can be ready if Ullr should bless our mountains with the pow pow. The weather dictates my work schedule (well, the weather and paying clients). Kaweah has been by my side the whole time. If I'm in the kitchen, she is a low and furry center island in the middle of the kitchen. If I'm shooting in the studio, she's under the table, nearby, or walking in and out of the room onto the deck. If I'm in the office, she likes to curl up on a stack of her three dog beds. Don't ask how we figured that one out.

she loves it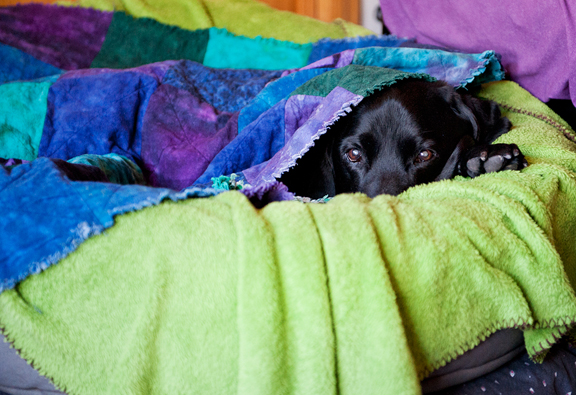 Tuesday morning, we spent a little time cuddling with Kaweah on our bed. She likes to be squashed between the two of us and lately we've been exchanging a few minutes of extra sleep for a few minutes of QT with the pup before we start our day. It was that Tuesday morning when we realized that she is going deaf. We did a lot of tests like calling "treat!" from around the corner only to have her come when it reached a certain volume. I had a good cry over that, but Kaweah has been spunky, happy, affectionate, and sweet. It doesn't seem to faze her at all and her vision and especially her sense of smell are excellent. Most of our voice commands have been accompanied by hand signals, so the communication is fine as long as she can see us and as long as she feels like obeying.
pork adobado wet burrito at pica's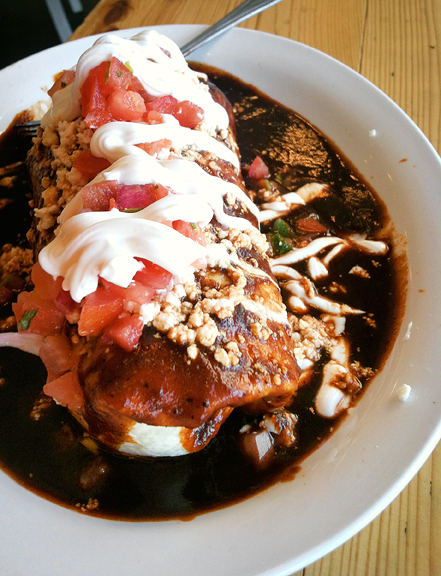 So I had a business lunch meeting with
Helliemae's
at Pica's in Boulder earlier this week. There was a natural pause in the conversation after discussing business plans, business solutions, and flavors. My mind wandered to the next kitchen project I had in the queue. "You wanna know what I'm blogging next?" I asked Ellen. Her eyes got that Texan sparkle and the edges of her mouth curled up. "Yes," she said leaning in, "tell me." "Key lime pie ice cream."
here's what a bag of key limes looks like sans bag
Oh yes I did. I walked past the bagged Key limes in the grocery store a few weeks ago and all I could think about was key lime pie. Key lime pie. I've always made Key lime pie with regular limes – hence it was regular lime pie. When I finally got my grubby paws on Key limes, I didn't feel like making a pie. I felt like making ice cream. Pie-ce cream?
key limes, sugar, eggs, salt, cream, milk, graham crackers
zest some limes
juice a dozen or so to get a half cup
mix the sugar, salt, juice, and zest together
Key limes are tiny little guys. When I ran them through my automatic juicer, I had to hold each half down with two thumbs and two index fingers so they wouldn't spin away under my palm. Key limes will vary in size, but if you plan to do this, get at least a dozen. Of course, it's perfectly fine to use regular limes. I'm guessing four average-sized limes would suffice.
temper the egg yolks with hot milk
whisk over medium heat until the custard thickens
strain the custard
When the custard is done, cool it down either in an ice bath or in the refrigerator. Once everything is completely chilled, mix it all together. I know that most think of "green" when they think of Key lime pie, but that requires artificial coloring. Feel free to add a few drops of green food coloring if that's your aesthetic goal. I prefer to let mine be its natural pale yellow. Also, the organic cane sugar that I use is a slightly golden color. Yellow it is!
pouring the custard into the sugar-lime mixture
stirring in the whipping cream
Run the custard through your ice cream maker until it reaches soft-serve consistency. My ice cream canister was nearly overflowing when the ice cream was done (water expands when it becomes ice on the Earth's surface – see
phase diagram of water
). I scooped it all out into a large bowl and mixed in the crushed graham crackers. You might be tempted to mix in graham cracker crumbs, but I think that the texture is too fine and sandy. My aim was for chunks of graham cracker to simulate the pie crust. When it's mixed in, place it in the freezer to firm up.
churned
mix in the graham crackers
It tastes like frozen key lime pie! Of course, the very nature of ice cream makes it more creamy than tart, but this flavor has a decent amount of tartness to it and the zest accentuates the lime. It's nice and fruity! I like the crunch of the graham cracker bits, so I highly recommend not pulverizing the crackers too enthusiastically. The only thing left is a dollop of whipped cream (which I like on a slice of key lime pie). I realize there is an entire pint of whipping cream in the ice cream, but a little whipped cream for garnish cinches the deal.
key lime piescream?
ice cream!!!
Key Lime Pie Ice Cream
[print recipe]
based on this lemon ice cream
1 tbsp key lime zest (about 4 key limes)
1/2 cup key lime juice (about 12 limes)
3/4 cups sugar
pinch of salt
1 cup milk
4 egg yolks
2 cups cream
1/2 cup graham crackers, crushed
Mix the zest, juice, sugar, and salt together in a bowl. Let sit in the refrigerator for a couple of hours. Heat the milk until it is just boiling. Remove from heat. Whisk a quarter cup of the hot milk into the egg yolks (to temper the yolks). Whisk in a little more. Scrape the yolk-milk mixture back into the rest of the milk and whisk together. Place over medium heat and whisk constantly until the custard has thickened (should coat the back of a spoon). Place the custard on ice or in the refrigerator until it is chilled completely. Mix the sugar-lime mixture, the custard, and the cream together in a large bowl. Churn the ice cream in your ice cream maker according to the ice cream maker instructions. Stir the graham crackers into the soft ice cream. Freeze. Makes about 1.75 quarts.
more goodness from the use real butter archives