Recipe: chocolate caramel pretzels
It has taken me a little while to get dialed into Crested Butte since we aren't here full-time, but it's happening. The hardest part is reading the skies because the valley is surrounded on three sides by towering mountains. Local orographics make for weather that changes quickly without much warning, unlike our home on the Front Range with unencumbered views reaching from the Continental Divide to the Great Plains. But I'm always observing skyward and the other day as we were finishing our nordic ski, I looked back at Paradise Divide as its mantle of snow began to take on a warm glow. The one day I decided to leave my camera at home…
I skied with a fast and regular stride – kick and glide, kick and glide – arms pumping. I don't like to rush Jeremy when he's enjoying his workout, but I tried to hurry him along. At the car, I quickly changed out of my boots and chucked the skis and poles into the back. Sometimes Jeremy will dawdle about with his gear, but thankfully it was too cold for that. As we drove back to our neighborhood I kept looking in the side mirror and commenting on the spectacular colors behind us. Jeremy agreed that it was lovely, but didn't realize my intention to capture sunset. He asked if he should stop to check the mail and I said, "No! Just pull over on the side of the road – this isn't going to last another minute!" They say the best camera is the one you have with you, and it's true.

the glorious sunset from our neighborhood (iphone pano)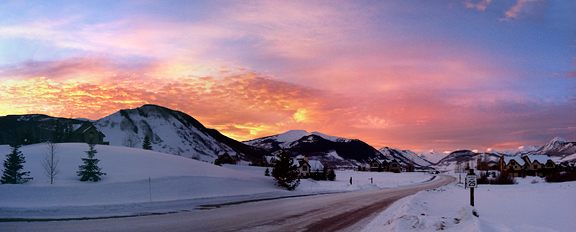 In other news, Kaweah is improving daily. I won't gross you out with photos of her infected toenail, but I'm actually looking forward to when it falls off so she can move about more freely. She's definitely feeling spunky and getting around like nothing is wrong. For now, the child's sock remains on the infected paw to keep her from licking it. When I asked the thrift store proprietor if she had children's socks, she asked how old my child was. "Well, it's for my dog who has a toe infection." She smiled and said in a musical voice, "Oh, it's for your
other
child! Yes, doggies are our children too."
my eternal toddler coming in from the snow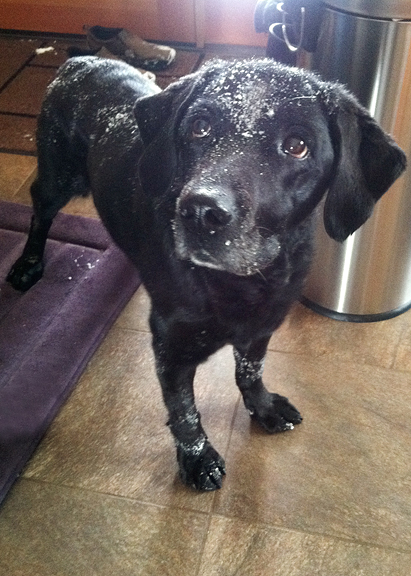 So today's recipe is something that I didn't think would be very good at all the first time I tried it. This past summer I had two chocolate caramel pretzels from a client shoot sitting on my desk for several days until one afternoon I realized I hadn't eaten anything all day and broke into one. Then I ate the second one. They were that good. The salty, creamy, chewy, sweet, crunchy, chocolatey was such an unexpectedly delicious combination. Before the holidays, I tried making some to give as gifts. There are two ways to do it – both with good results.
from scratch: pretzel rods, cream, sugar, vanilla bean, water, corn syrup, salt, butter, chocolate
The easiest way is to purchase a bag of caramels (gourmet or store-bought brand name) and melt them in a pan with a little cream. But I decided to make my own caramel since I was out of practice. I let my sugar syrup reach the top of the temperature range (250°F to 320°F), which resulted in a gorgeous but completely hard caramel. I recommend targeting the lower bound or at least the middle of the range so you don't break your (or other people's) teeth. Still, I managed to save the caramel by stirring in some cream over a low flame. That yielded a softer, chewier caramel to coat the pretzels.
scrape the vanilla seeds from the vanilla pod
heat butter, cream, salt, and vanilla pod and seeds together
combine the sugar, water, and corn syrup in another pan
Caramel making can seem daunting, dangerous, and wildly unpredictable, but in truth it's not so bad once you've done it the first time. It helps tremendously to have a candy thermometer too. Boiling the sugar is one of the steps that can trip you up because a sugar crystal that hasn't dissolved completely or one that forms from contact with air can seize your entire pot of sugar and turn it into a brick. I like to stir the sugar as it heats to help dissolve it, then cover the pot with a tight-fitting lid. The steam that condenses on the underside of the lid as the sugar syrup heats up will flow down the sides of the pan, washing down wayward crystals that like to hang out at the sugar-pan interface. When it starts boiling (it's okay to peek, but you'll also know it's boiling if steam is coming out from under the lid), uncover the pot and pop that candy thermometer onto the side of your pan.
sugar syrup just turning golden
stirring in the hot cream mixture
cooking to 245°F (or 228°F at 8500 feet)
If you cook the sugar to the lower end of the temperature range, it will still be clear. At the upper end of the range, the sugar begins to turn golden. Both are fine, but in the future, I'll probably take my sugar off the heat before it turns golden so I can have a softer caramel. In any event, whatever you do, please don't touch or get hot molten sugar on your skin. It hurts like hell and it will burn. Having a bowl of ice water handy is a good precaution for such an accident. When the sugar is ready, stir in the hot cream mixture. Don't be alarmed when it begins to bubble up and double or triple in volume – keep stirring! As it calms down, put the caramel over medium heat and let it come to a boil without stirring it. The target temperature should be 245°F to 250°F. Remove from heat and get your pretzels ready.
ladle caramel over the pretzels
let cool on a silpat- or parchment-lined baking sheet
At this point, whether you use homemade caramel or purchased caramel, you want to shake off as much excess caramel from your pretzels as possible. The reason is because you will get a pool of caramel settling at the base of each pretzel as they cool, so you may as well minimize it and prevent all of the pretzels from sticking to each other. I think a foot at the base is unavoidable, but the caramel should be soft enough when cooled that you can shape it around the pretzel. Do that before dipping them in chocolate.
coat with tempered chocolate
cooling
When you get to the chocolate, you have two choices: temper the chocolate or just melt it. Both are fine, but tempering requires a little work and gives better results. Tempered chocolate sets up quickly, has a beautiful shiny and strong finish, snaps cleanly when broken, and it survives a bigger range of temperatures than untempered chocolate. I refer to dark chocolate in my
tempering instructions
. The temperatures for tempering are specific to dark, milk, or white chocolate as well as brands in some cases. I find dark chocolate behaves and tastes the best, but that's my opinion. I've also made these pretzels with straight melted chocolate (no tempering) and the result is good, but not excellent. The chocolate has more of a matte finish, is softer, and marks up easily if touched – but it's far less work than tempering chocolate.
drizzled with white chocolate
in gift bags
I've seen chocolate caramel pretzels rolled in chopped nuts, crushed candy, sprinkles, and all manner of add-ins. If you choose to do so, sprinkle or roll the add-ins before the chocolate hardens. Tempered chocolate sets quickly whereas the melted chocolate seems to take forever to harden (unless you pop it into the refrigerator). I decided to give my pretzels a white chocolate drizzle, which should be done AFTER the chocolate has set. I didn't bother with tempering the white chocolate, but that doesn't mean you can't. I gently melted the white chocolate and then piped it through a pastry bag fitted with a tiny plain tip. Jeremy and I ate the rejects (so good!) and gifted the rest to a few friends and my niece and nephew. (You can find pretzel bags for sale at Michael's or other craft stores). They're quite popular and can be as easy or involved to make as you want them to be.
each one is a little gift
Chocolate Caramel Pretzels
[print recipe]
1 batch vanilla bean caramel, see below (or 16 oz. caramel bits/cubes plus 4 tbsps heavy whipping cream)
24-30 pretzel rods
24 oz. bittersweet chocolate, chips or chopped
1-2 cups any garnish like chopped nuts, crushed toffee, sprinkles, or white chocolate
vanilla bean caramel
based on this recipe from The Kitchn
1/2 vanilla bean
1 cup heavy cream
4 tbsps unsalted butter
1/4 tsp salt
1 1/2 cups sugar
1/4 cup corn syrup
1/4 cup water
Line two baking sheets with silpat mats or parchment paper.
Make the caramel: If making the homemade vanilla bean caramel, split the vanilla bean in half lengthwise and scrape the seeds out. Place both the pod and the seeds in a small saucepan with the cream, butter, and salt. Heat the pan over medium heat until the butter is melted and the cream starts to steam (but doesn't boil). Remove from heat, cover the pot, and let steep for 30 minutes. Remove the pod from the pan and keep the cream warm over very low heat, stirring occasionally. In a larger pan, combine the sugar, corn syrup, and water over medium heat, stirring to dissolve the sugar. Cover the pan with a tight-fitting lid and bring to an active boil. Remove the lid and clip a candy thermometer on the side of the pan. Boil the sugar without stirring it until it reaches a temperature within the range of 250°F to 320°F, but not over 325°F (otherwise the caramel will become hard when it cools, which isn't what we're aiming for in this recipe). The lower the temperature, the softer the caramel. [If you are making candy at elevation, remember to reduce the target temperature by 1°F for every 500 feet above sea level.] Turn off the heat on both the sugar and the cream saucepans. Gently whisk the hot cream mixture into the sugar – it will bubble up and triple in volume – don't panic and keep stirring. When the cream is incorporated into the sugar syrup, turn the heat back on to medium and let it boil without stirring. When the temperature reaches 245°F to 250°F, remove the pan from the heat.
If you are using store-bought caramels, place the unwrapped caramels and the cream in a medium saucepan over medium-low heat. Stir until the caramel has melted completely. This took about ten minutes.
Make the chocolate caramel pretzels: Spoon hot caramel over a pretzel rod until all but the tip that you are holding is covered. Let the excess caramel drip back into the pan (give it a shake if necessary) to avoid puddling on the baking sheet. Set the pretzel on the baking sheet to cool. Repeat for all of the pretzels until you run out of caramel or pretzels. When the caramel has cooled, it might have "puddled" at the base of the pretzel. The caramel should be soft enough that you can mold it around the pretzel so it is more rounded than flanged at the base. For the chocolate, you can simply melt it or you can temper it per the seed method in this post. Melting results in a soft chocolate coating with a matte finish. Tempering is harder to do and maintain temperature for, but it results in a shiny coating with a nice snap that doesn't melt as readily as untempered chocolate.
To melt: place the chocolate in the top half of a double boiler or in a large bowl set over a medium or small saucepan of simmering water. Make sure not to get any water in the chocolate. Stir until the chocolate has melted and turn off the heat. Alternatively you can melt the chocolate on half power in the microwave for 30 seconds at a time, stirring between each 30 second increment until melted. Spoon the chocolate over each caramel-coated pretzel to coat it completely (except for the end you are holding), shaking off excess chocolate. Set on the same lined baking sheet(s) to cool. If you are topping the pretzels with crushed nuts, candy, or sprinkles, do so while the chocolate is still wet, but not dripping. If you want to drizzle white chocolate over the pretzels, wait until the dark chocolate has cooled completely. Melt the white chocolate on low power in the microwave or in the top half of a double boiler. Fill a pastry bag fitted with a tiny plain tip (approximately 1/16-inch) or a ziploc bag with a 1/16-inch hole cut in the corner, and pipe white chocolate over the pretzels. Makes approximately 24.
more goodness from the use real butter archives