Recipe: chinese egg custard tarts
Last week was a roller coaster of sorts. It began with a dry cough which led to various cold symptoms including me sounding like Kathleen Turner. As my cold progressed from my throat to my nose, we noticed that Kaweah was limping again. She seemed quite down and depressed, so we made a followup appointment with the vet. Then on Wednesday, Boulder Glass came up to replace our cracked window. That's when things went to hell in a big ass hand basket.
The individual who came up to replace the window dropped the cracked 3×6 foot double pane window from 8 feet up in our great room when a gust of wind blew. There was glass EVERYWHERE and dozens of deep gouges in our floors (because why would any professional think to lay protective covering under scaffolding when doing work like this? He was rather cavalier about everything…). Winter was blowing into our house for an hour until the majority of the big pieces could be cleared away and the replacement window was installed. The fellow kept offering to pick up a replacement blind for us, to come and fix our floors, on and on. No. Please, JUST GO AWAY. I never want to see you (Boulder Glass) again. EVER.
We've been spending the last four days clearing out slivers and specks of glass from every possible corner, rugs, book cases, couch cushions, to make it safe enough for Kaweah. We were both feeling very low Wednesday night because Kaweah wanted to come out of the office (the only place that was guaranteed free of glass on the main floor), but had to remain there all night while her nemesis, the vacuum, did its job.
Thursday, we took Kaweah to the vet who looked at her still-swollen toe. I try to be realistic, so I was bracing myself for the worst-case scenario at the vet. He carried her to the back for an x-ray to see if the bone was spongy or broken. We waited in the room while we heard him tell her, "Well, you're being such a good girl. Just hold still for one second while we take your picture." In five minutes, he brought us back to see the x-ray. It was neither broken nor cancer! Doc Newton prescribed a round of beef-flavored chewable antibiotics to help Kaweah's toe heal and he gave her several extra treats.

kaweah's pawpaws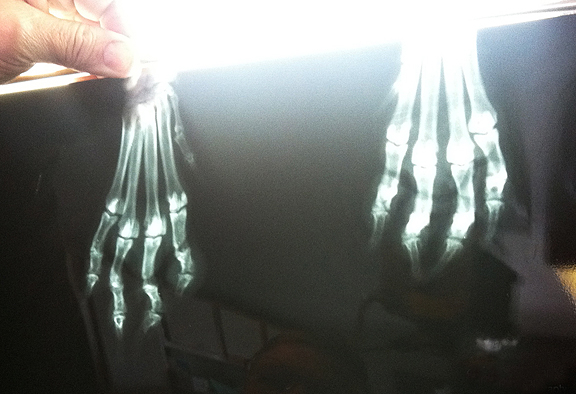 Kaweah has been quite spunky ever since Thursday, with more energy and mobility than she's had in a month. Sometimes I'm convinced that it's not medications she needs, but a visit with Doc Newton and a handful of generic dog biscuits to buoy her health and well-being. Whatever it is, I'll take it.
As my cold and the week wound down, I attempted a recipe that I wanted to test drive before Chinese New Year. The lunar new year falls on January 31st, which means a lot of celebratory dishes will be prepared and consumed on the 30th (the eve) and the 31st (the new year) in our house. If you've ever been to dim sum, you've likely encountered the Chinese egg custard tarts next to the mango jello and fried sweet sesame balls. These are a childhood favorite and an occasional adulthood indulgence for me. Egg custard tarts come in two forms – the first has a short crust pastry and the second has a flaky layered pastry. I like both, but I prefer the flaky pastry, so that's what I set out to make.

water dough: water, salt, shortening, flour
fat dough: shortening and flour
custard: hot water, sugar, salt, evaporated milk, vanilla, eggs
Making the flaky pastry is a little like making puff pastry from scratch, except shortening or lard are used instead of butter and the process involves two doughs rather than the détrempe (water dough) and fat (butter). And instead of creating a large sheet of puff pastry, here we roll out each individual tart pastry.
make the fat dough: cut the shortening into the flour
the blended fat dough
mix the water dough ingredients
knead until smooth
I chose shortening as my fat because I had some in the pantry to use up, but I believe that lard produces the best results. Roll the fat dough into 20 equal-sized balls. It's a dough that is brittle under any sort of shear, but it should hold together as a ball. Once the water dough has rested, roll it out into one or two logs and slice it into 20 equal pieces. Roll each piece into a little disk large enough to wrap around a ball of fat dough.
roll the fat dough into little balls
slice the water dough into 20 pieces
roll the water dough into a disk
place a ball of fat dough in the center of the water dough disk
wrap the fat dough with the water dough
If the water dough doesn't completely cover the fat dough, just pull the edges around and smoosh it together. It doesn't matter what it looks like as long as the fat dough is encased in the water dough. Flatten the ball with the seam-side down and then use a rolling pin to roll it out into an oblong oval/rectangle about 4-5 inches long. Starting at the end closest to you, roll the dough up like a rug. Turn the dough 90 degrees, and roll it out again into a long rectangle. Roll the dough up again and this time it should be a little compact nugget. Give it a little squash with your palm.
roll out #1
roll up #1
roll out #2
roll up #2
squashed
Now roll the dough into a disk a little more than 3 inches in diameter. It's not going to come out round because of the starting shape, and that's fine if you're fine working with it. I trimmed mine with a 3-inch biscuit cutter, then rolled it out a little larger with the rolling pin. My tart molds are 2.5 inches across at the maximum. The dough also stretches a little if necessary, so you have wiggle room. If possible, use deep tart molds otherwise there won't be enough room for the custard. It also helps to make more room for the custard filling if you press the center dough a little thinner than the rest. If you don't have tart molds, try using muffin tins.
trim the edges
line the mold with the pastry dough
crimp or rope-pinch the edges
here I've done both styles
Once the molds are lined with pastry, prepare the custard filling. When you combine the hot water, sugar, vanilla, salt, and evaporated milk, be sure to stir the mixture until the sugar dissolves. You just want to make sure the sugar doesn't settle to the bottom. Whisk the sugar mixture into the eggs and strain the egg mixture into the tart molds.
adding hot water to the sugar, salt, vanilla, and evaporated milk
whisk the eggs
whisk the sugar liquid into the eggs
strain the filling
Take care not to overfill the tarts with egg custard filling, because it makes the tarts harder to remove from the molds. The filling will puff up during baking, but it deflates when it cools. The recipe called for 25 minutes in the oven, but mine required 35 minutes before the custard was no longer liquid. You still want it to jiggle, but you don't want it to be liquid nor do you want it to be completely solid. The jiggle will ensure a delicate custard.
filling the tarts with custard
baked
cooled and ready for the lunar new year
The pastry was quite flaky, but I do think lard lends better flavor to a dough than shortening. The custard tastes like what I remember from my dim sum days. I may try larger tart molds next time because I had a bit of custard filling leftover and I found the ratio of pastry to custard to be a little more than I desired. That said, the tarts came out better than I could have hoped for a first attempt and they are particularly delightful warm from the oven. Serve them warm or room temperature, but fresh is definitely best. I think the quality tapers off after a couple of days.
Are you planning anything special for the lunar new year?

the egg custard tarts are great warm from the oven
flaky pastry and creamy custard
Chinese Egg Custard Tarts
[print recipe]
based on two recipes from Chinese Snacks and from Chinese Dim Sum by Wei-Chuan Publishing
water dough
2 cups all-purpose flour
5 tbsps shortening or lard
10 tbsps (5 oz.) water
1/4 tsp salt
fat dough
1 cup all-purpose flour
5 tbsps shortening or lard
filling
5 eggs
1 cup sugar
1 1/8 cup hot water
2 tbsps evaporated milk
1/4 tsp salt
1 tsp vanilla extract
Prepare the water dough: Mix all of the water dough ingredients in a bowl. Knead until smooth (took me a few minutes). Let stand 20 minutes covered with a damp paper towel. Roll the dough into one or two logs and cut into 20 equal pieces. Cover with a damp paper towel.
Prepare the fat dough: Mix the flour and fat together until smooth. This dough will be crumbly compared to the water dough. Divide into 20 equal pieces and roll each piece into a ball.
Make the pastry dough: Take one piece of the water dough and flatten it into a circle with your palm. Roll the dough into a small disk about 3-inches in diameter. Place one ball of the fat dough in the center of the disk and wrap the ball completely with the water dough to make a ball. Place the gathers on the bottom and press the ball with your palm to flatten. Use a rolling pin to roll the dough into an oblong rectangular shape (it won't be a rectangle, it's okay) about 4 or 5 inches long. Roll the dough up like a carpet from one end. Turn the dough 90 degrees. Flatten the dough with your palm and roll it out into another rectangle about 4 or 5 inches long. Roll the dough up like a carpet again from one end. You should now have a somewhat squat package of dough. Flatten it once more, but this time roll it out evenly into a circle or square at least 3-inches in diameter. I used a 3-inch circular cutter to trim off the odd ends – you don't have to do this. Once trimmed, I rolled the disk out a little more. You just want to be sure you have enough surface area to cover your tart or muffin molds. Line a mold with the pastry dough and crimp the edges. Repeat for the remaining dough.
Make the tarts: Preheat oven to 350°F. Beat the 5 eggs in a medium bowl. In another medium bowl, stir the sugar, hot water, evaporated milk, salt, and vanilla extract together until the sugar is dissolved. Whisk the sugar water into the eggs until incorporated. Arrange the pastry-lined tart molds on a foil-lined baking sheet (to catch the leaks and overspill). Strain the egg mixture through a sieve into each of the tarts, taking care not to overfill (the custard will puff up when it bakes). Bake the tarts 25-35 minutes until the custard is no longer liquid (check with a toothpick – mine took 35 minutes). Remove from oven and serve warm or at room temperature. Makes 20 2.5-inch tarts.
more goodness from the use real butter archives