Chinese New Year (or the Lunar New Year) is a week away! It will be the Year of the Horse, which is special because my sister was born in the Year of the Horse and would have been 48 this year. I'm busy cleaning the house, prepping special foods, and doing those things that are supposed to bring luck in the new year. Maybe you are a traditionalist or perhaps the lunar new year doesn't have any significance to you, but you want to make a celebratory meal or throw a Chinese-themed party. Either way, I've got a recipe round up for you!
traditional dishes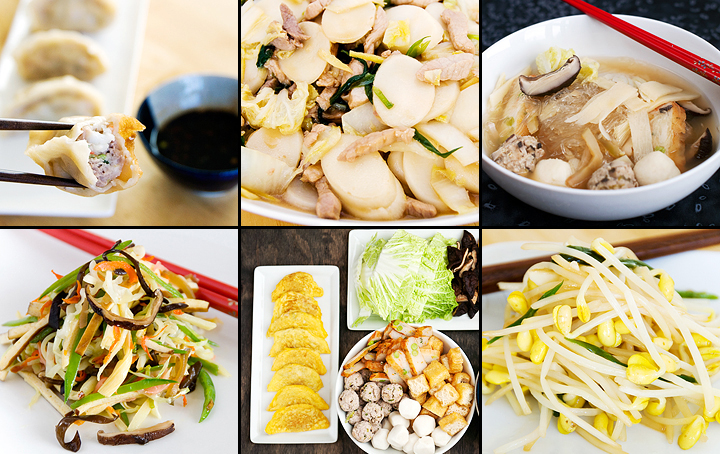 These are the dishes I make year after year. They symbolize luck, fortune, health, happiness, promotion.
Cellophane noodle soup: It's a big pot of goodies – sort of a catchall for lucky things. The cellophane noodles (bean thread noodles or glass noodles) represent long life – so for goodness' sake, DON'T CUT THE NOODLES. Meatballs and fish balls are round, which the Chinese like and their meaning is reunion.
Chinese dumplings and potstickers: Theoretically you are supposed to make dumplings (boiled or steamed), but I always make potstickers because I'm a crunch-junkie. My mom always told us that eating dumplings meant more money in the new year because they are shaped like gold ingots. Then I found out later that dumplings also symbolize having sons. I'm sticking with the money story.
Chinese egg dumplings: The Chinese have a thing for dumplings, because they are like purses, and purses hold money. These egg dumplings typically go in the cellophane noodle soup, but they are wonderful eaten on their own too.
Lucky ten ingredient vegetables: Lucky lucky lucky! Ten is a lucky number. Don't make this with nine or eleven ingredients – you'll screw up the new year! Also, don't use hollow vegetables (green onions, water spinach – these are hollow and bad luck). Tofu is okay, but no meat is allowed in the dish.
Stir-fried rice cakes: These rice cakes are sticky, chewy disks of rice flour. The name of the rice cake, nian gao, sounds like "higher year". Eating the rice cakes is good luck for a promotion or toward greater prosperity.
Stir-fried soybean sprouts: These are my favorite and plentiful in most Asian markets this time of year (because everyone wants luck!). Eating soybean sprouts (or bean sprouts in general) ensures a good start to the new year.
appetizers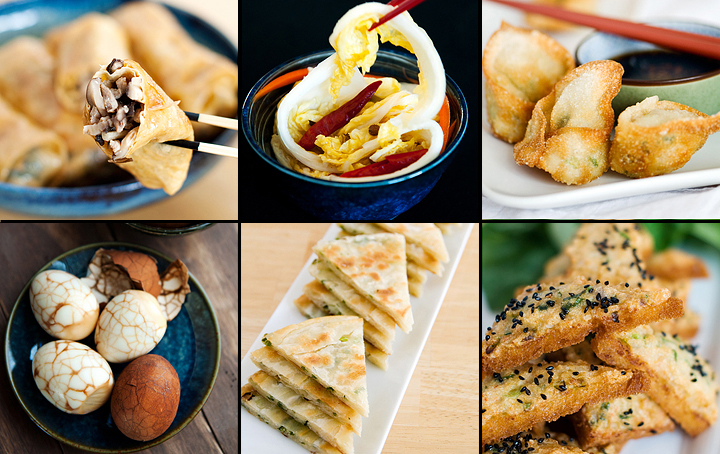 There's something you should know about tofu. It's a big deal.
Fu
is "luck" in Chinese. So tofu is pretty popular in the new year festivities because everyone wants lots of luck. The thing is, you shouldn't eat white tofu because white is bad – it's the color of mourning/death. That's bad luck. But don't fret, there are a bazillion ways to eat tofu: fried, dried, marinated, sheets, pressed.
Bean curd rolls: You can find bean curd sheets or tofu skin in Asian grocery stores. They are either dried or frozen. This tofu skin roll is filled with savory pork and vegetables, and then braised til soft. I order it at dim sum all the time.
Chinese tea eggs: Eggs represent fertility, but I just love the subtle flavor of the tea infusion as well as the delicate crackle pattern on the peeled egg.
Fried shrimp wontons: Terrific nibbles with the added bonus that shrimp symbolize happiness and good fortune.
Pickled Chinese cabbage: Served cold, this sweet, salty, sour, spicy, crunchy pickled cabbage wakes your mouth up in the best way possible. I could snack on a bowl of this all by myself. Cabbage means money, prosperity.
Scallion pancakes: One of the best savory snacks, ever. I'm not sure if it has any symbolism, but it's delicious!
Shrimp toast: More shrimp goodness (happiness and fortune).
dim sum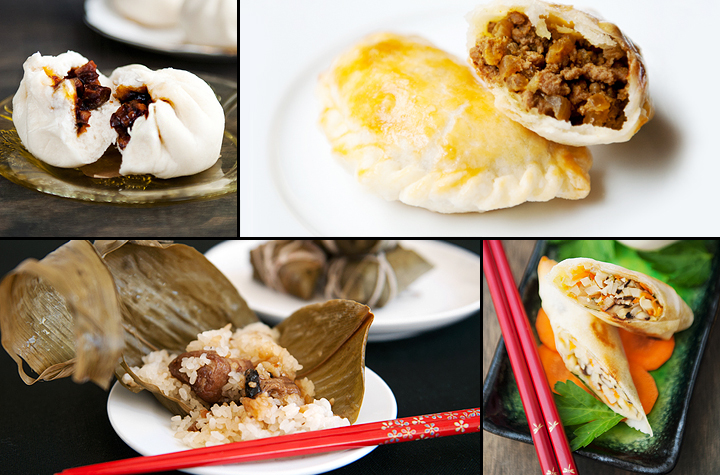 Here's a handful of some dim sum-style snacks that I like. The nice things about them is that they are little packages that make for a great nibble or perhaps breakfast/brunch.
Chinese barbecue pork buns char siu bao: Sweet and savory, utterly addictive. Pork means wealth, but I think any sort of bao or bun that is filled is similar to a purse (refer to egg dumplings above).
Chinese curried beef pastries: Beef isn't really the star attraction during Chinese New Year. Pork is king. Even so, these wonderful little pastries are a delightfully spiced and savory bite. And I suspect that someone could make the argument that a little pastry pocket represents wealth.
Chinese pork belly rice bundles zong zi: I liken these to a tamale, but made with sticky rice. The bamboo leaves impart a wonderful tea flavor into the rice. Rice is such a staple in Chinese cuisine that it represents many good things: fertility, wealth, and luck.
Spring rolls (baked): I call them egg rolls, but these are really spring rolls because they're all vegetable. Eat spring rolls for wealth.
main dishes: pork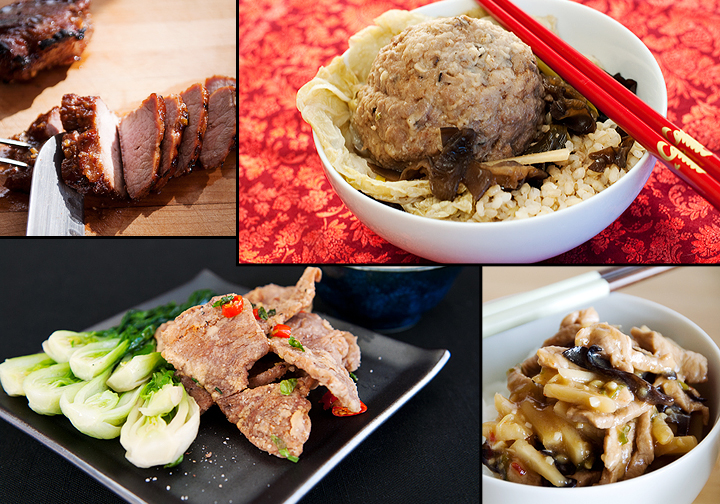 These mains aren't dishes I typically make for our Chinese New Year celebration, but they're great options if you are entertaining or just feel like cooking a Chinese meal. I've split them up into three categories: pork, seafood, and other (beef, chicken, and tofu).
Chinese barbecue char siu pork : Slice it up and serve it in a noodle soup, in a noodle stir-fry, or cold as an appetizer.
Fish-flavored pork: It isn't really "fish" flavored. It's flavored with a combination of ingredients that are used to cook fish, hence the name (you'll see it again with the eggplant further down the page). The point is, it's awesome and not fishy and one of Jeremy's favorites.
Lion's head meatballs: This is my dad's recipe and there is really nothing quite so amazing as Lion's head meatball. Comfort food times ten. I make them smaller to be more manageable, but it takes real skill to make them large without having them fall apart and yet be melt-in-your-mouth tender.
Salt and pepper pork: Salt and pepper squid is probably the more popular form of this dish, but you can't eat squid on Chinese New Year because it symbolizes getting fired. But hey, the salt and pepper pork is just as good and a lot less squirrely to prepare. Oh, and don't buy salt after the new year (for like, a few weeks) because it's bad luck, as in losing your job sort of bad luck. So stock up on salt now before the new year.
main dishes: seafood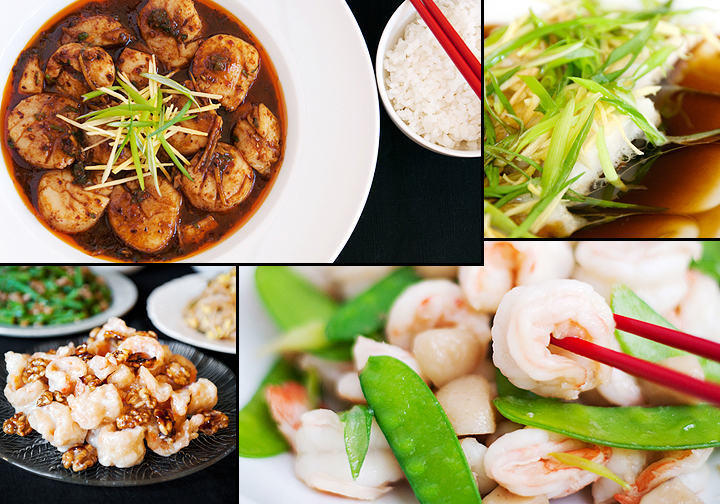 Chinese honey walnut shrimp
: Walnuts and shrimp both symbolize happiness, but this dish is not only full of happy, it is also ridiculously good.
Chinese steamed fish: For the new year, it's traditional to steam or prepare a whole fish (head to tail). A whole fish means extra or surplus which is interpreted as increased prosperity. This recipe is for a filet, but you can easily adapt it for a whole fish (but steam the fish, don't nuke it). I believe it is bad luck to turn the fish over (especially if you're on a boat), so once the top half is eaten, remove the skeleton rather than flipping the fish. And, if I'm not mistaken, you are not supposed to finish the fish. Leave a little left over (the whole surplus idea).
Chinese stir-fried scallops: Scallops symbolize new opportunities.
Stir-fried shrimp with snow peas: A quick and simple stir-fry that serves up good fortune (shrimp) and unity (snow peas).
main dishes: beef, chicken, tofu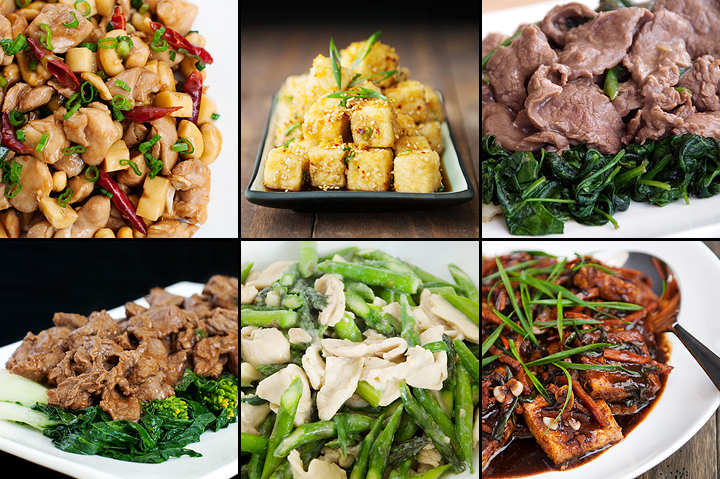 Hunan tofu
: It's okay to eat this tofu – it's fried and simmered in a delectable sauce! Win-win!
Kung pao chicken: A classic.
Sesame tofu: Delicate fried cubes of tofu tossed in a sweet, sour, and spicy sauce. Make more than you think you'll want.
Stir-fried chicken and asparagus: Simple, quick, and fresh.
Stir-fried Chinese barbecue beef: Sautéed beef in Bull's Head Chinese barbecue sauce for that extra little kick.
Stir-fried flank steak: A traditional stir-fried beef recipe – the first Chinese dish I learned to make!
vegetables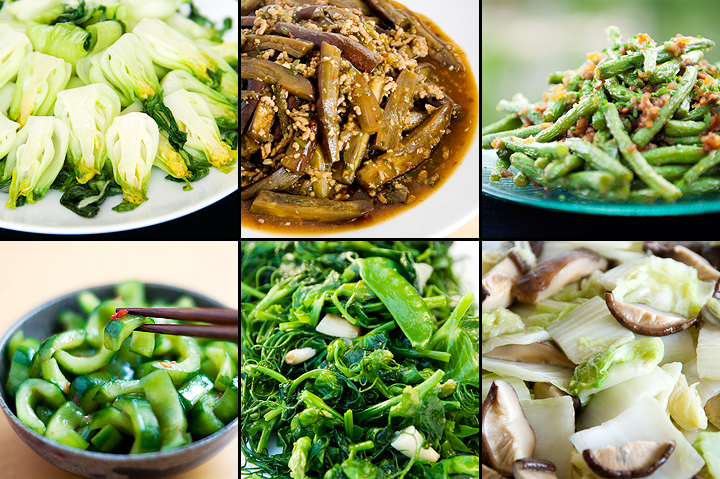 Braised Napa cabbage
: This might seem like a boring vegetable dish, but the combination of the mushrooms and the cabbage creates a delightfully earthy comfort food. And don't forget that cabbage represents luck, and mushrooms are longevity.
Dry-cooked string beans: I have no idea if string beans have any meaning, but they are worth making just to enjoy biting into the salty, tender beans.
Fish-flavored eggplant: The fish flavor refers to a combination of aromatics and sauces that create the signature flavor that is popular with pork, eggplant, and well – fish.
Sautéed snow pea shoots: You can find snow pea shoots in Asian markets and usually there are two kinds. The small ones and the large ones. I like the large ones because I feel as if I am eating a leafy vegetable rather than a heap of stems (like the small ones).
Stir-fried baby bok choy: Slightly bitter and slightly sweet, baby bok choy border between crunchy and creamy in this recipe. And with all of the cabbages, they represent prosperity.
Spicy Chinese cucumber salad: A cold cucumber salad with great crunch. I just really like crunchy things.
sweets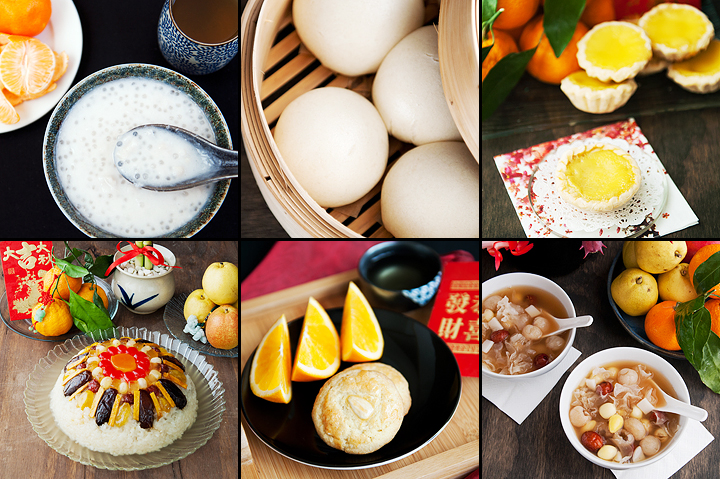 While Chinese cuisine isn't celebrated for its sweets, I've compiled some traditional recipes as well as some that I happen to love. The desserts center a lot on soups, sweet red beans or red bean paste, and sweet rice. The important thing is to eat something sweet first thing on Chinese New Year's Day so sweet things come out of your mouth all year!
Almond cookies: A straightforward cookie recipe made with almond meal, almond extract, and topped with an almond. ALMONDS!
Chinese sweet egg custard tarts: I just posted this recipe for the upcoming new year celebrations. The technique for flaky pastry dough is awesome.
Chinese sweet soup: Perhaps an acquired taste, this soup is traditionally what my beloved Chinese grandma would make for me on New Year's Day. It's made with dried fruits and nuts like red dates, longan fruit, lotus seeds, ginkgo nuts.
Eight treasure rice pudding: Eight is a lucky number and there are eight jewels or fruits that adorn this dome of sweet rice with a sweet red bean paste center.
Steamed sweet red bean paste buns: As a child I could never decide if I love steamed sweet red bean buns better than the char siu bao, but now I know that my heart belongs to the barbecue pork. Even so, fluffy pillowy, steaming buns with a sweet silky red bean paste center is a favorite sweet treat.
Sweet taro tapioca soup: Made creamy by the coconut milk and taro mash, this hot soup is delightful in the middle of winter. Commonly served after dinner as dessert.
Wishing you all health, happiness, good fortune, and luck!