The first time I set foot in Camp 4 Coffee was late September 2010. It was dark out because I wanted to shoot sunrise somewhere outside of Crested Butte. My shooting partner needed his morning caffeine fix before heading out and knew just the place to go. At 6 am, we stood in line in front of this tiny shack covered in old license plates. I know nothing about coffee, but as Jason stepped outside and took a sip of his quadruple shot latte he purred, "Oooooh yeah. THAT is good stuff." The following year when Jeremy joined me over the weekend on my solo fall shoot in Crested Butte, I took him to Camp 4 for coffee, and he's been smitten ever since.

camp 4 coffee in crested butte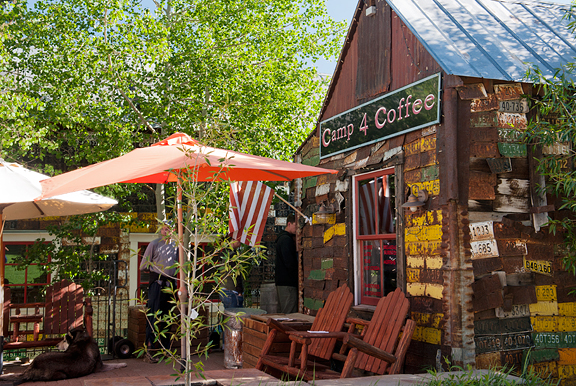 Like Crested Butte, Camp 4 has a friendly, laid-back vibe. Tourists and locals alike line up each morning for their cuppa. Dogs saunter onto the pleasant little patio and wait patiently (and obediently) while their people step in to grab coffee and breakfast, say hi to friends, and snag a little dog treat for their four-legged companion. While the pups are outside, they receive a good deal of attention and loving from passersby and other patrons. It's all routine.
any given summer morning outside camp 4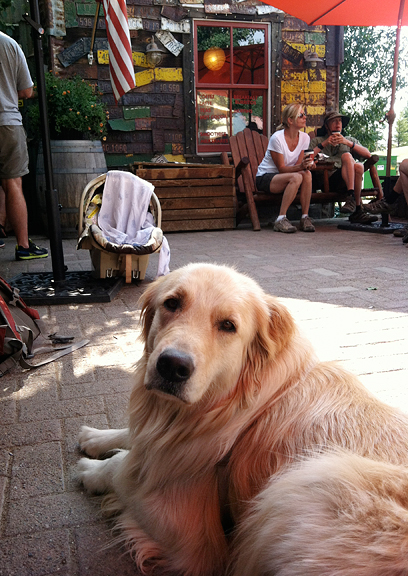 The space inside is limited to room for five to six people to peruse the boards, admire the baked goods, order, pay, and dress their beverages. To your immediate right as you walk in is a little bar space for four people to sit and read the paper or shoot the breeze. It's tiny, yet incredibly popular because their coffee is exceptional – touted as the best coffee in Colorado according to the Denver Post. There is no drip coffee here, just espresso drinks made from Camp 4's own beans roasted right in Crested Butte. Jeremy notes that their beans are also excellent for drip coffee at home.
decisions decisions…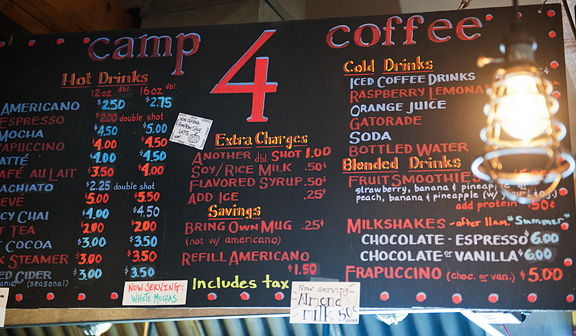 perfect doughnuts: crisp outsides, fluffy and tender insides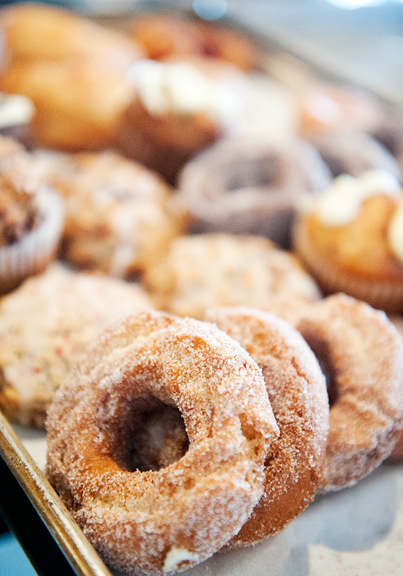 In addition to the traditional coffee drinks, Camp 4 offers a selection of teas, bottled things (juices, water, soda, sports drinks), smoothies, milkshakes, hot cocoa, chai, as well as breakfast burritos (with REAL green chiles), breakfast sandwiches, and some of the most delectable pastries in town (super flaky awesomeness). The selection includes fresh doughnuts, filled long johns, danishes, croissants, filled croissants, cinnamon rolls, muffins, scones, cookies, brownies, quick breads… The pastries don't last long on any given day, so if you have a hankering, get ye there in the morning before they're picked clean.
the friendliest service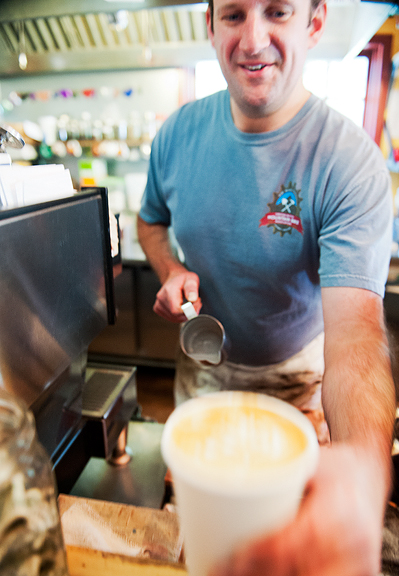 a treat for your pooch, because crested butte loves dogs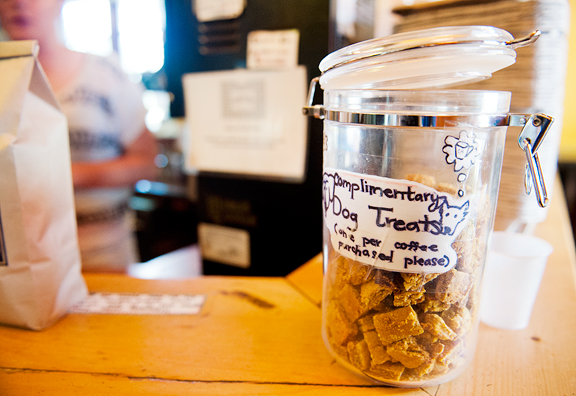 At the far end of the shop hangs a small white board that keeps track of friends buying drinks for friends (they can even leave short notes). The tip jar stuffed with bills and change is testament to how much people love and support their local java house and the great baristas who work there.
jeremy always springs for the latte and creme-filled long john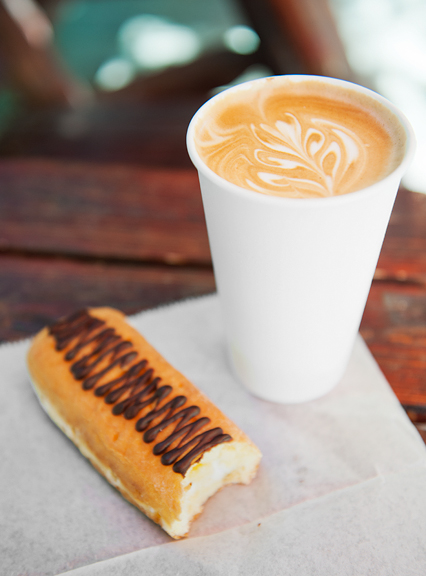 We thought Camp 4 in Crested Butte was the best little coffee shop around, until ski season began… That's when we discovered Camp 4 has three locations: Crested Butte, Mount Crested Butte, and Crested Butte South. The Mount Crested Butte shop is at the base of the ski resort in Mountaineer Square, perfectly situated for a pick-me-up before or after you hit the slopes (or both!). If we have a few minutes between getting off the mountain and catching the free Mountain Express shuttle back to town, Jeremy will pop in for a hot drink.
camp 4 in mount crested butte (mountaineer square)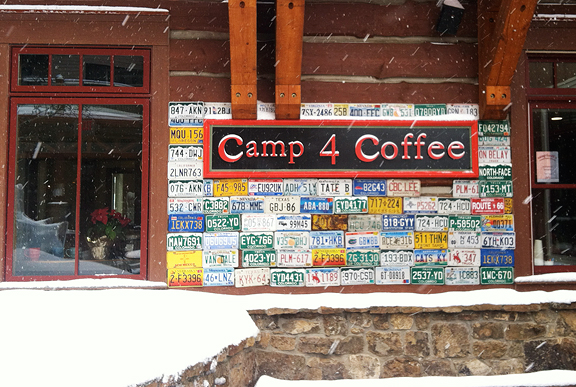 The interior is far roomier than the little shack in town, with space for several tables and chairs, a lot of bar seating, and room to stand and move about. The Mount Crested Butte shop also offers light lunch fare like chili, mac and cheese, or sandwiches. I noticed yogurt fruit parfaits on the boards too. In summer, outdoor seating replaces the ski racks so people can enjoy their coffee with a healthy dose of clean mountain air.
lots of skiers and riders in winter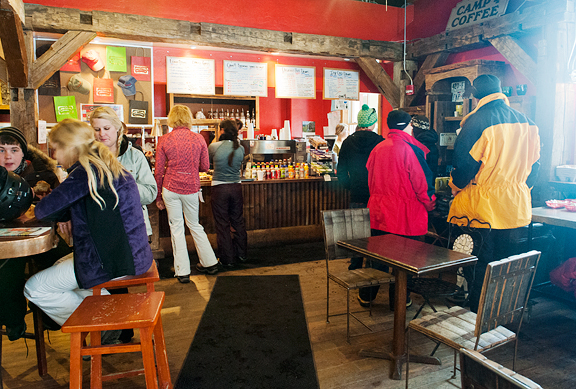 an assortment of pastries at the bar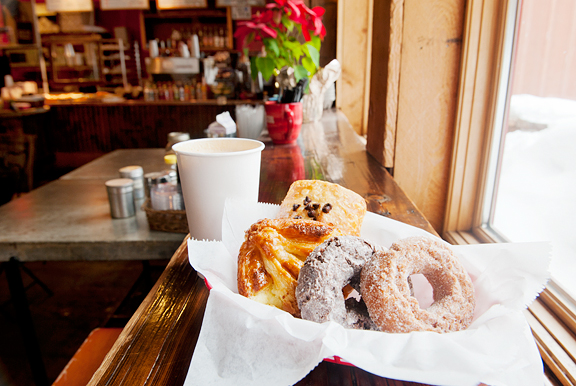 Jeremy indulged in Camp 4 often enough that I told him to get the frequent flier card. You pay $45 for $50 in value at any location – in essence a 10% discount. That card is good toward coffee beans too. When you buy a pound of beans at Camp 4, you get a free Americano. They also ship their beans (they have certified organic too) if you can't get yourself to Crested Butte. Order 5 pounds and shipping is free. Outside the Crested Butte South Camp 4, their van boasts "Crested Butte's #1 export!" on the side.
cb south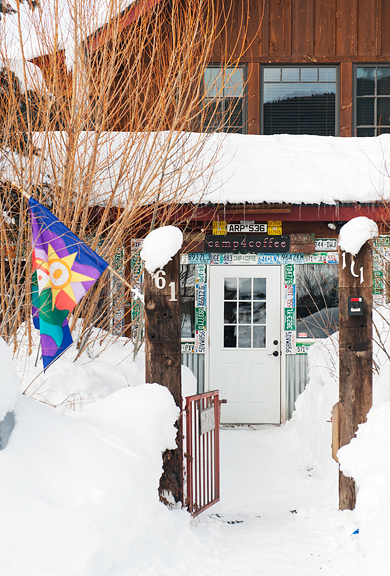 Crested Butte South is about 8 miles south of Crested Butte. It's a large residential community with a tiny business district that is home to Camp 4's base of operations. This is where they roast their coffee beans and bake their enticing treats. The front of the house has bar and table seating alongside bags of green coffee beans and bookshelves stuffed with books. The books are for sale based on what you think they're worth and all monies from the books are donated to a local charity. Walk to the back to place your order and see the kitchen in action. Unlike the other two stores that are open until 5:30 pm, this one closes at 11 am.
relaxing and full of light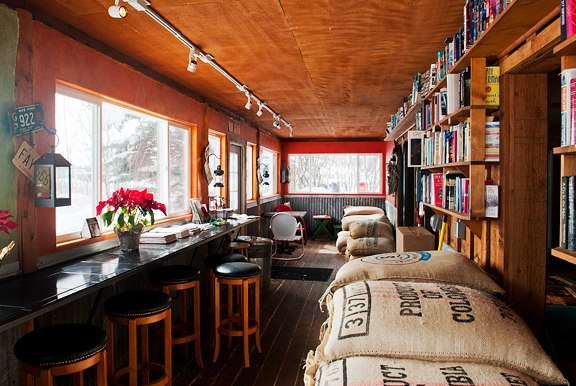 camp 4 donates to several local charities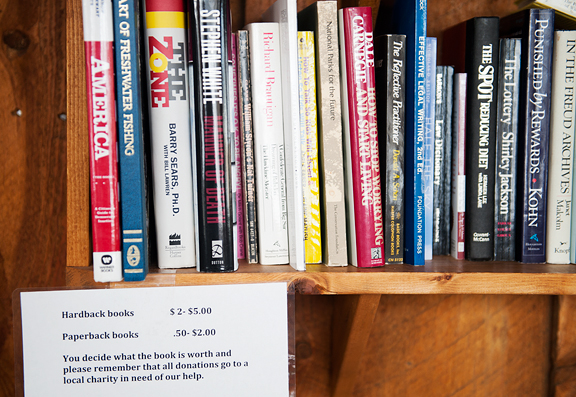 The CB South shop is where I chatted briefly with Al Smith, the founder and owner of Camp 4 Coffee. He had just handed a big muffin to a customer's toddler and was scrubbing down the kitchen. He mused that the folks in Crested Butte get spoiled on Camp 4's coffee and are surprised when they go elsewhere and the coffee isn't as good. Spoiled? You bet. But they are not ungrateful. You can sense the deep loyalty and the love people have for Camp 4 and vice versa. It's not just the coffee, but the people, the business, and the ties to the community. Camp 4 Coffee is yet another gem in the treasure trove that is Crested Butte.
this place makes this guy so happy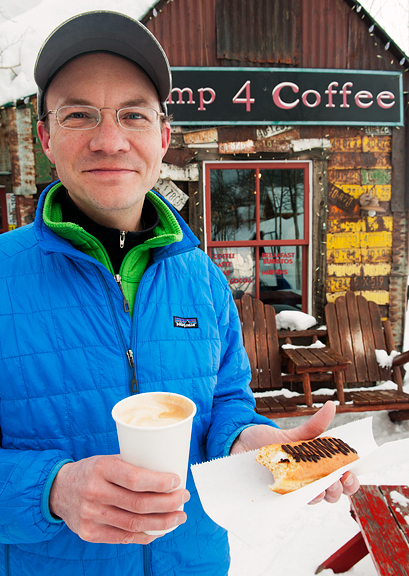 Camp 4 Coffee
in Crested Butte
402 1/2 Elk Avenue
Crested Butte, CO 81224
Hours: 6:30 am to 5:30 pm
in Mount Crested Butte
Mountaineer Square
Mount Crested Butte, CO 81225
Hours: 7:00 am to 5:30 pm
in Crested Butte South
161 Gillaspey Avenue
Crested Butte, CO 81224
Hours: 5:00 am to 11:00 am
Phone: (970)-349-2500 (call mornings only)
Email: info@camp4coffee.com
Full Disclosure: No comps. All opinions are mine.