Recipe: japanese-style asparagus frites
Did you guys stay up to watch the total lunar eclipse late Monday night/early Tuesday morning this week? We tracked the eclipse until the moon entered totality and dropped behind a cloud. Sometimes shoots don't go as planned (in fact, most nature shoots rarely go "as planned"). I saw that cloud start as a little puff in the night sky. Estimating the trajectory of the moon for the duration of the eclipse, I figured I'd be in the clear as long as the cloud remained in place. It stayed in place alright, but it also grew like a mofo. Over the course of 90 minutes, this tiny, unassuming cloud stretched and grew until it became a standing wave cloud right in the path of the moon during totality. Also, it was damn windy (and cold – even for me), which made wrangling a 500mm telephoto a bit of a challenge. But the path to growth and wonder is not the path of leisure and comfort… or some such mumbo jumbo.

the start of the eclipse (left) and the start of totality (right)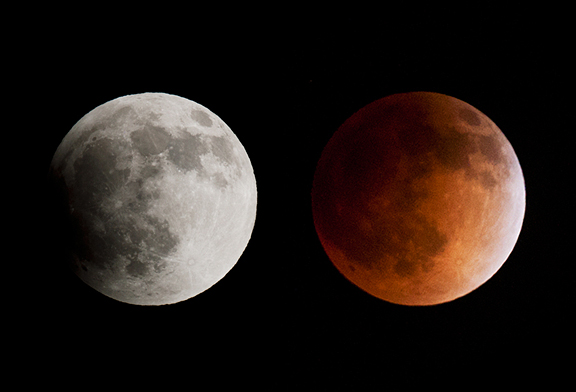 This kind of shoot is what I call character-building (there was a lot of swearing at the winds). Ignoring the shoot, it was absolutely beautiful to watch. People say once you have seen a couple of lunar eclipses, you don't need to stay up to see more. I disagree. I've witnessed quite a few and each one is spectacular and special and amazing. But yeah, the winds sucked big time because we were transitioning from cold and stormy weather to sunny warm weather. Whenever that happens, the atmosphere gets a little squirrely.
here we are at treeline as a storm front blew in (and snowed on us – yay!)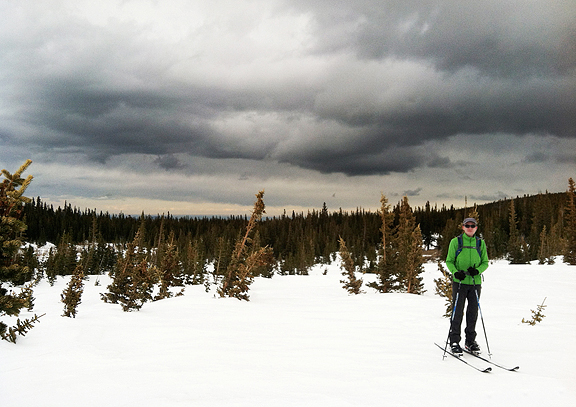 This is what spring does. It's volatile and dynamic. The sun is in the sky longer, heating the ground, the oceans, and the atmosphere. Here in the mountains, it's melting the snowpack and putting more moisture in the air. Everyone seems to have their panties in a wad that spring is a transition of seasons rather than idyllic sunny, warm days of blooming flowers, baby animals, and yadda yadda yadda. I'll tell you what. Asparagus know the drill. They're frost tolerant plants, which is a good thing since we have the seesaw snow/sun thing going on in Colorado. My pal,
Wendy
, watches the weather like a hawk and begins monitoring all of her wild asparagus sites about now. I forage with her because it's so fun, but I always let her keep all of the 'gus (I call them gus gus) because she lives on this stuff and I'm just along for the ride. I like foraging, but I'm no forager. I buy my spears at the store.
let's make asparagus tempura: asparagus, ice water, egg, baking soda, flour
mix the flour and baking soda together
whisk the egg and ice water together
stir the dry ingredients into the wet ingredients
When Jeremy and I make sushi, we make a lot of it because sushi is the combination of small quantities of several ingredients. One time, we had leftover asparagus tempura and no more sushi rice for making maki. So we just ate the asparagus like french fries with some of the extra condiments we had on hand for the sushi. It got me thinking about a greener version of french fries. One of our favorite happy hours in Boulder,
Brasserie Ten Ten
, does this with green beans. They tempura fry them and serve the haricot verts with garlic aioli on the side. I wanted my asparagus frites to have more of a Japanese influence, so I made Sriracha mayonnaise and wasabi mayonnaise for dipping or drizzling. You can make them as light or as potent as you like.
unagi (bbq eel) sauce, sriracha, wasabi powder, mayonnaise, tobiko (flying fish roe)
mix sriracha into half the mayonnaise to taste
whisk wasabi paste into the other half of the mayonnaise to taste
wasabi and sriracha mayonnaises
Tempura frying asparagus is relatively quick and painless. You dip the spears in the batter and carefully drop them into the hot oil. I recommend putting the spears into the oil one at a time otherwise they'll all seize together in a massive tempura-fried clump of asparagus. That's not the look we're shooting for. Once the batter hits the oil, it fries up and is no longer sticky. You can push it aside with tongs or chopsticks and drop the next spear in. The skinnier the spear, the less time the asparagus needs to cook. I personally prefer fatter spears because they are sweet and juicy, and those still don't take more than a minute or two of frying. You just want the batter to turn golden before fishing them out and setting them on paper towels or a cooling rack to drain. While they're still hot, you can dress them with your various condiments: Sriracha mayonnaise, wasabi mayonnaise, unagi sauce, tobiko, green onions, whatever you like.
dip a spear in the tempura batter
fried spears
drizzling unagi sauce
You don't have to drizzle them in anything and it's perfectly fine to have the condiments on the side for dipping options. If you want to go in a non-Asian direction, then make a small batch of garlic aioli to go with the frites. I love asparagus pretty much any which way, but these are definitely a nice little indulgence with the added crunch of the tempura. And they taste like spring.
garnish with tobiko and green onions
serve them hot for maximum awesome
Japanese-Style Asparagus Frites
[print recipe]
8-10 oz. asparagus spears (I prefer the fat ones)
1 cup ice cold water
1 large egg, beaten
1 cup flour
1/8 tsp baking soda
1 cup mayonnaise
1-2 tbsps Sriracha chili sauce
1 tbsps wasabi powder
1 tbsp water
2 tbsps unagi (bbq eel) sauce
1 tbsp tobiko or masago (flying fish roe)
1 green onion, chopped (green parts only)
cooking oil for frying
Wash and trim the woody ends of the asparagus spears. Mix the ice water and egg together in a bowl. Mix the flour and baking soda together in another bowl. Stir the flour mixture into the wet ingredients until combined. Lumps are okay. Refrigerate the tempura batter until you are ready to use it. In a small bowl, mix 1/2 cup of the mayonnaise with the Sriracha (to taste). Set aside. In another small bowl, mix the wasabi powder and 1 tablespoon of water together to make a paste. Whisk the remaining 1/2 cup of mayonnaise into the wasabi powder until combined. Set aside.
Heat 1-2 inches of vegetable oil to 350°F in a large pan. When the oil is ready, dip the asparagus spears (1-4 at a time) in the tempura batter to coat. Carefully put the battered asparagus spears into the hot oil one at a time making sure they don't stick together. Fry until golden (about a minute or two) and remove with tongs. Drain on paper towels. Serve the asparagus frites with the Sriracha mayonnaise and wasabi mayonnaise (either drizzled on top or in bowls on the side for dipping). Top the frites with unagi sauce, tobiko or masago, and green onions for garnish. Serves 2-4.
more goodness from the use real butter archives