Recipe: chicken tortilla soup
I'm more patient than I was in my youth, but it's still not my strong suit. By November, we should be getting nice deliveries of snow piling up in the mountains. As it is, we have very little due to unseasonably warm weather. Well, that's not such a terrible thing because the lack of snow meant I could spend the weekend resting my shoulder and spending time with my favorite guy instead of reinjuring myself on early season obstacles in the snow. Saturday was our 22-year smoochiversary, so we worked all day and then got out for a quick late day hike as the sun sat low in the sky.

22 wonderful years together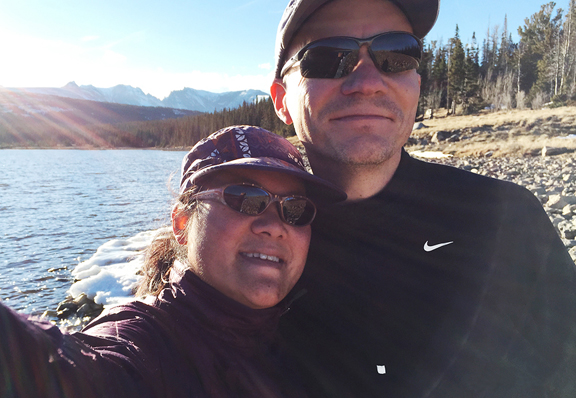 ice shards piled up against the shore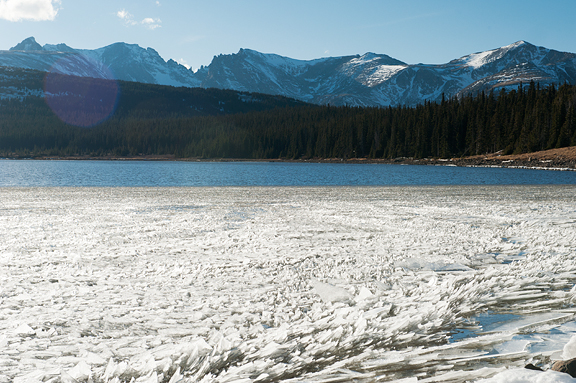 neat patterns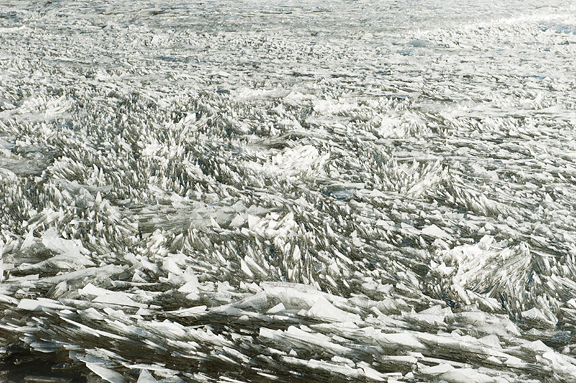 colorful sunset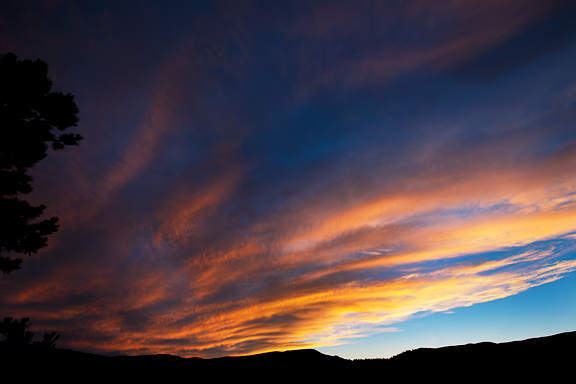 We have arrived at that stage where I inform Jeremy at least once each day, but more like three or four times a day, "I want a puppy." It's hard for me to tell if what I'm saying is, "I want a new puppy" or "I miss my baby puppy." I suppose in my heart, I mean both. Jeremy isn't ready and we will wait until he is. It just feels a little empty without some fur ball wandering around the house distributing hair and putting nose prints on the glass doors. Patience for winter. Patience for a puppy. Like I said, not my strong suit.
Actually, we are due for some snow in the morning (Monday), which is a start. A late start. Some resorts have postponed their opening days because it's been too warm to even make snow at night. In anticipation of cooler nights, I've been making soup – tortilla soup. Technically, any soup with tortilla strips in it is a tortilla soup. For years I made one with all manner of leftover vegetables, but decided it was high time I looked up a proper recipe. There are so many variations, but this one I settled on is a mega winner – especially if you make your own chicken broth/stock. Of course, if you're short on time, there is nothing wrong with using store-bought broth and chicken, which makes the recipe super easy and quick.

for the chicken and broth: whole legs, olive oil, salt, and pepper
season the chicken
brown the chicken
cover with water and simmer (or pressure cook, as I did here)
Three pounds of chicken legs yielded slightly over a pound of chicken meat once the bones and skin were discarded. In the future, I'll probably reduce the amount of chicken by half as I tend to prefer soupy soups and this one had a high chicken-to-other-stuff ratio. To quickly de-fat the chicken broth, refer to the ziploc bag trick as described
here
or in the recipe listed below. It's quite handy and doesn't require chilling the broth. Now you're ready to make tortilla soup.
broth, zucchini, jalapeño, garlic, cumin, salt, onion, lime, olive oil, oregano, tomato paste, chicken, pepper, diced tomatoes, cilantro, corn tortillas
slice the tortillas into strips
diced, minced, chopped, or juiced
The majority of your effort will be in prepping the ingredients, and then it's relatively hands-off while the soup simmers. The original recipe called for dried oregano, but I just used fresh because I had a bunch that had no destination. And I added a jalapeño for a little extra heat and color. They're quite mild though. Jalapeños these days are about as potent as green bell peppers.
start by sautéing the onions, jalapeño, garlic, oregano, and cumin
the onions should be soft
add the tomato paste, cilantro, chicken, lime juice
and the diced tomatoes
and finally the chicken broth
The soup needs 30 minutes to simmer, which is plenty of time for you to fry the tortilla strips. Now if you have a terrible fear of frying, you can take the short cut and buy tortilla chips to add to your soup. But freshly fried tortilla strips are a different texture and flavor – a
better
texture and flavor – than tortilla chips from a bag. It's worth the trouble, which isn't too much trouble at all. Frying corn tortilla strips is far tamer than most other kinds of frying. I let mine fry for 4 minutes until they began to get golden. You want them to be crisp, not chewy.
frying tortilla strips
remove with tongs or a slotted spoon
some of the strips may curl, that's totally okay
the soup is ready
add-ins: tortilla strips, avocado, cotija cheese
You can make this soup as complicated or as simple as you like. I do feel that homemade chicken broth and shredded chicken will be superior in flavor, but even with all the shortcuts, this soup is completely satisfying and delicious. It reheats well and works as a meal all on its own. We love it. The only thing that would make it better would be to precede it with a day of skiing.
garnish with cilantro and a lime wedge
soup is great food
Chicken Tortilla Soup
[print recipe]
based on this recipe
2 tbsps olive oil
1 medium onion, diced
3 cloves garlic, minced
1 jalapeño pepper, cored, seeded, and minced
1 tsp ground cumin
1 tsp dried oregano (or 1 tbsp fresh, chopped)
6-10 cups chicken stock*
2 tbsps tomato paste
28 oz. crushed (or diced) tomatoes
1 medium zucchini, diced
1/2 – 1 lb. cooked chicken, shredded*
1/4 cup fresh cilantro, chopped
1 lime, juice of (about 3 tbsps)
vegetable oil for frying
4 corn tortillas (preferably stale), cut into 1/4-inch strips
1 cup Cotija cheese (or Monterey Jack), crumbled or shredded
1 ripe avocado, diced
*To make your own chicken stock and shredded chicken: Pat dry 3 pounds of chicken legs (I used whole legs) or drums and thighs. Season both sides of each piece with salt and pepper. Heat 2 tablespoons of olive oil in a stock pot or pressure cooker over medium high heat and brown the pieces for about 3-4 minutes a side. Add 8-12 cups of water (depending on how much broth you want, it will yield somewhere between 6 and 10 cups). If using a conventional stock pot, bring the liquid to a boil and then reduce to a simmer. Cover the pot, leaving a little space for steam to escape, and simmer for a couple of hours until the meat is falling off the bone. If using a pressure cooker (mine is a Fagor DUO 8-quart), close the lid on the chicken and set to high. When pressure is reached, let cook for 15 minutes. Turn off the heat and let the pressure cooker release naturally (i.e. let it decompress on its own – about 20 or 30 minutes).
Take the chicken out of the liquid and remove the bones and skin. Shred the chicken. To defat the stock, let it cool a little and pour it into a gallon-size ziploc bag. Seal the bag and hold it so the bottom corner points down. The fat should separate to the top. While holding the bag over a large vessel (to catch the stock), use a knife to slice a slit in the bottom corner (above the solids if any settle to the bottom). Let the stock drain and when the fat layer approaches the outlet, pinch it shut and discard the bag and the fat.
Make the soup: Heat the olive oil in a large stock pot over medium heat. Add the onion, garlic, jalapeño pepper, cumin, and oregano. Sauté until the onions are soft (about 5 minutes). Add 6 cups of chicken stock for a thicker soup, or up to 10 cups for a thinner soup. Stir in the tomato paste, tomatoes, zucchini, shredded chicken, cilantro, and lime juice. Bring the soup to a boil and reduce to a simmer. Let simmer for 30 minutes, stirring occasionally.
Fry the tortilla strips: Heat 2 inches of oil in a medium saucepan over medium high heat. When the temperature reaches about 350°F, add the corn tortilla strips in batches. If you don't want to bother with a thermometer, toss in a test particle (a small piece of corn tortilla) – if it actively bubbles (fries) then it's ready. If it doesn't, give it more time to heat up and test it again. Fry the tortilla strips until they turn just golden (about 4 minutes for me). Remove them with a slotted spoon or tongs and drain on paper towels.
Serve the soup: Season the soup with salt and pepper to taste. Ladle soup into bowls and garnish with tortilla strips, cheese, and avocado. Serves 4-6.
more goodness from the use real butter archives