Recipe: mini beer corn dogs
The weekend, she is here. Almost like clockwork, once foraging huckleberries is over for me, it's time to move on to canning tomatoes. Over the past few years, I have discovered that the one thing I absolutely must can each summer is tomatoes. I won't lose sleep if I don't make peach, fig, or strawberry jam, but diced tomatoes are a must. At first I started with organic heirlooms and red slicers from Cure Organic Farm (a local Boulder farm – so great), but this year I've migrated over to the organic San Marzanos and Romas. They have a bumper crop of tomatoes right now and the seconds are $1.50 a pound. I picked up 19 pounds to can last weekend, and then I picked up another 25 pounds to can Thursday.

these hardly look like seconds, they're gorgeous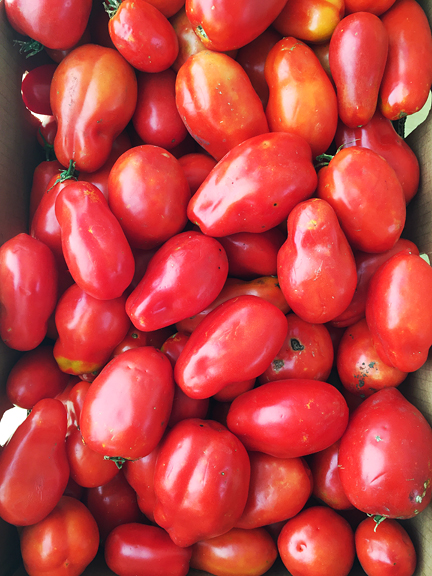 thinking of all the soups and stews and sauces this winter and spring
enjoying all of the late summer goodies like wild coho salmon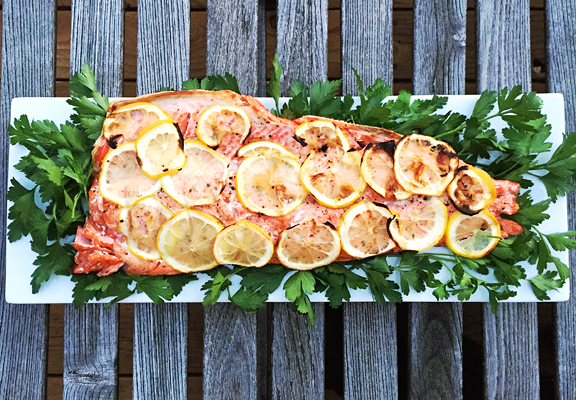 The sun is getting up later each morning, which I like. I like it a lot. It means fewer hours of that giant fiery ball of thermal radiation in the sky. Waking up before sunrise without feeling like puking is a wonderful feeling. And having night for more than a couple of hours before bed is good for greater productivity. The sky has been offering up some beautiful moments of late.
crescent moon setting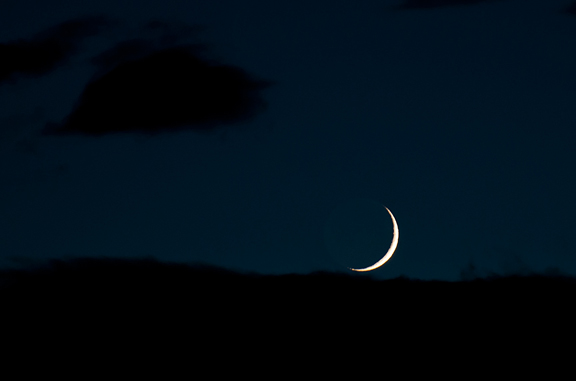 looking west as the sun rises in the east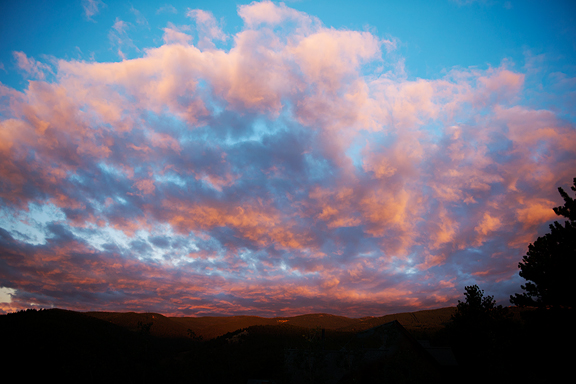 a low rainbow over the mountains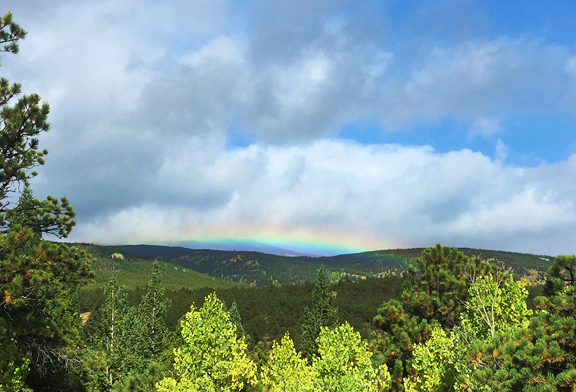 In Neva news, we used the halti collar for several days before i noticed the fur on her muzzle was thinning right where the halti rested. This made me very sad. Jeremy did some research and we decided to try a chest harness (a reader and some friends recommended them). Unlike the halti, the chest harness didn't seem to bother Neva at all. We put it on her in the living room and she went about her business as usual. We walked her the next morning and she was so good (except with the squirrels – she cries and whines and barks when she sees squirrels). No struggling, no irritation. We were elated.
every morning when i brush my teeth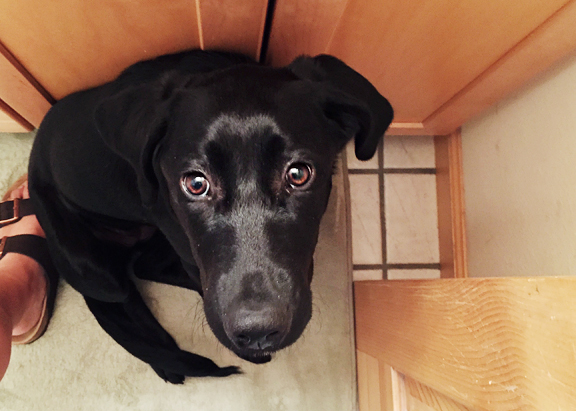 walking through golden aspens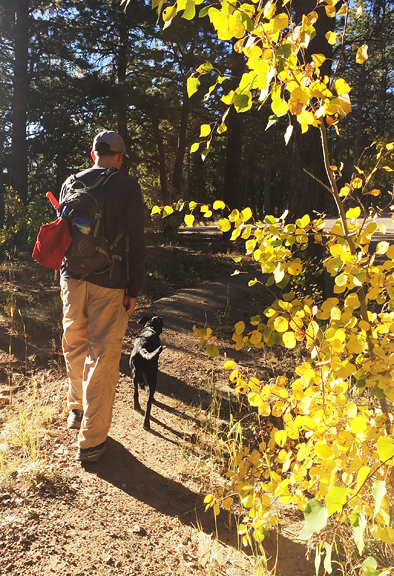 such a good pup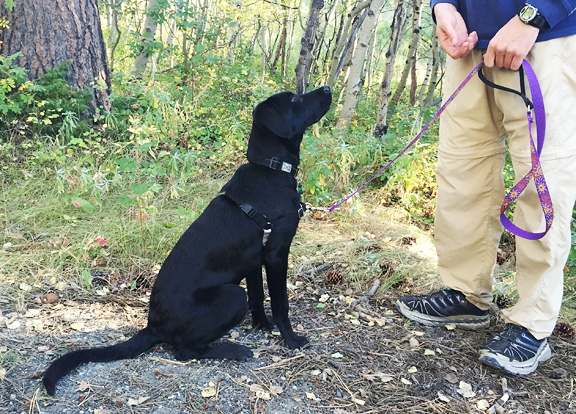 happy dog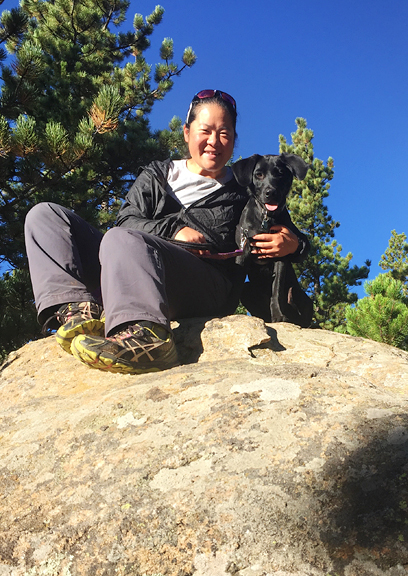 Lately I've seen mention of the Broncos in my Facebook feed. The Broncos are football, so that must mean it's football season… Sportsball. Since we don't have television, I wouldn't know about any of the sporting seasons aside from the token sports discussions on NPR and those friends on Facebook who are sports fanatics. Even then, it's quite easy for me to overlook it all because I've always found it far more desirable to play rather than watch. But I know that some people are far more enthusiastic about the football parties and party food than the football. So here's a great appetizer for those sportsball gatherings if you're looking for fun and quick recipes: the mini beer corn dog.
cornmeal, honey, sugar, eggs, baking powder, salt, hot dogs, flour, beer, skewers
cut the hot dogs into 2-inch pieces
pierce the mini dogs on the cut side
What spurred me to make corn dogs was the coverage of the presidential campaigns hitting up the Midwestern state fairs and eating all manner of carnival food last month. It had been years since I had eaten a corn dog. Looking at various recipes, I was drawn to this one's use of beer in the batter. Beer batter anything is guaranteed to be amazing.
whisk the dry ingredients together
add the honey and sugar to the beaten eggs
stir in the beer
The simplest way to cook the mini beer corn dogs is to have everything prepared and lined up for assembly. Dip the hot dogs in flour and shake off any excess before dipping into the beer cornmeal batter. The batter tends to stick better this way (I know because I tried both ways – with and without flour).
coat the min dogs in flour
stir the wet ingredients into the dry ingredients until just combined
bubbly from the beer
Be sure to start heating the oil first so it can get to temperature when you are ready to fry the little doggies. Use a candy thermometer to take the guesswork out of the oil temperature. They really do fry crisper and less oily at 350°F. Don't overcrowd the pan or the temperature will drop too drastically and you'll wind up with soggy or greasy mini beer corn dogs.
dip the hot dog into the batter
the batter should coat the mini dog entirely
fried golden
These mini beer corn dogs are best when fresh. The beer cornmeal batter fries up into a delectably good outer layer – crisp on the outside with a sweet, fluffy inside. But most people will likely make the mini beer corn dogs ahead of time. These freeze well once cooked and heat up beautifully in a moderate (350°F) oven for a few minutes.
I have to say, these are the best corn dogs I've ever had. The beer really adds a nice dimension to the cornbread. So consider these for your next sportsball party – they are sure to please.

serve with mustard and ketchup
it's hard to eat just one
these can be as casual or as dressy as you like
now that's a happy bite
Mini Beer Corn Dogs
[print recipe]
from Chowhound
1-2 qts vegetable oil for frying
2 packages of hot dogs
1 cup fine or medium yellow cornmeal
1 cup all-purpose flour
1 tbsp baking powder
1/2 tsp salt
2 large eggs
2 tbsps honey
2 tbsps sugar
1 cup cold beer
up to 4 dozen 4-inch toothpicks
extra flour
Heat oil in a deep saucepan or stockpot over medium high heat. Use a candy thermometer to measure the temperature. The oil is ready when it reaches 350°F. Meanwhile, cut the hot dogs into 2-inch pieces. Skewer each mini dog by inserting a toothpick into the cut end. Set aside. Mix the cornmeal, flour, baking powder, and salt together in a large bowl. In a medium bowl or large measuring cup, beat the eggs until uniform. Add the honey, sugar, and beer. Stir until the sugar has dissolved. Stir the wet mixture into the dry ingredients until they are just combined. Pour the batter into a narrow vessel like a glass, leaving about an inch of space at the top. Roll each mini dog in the flour to coat. Shake off excess. Dip the coated mini dog completely in the batter. If the batter falls off in places, just dip again until it is covered. Place the mini corn dog into the hot oil (make sure it is at 350°F). Repeat for a few more – don't overcrowd them in the oil. Let the mini corn dogs fry until golden brown (about 2-3 minutes). Remove from oil and let drain on a cooling rack. Let the oil return to 350°F before adding the next batch. Makes up to 40 mini beer corn dogs.
more goodness from the use real butter archives