Recipe: chanterelle puffs
It was our smoochiversary this weekend, November 1. To celebrate, Jeremy installed a new faucet in our kitchen to replace the one that had been leaking progressively worse over the past year. I know that doesn't sound like much of a celebration, but we are both thrilled about it since the old faucet was clearly designed by a moron.
To be honest, we didn't have any special plans to mark 23 years together. We went for a hike with Erin and Banjo for the purposes of scoping out the snow conditions (for ski touring later) and to get Neva used to winter on the trails. Then we did laundry, brought the deck furniture in for the season, switched summer jackets and sandals out for winter jackets and boots, and put away old puppy things that Neva has outgrown. While Jeremy sorted through the puppy crate and puppy beds, Neva walked over and curled up on a flower pillow she loved when we first brought her home. She used to take up twenty percent of the area, but now her legs, tail, and head spilled over the edges.

happy colorado dogs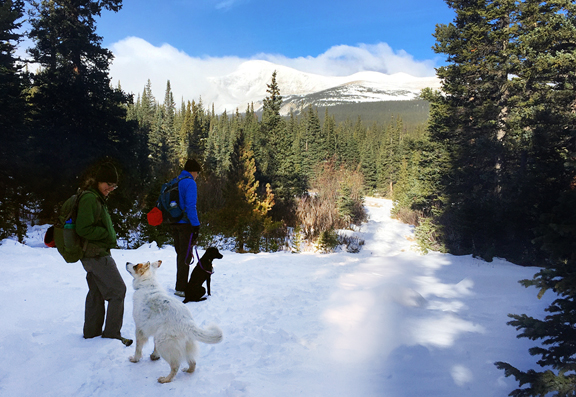 moonset over mount audubon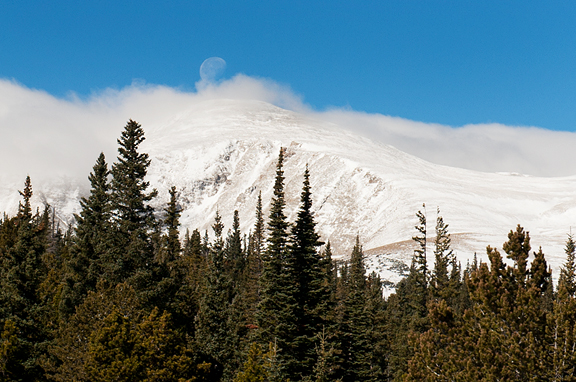 high winds brought in a huge standing wave cloud sunday morning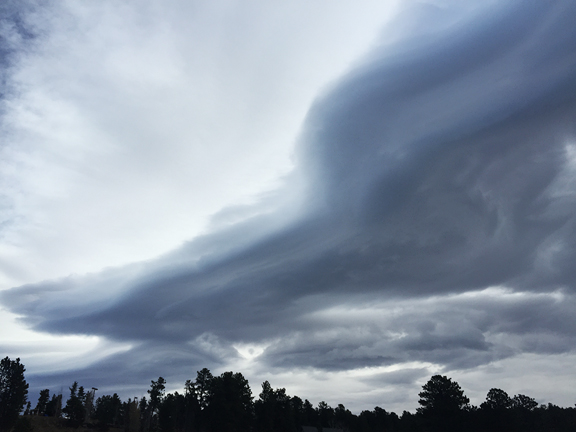 here's the coolest section of the wave cloud
playing tug with neva until she started to drowse off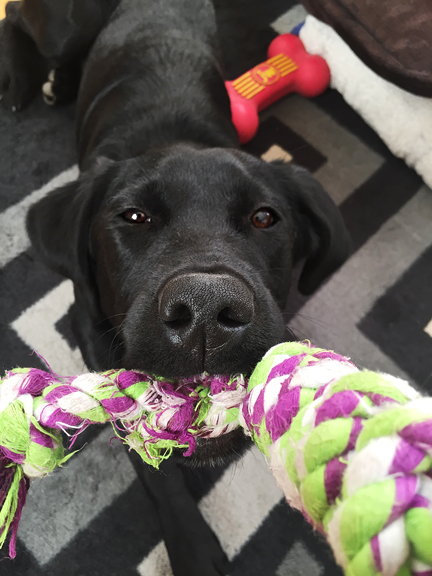 It had been a couple of months since I had last seen Erin because our schedules have been completely out of sync. When her truck pulled up in front of our house the morning of our hike, Jeremy and I grabbed our gear and headed down the stairs. Neva hesitated at the top of the stairs because she knew a car ride was imminent, but she did not know who was walking up to our door. We coaxed her down, and when she spied Erin and Banjo through the glass of the front door, she lost her mind with joy. After the hike, but before Erin went home, I ran into the house to grab a bag of huckleberries I had foraged, cleaned, and frozen for Erin while she was away on her canoe trip in Alaska. While shuffling the contents of the chest freezer around, I came across my frozen chanterelles from the summer. I'm not such a huge fan of summer, but if there is anything that makes summer an adventure, it is the foraging.
double happiness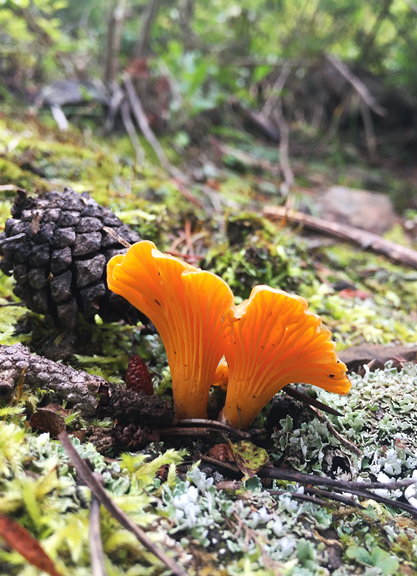 I know from Instagram and Facebook that friends of mine in the Pacific Northwest and Scandinavia are still foraging chanterelles, and that people have been able to buy fresh chanterelles at farmers markets. I think you can use fresh or frozen (I froze the rest of my chanterelles after they had been sautéed in butter) for this chanterelle puffs recipe. These are like gougéres, but with chopped mushrooms. If you don't have chanterelles available, substitute another kind of edible mushroom – it will still be great.
gruyère cheese, flour, chanterelles, eggs, salt, butter, chicken broth
mince the mushrooms
pour the mushrooms into the broth
add the butter and salt
Bring the broth, mushrooms, butter, and salt to a boil and then stir your flour in all at once. You are making a choux pastry dough, but with mushrooms and cheese. Stir the flour in until a smooth dough forms. Keep stirring it until the sides pull away from the pan. Once that happens, you can turn off the heat and vigorously stir the eggs in, one at a time. At first it will be a slippery mess and one might think the egg will never mix into the dough, but be patient. It will eventually blend in nicely and then you can add the next egg, stir that in, and finally the last egg. Then stir in most of the grated cheese.
stir the flour in all at once
beat the eggs into the dough one at a time
stir in the cheese
Form the puffs by dropping tablespoonful mounds of dough onto parchment-lined baking sheets. You can use a spoon or a piping bag (mine was fitted with a 1/2-inch plain tip) to make the puffs, but the dough is so cohesive and thick that it won't form a rounded shape on its own. If you dip your finger in cold water you can shape the dough into a ball with you wet finger without having the dough stick to you. I used two large baking sheets and spaced the dough mounds 2 inches apart. Sprinkle the remainder of your shredded cheese on top of each puff before they go into the oven.
piping rounds onto the baking sheet
top with cheese
bake until golden and firm
These make perfect party appetizers, especially served hot or warm. The outside shell is crunchy with a cheesy golden crust, but the inside is steamy and soft, dotted throughout with chewy bits of chanterelle mushroom. And because they're little, it's easy to lose track of how many you've had. These are perfect for the upcoming holiday party scene or for those upscale sportsball parties. Nothing beats mushrooms and cheese in a hot ball of pastry.
serve warm or hot
bits of mushroom adorn the puffs
savory deliciousness
Chanterelle Puffs
[print recipe]
from The Cookbook of the Mycological Society of San Francisco by Louise Freedman
1 cup chicken broth
1/2 lb. fresh chanterelles, minced (or any variety of edible mushroom that you like)
1/2 cup unsalted butter
1/2 tsp salt
1 cup all-purpose flour
3 eggs
1 cup gruyère cheese, shredded
Preheat oven to 450°F. Heat the chicken broth in a medium saucepan. Add the chanterelles, butter, and salt to the broth. Bring the contents to a boil then quickly stir the flour into the pan all at once. Continue to stir until the mixture becomes smooth and pulls away easily from the side of the pan. Remove the pan from the heat and stir the eggs in one at a time, beating after each addition until the egg is completely incorporated. Stir in 3/4 cup of the cheese. Drop rounded tablespoons of dough onto 2 parchment-lined baking sheets, about 2-inches apart. If piping the dough, you can round the tops by dipping your finger into water and smoothing over the dough. Sprinkle the remaining 1/4 cup of cheese on top of the dough balls. Bake 15-20 minutes until firm and golden. Remove from oven and cool the puffs on a cooling rack. Makes about 3 dozen.
more goodness from the use real butter archives