Recipe: chicken sweet potato dog treats
Before we brought Neva home, I made a batch of pumpkin peanut butter dog treats and cut them into little squares for her to eat and train on. I guess I was still in Kaweah-mode because the first time I handed a treat to Neva, she mouthed it for ten minutes then eventually spat it out because she couldn't bite into it. In fact, she was so little and silly, she'd munch on a puppy kibble for a good ten seconds which translated into long dinner times. I was sad because Kaweah loved those treats so much and Neva didn't seem to care for them at all. Little did I know that she was just too baby to eat them. Eventually, after her big girl teeth came in, she went after them with gusto. It's been nice to feed her homemade treats because it's more economical and doesn't contain additives or artificial junk.

waiting patiently for her release word
I thought Neva could use some variety in her snacks and began to research different flavors and recipes. Because she is a labrador retriever, I don't have to worry about her being picky. She'll eat anything. I do want to make the recipes simple and keep the ingredients wholesome – organic when possible. The first variation I tried was chicken and sweet potato. These came out a little denser than I wanted, so my second batch had shredded cheddar cheese added to the dough. The cheese has a nice effect of creating rough layers sort of the way butter does in pastry dough. So even though the cheese isn't in any of the photos, I do recommend adding it to the dough for a better texture that is less likely to break your dog's teeth. And of course, she loves the flavor. Here is a
video I posted on Instagram
of her latest trick using one of these treats.
all you need: baked sweet potato, an egg, whole wheat flour, cooked chicken (not pictured: shredded cheddar cheese)
peel the sweet potatoes
mash them up
I've seen canned organic sweet potato purée in the grocery store and figure that would work too, although it might be wetter than your own sweet potato mash. Plus, I welcome a little texture in her dog treats so I don't mash it completely. I think you could also get away with canned chicken if you didn't want to cook your own, but those tend to be higher in sodium, which Neva doesn't need. I just dropped organic chicken breasts in boiling water until they were cooked through.
Note: Since this post, I've made this recipe a bazillion times and I prefer to roast the chicken breasts in a 375°F oven without seasonings or oil for 30 minutes, then turn the heat off and let them sit another 30 minutes. Then I pulse the slices in a food processor. These tend to have less moisture, which I think handles better in the dough.
slice the cooked chicken
place the slices in a food processor
blitz the chicken
This recipe calls for one egg, but I realize that the moisture of the dough will depend entirely on how much moisture is in your chicken and sweet potato. So if the dough winds up dry and unable to stick together, add another egg to help bind the dough.
prepped (not pictured: shredded cheddar cheese)
mix it all up
the dough should clump together, but not be overly sticky or overly crumbly
Roll the dough out on a work surface. If it is wet enough to stick to the rolling pin or your work surface, lightly flour the surface and roll the dough. One thing I like to do when I have rolled the dough to the desired thickness is to pick it up off the surface and set it back down. That way, after you cut out the shapes, they won't be firmly stuck to the surface and deform when you pull them away. If you need to, dust more flour under the dough before you start cutting. Gather the scraps together, re-roll, and cut more shapes. And because I insisted on adding cheese to my second round of treats, I'm here to tell you to line your baking sheet with either foil or parchment – it just makes clean up a breeze instead of spending time scrubbing burnt cheese off of your baking sheet. Ask me how I know…
roll out the dough
cut out shapes
these can be arranged pretty tight because they don't spread
baked
Be careful not to roll the treats too thin or they will burn. My test for doneness is when the centers give slightly under my finger when I poke them. Then I shut off the oven and leave them in with the oven door closed until they are hard or when the residual heat has completely dissipated (i.e. cooled). I don't make chewy treats because I think crunchy treats are better for helping to clean Neva's teeth. If you do make chewy treats, remove them from the oven to cool after they reach the soft-poke stage, and store them appropriately to avoid mold and spoilage. I mean, chewy cookies don't last forever on your counter, so why would chewy dog treats? Neva loves her new treats. I think she likes eating the little people shapes more than the flowers – ha!
bag them up for all your pup friends
outtake: she couldn't help herself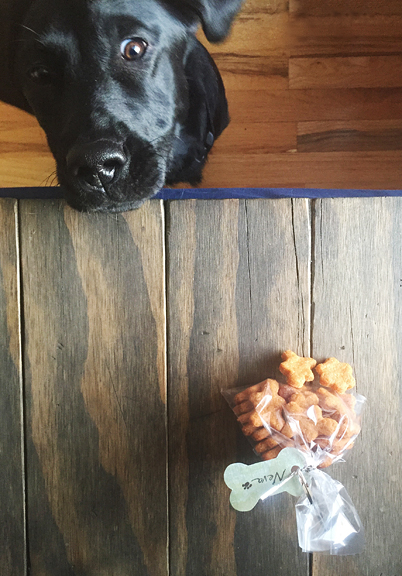 Chicken Sweet Potato Dog Treats
[print recipe]
modified from this recipe
1 1/2 cups (9 oz) cooked chicken meat, finely chopped or pulsed in a food processor
7.5 oz baked sweet potato, peeled and mashed (or use canned pumpkin or sweet potato purée)
3/4 cup (3 oz.) cheddar cheese, shredded
2 cups whole wheat flour
1 small egg (when I double the recipe, I only use 1 large egg)
Notes: I used to boil the chicken breasts in water, but I now prefer roasting the chicken in a 375°F oven for 30 minutes, then shut off the heat and let sit another 30 minutes. I baked the sweet potatoes in a 375°F oven for an hour. Just poke the sweet potatoes all over with a fork, then set them directly on the oven rack in the middle of the oven. Place a sheet of foil at the bottom of the oven (or on the lowest rack – just not directly under the sweet potatoes) to catch the drips.
Preheat oven to 350°F. Mix all of the ingredients together until the dough is well blended. Roll the dough out on a lightly floured work surface to 1/4-inch thickness. Cut out shapes and arrange on a foil- or parchment-lined baking sheet. Bake time will depend on size of the treats. For 1-inch diameter treats, start testing doneness after 15 minutes by lightly poking the center of a treat with your finger. For larger treats, allow for more baking time (but keep an eye on it the first time around). Treats should be slightly soft in the middle at which point you can remove them for soft treats. For crunchy treats, shut off the heat and leave the oven door closed. Let the treats dry out in the residual heat, but check to see that they aren't burning at the edges. Store soft treats in a sealed container in the refrigerator for up to a week. Store hard treats in an air-tight container for up to a week. If storing for longer, refrigerate or freeze them. Makes 100+ 1-inch treats.
more goodness from the use real butter archives