Recipe: japanese cucumber salad
I kept abreast of the blizzard that hammered the East Coast this weekend through updates from my parents and all of the pictures of friends shoveling their driveways. It's always a little painful when cities, warm climates, and flat topography get a lot of snow – not just because it causes complete chaos, but because everyone complains about it and most people don't know what to do with it. I mean… WE know what to do with three feet of snow. But alas, it was all sunshine and blue skies around here. We know what to do with THAT, too!

getting a good workout on skate skis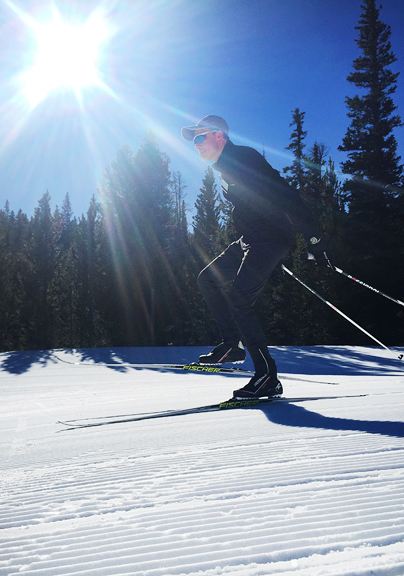 this one, she loves the snow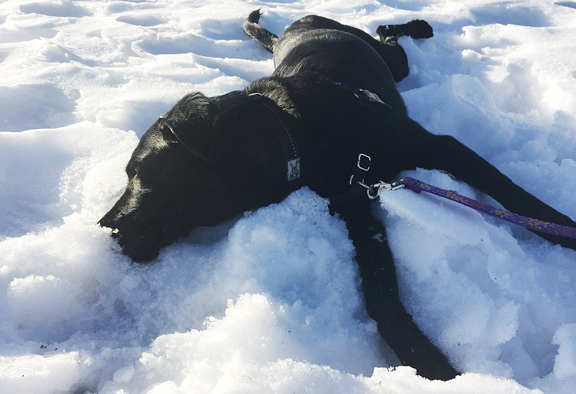 got her attention with a treat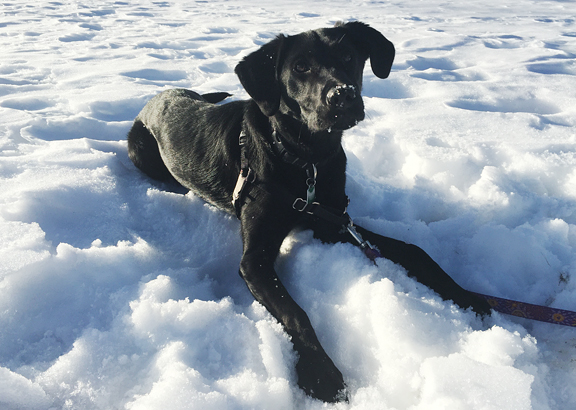 neva practices the "gentle" command and takes a small treat from my mouth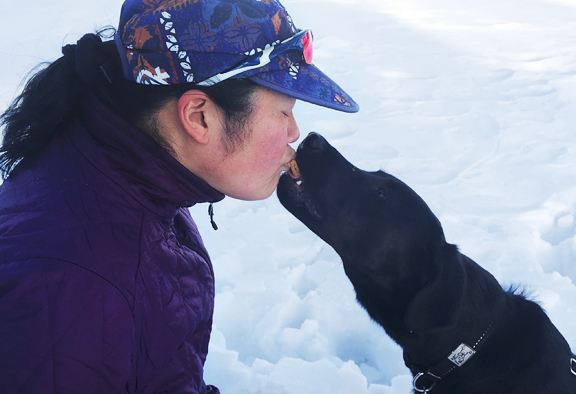 With a short trip on my calendar this week, I'm going to go with a quick recipe that is a remake of an old one from 2007. Back in 2007 I hadn't really gotten into my food blogging groove, so there are some recipes that could use the proper make-shoot-document treatment. Since we made sushi over the weekend, it was a good opportunity to shoot and re-share this bright and tangy Japanese cucumber salad.
simple as: rice vinegar, sugar, sesame seeds, cucumbers
The key to success in this recipe is to use English or Persian cucumbers – the crisp varieties that don't have a ton of seeds or excess juiciness. That means you should steer clear of the ubiquitous American slicing cucumber that has thicker skin, more water content, and lots of seeds. Start by making the dressing, which is simply rice vinegar (I use seasoned rice vinegar) and sugar. Bring the two to a boil while stirring to dissolve the sugar, turn off the heat, and let the dressing cool.
add rice vinegar to the sugar
Now is the time to practice your knife skills or use a mandoline slicer, if you have one. For smallish cucumbers, I tend to leave them whole and slice thin circles. If the cucumber is large like an English cucumber, I typically cut the cucumber in half lengthwise and slice thin half-moons. Thin is a relative term, so shoot for 1/16th to 1/8th of an inch in thickness.
slice thin
The dressing should be cooling while you slice the cucumber(s). It shouldn't take too long, as the heat of such a small volume of liquid should dissipate quickly. Just be sure that the dressing isn't hot. We don't want to cook the cucumbers, we merely want to lightly pickle them.
pour the dressing over the cucumber slices
Toss the cucumber and dressing together, then let that salad rest for an hour in the refrigerator. The bottom half usually soaks in the dressing leaving the top half high and dry. I often give the salad a thorough mixing a couple of times during its hour of chilling. When you are ready to serve the salad, sprinkle some toasted sesame seeds on top.
as refreshing as it looks
This crunchy and delicate salad makes a great accompaniment to any sushi. I also love it alongside poke or with chopped bits of cooked octopus (tako) tossed in. It is particularly satisfying on a hot summer day, although we are happy to eat it any time of year.
sushi is a wonderful thing
with a side of cucumber salad
Japanese Cucumber Salad
[print recipe]
9 oz. cucumber (1 English cucumber or 4-5 Persian cucumbers)
3 tbsps sugar
1/2 cup rice vinegar (seasoned)
toasted sesame seeds (optional)
If the cucumber diameter is more than an inch, cut the cucumber(s) in half lengthwise, otherwise leave the cucumber(s) whole. Slice the cucumber into 1/8 inch to 1/16 inch thick rounds or half-moons and place in a medium bowl. Heat the sugar and rice vinegar in a pan, stirring until the sugar is dissolved and mixture is boiling. Remove from heat and let cool. Pour the vinegar mixture over the cucumber slices. Toss the cucumber and dressing together. Cover and refrigerate for at least an hour. Sprinkle with sesame seeds and serve. Serves 4-6 as a side dish.
more goodness from the use real butter archives