Recipe: chocolate soufflé
I wrote a short piece for Lands of Plenty on Chinese dumplings if you'd like to hop over and read it. The illustration was created by the talented Melanie Kwan.
Happy Chinese New Year! While everyone was getting ready for their big game parties on Sunday, we were busily cleaning the house and prepping food all weekend for our New Year's Eve feast. It was just as well since the winds were horrible here, so we didn't feel as if we were missing out on anything outside. I figured the lunar new year could mean something new for Neva, too! It's her first Chinese New Year, after all.

a pretty new collar for her to encase in mud…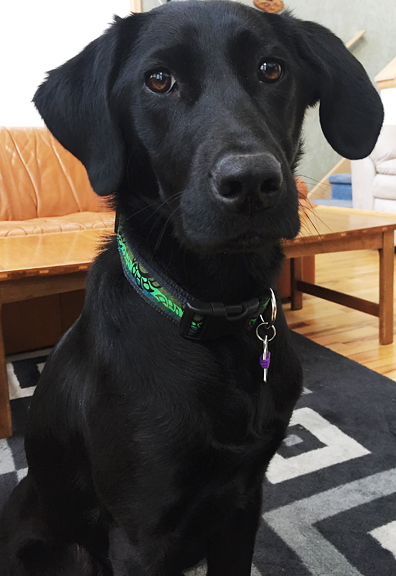 high winds can sometimes deliver dramatic cloudscapes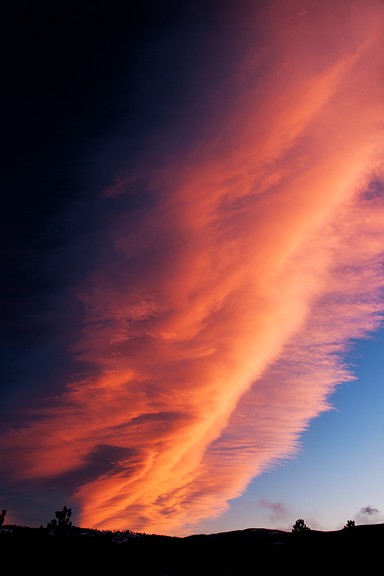 For some reason, this year's cooking went more smoothly than previous years and I had the bulk of it done by Saturday night. I also think as I get older I'm okay with letting some things slide. For instance, I usually try to make
stir-fried Chinese rice cakes
, but instead of making yet another dish and having even more food to finish before it spoils, I just tossed a few of the rice cakes into the
cellophane noodle soup
and called it good. I'm slowly learning to let go of ridiculous expectations that are only in my mind and trying to focus more on reducing stress. Also? I have a terrible habit of making too much food, so I made a concerted effort to make the dishes in smaller quantities and I sent Jeremy with some of the scallion pancakes and potstickers to our favorite neighbors. It's good all around.
fragrant pears, satsuma mandarin oranges, and a red envelope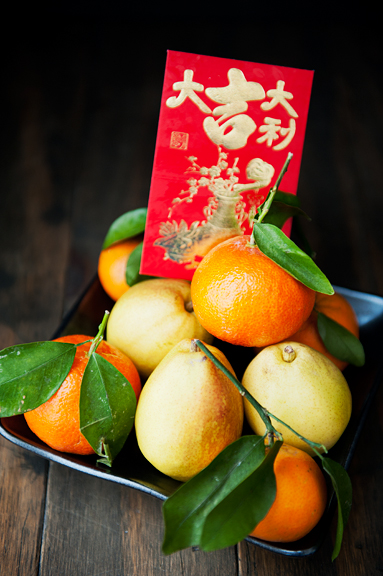 lucky ten ingredient vegetable before mixing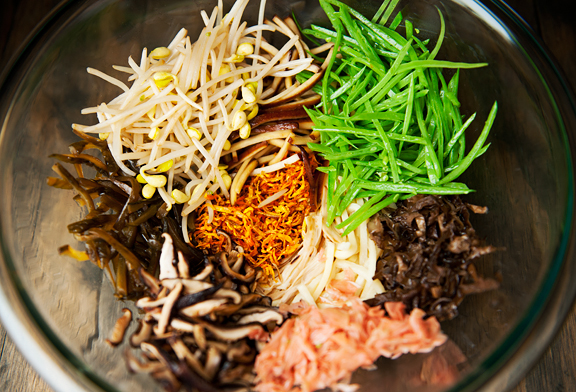 making scallion pancakes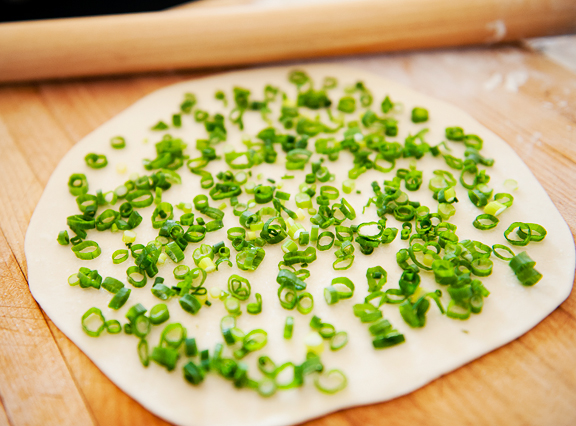 frying up some pork potstickers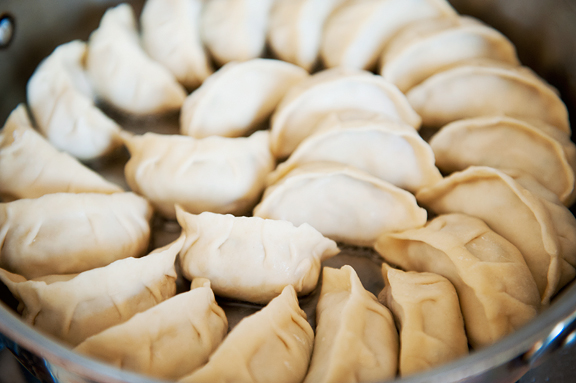 our small feast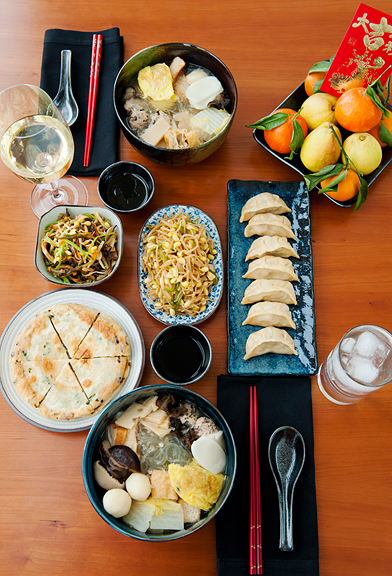 so good to finally sit down and enjoy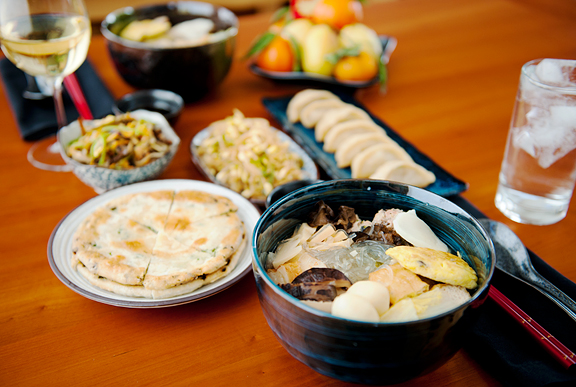 Now with Chinese New Year cleaning and cooking done, I can sit back and take a load off my feet… sort of. What's that you say? Yes, Valentine's Day is coming up. We don't really do that around here. There are no gifts, no surprises, no unauthorized expenses, no nothing other than our typical hugs and giggles and I-love-yous. But for those of you who like to cook or bake for those people you love dearly, I can get behind that. This gluten-free chocolate soufflé has been sitting in my archives for several months and it seems appropriate right about now. We start with a chocolate pastry cream.
egg whites, egg yolks, vanilla extract, unsweetened chocolate, sugar (twice), butter (twice), powdered sugar, cornstarch, cream of tartar, cocoa powder, salt, and milk
whisk the yolks, milk, sugar, cornstarch, cocoa, and salt together over medium heat
stir the chocolate, butter, and vanilla into the mixture
chocolate pastry cream
While the pastry cream cools to room temperature, you can butter and sugar your ramekins. I've tried this recipe a couple of times with different sized ramekins, but in general my biggest issue was my altitude. Soufflés want to rise to the sky up here at 8500 feet and then they come crashing down before they are even done setting up. If you are at an elevation greater than 5000 feet, then I have some suggestions to help you keep the soufflés under control like whipping the whites to soft peaks rather than stiff peaks or filling your ramekins a little below the rim. But in general, you should try to make the recipe per the original instructions the first time because they just might turn out fine for you. If they fail, then you can start futzing with the method or ingredients. This is why you shouldn't test a new recipe when you are having guests over (and frantically emailing or asking a vague question of the blogger in the comments section).
coat the ramekins in butter and sugar
whip the whites until foamy
add cream of tartar and whip until soft peaks
add the confectioner's sugar and whip to stiff peaks
fold a third of the whites into the pastry cream at a time
Soufflé batter is light and fluffy, full of air bubbles from the egg whites. If you overmix the batter, you will deflate many of the air bubbles and your soufflé may not rise enough. However, at high altitudes the soufflés rise exuberantly because there is less air pressure to fight as they grow tall faster than they can bake and set up. If your soufflés disembowel too early in the oven (this is why setting them on a rimmed baking sheet is handy) then consider whipping your egg whites less (to soft peaks) or mixing the whites with the pastry cream a little more vigorously than usual. This will result in less lofty air bubbles in your batter which might reign in the rising soufflé. Another trick is to fill the ramekins below the rim to curb the rise and fall of the soufflé. The ones I underfilled fared far better than those I filled to the rim. If you are at or near sea-level, I imagine this recipe should be solid (it was described as foolproof on the Fine Cooking video page).
fill the ramekins
level the tops
run your finger along the edge to make a little trench
some overly zealous risers
Once the soufflés are baked, they should be garnished (simply) and served immediately. As they cool, they will begin to deflate. It's simple physics and there isn't much you can do about it. I like to dust mine with powdered sugar and top them with a little fruit and some fruit purée – in this case I used raspberries – which taste great with the chocolate soufflé. So go forth and bake and enjoy!
serve it pronto
break through the top and pour some purée in the well
Chocolate Soufflé
[print recipe]
based on this recipe from Fine Cooking
for the ramekins
2-3 tbsps unsalted butter, softened
3-4 tbsps granulated sugar
chocolate pastry cream
4 large egg yolks
1 1/4 cups whole milk
1/2 cup granulated sugar
2 tbsps cornstarch
1 tbsp Dutch-process cocoa powder
1/4 tsp table salt
4 oz. unsweetened chocolate, finely chopped
1 tbsp unsalted butter
1 tsp vanilla extract
meringue
8 large egg whites, room temperature
1/2 tsp cream of tartar
1 oz. (1/4 cup) confectioner's sugar, plus more for dusting
Place your oven rack in the lower third of the oven. Butter 8 6-ounce ramekins and coat the insides with the sugar, pouring any excess out. Set side. In a medium saucepan, whisk together the egg yolks, milk, sugar, cornstarch, cocoa, and salt over medium heat until the mixture begins to bubble. Continue simmering and whisk until smooth and very thick. About another 2 minutes. Remove from heat. Whisk in the unsweetened chocolate, butter, and vanilla extract until the pastry cream is smooth and glossy. Cool the pastry cream over ice, whisking often until it reaches room temperature (about 10 minutes).
Preheat oven to 375°F. Beat the egg whites with a whisk attachment in a stand mixer on high speed for 30 seconds until it is foamy. Add the cream of tartar while the mixer is running and beat for another 30-60 seconds until the whites reach soft peaks. Add the confectioner's sugar a tablespoon at a time while the mixer is on and beat the whites until glossy and stiff (but not dry or broken) – about 30 seconds. If you are baking at high altitude (higher than 5000 feet), do not whip the whites to stiff peaks, but to soft peaks (or your soufflés might rise too fast and disembowel in the oven).
Stir the pastry cream to loosen it. Fold a third of the egg whites into the pastry cream at a time making sure that there are no white streaks after you have incorporated all of the egg whites. Divvy the batter among the ramekins, smooth the tops with an offset spatula, and run your index finger along the inside edge of each ramekin to create a shallow trench. If you are baking above 5000 feet, I recommend filling the ramekin 1/2 to 3/4 inch below the rim. Place the ramekins on a rimmed baking sheet and bake for 15-20 minutes until a toothpick inserted in the center comes out with just the tip wet. Dust with powdered sugar and serve immediately. Makes 8 6-ounce soufflés.
more goodness from the use real butter archives