Recipe: chocolate cloud cake
I hope you all had a good weekend. Mine, you ask? Well… you might say it was EPIC.

friday morning and still coming down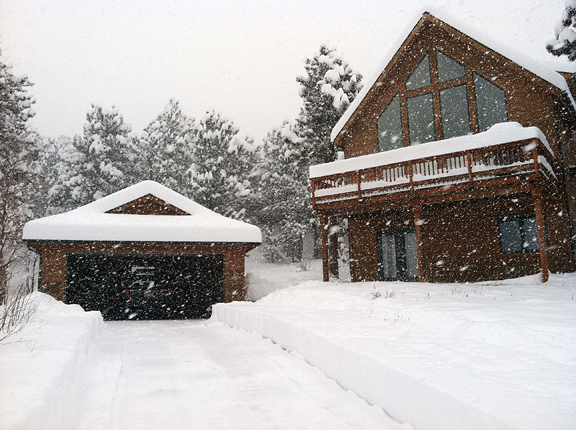 See that? That's a newly cleared driveway. That driveway, which belongs to me, was ever so sweetly snow-blown by my dear neighbor who saw me desperately shoveling 18 inches of fluffy white at 7:30 am so I could go ski at the local hill when the lifts opened. My neighbor is going to get chocolate in the very near future.
knee-deep, dry powder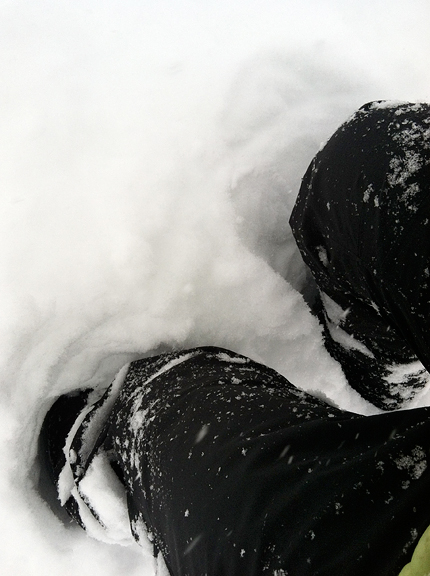 with my buds jason and jared atop a double black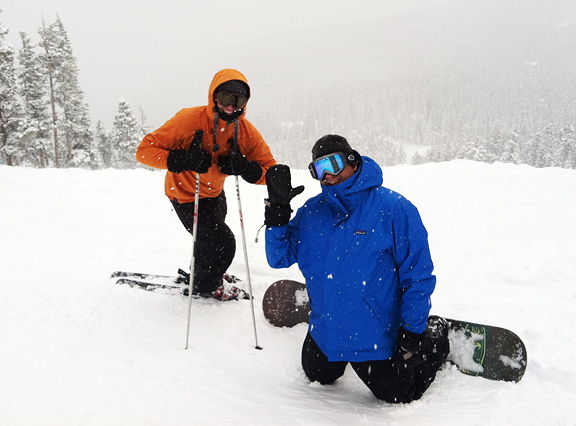 Best. Day. Of. The. Season. And poor Jeremy was at a conference in South Africa all week. We got a total of 31 inches at my house over the course of 1.5 days, which ain't too shabby in my book. Of course, being Colorado, you can't keep the sun away for long at all.
a glorious saturday morning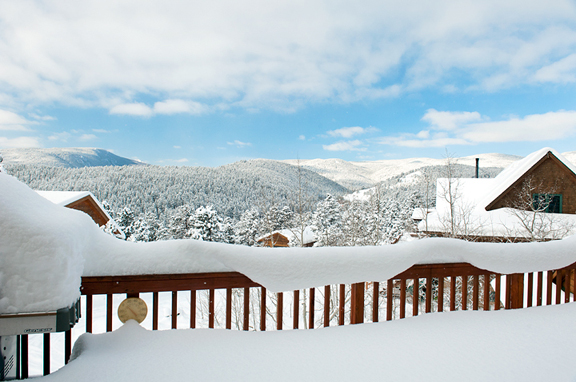 pretty snowflakes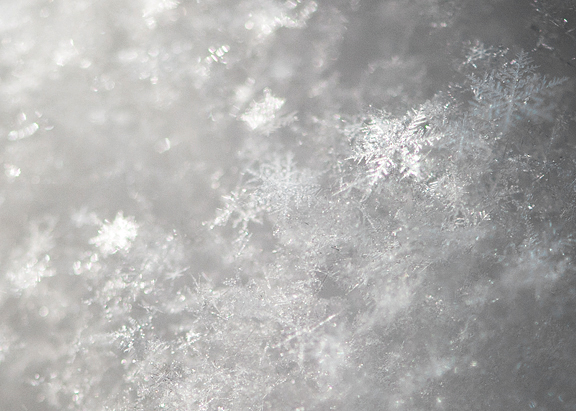 It seemed when I wasn't skiing, I was shoveling snow. Kaweah was my little shadow as I dug paths through the thick white blanket. She used to go bounding into the deeps, but is too old to get herself unstuck these days. I keep her close and she has fun shoving her schnoz into the walls of snow and sneezing in delight. The neighborhood is winter white. Jeremy is back home. Things are right with the world.
kaweah eating the snow on the deck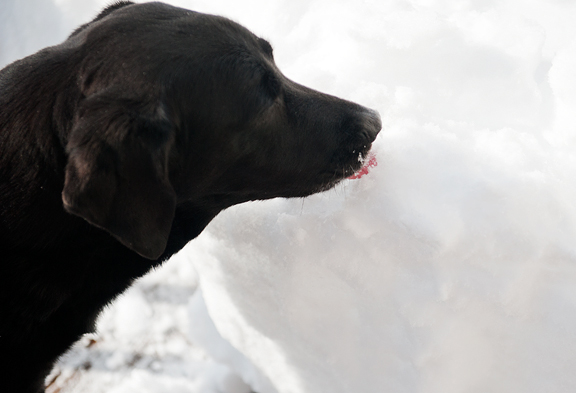 And it's February. Did you notice that too? I normally have nothing but scorn for Valentine's Day. I don't like pink and I think this sort of mass social pressure on men to do something nice for women is just plain stupid. Men should be nice to women all the time. And vice versa. Everyone just freaking be nice to everyone, will ya? I realize that's a bit much to ask.
But this week I am feeling the love in the kitchen. Oh, I don't know. Perhaps it's all of that powdery snow (and no winds – yet) putting me into the mood to make sweet treats. Maybe Valentine's Day is just a coincidence. Who cares? We're talking chocolate.

…and butter, sugar, eggs, booze, and orange zest
everything measured and prepped
line an 8-inch springform with parchment paper
I don't love chocolate the way most of the world loves chocolate. We get along fine and leave it at that. However, I do enjoy baking with chocolate and distributing it to friends who give chocolate a better home than I can (in their tummies). Those quick and easy recipes attract my attention because no one around here is made of spare time.
whisk butter into melted chocolate
beat eggs, yolks, and sugar together
I made a chocolate cloud cake. The soft, white cloud of whipped cream caught my fancy at first, but then I liked how relatively simple the preparation was. It's a flourless chocolate cake and I've blogged
flourless
chocolate
cakes
before. This one folds in whipped egg whites, which I was curious to try.
stir the chocolate into the egg mixture
add orange zest and some grand marnier
The recipe also has an orange theme which I find particularly appealing with all of the winter citrus marching through the markets. My incentive to make a recipe grows exponentially when I happen to have all of the ingredients in my house. Rock on.
whip the whites and some sugar to soft peaks
fold a little into the thick chocolate mixture, then fold in the rest
fill the cake pan
smooth the top
If your springform pan leaks like mine does, I highly recommend placing a baking sheet under the pan so you don't wind up having to clean burnt flourless chocolate cake off the bottom of your oven. Yeah, that happened. The cake will puff up like a soufflé and when you take it out of the oven to cool, the center will crater. Don't be alarmed. This is intended. The outer crust is super delicate, so do your best to minimize man-handling of the cake if you are at all concerned about presentation (if not, then go for it).
cooled
fill the crater with whipped cream
garnish as you like
My whipped cream is flavored with a touch of sugar, vanilla extract, and a hint of almond extract. Orange, chocolate, and almond make a nice trio. I sprinkled some shaved chocolate over the whipped cream and topped it off with candied blood orange peel I had lying about. The resulting cake is a smooth, rich chocolate interior with orange accents encased in a light and crispy exterior crust crowned with a cloud of whipped cream (to conveniently hide any imperfections). If you refrigerate the cake, it becomes thicker and denser. I prefer to serve it room temperature because of the silky texture and the more pronounced presence of the orange flavor. So if you're looking for a fun, but not terribly involved baking project for Valentine's Day or any day, this might be up your alley.
chocolate cloud cake
your slice of lovin'
Chocolate Cloud Cake
[print recipe]
Classic Home Desserts by Richard Sax
8 oz. good quality bittersweet chocolate, chopped (I used 67% Valrhona)
1/2 cup (8 tbsps) unsalted butter, cut into pieces, room temperature
2 whole eggs
4 eggs, separated
1 cup sugar
2 tbsps cognac or Grand Marnier
zest of an orange, grated
2 cups heavy whipping cream, chilled
2 tbsps sugar
1 tsp vanilla extract
1/2 tsp almond extract
unsweetened cocoa powder or shaved chocolate for garnish
Oven 350°F. Line the bottom of an 8-inch springform pan with a round of wax or parchment paper. Don't butter the pan (I know, this made me nervous, but it works out fine). Melt the chocolate in a double boiler, a bowl set over a hot water bath, or on half-power in the microwave for a minute at a time (stirring in between each minute). Whisk the butter pieces into the chocolate until melted. In another bowl, whisk the two whole eggs with the four egg yolks and half of the sugar until blended. Whisk the warm chocolate mixture into the eggs and then add the cognac or Grand Marnier and the orange zest. In a large bowl, beat the four egg whites until foamy and slowly add the remaining half cup of sugar and continue beating to soft peaks. I used a stand mixer with balloon whip attachment. Fold a quarter of the egg whites into the chocolate mixture to temper it (the chocolate is quite thick and the whites are delicate, so we try to incorporate a small amount first to loosen the chocolate up before folding in the rest). Gently fold the remaining whites into the chocolate until it is uniform in color.
Pour the batter into the pan and smooth the top. Bake until the top of the cake is puffed up and the center no longer jiggles. This took me about 35 minutes. Take care not to overbake the cake. Let the cake cool in the pan on a cooling rack. The center of the cake will subside – this is intended. When the cake is cooled, loosen the cake from the sides of the pan with a knife and release the sides of the pan. I carefully slid my cake off the pan base onto the cake stand, although I couldn't remove the parchment without possibly destroying the cake. Just before serving the cake, whip the cream, sugar, vanilla and almond extracts in a stand mixer to soft peaks. Fill the crater of the cake with the whipped cream. Garnish with a dusting of cocoa powder or sprinkling of shaved chocolate. (I added candied blood orange peels too.) Serves 8-12.