Recipe: elote (mexican street corn) fritters with lime crema
***********

Hi guys, I finally caught up on answering comments from the past 6 weeks. My apologies for being a slacker, but you know… stuff and things. xo -jen

***********
Whenever the snows begin to melt in late spring and the sun rises higher in the sky like an overachiever, I start to panic internally about the onslaught of summer. I call it an onslaught because it feels like an assault – the intense sun burning the skin on my arms, seeking relief in our basement because the rest of the house is so hot, pine pollen dusting everything with a thick coat of yellow. But the oppression eventually (hopefully) gives way to the southwestern monsoon some time in July, which delivers relief in the form of daily afternoon cloud buildups, big temperature drops, and that oh-so-heavenly release of rain that washes over the land, the animals, the trees, the flowers, the rocks, everything. The monsoon was a little late getting here this year, but it has finally arrived. It is spectacular. For me, there are three parts to summer in the mountains: 1) the sucky part with the hot, dry, and pollen-filled air 2) the delicious part with the monsoon rains and 3) the cooldown which is really pseudo-autumn. We are now well into summer part 2, and it is glorious.

bluebells at 11,000 feet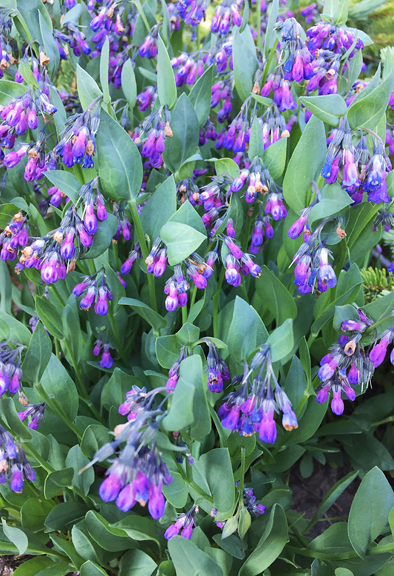 blue columbines greet the day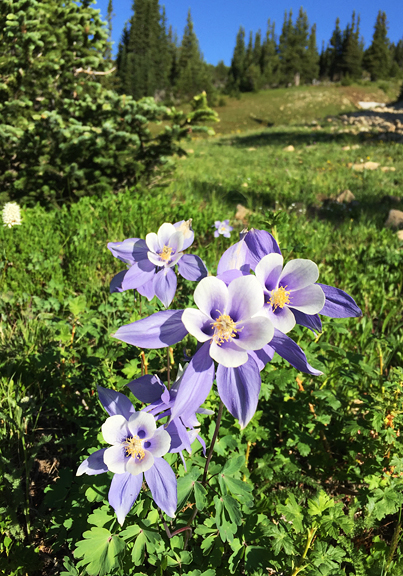 at the top of my 2000 ft. climbing trail run to 11,500 ft.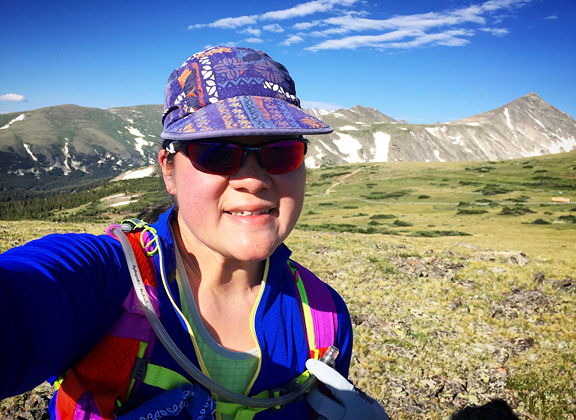 paddling long lake in the indian peaks wilderness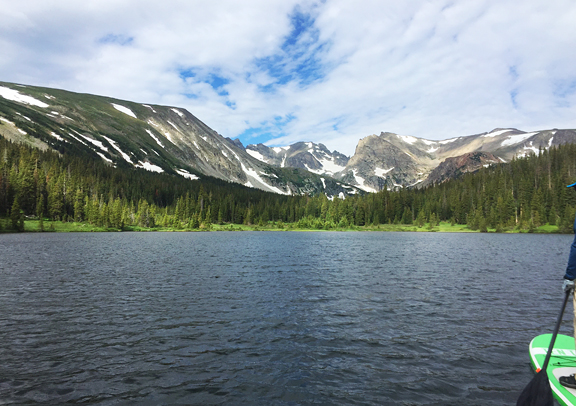 snow and ice floating on blue lake (indian peaks wilderness)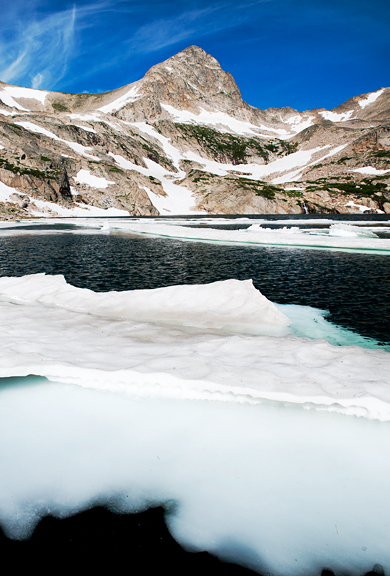 cascades and parry's primrose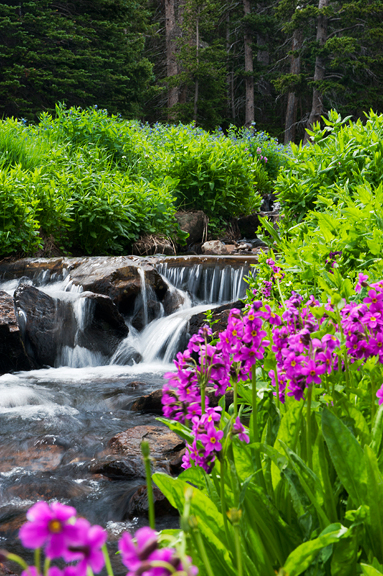 happiness is a colorado mountain dog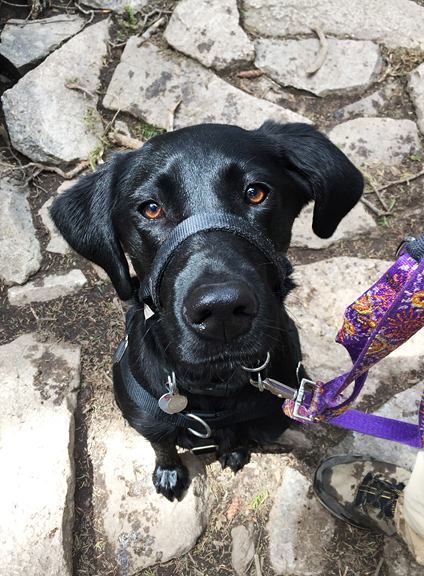 thank you for the rain, clouds
You know what else I love about summer part 2? The arrival of local Colorado Olathe sweet corn. You all probably don't know about our amazing Colorado Palisade peaches or the Olathe sweet corn – we eat it all up such that there isn't any left to ship out of state, so it's a secret *wink*. Ever since we moved to Colorado, I only buy corn in summer when it is at its sweetest and most delightful. We like to eat it straight up boiled or grilled, but every now and again I'll splurge on the calories and make Mexican-style corn (elote). And then last week I tried a recipe that makes our summer trail runs very necessary – elote fritters.
white corn
brush a light coat of vegetable oil on the cobs
grill the ears until moderately charred
cut the kernels off the cobs
There are three ears of corn in this photo sequence, but in hindsight, I would have used four ears (which I indicate in the recipe below). I grilled my corn, because it's easy for me to do and because I like that charred flavor and texture. If you are grill-less, then you can boil or steam your corn, cut the kernels off, and brown the kernels in a little vegetable oil in a skillet or sauté pan. Once the kernels are ready, they get added to butter-sautéed onion and jalapeño.
minced jalapeño, minced sweet onion, butter, salt, corn
fry the onion and jalapeño in butter until just soft (but still crunchy)
add the corn
let the corn cool
Now apparently the corn mixed with a sauce of sour cream, mayonnaise, cotija cheese, lime, garlic, cilantro, and pepper powder (chipotle in this case) is call esquites and it is served in bowls. I never knew of this wondrous dish, but now I do and so do you if you didn't already. Once you mix the sauce, you can refrigerate it to let the flavors meld overnight. I misread the original recipe and mixed the esquites and refrigerated it all overnight. Seemed to work fine. Also of note is the use of Mexican crema in more authentic versions. Mexican crema can be approximated with sour cream, a little salt, and some lime juice – at least, that's what I did.
corn, cilantro, sour cream, mayonnaise, garlic, lime, salt, chipotle powder, cotija cheese
prepped
mix everything together but the corn
stir in the corn
at this point you can refrigerate or continue
The dipping or drizzling sauce on the original recipe didn't appeal to me as much as a lime crema I had in my head. It is mostly sour cream with some mayonnaise flavored with salt, lime juice, lime zest, and a hit of grated garlic. Creamy, yet tangy, bright, and zippy. It's best to make the crema before you fry the fritters so that it is ready to act as condiment extraordinaire while the fritters are still hot and crisp.
sour cream, mayonnaise, salt, lime, garlic
ready to roll
mix everything together
keep in the refrigerator until ready to serve
When you are ready to fry your fritters, get about two inches of vegetable oil heating to 360°F. I've learned over the years after frying things not-quite-right that I need to reduce the temperature of my frying oil the same way I do for water because of my elevation which is 8,500 feet above sea level (reduce by 1 degree for every 500 feet above sea level). In doing so, fried things come out golden and not too greasy versus burnt and oil-soaked. So if you are a high-elevation dweller, consider that adjustment.
Most of the fritter batters I looked at call for milk, but I prefer beer. I don't even drink beer, but I love me some beer-battered FILL IN THE BLANK. Beer batter is where it is at. Mix your dry ingredients, then your wet ingredients, then stir those together. Then stir the batter into the corn. Simple.

beer, flour, salt, baking powder, eggs, honey, esquites
stir the dry ingredients together
beat the eggs first, then stir in the remaining wet ingredients
pour the liquid into the dry ingredients
stir
Pour half of the batter into the esquites (the corn mixture). Fold it in until it is thoroughly combined. Add a half cup of the batter at a time until the mixture is thick, but not runny. I added all of my batter to the corn at once, and while it turned out great, I think I could have withheld a half cup of the batter for a better consistency when dropping scoops into the hot oil. And you most certainly want to use a cookie dough scoop – it makes quick work of grabbing batter, lowering it upright to just above the hot oil, then gently turning it 90 degrees as you use the trigger action to drop the batter out of the scoop. Take care to avoid getting splattered with oil if a corn kernel explodes (I had two do it during this batch) because it's kind of scary and potentially painful or dangerous.
now add half the batter to the esquites (make sure your bowl has enough room)
keep adding batter until you get a thick consistency
use a 1-ounce to 2-ounce scoop for your fritters
fried to golden perfection and draining on paper towels
split one open to make sure it's cooked through
The elote fritters on their own are quite good, but drizzled with or dipped in the lime crema with a sprinkling of cotija crumbles and chopped cilantro elevates the whole thing to a level of snack achievement that is hard to beat. Consuming more than two or three is about all one human can manage in a sitting, but never fear. You can store the leftover fritters (not drizzled with sauce) in the refrigerator and reheat them in a 350°F oven for a few minutes until heated through and the outsides crisp up as good as fresh. Yet another reason to love on summer.
drizzle or dip, totally your choice
don't forget the cotija crumbles and cilantro
best eaten hot
corn corn corn, makes you glad you were born
Elote (Mexican Street Corn) Fritters with Lime Crema
[print recipe]
modified from this recipe
esquites
4 large ears fresh corn, shucked (about 4 cups of kernels)
vegetable oil for brushing the corn
4 tbsps unsalted butter
1/2 cup sweet onion, small dice
1 jalapeño pepper, cored, seeded, and minced
1/4 tsp salt
1/2 cup sour cream
1/2 cup mayonnaise
1 tsp chipotle powder (or ancho or guajillo)
1/2 tsp salt
2 cloves garlic, grated
1/2 cup cilantro, chopped (leaves only)
2 tsps lime zest (from 1 large lime)
2 tbsps fresh lime juice
3/4 cup finely crumbled cotija cheese
lime crema
3/4 cup sour cream
1/4 cup mayonnaise
1 lime, zest and juice of
1 clove garlic, grated
1/2 tsp salt
fritter batter
1 cup + 6 tbsps all-purpose flour
1 tsp baking powder
1/2 tsp salt
2 large eggs
1 tsp honey
3/4 cup cold beer
Make the esquites: Turn your grill on to high heat. Remove the husks and silk from each ear of corn. Brush the corn with vegetable oil and set the ears on on the grill, directly over the flame. Give the ears a quarter turn every 3-4 minutes until the kernels are moderately charred (take care, some kernels may burst). Remove from heat and carefully cut the kernels from the cobs with a sharp knife. Four large ears should yield about 4 cups of corn.
In a large sauté pan, melt the butter over medium-high heat. When the butter is hot, add the sweet onion, jalapeño, and 1/4 teaspoon salt, and sauté for a couple of minutes (we don't want the onion soft, just slightly crunchy). Stir in the corn and let cook for another 2-3 minutes. Remove from heat. In a large bowl, stir the sour cream, mayonnaise, chipotle powder, 1/2 teaspoon salt, garlic, 1/4 cup cilantro, lime zest and juice, and 6 tablespoons of the cotija cheese together until blended. Mix in the corn. Cover with plastic and refrigerate overnight (or you can use it right away).
Make the lime crema: Stir everything together. Cover and refrigerate until ready to serve.
Make the elote fritters: Heat 2 inches of vegetable oil in a large pot to 360°F (343°F at 8500 ft. elevation). Whisk the flour, baking powder, and salt together in a medium bowl or quart measuring cup. In another bowl or measuring cup, beat the eggs thoroughly. Whisk the honey into the eggs. Slowly pour the beer into the eggs while whisking to incorporate. Stir the egg-beer mixture into the dry ingredients until combined (some lumps are okay). Place the esquites in a large bowl. Pour half the batter into the esquites and mix together. Add a half cup of the batter at a time until the mixture is thick without being runny. Using a 1-ounce or 1.5-ounce scoop, scoop the batter and carefully drop it into the hot oil. I worked in batches of 8 fritters at a time. Let the fritters fry until deep golden in color, about 2 minutes (less time for smaller fritters), then flip and fry another 2 minutes before removing to paper towels to drain. Check the first one to make sure it is cooked through and adjust cooking time accordingly. Beware of any corn kernels that pop during the frying as they can splatter a lot of oil. Serve hot with lime crema, remaining cotija cheese, and cilantro. Makes about 24 1/4-cup size fritters. Reheat leftovers in a 350°F oven for 5-10 minutes (depending on size).
more goodness from the use real butter archives