Recipe: blood orange sorbet
Who is excited for spring? Normally I'd be giving you all the stink eye, but I think I know why I, too, look forward to the vernal equinox this year. It's because we've had a really good and snowy winter. Some years we get shafted on a proper winter and the arrival of March sounds like parents telling kids they have to leave the amusement park after two hours of standing in line and not even getting on the ride. But this winter brought the goods!
The time change last weekend threw us for a little loop and now we are totally into it. The best part is the dogs don't know about the time shift! They are sleeping later (not really, but yes) and not demanding dinner until much later. It's fantastic. Also, we have rearranged our bedroom furniture so that Yuki sleeps in a (big) crate at night and Neva's bed is next to the crate and gated off. Containing the dogs overnight makes ALL the difference between a good night's sleep and walking around sleep-deprived with back aches and a crick in your neck the next day. Now they hop on the bed in the morning AFTER we have rested.

sometimes i find them napping together after a romp in the snow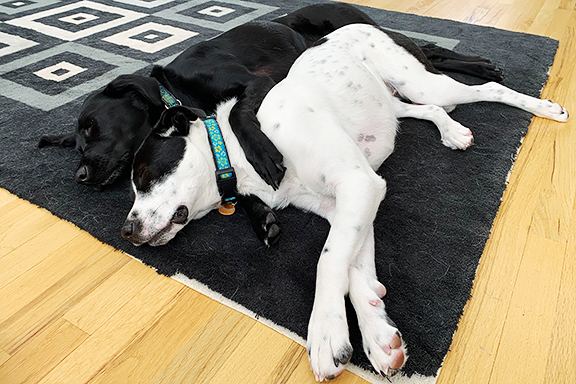 yet another powder day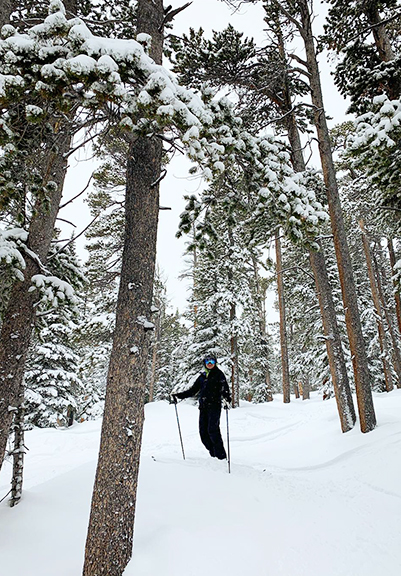 A storm is about to barrel down on Colorado, but I am feeling spring-ish. Blood oranges are in season winter and spring (depending on the variety), and I couldn't help grabbing a bag at the store a few weeks ago. Maybe you only indulge in sorbet when the weather is hot, but I love it all year. Even if you think the cold weather negates making sorbet, I have good news: you can freeze the juice and zest (separately) until the weather grows hot enough to warrant, nay – DEMAND, a batch of refreshingly bright blood orange sorbet.
blood oranges, lemon, sugar, grand marnier, water
zest one of the oranges
juice the oranges
Sorbet is so easy to make compared to its dairy-loaded favorite cousin, ice cream. Fruit, sugar, maybe some booze. Yes to the booze. A little booze actually helps to keep the sorbet scoopable and gives it that nice smooth texture. Start with a simple syrup flavored with the orange zest. If you like a super smooth sorbet, you will want to strain the finished syrup of zest and the blood orange juice of any pulp. Me? I keep it all in the sorbet. Call it rustic, if you must.
ready to make some sorbet
combine the zest, sugar, and water
cool the syrup
combine the syrup, orange juice, lemon juice, and grand marnier
Once the sorbet base is mixed, I like to cool it completely in the refrigerator. I find my Cuisinart ice cream maker does a better job of churning ice creams and sorbets when the base mixture is completely chilled. If the liquid is warm or even room temperature, my sorbets don't take on that soft-serve texture as easily or even maintain a puddle at the bottom of the churning bowl. Once the churning is done, you can eat the sorbet as a slushie or empty it into a freezer-proof vessel and enjoy proper frozen sorbet in a few hours.
pour the chilled liquid into the ice cream maker
churned to a slushy consistency
freeze thoroughly before serving
You can make orange sorbet if you can't find blood oranges – both are lovely. I happen to really enjoy the more mellow, less acidic flavor of blood oranges. They almost have a hint of berry flavor, too. Or maybe that's my vision influencing my taste buds? As good as it tastes, you have to admit the color is stunning. I also think a scoop of blood orange sorbet with a scoop of dark chocolate sorbet would be crazy good. Things to ponder as we bounce toward spring.
refreshing and fruity
so good, you'll want to freeze some blood orange juice for summer
Blood Orange Sorbet
[print recipe]
from Feasting at Home
zest of 1 orange, preferably organic
1/4 cup water
1/2 cup granulated sugar
2 cups blood orange juice
1 tbsp lemon juice
1 tbsp Grand Marnier or orange liqueur
Combine the orange zest, water, and sugar in a small saucepan. Set over medium heat and stir to dissolve the sugar. Bring to a boil for 1 minute. Remove from heat and let cool. Stir the cooled sugar syrup, blood orange juice, lemon juice, and Grand Marnier together in a bowl or 1 quart measuring cup and chill completely. Churn the mixture in your ice cream machine according to the manufacturer's instructions. Scoop the soft sorbet into a freezer-proof vessel, cover, and freeze. Makes a little more than a pint.
more goodness from the use real butter archives