Recipe: futomaki
Last week we went on a vacation. Of sorts. We brought Neva and Yuki along with us to Steamboat Springs for a ski trip. Sadly, most of what we previously loved about Steamboat were absent: 1) fresh powder and 2) our favorite sushi bar in town (Yama has closed indefinitely). We did ski the mountain and took the pups skijoring on dog-friendly trails at a couple of the Nordic centers near town. Yuki's endurance continues to improve and Neva is really becoming a well-behaved pup on the trails as long as she can run her brains out.

jeremy with neva and yuki at haymaker nordic center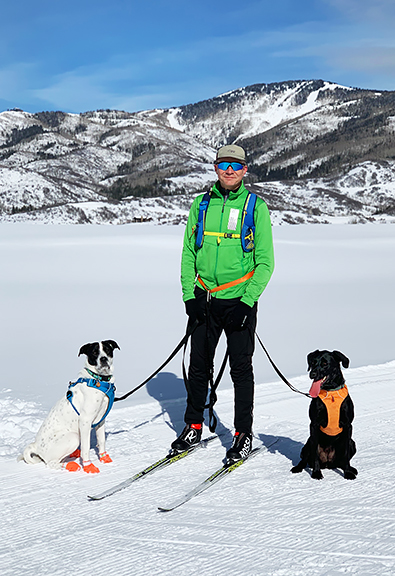 this is what yuki does when she doesn't want to go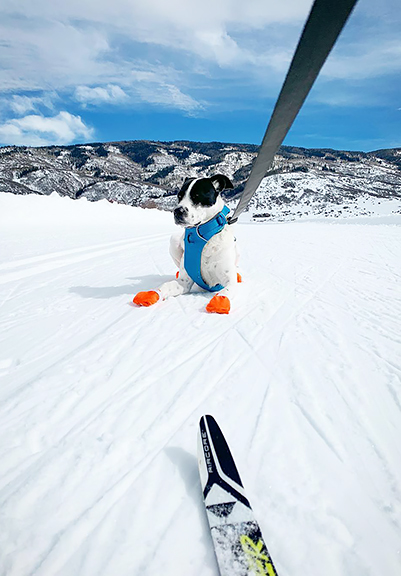 Steamboat is great and all, but after our third day we were over it. A big winter storm was about to blast its way through the state (big winter storm = powder) and we were slated to check out and drive home in the thick of it. Instead, we left a day early before the storm and drove home – not east to Nederland – but south to Crested Butte. It was the right decision. We arrived just as the snow began to fall, and proceeded to ski amazing powder, celebrate our 22nd wedding anniversary, and meet our friend's new puppy, Moke (Moe-kee).
the road south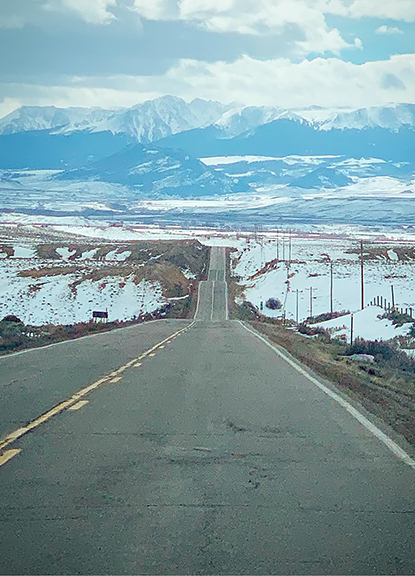 the snow piles up in crested butte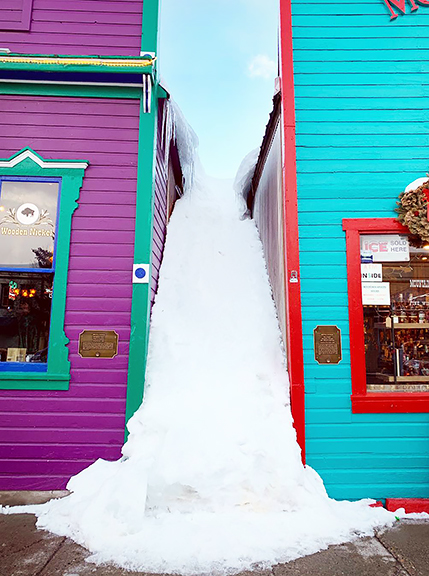 jeremy drops into a foot of fresh powder and free refills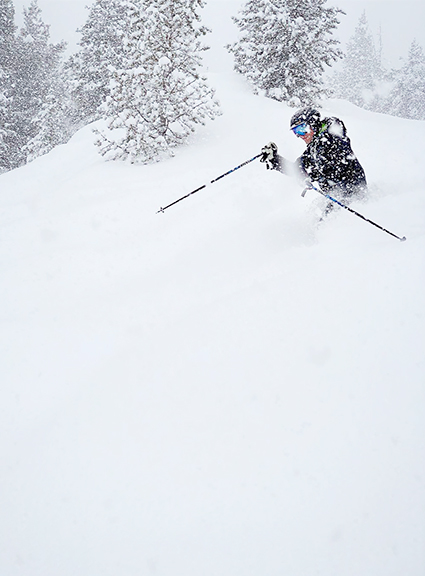 enjoying our anniversary dinner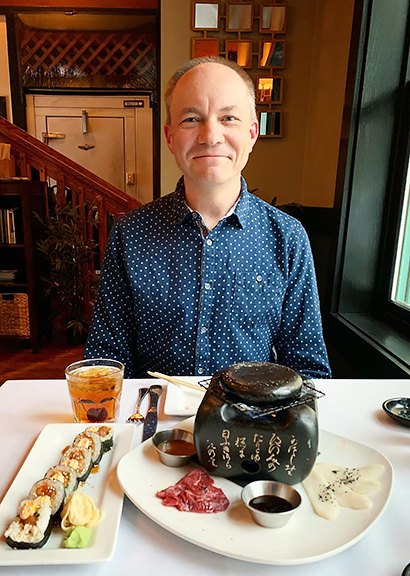 yuki playing with her new pal, moke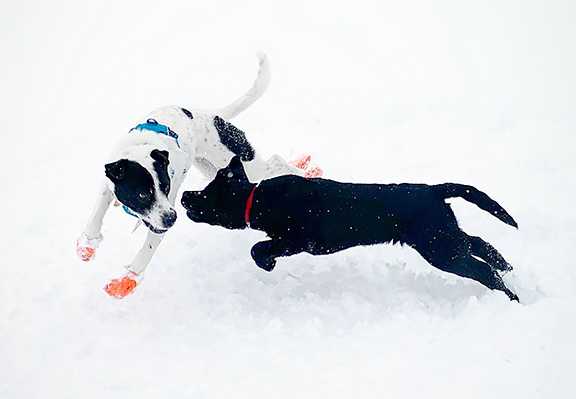 On our drive from Steamboat Springs to Crested Butte, we stopped at the Whole Foods in Frisco to grab salads for lunch and ran into my friend who lives in Breckenridge. We chatted and at some point in the conversation I apologized that we hadn't seen one another in a while. He dismissed it with a wave, "Oh, you don't have to explain it. You know me," he chuckled, "I'm a homebody." Back on the road, I mentioned to Jeremy that I didn't think of Graham as a homebody – he spends a good deal of time outside running, biking, hiking, skiing. Jeremy was silent for a moment, then, "Most people think of homebodies as people who stay indoors, but I think Graham meant he doesn't want to be away from home. Sort of like what we're doing now by going to Crested Butte."
It's true. I am becoming more of a Graham homebody every day. Jeremy has always been one. This might also explain why I try to replicate my favorite restaurant dishes at home, to avoid the headache of driving into town and interacting with people. The futomaki sushi roll has eluded me for over a decade because I didn't know that the sweet pink powdery ingredient, which is dried shredded sweetened cod, was called sakura denbu. Once I learned the proper name, I couldn't find it anywhere. Last year, I ventured into Denver's Pacific Mercantile Company on a little Japanese grocery safari with my pal, Ellen, and there it was in the refrigerated section. It was the final piece to my futomaki puzzle!

some of the less common ingredients for a home cook: unagi (grilled eel), sakura denbu, makizushi no moto (seasoned gourd strips with mushrooms)
I had always assumed there was a set recipe for making futomaki because most of the sushi bars I frequented made it the same way. It turns out you can make futomaki with whatever ingredients float your boat, so please feel free to customize! The version I make here follows the recipe from
Just One Cookbook
because this is how I like it AND I could either purchase or make the ingredients myself. I can easily find the unagi (grilled eel) and seasoned gourd and mushrooms at most Asian grocers, but I have only ever seen the sakura denbu in a Japanese grocery store. You can also purchase the tamago (egg omelette) at an Asian grocery store, but I find
making tamagoyaki
at home to be far tastier.
fillings: spinach, cucumber, tamago, unagi, kanpyo (gourd strips), mushrooms, sakura denbu
The ingredient prep is the most time consuming aspect, including steaming your sushi rice and seasoning it with rice vinegar, sugar, and salt. You can use plain steamed sushi rice. If you don't have sushi rice, try to get your hands on a short grain variety. We used to use plain steamed rice in sushi for years until we tried seasoned sushi rice and never went back. The extra little step of seasoning the rice makes a huge difference in taste for sushi. I blanch my spinach and squeeze any excess liquid from the leaves. I should note that you can also season your own kanpyo (gourd strips) and mushrooms instead of buying them canned. However, my saga of finding kanpyo followed a similar plot as that of the sakura denbu. In fact, the bag of dried gourd strips were in the same refrigerated section as the sakura denbu. The only problem was that the quantity was enough to last me several lifetimes (it was a HUGE bag). Should you want to season your own kanpyo and mushrooms,
Just One Cookbook
shows you how to do it. The general principle for the futomaki fillings is that they should be cut into strips or they should be distributed in a strip.
ready for assembly
The nori or seaweed is a rectangular sheet with one dimension longer than the other. When rolled around the long axis, the result is a longer roll with a smaller diameter and 8 pieces of maki. When rolled around the short axis, the roll is short and wide yielding about 6 pieces. We are rolling around the short axis for futomaki.
spread rice on the nori leaving a half-inch margin on the short sides
layer your ingredients near one end
ready to roll
To make your life easier, it's helpful to 1) use a bamboo mat for rolling sushi and 2) layer your more competent ingredients closest to the edge of the rice. The bamboo mat makes it possible to roll the maki with relatively even pressure along its entire length. The ingredients that fall apart easily like the sakura denbu or the bits and pieces of seasoned mushroom will tumble and probably spill out as you begin rolling if they are nearest to your starting edge, so place those closer to the far end of the filling assembly. Once you have your maki rolled tight, dip a sharp knife in water and slice the maki into two halves. Rinse and dip the knife in water before each slice for the cleanest cuts.
use the bamboo mat to roll the maki
the roll should be uniformly tight
slice in half
cut into six even pieces
arrange and serve
Back in the day when I attempted to recreate the sushi I love at home, it was pretty good, but not quite there. Over the years four things have happened to help improve my sushi. First, I ate a lot of sushi at sushi bars! Second, I grabbed a couple of basic Japanese cookbooks (this was the 90s!). Third, I started finding most, but not all, of the ingredients I needed in Asian grocery stores. Finally, the interwebz made it possible to identify missing pieces to my sushi puzzles through searches (thank you, Google) and wonderful Japanese food bloggers who spell it out for noobs like me. This futomaki tastes exactly the way I love it and now I can make it myself and happily resume my homebody lifestyle.
because "almost" doesn't cut it
futomaki love
Futomaki
[print recipe]
from Just One Cookbook
1 sheet nori
1 to 1 1/2 cups seasoned sushi rice (recipe below)
1-2 long strips cucumber
2 tbsps seasoned shiitake mushroom
2 tbsps seasoned kanpyo (dried gourd strips)
1-2 long strips of tamagoyaki (Japanese rolled omelette, recipe below)
1 tbsp sakura denbu (shredded, dried, seasoned, sweetened cod fish)
1 long strip unagi (grilled freshwater eel)
1-2 cups fresh spinach, blanched and squeezed of excess water
Assemble the sushi roll: Place your nori shiny-side down on a bamboo mat set on a flat surface. Wet your hands in water and shake off any excess. Spread a cup of the seasoned sushi rice evenly over the nori, leaving a half inch bare margin on both of the short ends of the seaweed. Press a little more rice on the nori if needed. Working from one of the short ends, place the cucumber a half-inch inside the edge of the rice. If your cucumber strip is too short to span the entire width of the roll, cut another piece so that the cucumber is as long as the roll's width. Layer the shiitake mushrooms, kanpyo, tamagoyaki, sakura denbu, unagi, and spinach next to the cucumber. Using the bamboo mat, roll the nori from the end where you set the cucumber, making sure to keep it tight while you press the ingredients in place as you roll it up. When your futomaki has been rolled, use a clean, wet knife to slice it in half. Clean the knife between slices and cut each half into thirds, giving you 6 equal pieces. Makes 1 roll.
seasoned sushi rice
2 cups sushi rice (uncooked)
2 cups water
3 tbsps rice vinegar
1 tsp salt
2 tbsps sugar
Combine the water and rice and cook per the instructions on your rice cooker. If you don't have a rice cooker: wash, drain, and soak the rice in water for at least 30 minutes, then drain. Combine rice and measured water in a saucepan and cover. Place pan over medium-high heat. When the water boils, reduce heat and cook for about 10 minutes. Turn off heat and allow rice to steam undisturbed for at least 10 minutes (don't remove lid or you'll release all the steam).
Combine the vinegar, salt, and sugar in a bowl and stir until salt and sugar are dissolved. Heap the cooked rice in the center of a large bowl. Allow rice to cool in the tub for 10 minutes. Pour the dressing over the rice and mix the dressing evenly with a large spoon or rice paddle. While mixing, fan the rice to cool it. The rice is ready to use when it reaches body temperature. Makes about 4 cups of seasoned sushi rice.
japanese rolled omelette (tamagoyaki)
5 eggs
2-3 tbsps dashi stock (I made a cup of stock from 1 cup boiling water and 1 tsp hondashi granules)
1 tsp sugar
1 tsp mirin
1/2 tsp salt
vegetable oil for cooking
Beat the eggs in a medium bowl until well blended (we don't want big globs of egg white floating around). Mix the dashi stock, sugar, mirin, and salt together in a small bowl and stir until the sugar and salt have dissolved. Beat the dashi mixture into the eggs until incorporated. Heat your tamago pan or a small omelette pan over medium flame. Dip a paper towel into a small bowl of vegetable oil so that it soaks up some of the oil. Using tongs or chopsticks, evenly oil the pan with the oil-soaked cloth.
Pour one-fourth of the egg mixture into the pan and cook until it is set and almost cooked. Grab the far end of the egg sheet with chopsticks and fold a third of the sheet over on itself toward you like would a business letter. I find a spatula helps too. Fold the egg sheet toward you again so that it is folded in thirds. Push the egg to the far end of the pan. Evenly oil the rest of the pan. Pour another fourth of egg mixture into the pan making sure it gets under the folded egg omelette (you want them to connect). When the egg has set and is almost completely cooked, fold the omelette in thirds toward you (just like before, but you are making layers). Repeat until all of the egg is used up. When the omelette is done, remove it to a bamboo mat (optional: line it with plastic wrap) and gently press the omelette into a square shape. Slice into 1/2-inch thick slices lengthwise, then slice into 1/2-inch thick strips. Makes about 8 long strips.
more goodness from the use real butter archives