Recipe: bakery-style butter cookies
I hope you all had a restful holiday and were able to recharge as needed. After all of the cookies were baked and distributed, we holed up in Crested Butte as 100 inches of desperately needed snow fell on us during Twixmas week. That kind of snow is the stuff of dreams. It was both magical and an enormous amount of work to clear by hand as our snow thrower was at the snow thrower doctor until the last day of the storm cycle. We did manage to crank out another year-in-photos digital card here: Jen and Jeremy's Year in Photos.

welcome to 2022!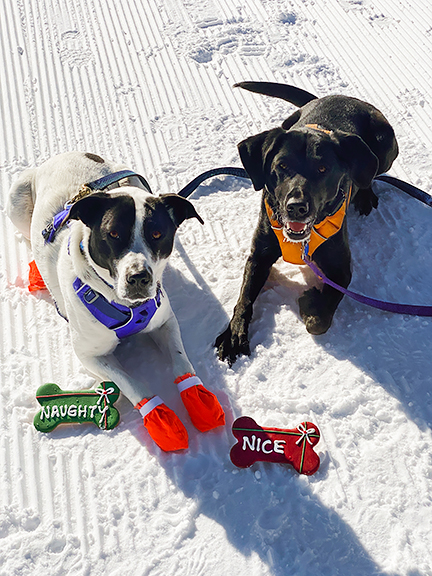 skating through a winter wonderland on the nordic trails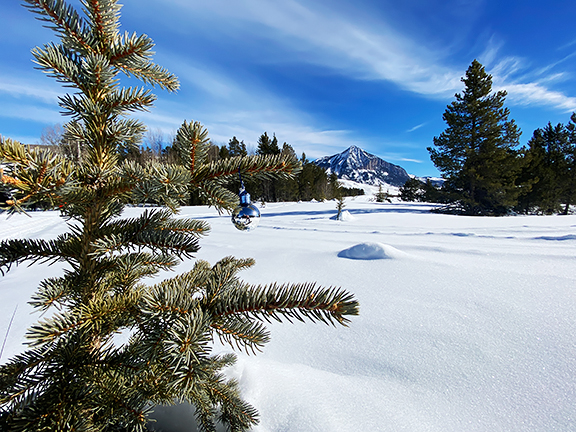 high avalanche danger meant low-angle backcountry fun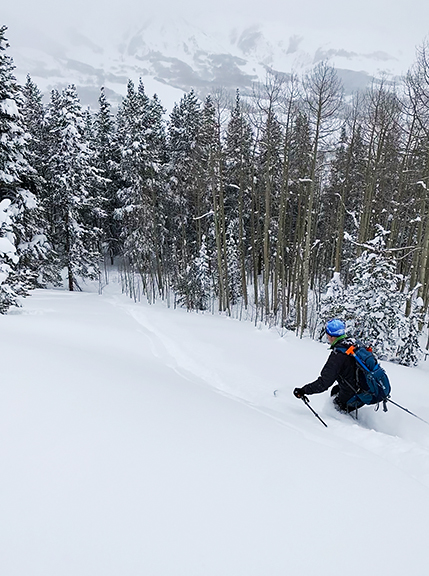 The plan was to resume documenting my latest favorite recipes in the new year, but I came down with Bell's Palsy a couple of weeks ago. It was alarming at first as we tried to determine if it was a stroke (it was not). Despite having a thankfully mild case of facial palsy, my daily functionality was limited for a couple of weeks, mostly by my leaky left eye. Now I'm finally feeling nearly normal after finishing the mega dose of steroids and antiviral medications. Normal is a good thing. Even almost normal feels supremely wonderful right now.
uphill skiing = human-powered fun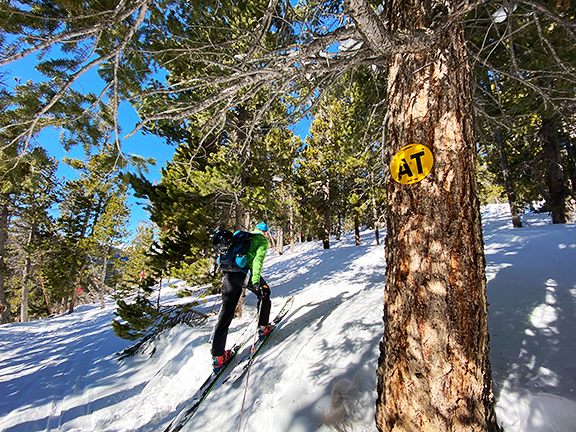 we are getting lots of miles with the pups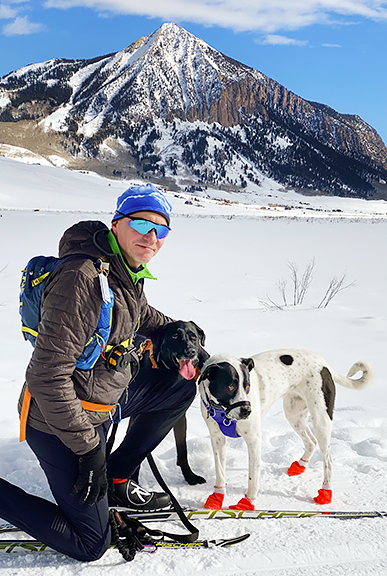 A few years ago
Deb
had posted a photo and link for some cheerful golden nubs that were sandwiched, dipped in chocolate, and rolled in sprinkles. My memory leans photographic and her cookies tickled my brain: a pink cardboard box filled with a variety of cookies, some of which conveyed a similarly happy vibe as Deb's.
Shortly after my sister turned 18, we road tripped from Virginia through Syracuse, New York, her birthplace, to Michigan where she would start her freshman year of college. Snowflake Bakery was on the "must visit" itinerary in Syracuse. Mom said they used to stand in long lines out the door at the bakery when Kris was an adorable toddler, and that the staff would sneak outside and hand Kris a cookie. It was my first time trying them in my 12 year old life. Delicate, delicious, not too sweet. Sharing cookies with Kris in the backseat of the Chevy as we sped west to Niagara Falls then onward to Ann Arbor, I tried to relish the time I had with my big sister and my best friend, dreading the trip home without her. Fast forward 38 years and I'm making these butter cookies from scratch and with all the feels.

flour, sugar, salt, butter, eggs, chocolate, vanilla extract, almond extract, sprinkles, raspberry and apricot jams
I can't tell you if these bakery-style butter cookies are the same as Snowflake's cookies because I don't remember. Snowflake Bakery is now permanently closed, but I plan to send some cookies to Mom because she has excellent taste memory and gives unflinching feedback. I can tell you that I love this version for so many reasons. It's got fruity jam, and I love fruity things. It's a sandwich, one of my favorite food forms. The hints of almond, lemon, vanilla, and butter create pure magic. There is just enough chocolate to be enjoyable without regret. And finally – sprinkles. That said, the dough can be fiddly.
adding eggs and extracts to the creamed butter and sugar
mix in the flour
load the piping bag with dough
Having made these cookies a couple of times, I prefer the addition of almond extract and lemon zest to the cookie dough. The extra layer of flavors marry so well with both the raspberry and apricot jams and the chocolate. The dough can be difficult to push through a wide star piping tip (I used the Ateco 827 tip), but using less flour will result in a cookie that spreads too much. Your best bet is to weigh the flour and use gentle constant pressure (and patience) when piping the dough. The dough is so cohesive that it likely won't break naturally from the piping tip. Deb uses kitchen shears to cut the dough from the tip, I use a dull knife.
apply gentle, even pressure to pipe the cookies
bake and cool
My piped cookies were 2 inches long raw, and 2 1/2 inches baked. For my second batch, I wanted smaller cookies, but found it essentially impossible to pipe the dough through a smaller piping tip. Instead, I rolled the dough into a 1/2-inch diameter rope and cut it into 1 1/2-inch pieces. Then I used a seafood fork to press the pattern on the dough. So if you absolutely cannot get your dough through a piping tip, this is one alternative method. The final photo at the end of the post is of these tinier cookies, the process photos are of the larger piped version.
alternative method of shaping dough
When the cookies have cooled, I like to engage in the OCD activity of pairing cookies of similar size/shape. You can use whichever jam you fancy. I thought raspberry would be my favorite, but after trying both raspberry and apricot, I really cannot choose. Even Jeremy, a sworn anti-druper (he doesn't like fruits in the drupe family), thinks the apricot jam version is lovely. Spoon or pipe the jam on a cookie and sandwich it with its partner cookie. There is a fine line between enough and too much jam. You will have to practice with a couple to find that happy balance.
apply your jam to the cookies
sandwich time
I'm always tempted to simply melt chocolate as opposed to tempering it for this kind of cookie, because the chocolate gets covered up by sprinkles anyway. But I always temper the chocolate for that nice snap when you bite into it, and also for the greater shelf stability if I'm distributing the cookies to other people. My advice to most people is to just melt the chocolate and dip. After dipping, but before the chocolate hardens, dip again in something that contrasts texturally: sprinkles (crunchy, please), coconut, chopped nuts, nonpareils, whatever you like. It needs to be stated that colorful sprinkles make life better.
i feel the perfect dip is 30% coverage of the cookie
and then sprinkles, preferably crunchy sprinkles
allow the chocolate to firm up
cross-section of happiness
The piped cookies came out larger and prettier, but the smaller rolled cookies I attempted the second time are cuter and align with my ideal one- to two-bite commitment (pictured below). I will make some to mail to my parents. Even if they aren't like the Snowflake Bakery cookies, I know my folks will love these buttery treats on their own merits.
stirring old memories and making new ones
Bakery-Style Butter Cookies
[print recipe]
from Smitten Kitchen
1 cup (8 oz.) unsalted butter, softened
2/3 cup (135 g) granulated sugar
2 large egg yolks
1/2 tsp fine sea salt
1 tsp vanilla extract
1/2 tsp almond extract (optional), use 1/4 tsp for more subtle almond flavor
grated zest of a lemon (optional)
2 cups (260 g) all-purpose flour
1/2 cup jam, flavor of your choice
1 cup sprinkles or chopped nuts or shredded coconut
12 oz. dark chocolate chips or chopped dark chocolate
Preheat oven to 350°F. Line 2 large baking sheets with parchment paper. Beat the butter and sugar together until light and fluffy. Beat in the egg yolks, sea salt, vanilla extract, almond extract (if using), and lemon zest (if using). Mix the flour into the dough until just combined. Fill a pastry bag fitted with a large (1/2-inch wide) star tip. Deb uses an Ateco 866, I prefer the Ateco 827 which has fewer teeth. Pipe 2-inch long segments 1-inch apart on the lined baking sheets, snipping the end with scissors or a knife because the dough is quite stiff.
If your dough is too stiff to pipe, you can: roll the dough into 1/2-inch diameter logs, cut the dough into 2-inch pieces and set them 1-inch apart on your baking sheets, and press ridges along the length of the dough with fork tines.
Bake 11-13 minutes (14 minutes for my oven) until the cookies turn golden at the edges. Cool completely on the baking sheets. Pair the cookies by size. Pipe or spoon a little jam on the flat side of a cookie and sandwich it with its partner cookie. Repeat for remaining cookies. Melt or temper your chocolate. Dip one end of a sandwich cookie in the chocolate, allowing the excess to drip off for a few seconds before rolling the chocolate end of the cookie in sprinkles or chopped nuts or coconut. Place the cookie on silpat, parchment, or wax paper to set. Repeat for remaining cookies. Keeps at room temperature in an airtight container for about a week. Makes about 3 dozen cookies.
more goodness from the use real butter archives